If you want a bull out of the gate type technology stock, those are few and far between at this point in the late economic cycle.
There's another deep-lying value out there and a company who promises the stars and the moon is Uber who announced some eye-opening developments.
Uber Elevate, a division of Uber developing urban flight ridesharing, will have to hold on to its ridesharing business serviced by combustion engine-based cars for quite a while before the company can literally take flight.
This is the type of investment that used to only be reserved for venture capitalists, but Uber going public has given the average American a chance at staking out and holding one of the most controversial yet forward-thinking tech companies in the world.
If Uber can get this up and running, the underlying stock promises to become a ten bagger.
The United States-based subsidiary of the Embraer, EmbraerX, focuses on the development of disruptive businesses.
EmbraerX fundamental pillar is the formation of the future experience of air transport users.
Last week turned heads by debuting a small electric-powered vertical takeoff and landing (eVTOL) vehicle that should transform the future for Uber and other ridesharing companies.
The annual Uber Elevate conference in Washington, D.C. offered a glimmer of hope for Uber Elevate, the company is hellbent on realizing the holy grail of ridesharing transport transforming into autonomous flying vehicles.
A business model concocted with this input would pay dividends for a company who is doling out subsidies to gas-guzzling drivers on the road to service.
Yes, this is the future, but the future is here sooner than you think.
The EmbraerX eVTOL will only be able to handle a few passengers from the get-go.
Unfortunately, autonomous piloting will integrate into the process slowly.
The goal is for the vehicle to be absolutely autonomous according to the manufacturer aligning with Uber's much-prophesized aim of going fully autonomous.
Dreams aside, there appear to be many technical issues with executing this transformation such as how will a new generation of flying Ubers prevent nonstop collisions above a city?
Uber has buddied up with an army of air traffic controllers, academics, pilots and industry experts to study this issue, while EmbraerX has proposed a pragmatic, simple and robust urban air space design to allow more aircraft to operate in urban environments.
Uber's flying division plans on rolling out their service by 2023 which is an ambitious target, to say the least.
EmbraerX is partnering up with Uber to try and make this happen.
The locations of Los Angeles and Dallas have been pinpointed as places they plan to demonstrate flight capabilities next year.
The timeline is excruciating tight if Uber plans to get all their ducks in a row and make this a reality.
Uber has toyed with other launch locations such as Brazil, France, and India.
Other aircraft manufacturers are in the mix as well allowing Uber to diversify the risk in case EmbraerX can't deliver the goods.
Similar air products are being crafted by Aurora Flight Sciences, a Boeing subsidiary, Bell and Karen Aircraft, and a Slovenian manufacturer named Pipistrel Vertical Solutions.
The entire premise behind the aerial ridesharing involves delivering a network of airports.
It will not morph into a door to-door service because a lack of capabilities on last mile deliverability that gas-based cars possess.
The concept of skyports or skystations have been bandied around and will theoretically force passengers to find their way to these launch stations to take advantage of aerial capabilities.
Uber could deliver a 2-1 service with road-based cars delivering the passengers to the sky stations all through the Uber app and a receiving a windfall of 100% of the transport revenues.
Uber is collaborating with renowned architectural and engineering firms on that piece of the project to solve complex challenges.
The sky stations must be built around commercial and retail hubs making this problem even more frustrating because the lack of infrastructure and crowded nature of these tight spaces means this project absolutely cannot fail.
Can you imagine a failed blighted sky port hanging above the retail and tourist mecca of Times Square in Manhattan?
Then there is the issue of these sky ports being monumental eye sores ruining picturesque skylines that many people hold dear to their heart.
The San Francisco skyline and the property owners with panoramic views would lose enormous property value if they were holed up next to an Uber aerial flight route.
The company has brainstormed around building on top of existing under-utilized urban structures like parking garages or even big box malls.
Some of the designers see them as providing not just takeoff and landing platforms for eVTOL vehicles, but an all-inclusive mix of retail, entertainment, and commercial with fitness clubs, supermarkets, and fine dining integrated into the concept similar to Tokyo subway stations.
In terms of time, the benefits would be compelling with flights able to cut commutes down from 2 hours to 15 minutes.
This type of time savings is applicable to megacities such as New York and the San Francisco Bay Area where many employees reside in outer suburbs to only commute into the heart of the city with their cars.
Shared flights would mitigate traffic on the ground giving a 3D solution to the massive traffic problem megacities face.
Meanwhile, as a way of dipping its toe into the waters of urban aerial transportation, Uber is due to launch a new service in New York City on July 9 that relies on an existing technology: helicopters.
The new Uber Copter service is by way of the Uber app allowing customers to call for helicopter rides between lower Manhattan and JFK Airport, pegged at a price of about $250 per person.
Times will be reserved for the afternoon rush hours on weekdays – and only for Platinum and Diamond members of the Uber Rewards loyalty program.
Newark-based HeliFlite will operate this part of Uber offering 5 seats per helicopter.
This test roll-out will give Uber valuable insight into the pitfalls of running an aerial transport network and long-term feasibility of it.
What does this mean for Uber?
Part of accessing the public markets was to supercharge their Uber Elevate division.
It is happening.
The company will be able to access the debt market to fund its deep-lying value divisions much like Google's autonomous driving division Waymo has been financed by its parent company Alphabet.
Regulatory headwinds still represent a doozy of a thorn in its side.
There is a real chance of Uber Elevate being ready before the government is ready to allow them to flood the sky with aircrafts, and a 2-year delay suddenly grounding the planes with shareholders footing the costs will sap the momentum.
Facebook has grown uncontrollably for over a decade and the government still can't get their finger out and figure out what to do.
A decade hiatus would be catastrophic for Uber Elevate as flight crashes have a more graphic consequence than personal data being hijacked. 
I give Uber a 40% chance of creating a full-fledged, up and running aerial ridesharing service by 2023.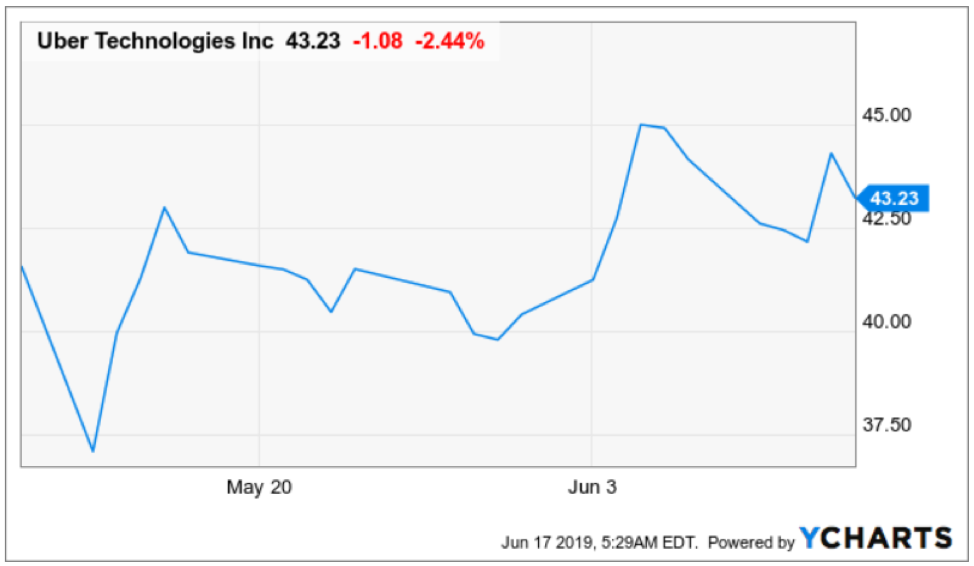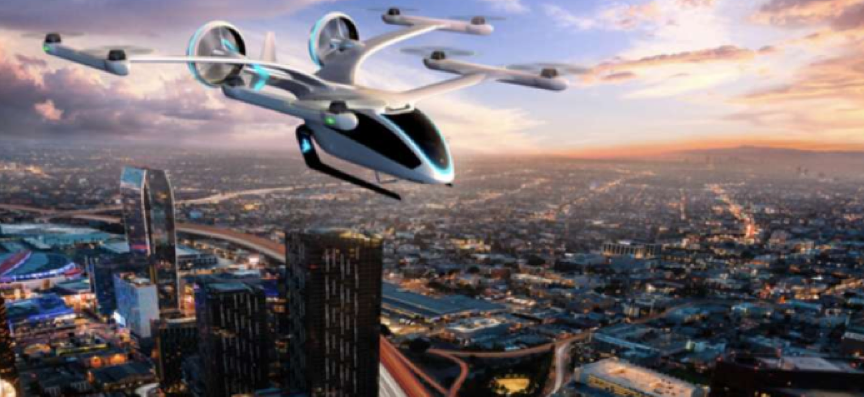 https://www.madhedgefundtrader.com/wp-content/uploads/2019/06/uber-tech.png
397
864
Mad Hedge Fund Trader
https://www.madhedgefundtrader.com/wp-content/uploads/2019/05/cropped-mad-hedge-logo-transparent-192x192_f9578834168ba24df3eb53916a12c882.png
Mad Hedge Fund Trader
2019-06-17 08:02:15
2019-07-19 18:14:30
The Flight Path of Uber