Twitter's (TWTR) earnings offer a rough snapshot into the health of current internet users and Twitter pulling off a strong quarterly performance is a strong indication of how tech earnings as a whole will pan out.
Readers of the Mad Hedge Technology Letter know well that CEO of Twitter Jack Dorsey is one of my favorite tech CEO's in the valley and I believe he should be leading Apple instead of Twitter and Square.
Twitter had an ideal quarter smashing estimates by surpassing every meaningful metric.
This company has turned the corner and has become the choir boy of social media in relative terms.
Purging the bots in the summer of 2018 was the right move in hindsight, and the performance in the first quarter vindicates Dorsey in making the tough decisions to clean out its system.
As Twitter grows in its Daily Active Usership (DAU), they risk becoming too large to regulate and grabbing back control over their model was the smart thing to do at the time.
Twitter has shifted from emphasizing Monthly Active Users (MAUs) to Daily Active Users (DAUs) in a sign of intent preferring to become integrated with users on a daily basis.
Total revenue of $787 million was up 18% YOY batting away any whispers that the company could be decelerating.
Another bonus was the diversity in ad revenue with 46% coming from the international segment signaling to investors that Twitter is not over-reliant on American Tweets.
American ad revenue rose 26% compared with international ad revenue rising just 10% showing that if you do social media properly instead of hatching cunning plans, it is still a growth business at its core.
The company has started to rev up profitability by reporting first-quarter earnings per share of 37 cents crushing the consensus of 15 cents.
The healthy trajectory of the company is summed up by its rise in Daily Active Users to 134 million, an increase of 11% YOY in an environment where Twitter's competitors aren't growing at all.
The concerns that I had about last quarter's tech earnings report had more to do with forward guidance than the past quarter's performance because of the supposed deceleration of the global economy.
Twitter passed with flying colors predicting next quarter's revenue should come in between $770 million to $830 million and operating income between $35 million to $70 million.
Dorsey sees no let down in the coming quarters as the domestic economy will attempt to push its way into its 11th year of expansion.
Headcount is estimated to rise 16% in 2019 after a 2018 where staff grew by 18%.
Total ad engagements increased 23% resulting from higher ad impressions and improved clickthrough rates (CTR) across most ad formats.
Cost per ad engagement (CPE) decreased 4% due to like-for-like price decreases across most ad formats because of an improved CTR which results in advertisers achieving the same number of engagements at a lower price, and a mix shift toward video ad formats that have lower CPEs and higher CTRs.
CPE can differ from one period to another based on geographical performance, ad formats, campaign objectives, and auction dynamics.
Just as important, the customer experience for advertisers is always improving with enhancements to Twitter's ad platform and ad formats.
Twitter is committed to delivering better relevance making it simpler for advertisers to declare their objective, initiate a campaign, and measure performance.
The possible destructive black swan strongly hovering over social media and its business model is the threat of data privacy and the subsequent regulation to it.
Facebook (FB) and less so Twitter have been dragged into the data privacy debacle, but I believe Twitter has made the moves to get the monkey off their back for at least the next two quarters.
They have also benefitted from being more conservative in how they handle data and from the bulk of tweets being parts of public discourse instead of personalized baby photos.
The structure of Twitter has led to less chaos than Facebook, and Twitter tightening the amount of acceptable mainstream topics even more will close more loopholes into the extreme parts of society that want to disperse content through Twitter.
Twitter is taking a more proactive approach to reducing abuse on the platform and its effects in 2019 with the aim of reducing the burden on victims of abuse and, where possible, taking action before abuse is reported.
As a result, enhancements in Q1 revolved around proactive detection of rule violations and physical, or off-platform, safety — including making it easier to report Tweets that share personal information, helping Twitter remove 2.5 times more of this type of content.
Twitter has also deployed upgraded machine-learning models to detect potential policy violations enabling Twitter to pinpoint Tweets to agents for review, proactively.
The result is Twitter removing more abusive content with better efficiency.
The data backs up Twitter's abuse prevention initiative with approximately 38% of categorized abuse proactively detected.
Twitter has been profitable for a string of quarters now, responded well to looming regulation fears, and as long as the economy chugs along at its current rate, I believe Twitter will outperform the rest of tech and the domestic economy.
The short-term health of social media also opens the path for Facebook to continue the positive momentum as the summer approaches. 
Wait for an entry point on the dip to buy Twitter.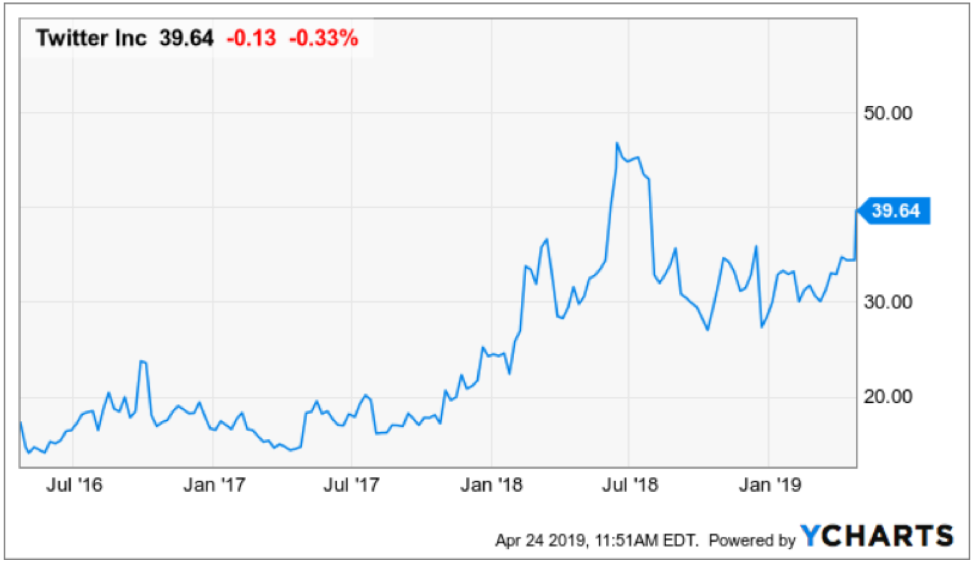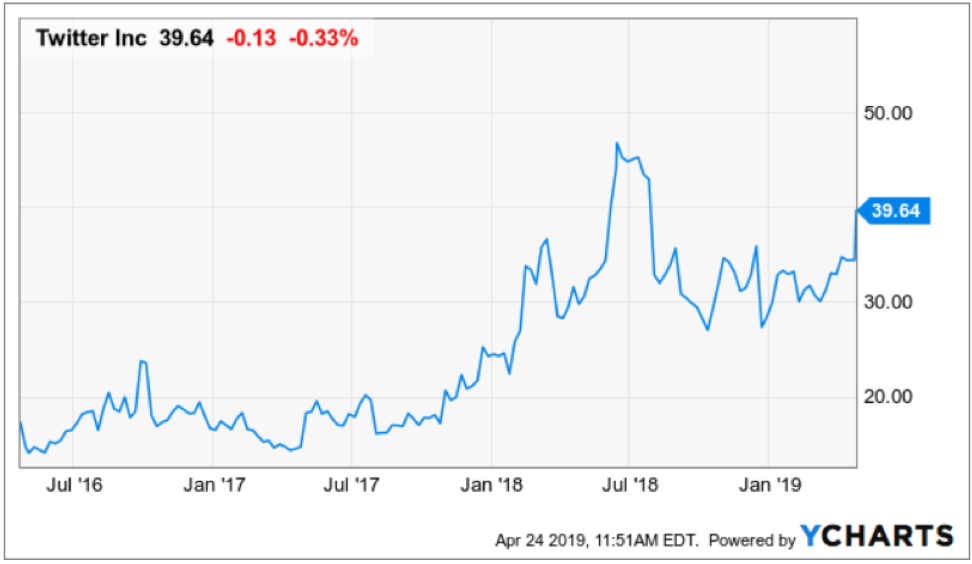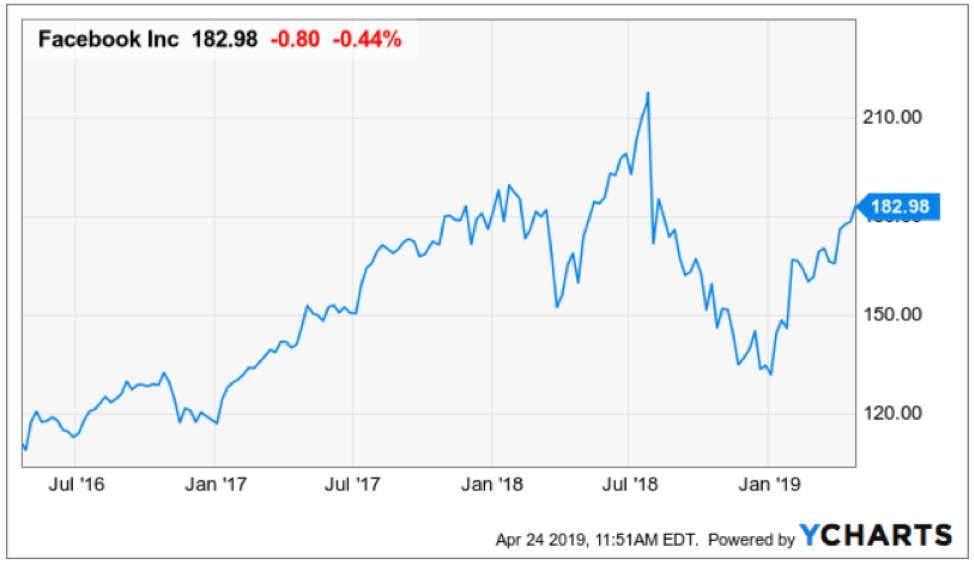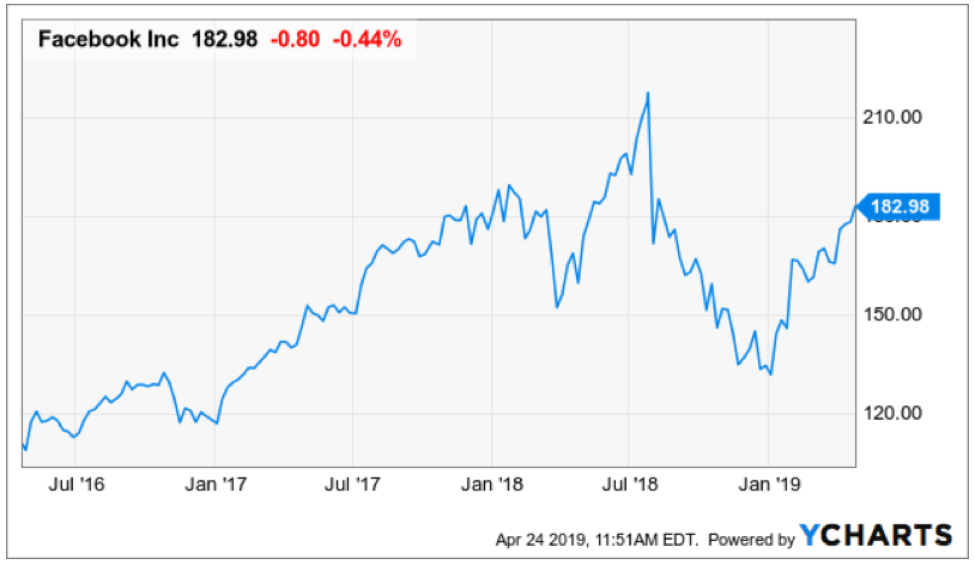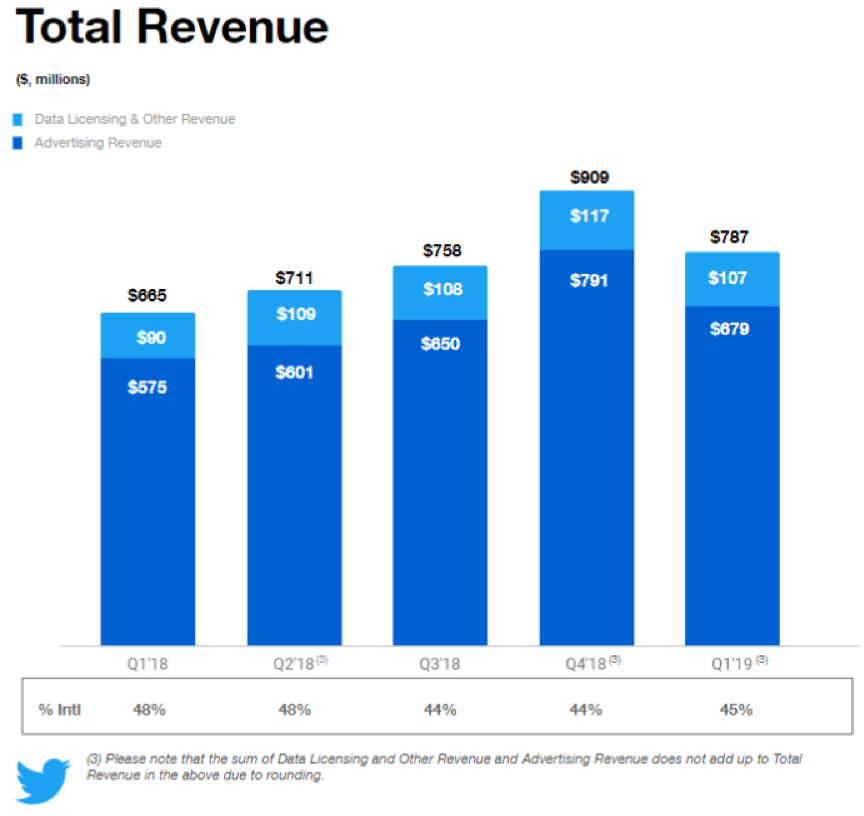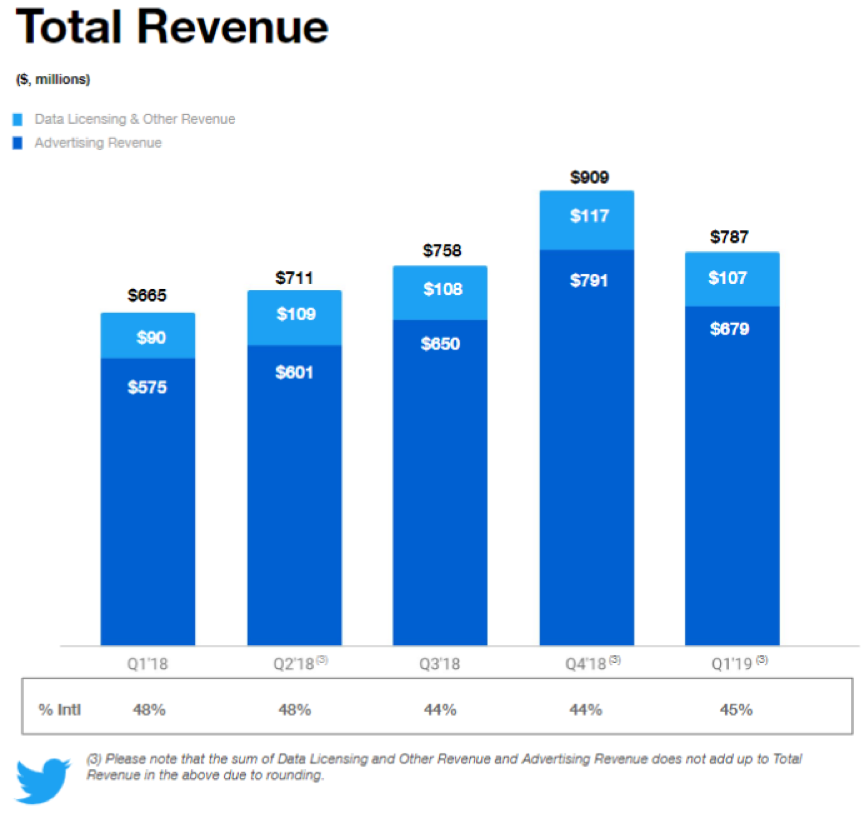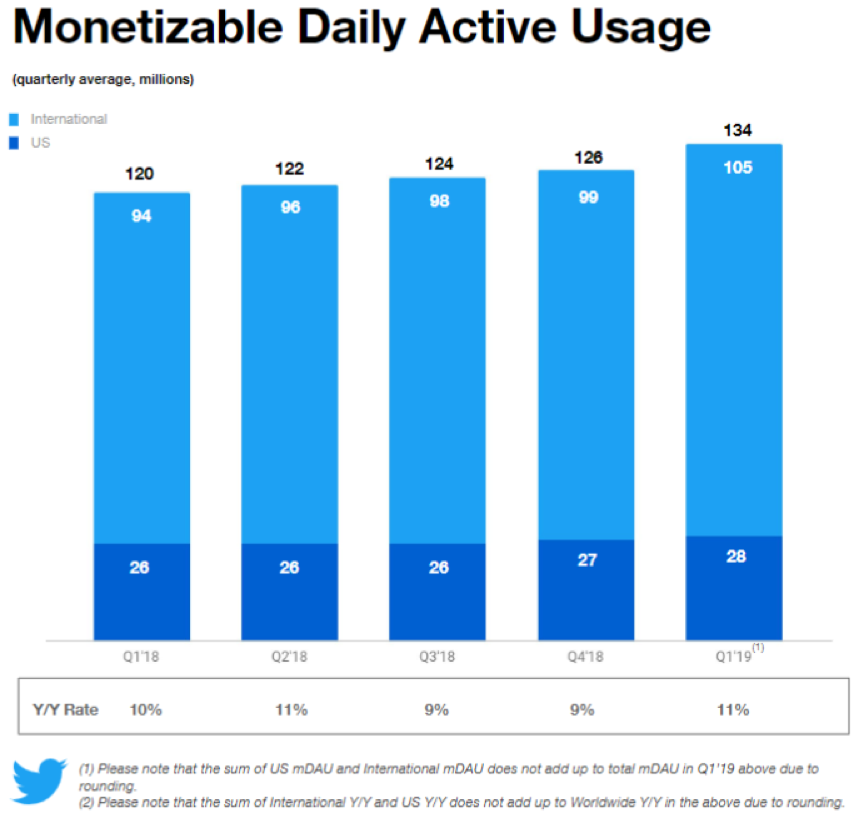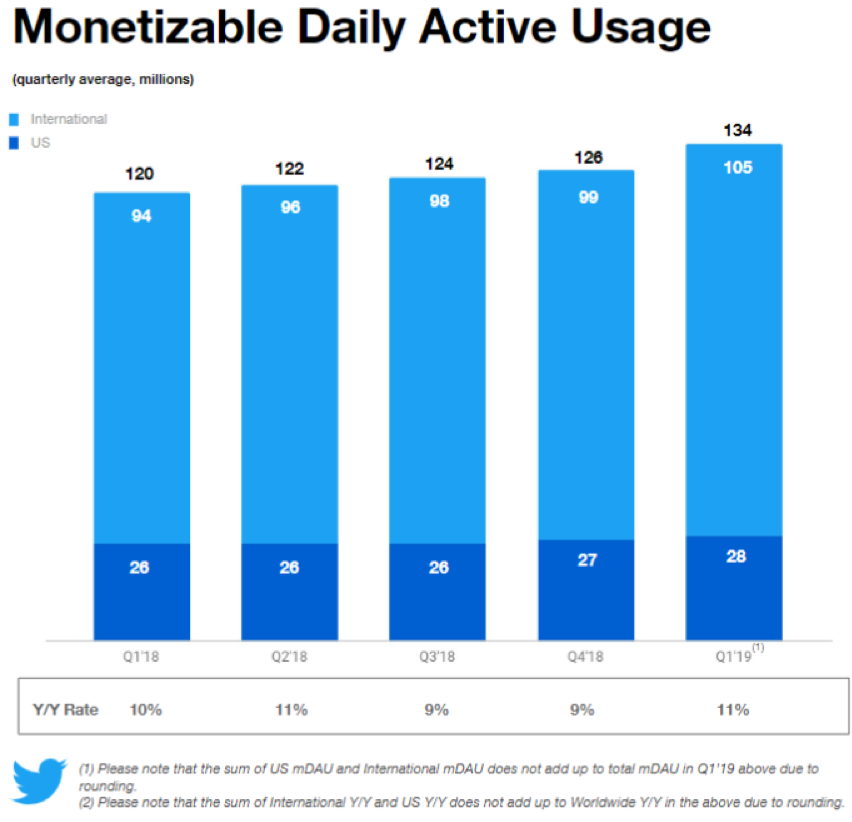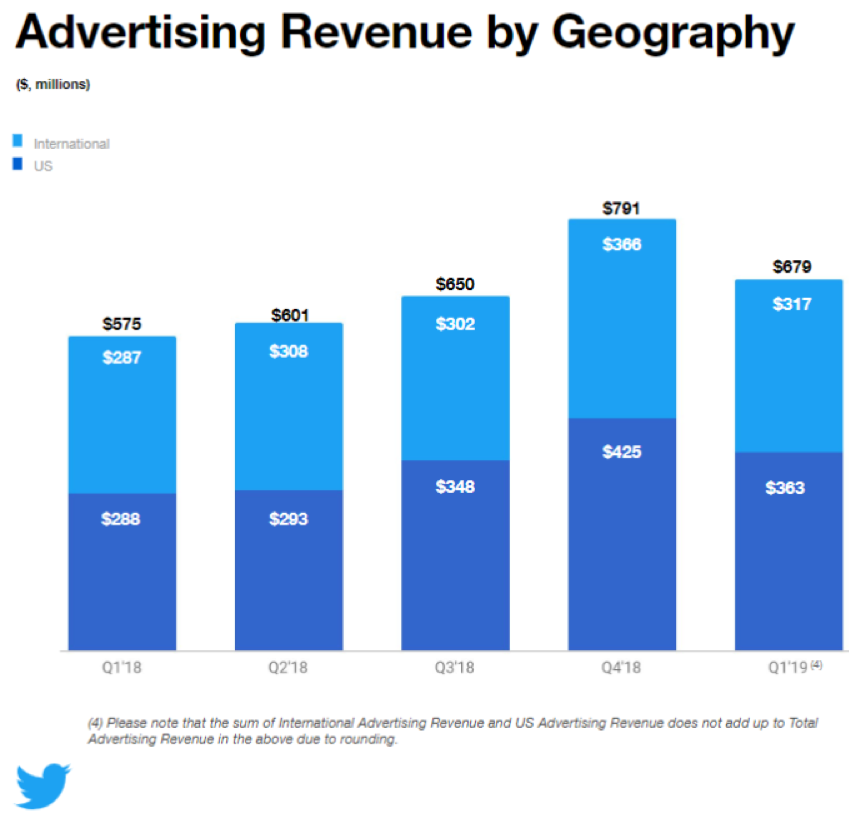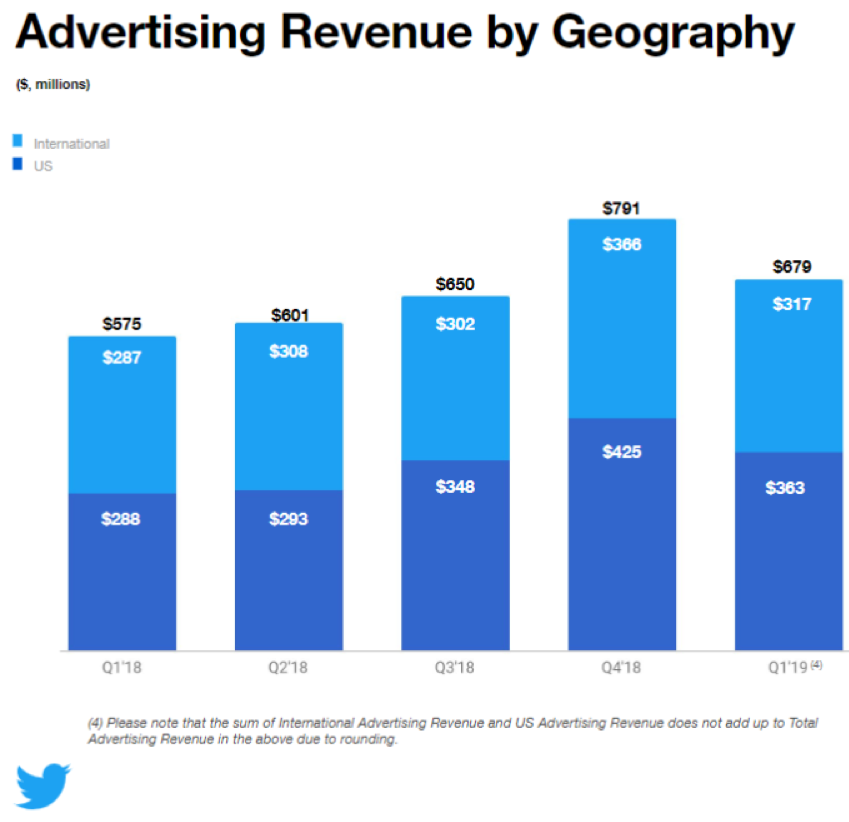 https://www.madhedgefundtrader.com/wp-content/uploads/2019/04/total-rev-1.png
816
864
Mad Hedge Fund Trader
https://madhedgefundtrader.com/wp-content/uploads/2019/05/cropped-mad-hedge-logo-transparent-192x192_f9578834168ba24df3eb53916a12c882.png
Mad Hedge Fund Trader
2019-04-25 06:05:27
2019-07-10 21:48:29
The Resilience of Twitter