It's not Volkswagen's first attempt at an all-electric car, but it's certainly the most crucial attempt in their long history.
There have been iterations such as the e-Golf and other pure-electric vehicles before.
This time around, VW will debut the ID.3 and its new MEB platform.
The newest architecture for electric vehicles will be the lynchpin for several models across all of VW Group's brands.
According to VW, "The architecture is aimed to consolidate electronic controls and reduce the number of microprocessors, advance the application of new driver-assistance technology and somewhat alter the way cars are built."
The German company has committed $48 billion in car battery supplies too and plans to run 16 factories to build electric cars by the end of 2022.
At the lowest rung, there'll be a battery expected to get around 205 miles and this ID.3 will be priced at under 30,000 euro ($33,650) before any subsidies or incentives.
In the middle, there'll be an ID.3 capable of roughly 261 miles on a full charge which could mushroom into the most popular battery size.
Lastly, there'll be a 342-mile battery option.
VW is certainly betting big on EVs along with its other in-house brands.
In March, VW announced it plans to launch 70 battery electric vehicles over the next decade and sell 22 million of them.
Previously, VW had said it would sell 15 million battery-electric vehicles by 2025.
The previous plan called for 25% of its global sales to be all-electric by 2025.
VW in-house brands are cranking up launches of new all-electric models.
Audi has started with the e-tron SUV and Porsche's Taycan goes on sale in September.
VW brand's I.D. and I.D. Crozz will appear next year while its subsidiaries like Skoda and SEAT are also going electric.
VW is not without its problems.
The recent charge by the European Union (EU) that it colluded with other German manufacturers to limit advances in clean emissions technology was another management misstep.
And the EU provides another challenge to all European carmakers with its harsh rules for 2020 fuel efficiency.
Recent research showed that it could cost VW up to 10 billion euros ($11.3 billion) in fines if it is unable to reduce its current fleet average of 123 grams per kilometer.
Cars like VW's Audi e-tron offer zero reasons for consumers to buy, costing upwards of 70% more than conventionally powered equivalent vehicles.
The efficiency of the Audi is poor compared with Tesla models and the e-tron's 95kWh battery offered a range of 2.5 miles per kWh, while the Tesla Model X managed 3.25 miles and the long-range Model 3, 4.13 miles.
Costs should come down substantially for vehicles deploying the MEB platform.
Theoretically, it's the MEB platform that will serve further electric models going forward.
Yet, it's highly possible the market is being overly optimistic that VW can deliver on its EV strategy and targets, which is the underlying thesis of the bull story.
VW's lack of transformative structural improvements and its difficulties in making value-accretive strategic decisions that could unlock shareholder value means multiple upgrades in share price is less than probable.
Volkswagen is offering a Tesla style pre-booking to those who purchase an ID.3 and the possibility of charging electric power at no cost for the first year up to a maximum of 2,000 kWh at all public charging points connected to the Volkswagen charging app WeCharge and using the pan-European rapid charging network IONITY.
The ID.3 is to be delivered to customers in carbon-neutral form.
Production of the ID.3 1ST is to start as planned at the end of 2019 and the first vehicles will be delivered in mid-2020.
With its electric offensive, the Volkswagen brand plans to become the world's number one by 2025.
Mercedes is getting in on the act as well with the EQC Edition 1886 aiming to deliver 292 miles per charge and, with an output of 402 horsepower.
The metrics indicate that it will pose a direct threat to both Tesla's older Model X and upcoming Model Y.
The new Mercedes isn't attacking the low-end of the market where Volkswagen hopes to apply pressure by offering the base version at 71,281 euros, or just short of $80,000, slightly less expensive than the e-tron quattro in Europe.
The new product from Mercedes qualifies for Germany's 4,000-euro federal tax incentive for EVs.
Ultimately, the avalanche of supply from the European high-end carmakers will heap more pressure on Tesla's Elon Musk to deliver outperformance.
The entire pivot to EVs is predicated on millennials picking up the demand slack and buying into this story when the Baby Boomer generation did not.
By then, the stringent requirements from government and regulators in tackling climate change by itself might offer a massive customer base to tap into EVs whether they like it or not.
EVs have come a long way since the Chevy Bolt, but it's far from certain that the Europeans will destroy Tesla, but the new developments will sap German demand for Tesla's car with a domestic alternative.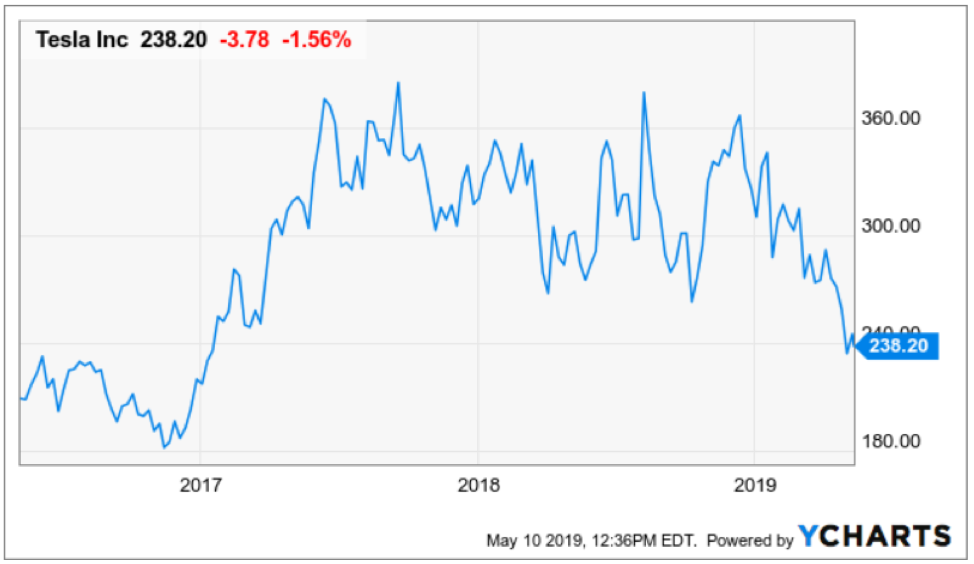 Volkswagen Group MEB platform
https://www.madhedgefundtrader.com/wp-content/uploads/2019/05/prototype.png
502
924
Mad Hedge Fund Trader
https://www.madhedgefundtrader.com/wp-content/uploads/2019/05/cropped-mad-hedge-logo-transparent-192x192_f9578834168ba24df3eb53916a12c882.png
Mad Hedge Fund Trader
2019-05-13 01:06:54
2019-07-11 13:14:35
The Tidal Wave of European EV Supply