We are all living the Bill Murray movie "Groundhog Day" over and over again. Every day seems to blend seamlessly into the next, ad infinitum.
I think it's Monday, but I'm not sure. The stock market is open so that must mean it's Monday to Friday. The trash goes out tomorrow, so it might be Tuesday. No, wait! CBS 60 Minutes was on last night, so it has to be Monday. Maybe.
When a Marine Corp 60mm mortar team zeros in on a target, it is said to be "bracketed." No matter which way the enemy goes, he gets blown up.
The S&P 500 is now "bracketed".
If it falls, the support of the free Fed put option kicks in to limit the damage via QE infinity. If the market tries to rally, it is capped by the worst economic data in history, last week joined by a new trade war with China.
Who is the enemy that gets destroyed in this military metaphor? Anyone betting on an imminent upside or downside breakout, especially those who are long the Volatility Index (VIX).
That means the thousands who follow the Mad Hedge Fund Trader have just been given a money-printing machine, a new rich uncle.
For every time the market rallies, you simply buy a vertical bear put option spread in the front month with strikes prices well outside the bracketed area as I did last week with (DIS). When it dives, you strap on vertical bull call spreads, as I did last week with the (DIS) and the (SPY). Then you laugh all the way to the bank.
We could be bracketed a long time. The early data from opening-up states is that consumers returning to stores only amounts to a ruinous 7% of pre-pandemic levels. That suggests the Unemployment Rate will soar to 30% or more before it peaks, exceeding the Great Depression apex. There are easily another 10 million that haven't been counted yet because the state benefit processors are so slow.
However, as long as we are bracketed, I reckon I can make 10% a month, as I already have done from the Middle of April and in May.
It is not a riskless strategy.
The day an actual vaccine is announced, the market Dow Average could soar by 3,000 points in a day, wiping out the shorts. The White House has been declaring this on a daily basis. But until we get a vaccine the market believes, we will remain bracketed. That could take years, if ever.
Dr. Fauci triggered a 1,000-point market dive with his sobering analysis of the course of the pandemic in the coming months. Don't count on going back to school in the fall.
No "V" for the economy, said the Fed. The job losses are a complete economic disaster that will take years to recover from. That's the opinion of Minneapolis Federal Reserve Bank President Neel Kashkari. The president just said Corona deaths will reach 100,000. Buzzkill. Do you think the stock market will notice?
Fed funds futures are discounting negative interest rates in a year. They say they don't want negative rates but may not have a choice. The markets may go there without them. The disruptions to the financial service will be enormous. Do you really want to pay the bank to deposit your hard-earned money?
Fed Governor Powell warns the worst is yet to come, and the need for more stimulus is paramount. However, negative interest rates which failed in Europe and Japan won't work here either. The problem is rampant fear, not the overnight cost of funds.
Weekly Jobless Claims are still soaring, up 3 million on the week to 36.5 million. It's going to get worse before it gets better. The Fed is targeting a peak of 36.5 million. Connecticut is the worst-performing state, California the best.

Stan Druckenmiller says stocks are the most overvalued in his career, says my former client, one of the best traders in the market. My friend David Tepper says they're the most expensive since 1999. It may be splitting hairs, but how much do you want to own here? Keep those shorts!
Another death knell for US Treasury bonds (TLT) as the April budget deficit soars to $738 billion. That is an $8.85 trillion annual rate. Overissuance is about to destroy deflation big time.
Retail Sales collapse by 16.4%, the worst on record in another Great Depressionary data release. The stock market is starting to lean towards a view that the economy will take years to recover, not months. I'm somewhere in the middle.
A new trade war with China heats up, with the president banning more export items, especially chips for telecom giant Huawei. I guess our economy isn't bad enough. Knock another few thousand off the Dow.
When we come out on the other side of this, we will be perfectly poised to launch into my new American Golden Age, or the next Roaring Twenties. With interest rates at zero, oil at $0 a barrel, and many stocks down by three quarters, there will be no reason not to. The Dow Average will rise by 400% or more in the coming decade.
My Global Trading Dispatch performance had another fabulous week, up an awesome +11.26%, and blasting us up to a new eleven-year all-time high of 20%. It has been one of the most heroic performance comebacks of all time.
My aggressive short bond positions gave back some money on the 'RISK OFF" posture for the week. However, we offset those losses and a lot more on longs in bonds and shorts in the (SPY) and Walt Disney (DIS).
That takes my 2020 YTD return up to +7.29%. That compares to a loss for the Dow Average of -16.89%. My trailing one-year return exploded to 48.47%. My eleven-year average annualized profit returned to +34.59%.
The only numbers that count for the market are the number of US Coronavirus cases and deaths, which you can find here.
On Monday, May 18 at 10:00 AM, the NAHB Housing Market Index for May is released.
On Tuesday, May 19 at 8:30 AM, US Housing Starts for April are printed. Home Depot (HD) and Walmart (WMT) report.
On Wednesday, May 20, at 10:30 AM, weekly EIA Crude Oil Stocks are published. Target (TGT) and Lowes (LOW) report.
On Thursday, May 21 at 8:30 AM, Weekly Jobless Claims are announced. NVIDIA (NVDA) reports.
On Friday, May 22, the Baker Hughes Rig Count follows at 2:00 PM. Alibaba (BABA) reports.
As for me, I am headed back up to Incline Village, NV, a town completely free of Covid-19. The village is thinking of barring entry to all non-residents. Maybe it's the fresh air.
Stay healthy.
John Thomas
CEO & Publisher
The Diary of a Mad Hedge Fund Trader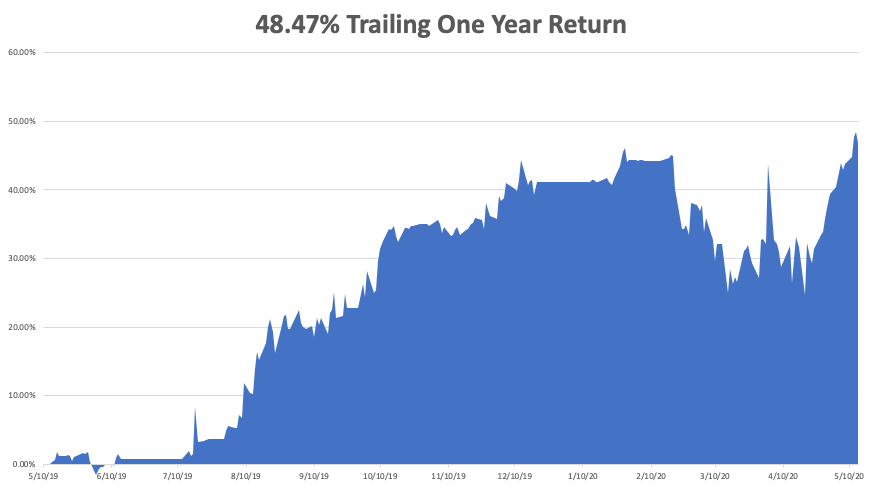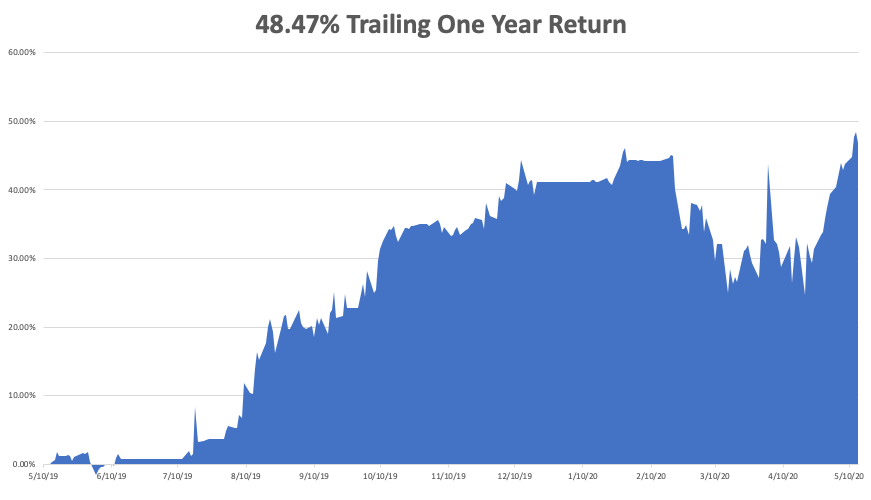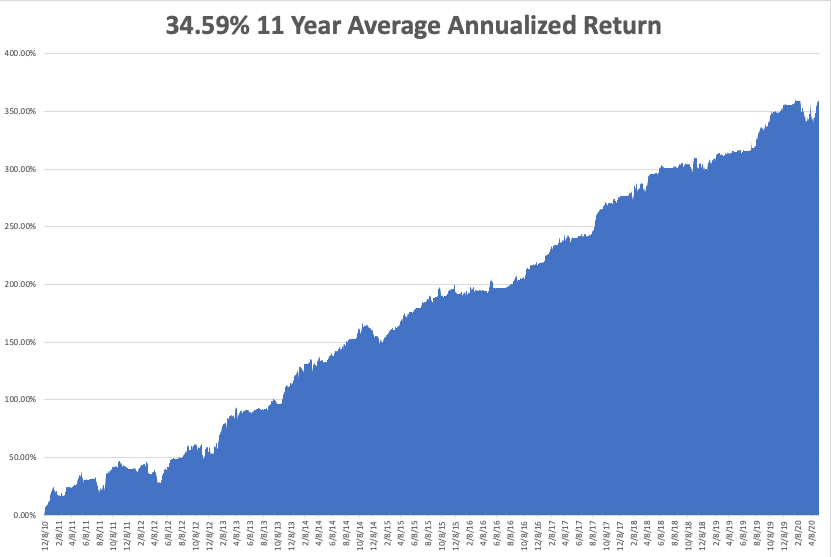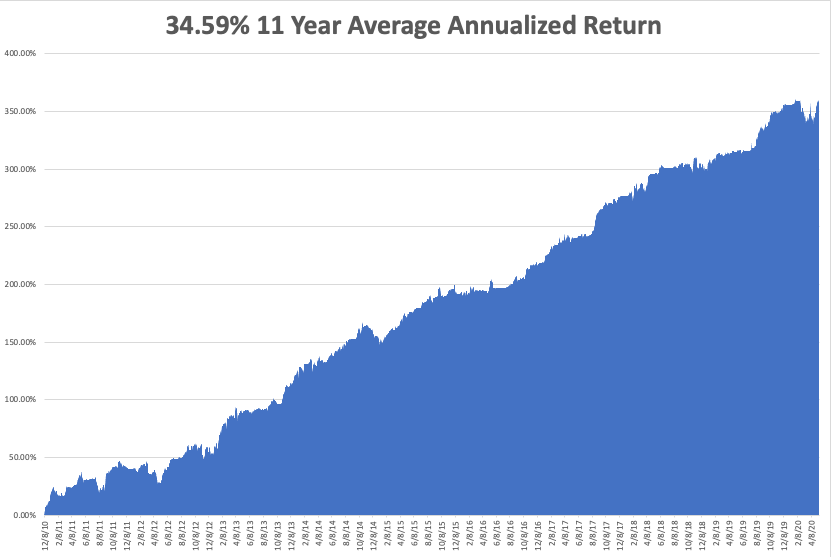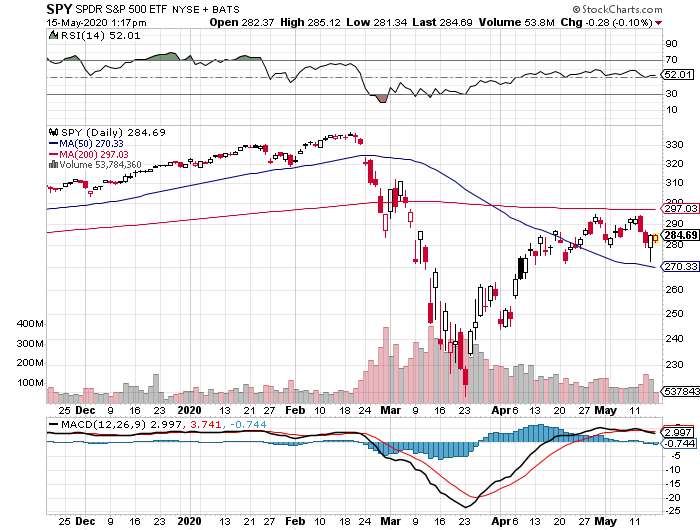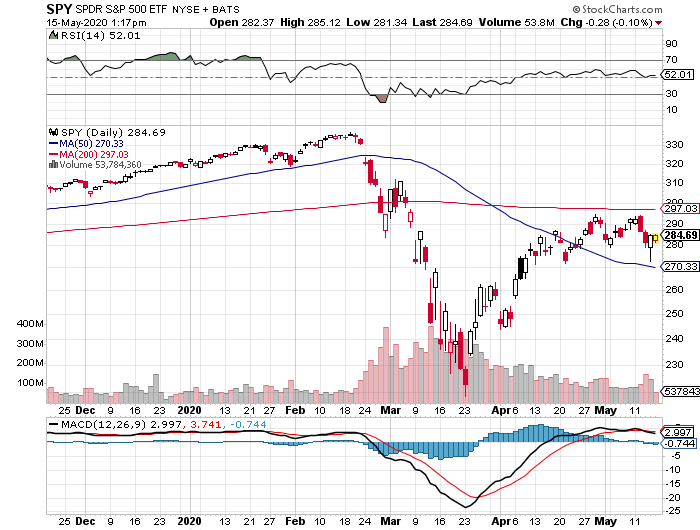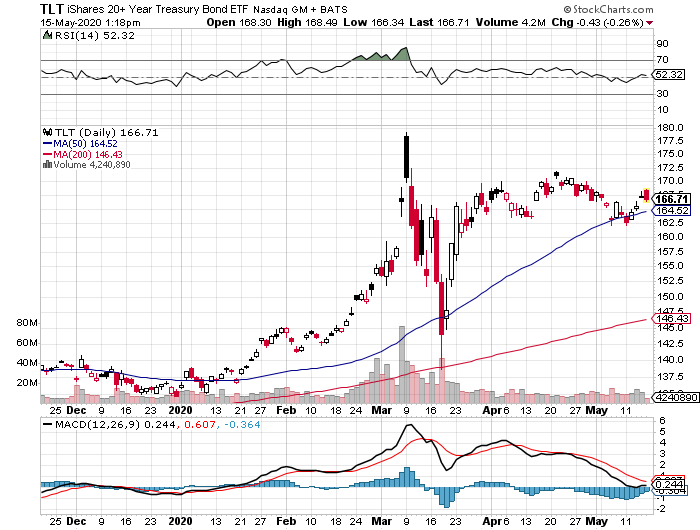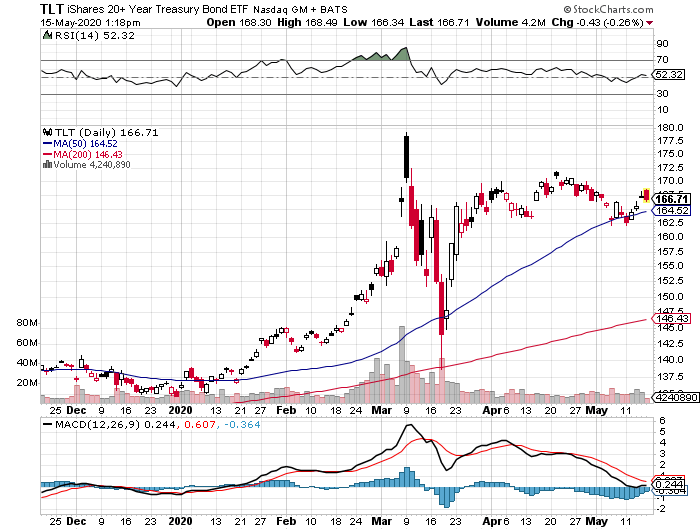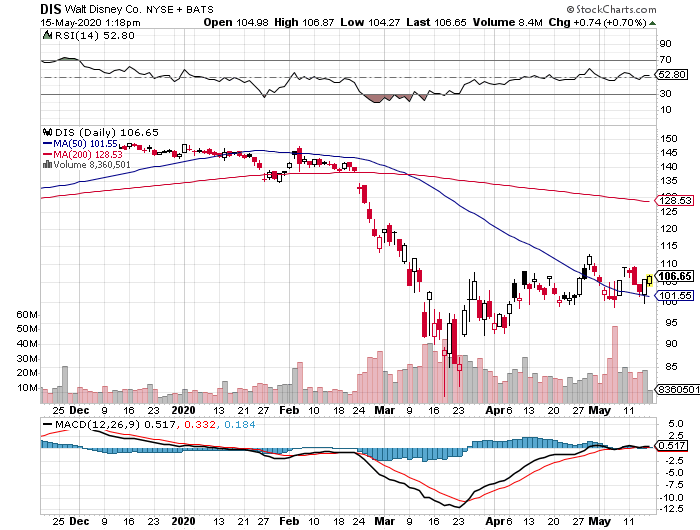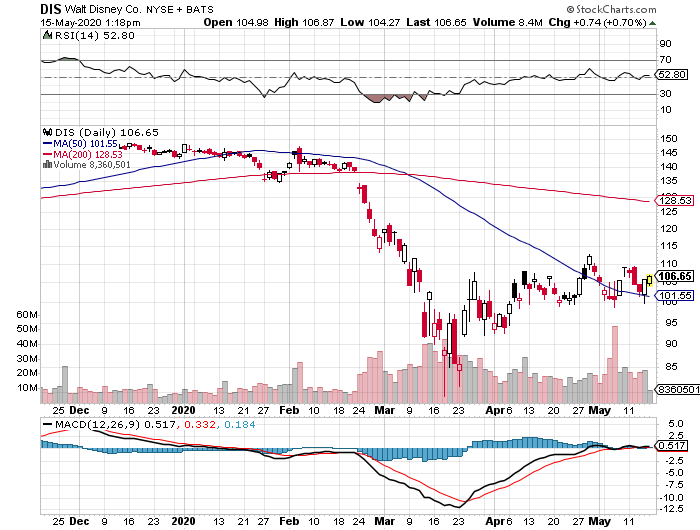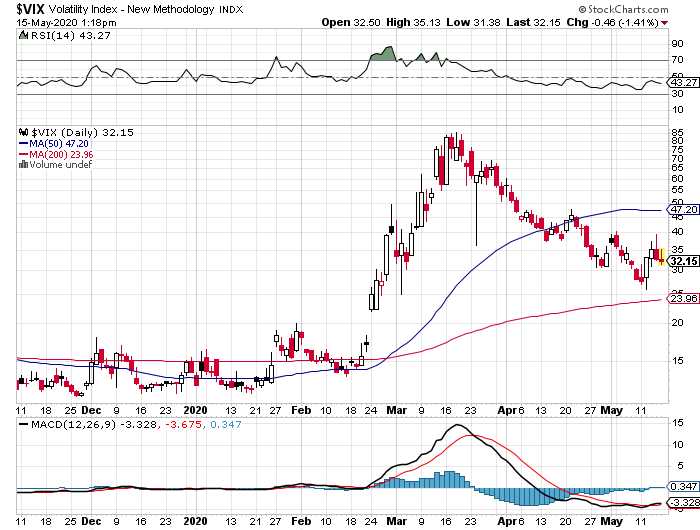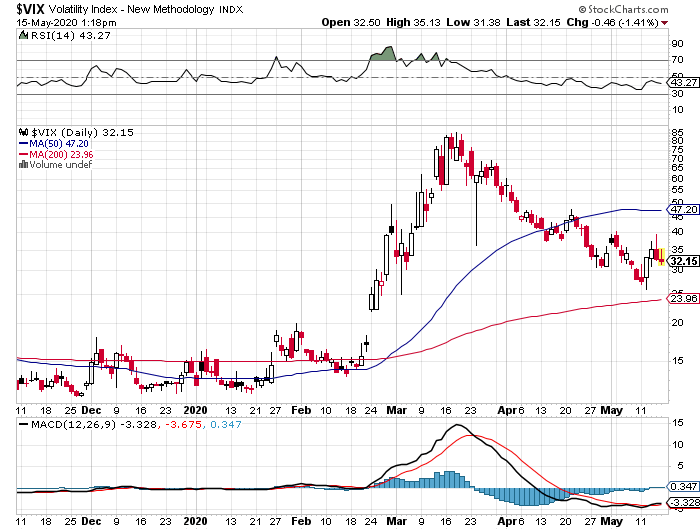 https://www.madhedgefundtrader.com/wp-content/uploads/2020/05/11yr-may18.png
557
831
Mad Hedge Fund Trader
https://madhedgefundtrader.com/wp-content/uploads/2019/05/cropped-mad-hedge-logo-transparent-192x192_f9578834168ba24df3eb53916a12c882.png
Mad Hedge Fund Trader
2020-05-18 10:02:19
2020-06-22 11:47:37
The Market Outlook for the Week Ahead, or The Market is Bracketed