I have always been a big fan of buying a dollar for 30 cents. That appears to be the opportunity now presented by the Japanese software giant, Softbank (SFTBY).
This gorilla of the Internet space was founded and run by my old friend, Masayoshi Son, who many refer to as a combination of the Jeff Bezos and the Bill Gates of Japan. I have known Mas, as his friends call him, for 30 years, meeting him, of all places, at a University of California Alumni Association meeting. Mas received his BA in economics from Berkeley in 1980.
In three decades, Mas has turned an obscure, hard copy Japanese computer hobbyist magazine into today?s massive online empire. You may know him as the organizer of the huge Comdex conferences in Las Vegas every January, the Woodstock of technology gatherings. Today, Mas has an estimated personal net worth $9 billion, not bad for a kid who wore the same pair of ragged Levis to his economics classes every day.
The really interesting thing about Softbank right now is not what Mas doing, but what he owns. That includes a 37% stake in the Chinese Internet giant, Alibaba, which boasts an overwhelming 80% market share in the Middle Kingdom.
The Hangzhou based Alibaba is actually a group of Internet-based e-commerce businesses including business-to-business online web portals, online retail and payment services, a shopping search engine and data-centric cloud computing services. Think of it as Amazon (AMZN), eBay (EBAY), Google (GOOG), and Oracle (ORCL) all wrapped into one.
In 2012, two of Alibaba?s portals together handled 1.1 trillion Yuan ($170 billion) in sales, more than competitors eBay and Amazon.com combined.
Its sales account for no less than 3% of China?s total GDP. Yikes! To learn more about their website please visit http://news.alibaba.com/specials/aboutalibaba/aligroup/index.html.
Online commerce in China is now growing faster than in any other place on the planet, including the US. Some 5% of retail transactions in the People?s Republic take place on the Internet, and that is expected to grow to 25% over the next three years. By comparison, it took online business in America 15 years to reach that market share.
What is happening in China now is truly fascinating. They are leapfrogging traditional brick and mortar stores, going straight from barter to online purchases, completely skipping the Wal-Mart stage of the retail evolution. I saw the same thing happen during the early nineties, when eastern Europeans jumped straight from having no phones to mobile ones, bypassing decades of unreliable and indifferent landline service.
The value of Alibaba is anyone?s guess as the company is still private. However, my former employers at The Economist magazine estimate that it is worth anywhere from $55-$120 billion. What this means is that you can buy Softbank now purely for the value of its Alibaba ownership, and get everything else the company does in the online universe for free.
But wait! It gets better. Softbank also owns major stakes in Yahoo, whose shares are up a gob smacking 157% since last year (Thank you Marissa Meyer!). It owns a major chunk of Sprint (S), which has gained a mind blowing 325% since 2012. Can Mas pick them, or what? Softbank also owns pieces of Japan Cellular and many other companies.
Add it all up together, and you get a Softbank that is worth at least $250 billion, almost triple its current $97 billion market capitalization. In other words, it?s a steal at this price.
Yes, you may say, this all sounds great. But how do I buy shares in Japan in yen? Easy. Softbank trades on the pink sheets in the US (hence the five letter ticker symbol) and is denominated in US dollars. Normally this means nothing, as liquidity in the pink sheets is notoriously poor.
Not so for (SFTBY), which saw 1.6 million shares worth $67 million trade around $42 a share on a slow Friday with a reasonably narrow spread. You may not be able to margin these, but at least you can get them. You also have some yen exposure here, as these shares are tied to the domestic shares in Japan. As for the big hedge funds, they have to go to Tokyo to get the size they want, and then hedge out their yen risk.
OK, OK, you say. Great story. But the road to perdition is paved with fabulous value plays that were never realized in the marketplace. This thing could stay cheap forever, like Apple (AAPL).
Aha! I got you! Alibaba is about to go public in the US, with Goldman Sachs now polling major institutional investors about potential interest. Given the chance to buy an Amazon clone at ten year ago prices, this IPO will be a blockbuster, making the recent Twitter (TWTR) float pale by comparison.
Did I mention that my buddy, Dan Loeb of hedge fund giant Third Point Partners, totally agrees with me, and has bought $1 billion worth of Softbank shares already?
I?ll wait for a dip before I send out the Trade Alert. If I don?t get one, I may just throw in the towel and buy it at market.
That seems to be the right thing to do this year.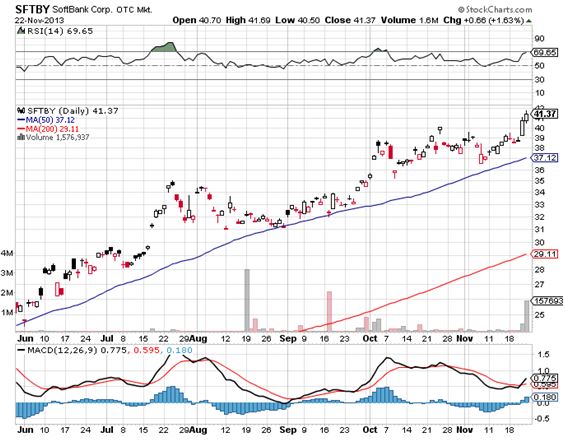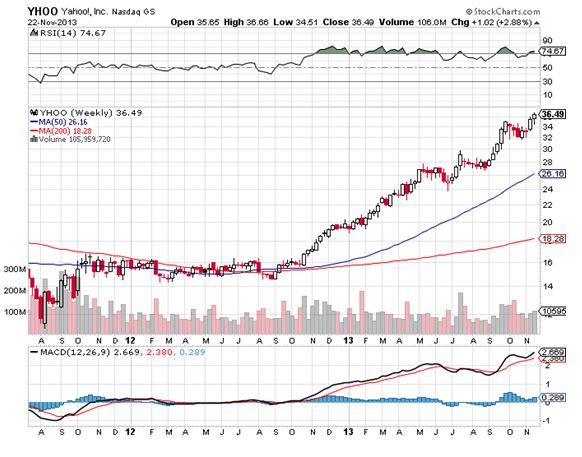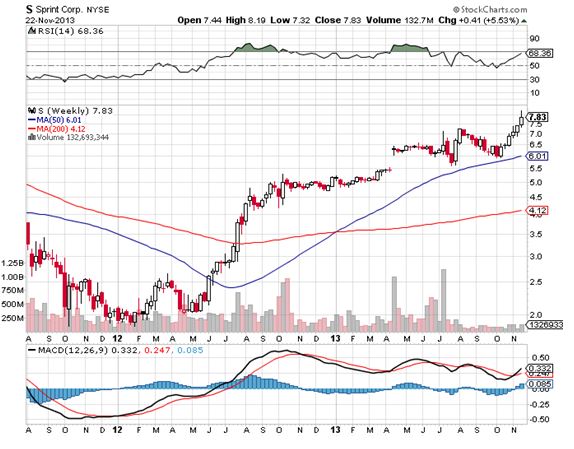 Hitch Your Wagon to Mas
https://www.madhedgefundtrader.com/wp-content/uploads/2013/11/Masayoshi-Son.jpg
352
500
Mad Hedge Fund Trader
https://www.madhedgefundtrader.com/wp-content/uploads/2019/05/cropped-mad-hedge-logo-transparent-192x192_f9578834168ba24df3eb53916a12c882.png
Mad Hedge Fund Trader
2013-11-25 01:03:10
2013-11-25 01:03:10
Time to Soak Up Some Softbank