When John identifies a strategic exit point, he will send you an alert with specific trade information as to what security to sell, when to sell it, and at what price. Most often, it will be to TAKE PROFITS, but, on rare occasions, it will be to exercise a STOP LOSS at a predetermined price to adhere to strict risk management discipline.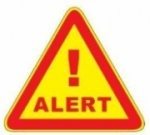 Trade Alert - (AMZN) - BUY
BUY the Amazon (AMZN) October, 2018 $1,800-$1,900 in-the-money vertical BULL CALL spread at $90.00 or best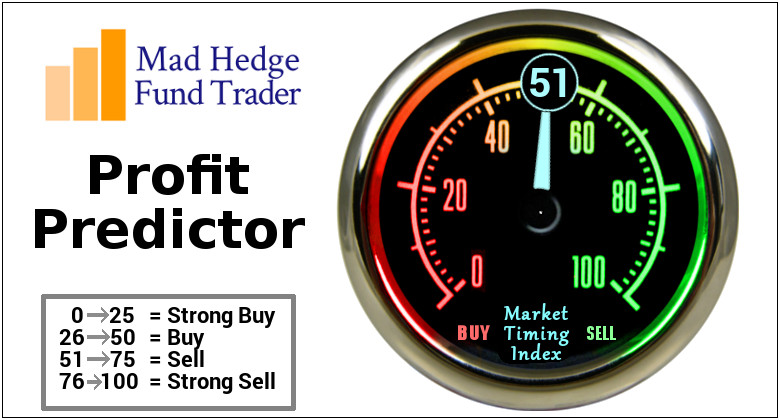 Opening Trade
9-27-2018
expiration date: October 19, 2018
Portfolio weighting: 10%
Number of Contracts = 1 contract
Brokerage House Stifel Nicolaus has raised its target for Amazon shares to $2,525, up 26.25% from the current level. This should give (AMZN) more than enough juice to blast out to a new all-time high.
Not only do I believe this target is conservative, I think we could hit the $2,525 target by the end of 2018.
Amazon has so many large businesses that are growing gangbusters that I don't see how things could play out otherwise.
Stifel values Amazon's retail business at $530 billion, and its Amazon Web Services cloud business at $600 billion. That means that at the current price you get all the other immensely profitable businesses they do for free. That also includes future business lines they have yet to enter, such as health care.
We also have a rare entry point today with the Mad Hedge Market Timing Index briefly pulling back to a neutral reading of 51.
So, I am going in here with a cautious three week to maturity position. If (AMZN) pulls back at all because of broader macro and market concerns I'll double up my position.
Don't pay more than $95.0.
If you don't do options, close your eyes and buy Amazon shares outright. It's going to new all-time highs.
Here are the specific trades you need to execute this position:
Buy 1 October 2018 (AMZN) $1,800 calls at…….………$220.00
Sell short 1 October 2018 (AMZN) $1,900 calls at……….$130.00
Net Cost:………………………….…………..…….….....$90.00
Potential Profit: $100.00 - $90.00 = $10.00
(1 X 100 X $10.00) = $1,000 or 10% in 15 trading days.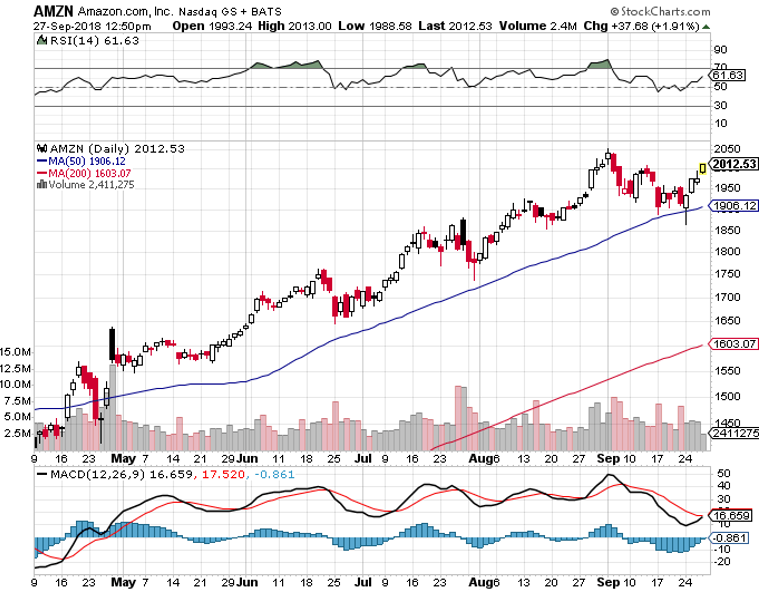 To see how to enter this trade in your online platform, please look at the order ticket above, which I pulled off of Interactive Brokers.
If you are uncertain on how to execute an options spread, please watch my training video on How to Execute Vertical Call and Put Debit Spreads by clicking here.
You must be logged into your account to view the video.
Please keep in mind that these are ballpark prices only. There is no telling how much the market can move by the time you get this.
Be sure you've signed up for our FREE text alert service. When seconds count, this feature offers a trading advantage. In today's market, investors need every advantage they can get.
The best execution can be had by placing your bid for the entire spread in the middle market and waiting for the market to come to you.
The difference between the bid and the offer on these deep in-the-money spread trades can be enormous.
Don't execute the legs individually or you will end up losing much of your profit. Spread pricing can be very volatile close to expiration.
If you don't get done, don't worry. There are another 250 Trade Alerts coming at you over the coming 12 months.
https://madhedgefundtrader.com/wp-content/uploads/2019/05/cropped-mad-hedge-logo-transparent-192x192_f9578834168ba24df3eb53916a12c882.png
0
0
Arthur Henry
https://madhedgefundtrader.com/wp-content/uploads/2019/05/cropped-mad-hedge-logo-transparent-192x192_f9578834168ba24df3eb53916a12c882.png
Arthur Henry
2018-09-27 17:29:40
2018-09-28 16:56:51
Trade Alert - (AMZN) September 27, 2018 BUY