As a potentially profitable opportunity presents itself, John will send you an alert with specific trade information as to what should be bought, when to buy it, and at what price.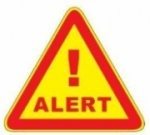 ?
Trade Alert – (FXY)
Buy the Currency Shares Japanese Yen Trust (FXY) May, 2016 $91-$94 in-the-money vertical bear put spread at $2.70 or best
Opening Trade
4-28-2016
expiration date: May 20, 2016
Portfolio weighting: 10%
Number of Contracts: 38 contracts
The Bank of Japan meeting came and went last night, with no decisive move on quantitative easing or interest rates one way or the other. We have to wait another month for the central bank to move.
This has created a nice spike 3% up in the yen and another good entry point on the short side.
Best case, the yen collapses immediately. Worst case, we grind sideways in a narrow range for three more weeks.
I am therefore going to buy the Currency Shares Japanese Yen Trust (FXY) May, 2016 $91-$94 in-the-money vertical bear put spread. It is a bet that the (FXY) will not trade above $91 by the May 20 expiration in 16 trading days.
The (FXY) is currently trading at $89.08.
If for any reasons you can?t do the options, just buy the ProShares Ultra Short Yen ETF (YCS) outright. This is the best entry point in a year.
I think we are at the tag ends of the recent unbelievable bout of yen strength.
Triggered by the Bank of Japan?s shocking move to negative interest rates (NIRP), it has been driven my a massive unwind of hedge fund positions in everything around the world that were all financed by short yen positions.
The memo is out now, and the bulk of the ?hot money? positions are gone. After some fits and starts, I expect the yen to resume its long-term structural downtrend shortly.
You can execute this spread anywhere in the $2.70-$2.80 range and have a good shot at making money in the 16 trading days to expiration.
The best execution for the options can be had by placing your bid for the entire spread in the middle market and waiting for the market to come to you.
The difference between the bid and the offer on these deep in-the-money spread trades can be enormous.
If you are uncertain on how to execute an options trade, please watch my training video on ?How to Execute a Vertical Bear Put Debit Spread? by clicking here at https://www.madhedgefundtrader.com/ltt-executetradealerts/. You must be logged into your account to view the video.
Don?t execute the legs individually or you will end up losing much of your profit.
Keep in mind that these are ballpark prices only.
Spread pricing can be very volatile, and the liquidity in the options market isn?t that great these days. If you can?t get done at the $2.60 price, then keep raising you bid in 5 cent increments until you succeed. If that doesn?t work, then just walk away.
More depth on the Japanese yen to follow.
Here are the specific trades you need to execute this position:
Buy 38 May, 2016 (FXY) $94 puts at?????$5.00
Sell short 38 May, 2016 (FXY) $91 puts at..??.$2.30
Net Cost:??????????????????…..$2.70
Potential Profit at expiration: $3.00 – $2.70 = $0.30
(38 X 100 X $0.30 ) = $1,140 or 11.11% profit on the position in 16 trading days.
?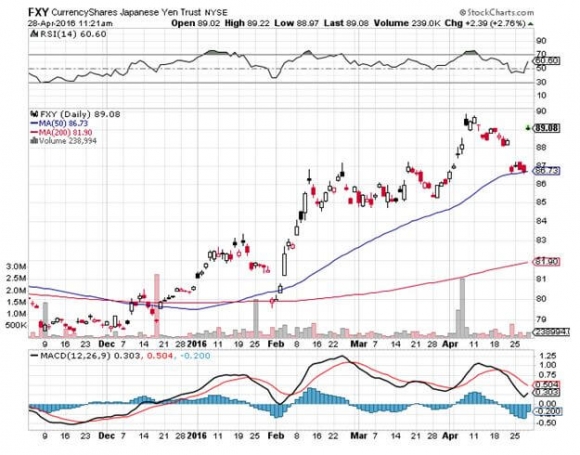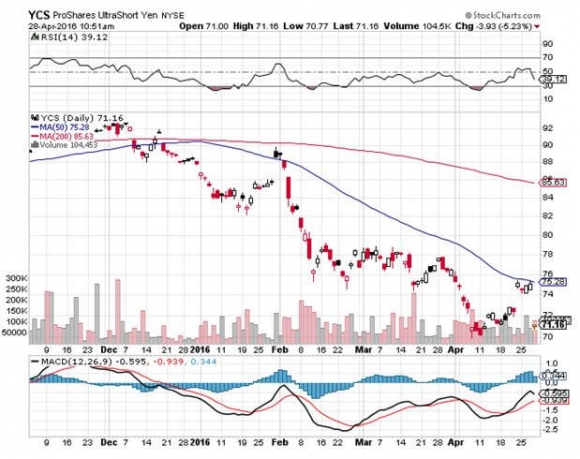 https://www.madhedgefundtrader.com/wp-content/uploads/2011/10/slider-05-trader-alert.jpg
316
600
Mad Hedge Fund Trader
https://madhedgefundtrader.com/wp-content/uploads/2019/05/cropped-mad-hedge-logo-transparent-192x192_f9578834168ba24df3eb53916a12c882.png
Mad Hedge Fund Trader
2016-04-28 11:41:25
2016-04-28 11:41:25
Trade Alert - (FXY) April 28, 2016