As a potentially profitable opportunity presents itself, John will send you an alert with specific trade information as to what should be bought, when to buy it, and at what price. This is your chance to ?look over? John Thomas? shoulder as he gives you unparalleled insight on major world financial trends BEFORE they happen.
Trade Alert – (FXY)- TAKE PROFITS
Sell the Currency Shares Japanese Yen Trust (FXY) December, 2015 $82-$84 in-the-money vertical bear put spread at $1.97 or best

Closing Trade
11-30-2015
expiration date: December 18, 2015
Portfolio weighting: 10%
Number of Contracts = 56 contracts
Looks like we have another home run on our hands staying long the US dollar.
At this morning?s opening price of $2.00 we have achieved the maximum potential profit for the Currency Shares Japanese Yen Trust (FXY) December, 2015 $82-$84 in-the-money vertical bear put spread, even though we have 15 trading days left until the December 18 expiration.
I don?t really believe this price, but that?s what I pulled off the Optionshouse trading platform just now in the screenshot below.
However, it is safe to assume that you might get done around $1.97. So just place a limit order around that and wait for an execution, no matter how long it takes.
With 87% of the potential profit in hand, there is no point in carrying on. The risk/reward is no longer favorable.
This is a big week event wise. On December 4 we have both the European Central Bank and Vienna OPEC meeting. The Federal Reserve is blabbering non-stop these days. And another Russian jet could get shot down, their missile defense technology is so out of date.
If any of these by chance trigger a yen rally, I want to be flat and have the dry powder with which to resell it. You never know.
Buy yourself a drink after work tonight. You can afford it!
It appears that you have become a pretty hot trader since you signed up for this service.
This trade takes the Mad Hedge Fund Trader year-to-date performance up to a positively stratospheric 43%.
If instead of the options you bought the ProShares Ultra Short Yen ETF (YCS), take profits for the short term, but keep it for the long term. The fundamentals for the Japanese yen are looking worse than ever.
The best execution can be had by placing your bid for the entire spread in the middle market and waiting for the market to come to you. The difference between the bid and the offer on these deep in-the-money spread trades can be enormous.
If you are uncertain on how to execute an options spread, please watch my training video on ?How to Execute a Bull Call Spread? by clicking here at https://www.madhedgefundtrader.com/ltt-executetradealerts/
Don?t execute the legs individually or you will end up losing much of your profit. Spread pricing can be very volatile on expiration months farther out.
Here are the specific trades you need to execute this position:
Sell 56 December, 2015 (FXY) $84 puts at???????$5.20
Buy to cover short 56 December, 2015 (FXY) $82 puts at..$3.23
Net Proceeds:?????????????.????…..$1.97
Profit: $1.97 – $1.77 = $0.20
(56 X 100 X $0.20) = $1,120 or 1.12% profit for the notional $100,000 portfolio.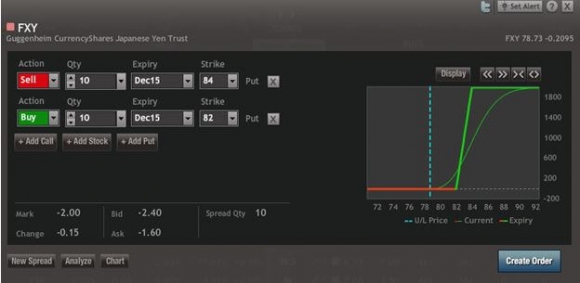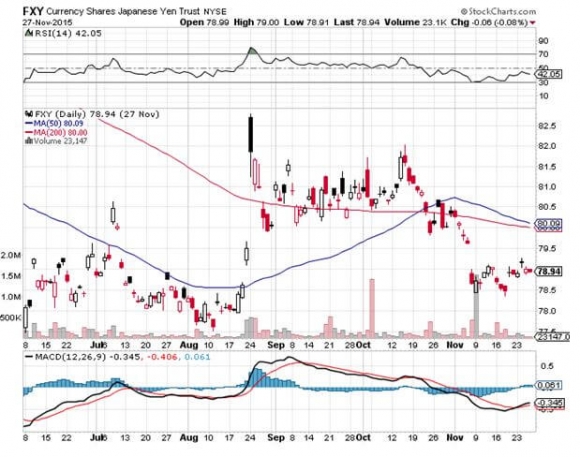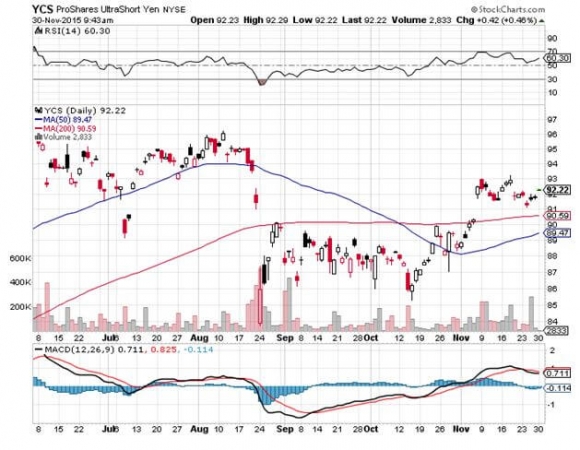 It?s All Over for the Yen
https://www.madhedgefundtrader.com/wp-content/uploads/2011/10/slider-05-trader-alert.jpg
316
600
Mad Hedge Fund Trader
https://madhedgefundtrader.com/wp-content/uploads/2019/05/cropped-mad-hedge-logo-transparent-192x192_f9578834168ba24df3eb53916a12c882.png
Mad Hedge Fund Trader
2015-11-30 10:00:48
2015-11-30 10:00:48
Trade Alert - (FXY) November 30, 2015