Great company – lousy time to be this great company.
That is the least I can say for GPU chip company Nvidia (NVDA) who issued a cataclysmic earnings alert figuring it was better to spill the negative news now to start the healing process earlier.
This stock is a great long-term hold because they are the best of breed in an industry fueled by a secular tailwind in GPUs.
But this doesn't mean they will be gifted any freebies in the short term and, sad to say, they have been dragged, kicking and screaming, into the heart of the trade skirmish along with Apple (AAPL) and buddy Intel (INTC) amongst others.
The best thing a tech company can have going for them right now is to have no China exposure, that is why I am bullish on software companies such as PayPal, Twilio, and Microsoft.
I called the chip disaster back in summer of 2018 recommending to stay away like the plague.
The climate has worsened since then and like I recently said – don't buy the dead cat bounce in chips because the bad news isn't baked into the story yet or at least not fully baked.
It's actually a blessing in disguise if banned in China if you are firms such as Facebook (FB), Google (GOOGL), and Amazon (AMZN).
I recently noted that a material end to this trade war could be decades away and the tech world is already being reconfigured around the monopoly board as we speak with this in mind.
Where do things stand?
The US administration took a scalp when Chinese communist backed DRAM chip maker Fujian Jinhua effectively shuttered its doors.
Victory in a minor battle will likely embolden the US administration into continuing its aggressive stance if it is working.
If you forgot who Fujian Jinhua was… they are the Chinese chip company who were indicted by the U.S. Justice Department for stealing intellectual property (IP) from Boise-based chip behemoth Micron (MU).
The way they allegedly stole the information was by poaching Taiwanese chip engineers who would divulge the secrets to the Chinese company buttressing China in pursuing their hellbent goal of being able to domestically supply enough quality chips in order to stop buying American chips in the future.
Officially, China hopes to ramp up its self-sufficiency ratio in the semiconductor industry to at least 70% by 2025 which dovetails nicely with the broader goal of Chinese tech hegemony.
Fujian Jinhua was classified as a strategically important firm to the Chinese state and knocking the wind out of their sails will have a reverberating effect around the Chinese tech sector and will deter Taiwanese chip engineers to act as a go-between.
According to a research note by Zhongtai Securities, Jinhua's new plant was expected to have flooded the market with 60,000 chips per month and generate annual revenue of $1.2 billion directly competing with Micron with their own technology borrowed from Micron themselves.
Jinhua's overall goal was to support a monthly manufacturing target of 240,000 chips spoiling Chinese tech companies with a healthy new stream of state-subsidized allotment of chips needed to keep costs down and build the gadgets and gizmos of the future.
For the most part, it was unforeseen that the US administration had the gall and calculative nous to combat the nurtured Chinese state tech sector.
However, I will say, it makes sense to pick off the Chinese tech space now before they stop needing American chips at all in 5-7 years and when all remnants of leverage disappear.
The short-term pain will be felt in the American chip tech sector which is evident with the horrid news Nvidia reported and the aftermath seen in the price action of the stock.
Nvidia expects top line revenue to shrink by $500 million or half a billion – it's been a while since I saw such a massive cut in forecasts.
Half of revenue comes from the Middle Kingdom and expect huge downgrades from Apple on its earnings report too.
If this didn't scare you, what will?
These short-term headwinds are worth it to the American tech sector as a whole.
To eventually ward off a future existential crisis when Chinese GPU companies start offering outside business actionable high quality chips curated with borrowed technology, funded by artificially low debt, and for half the price is worth its weight in gold.
The same story is playing out with Huawei around the globe but at the largest scale possible.
This is what happens when the foreign tech sector is up against companies who have access to unlimited state loans and is part of wider communist state policy to take over foundational technology globally.
I will also emphasize that the Chinese communist party has a seat on every board at any notable Chinese tech company influencing decisions at the top even more than the upper management.
If upper management stopped paying heed to the communist voice at the table, they would be out of business in a jiffy.
Therefore, Huawei founder Ren Zhengfei standing at a podium promulgating a scenario where Huawei is operating freely from the government is what dreams are made of.
It's not a prognosis rooted in reality.
The communist party are overlords breathing down the neck of Huawei after any material decisions that can affect the company and subsequently the government's position in the interconnected world.
The China blue print essentially entails a pan-Amazon strategy emphasizing large volume – low cost strategy.
Amazon was successful because investors would throw money at the company until it scaled up and wiped the competition away in one fell swoop.
Amazon is on a destructive path bludgeoning every American second-tier mall reshaping the economic world.
The unintended consequences have been profound with the ultimate spoils falling at the feet of CEO and Founder of Amazon Jeff Bezos, his phalanx of employees as well as Amazon stockholders which are mostly comprised of wealthy investors.
Well, Chairman Xi Jinping and the Chinese communist party are attempting to Amazon the American tech sector and the broader American economy.
The American economy could potentially become the second-tier mall in this analogy and the game playing out is an existential crisis for the likes of Advanced Micro Devices (AMD), Nvidia, Micron, Intel and the who's who of semiconductor chips.
If stocks reacted on a 30-year timeframe, Nvidia would be up 15% today instead of reaching a trading day nadir of 17%.
What is happening behind the scenes?
American tech companies are moving supply chains or planning to move supply chains out of China.
This is an epochal manifestation of the larger trade war and a decisive development in the eyes of the American administration.
In fact, many industry analysts understand a logjam of failed trade solutions as a bonus to the Chinese.
However, I would argue the complete opposite.
Yes, the Chinese are waiting out the current administration to deal with a new one that might be more lenient.
But that will take another two years and publicly listed companies grappling with the performance of quarterly earnings don't have two years like the Chinese communist party.
And who knows, the next administration might even seize the baton from the current administration and clamp down even more.
Be careful what you wish for.
Taiwanese company and biggest iPhone assembler Foxconn Technology Group is discussing plans to move production away from China to India.
India is a democratic country, the biggest democracy in Asia, and is a staunch ally of the United States.
CEOs of Google (GOOGL) and Microsoft (MSFT), some of Silicon Valley heavyweights, are from India and American tech companies have been making generational tech investments in India recently.
Warren Buffet even invested $300 million in an Indian FinTech company Paytm.
When you read stories about India being the new China, well it's happening faster than anyone thought and on a scale that nobody thought, and the underlying catalyst is the overarching trade war fueling this quick migration.
Apple is already constructing low grade iPhones in India in the state of Karnataka since 2017, and these were the first iPhones made in India.
They won't be the last either.
Wistron, major Taiwanese original design manufacturer, has since started producing the iPhone 6S model there as well.
And it is no surprise that China and its artificially priced smartphones have undercut Samsung and Apple in India grabbing the market share lead.
This is happening all over the emerging world.
And don't forget if U.S. President Donald Trump revisits banning American chip companies supply channels to Chinese telecom company ZTE. That would be 70,000 Chinese jobs out the window in a nanosecond.
The current administration has drier powder than you think and this would hasten the deceleration of the Chinese economy and also move forward the American recession into 2019 boding negative for tech shares.
Therefore, I would recommend balancing out a trading portfolio with overweights and underweights because it is obvious that tech stocks won't be coupled to a gondola trajectory to the peak of the summit this year.
It's a stockpickers market this year with visible losers and winners.
And if China does get their way in the tech war, American chip companies will eventually become worthless squeezed out by mainland competition brought down by their own technology full circle.
They are first on the chopping board because their overreliance on Chinese revenue streams for the bulk of sales.
Among these companies that could go bust are Broadcom (AVGO), Qualcomm (QCOM), Qorvo (QRVO), Skyworks Solutions (SWKS) and as you expected Micron and Nvidia who are one of the main protagonists in this story.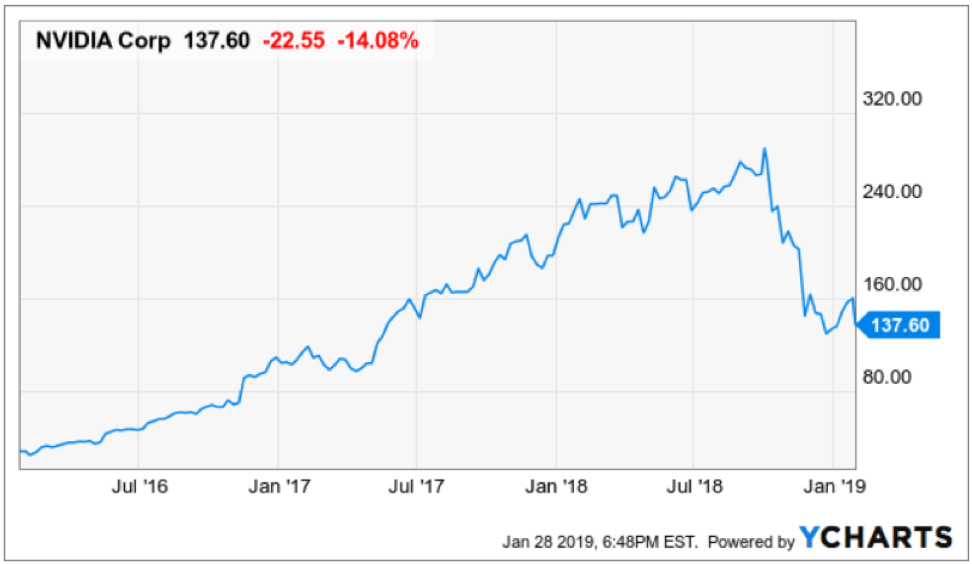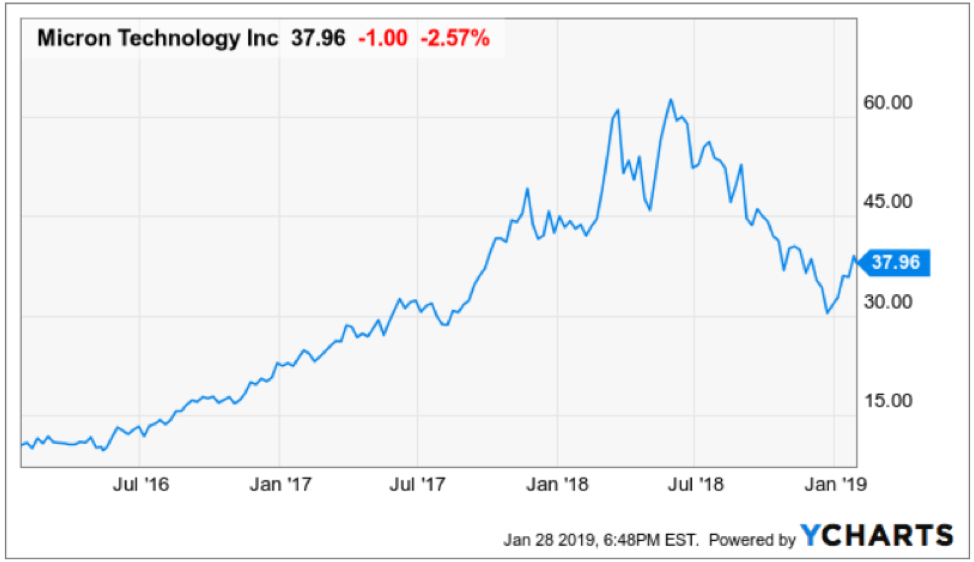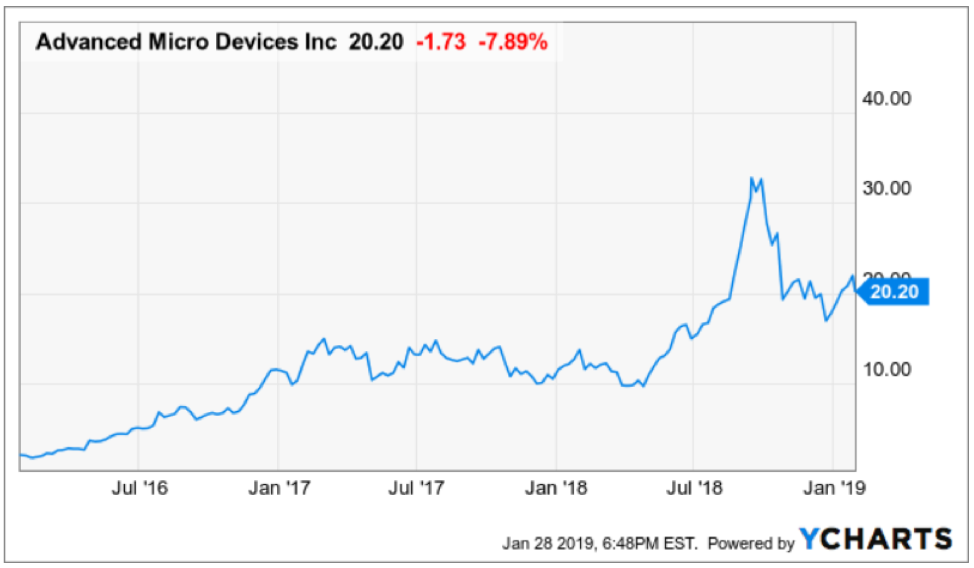 https://madhedgefundtrader.com/wp-content/uploads/2019/05/cropped-mad-hedge-logo-transparent-192x192_f9578834168ba24df3eb53916a12c882.png
0
0
Mad Hedge Fund Trader
https://madhedgefundtrader.com/wp-content/uploads/2019/05/cropped-mad-hedge-logo-transparent-192x192_f9578834168ba24df3eb53916a12c882.png
Mad Hedge Fund Trader
2019-01-29 08:06:03
2019-07-09 04:53:00
What's Behind the NVIDIA Meltdown