One of the great mysteries of the tech world has at last been answered.
Apple's brand new spaceship-designed headquarter, one of the world's most valuable buildings, has finally had a value put on it.
New figures released this week show the tech giant's circular headquarters in Cupertino, CA was assessed at a breathtaking $3.6 billion by Santa Clara County for property tax purposes. The valuation doesn't perfectly coincide with its market value — how much it would sell for — but is based off a detailed appraisal of the building, which opened in 2017.
If you include computers, furniture, and even farm equipment to take care of the property's abundant peach trees, the figure rises to $4.17 billion for the fiscal year that ended in June, the assessor's office said.
Beyond its giant 2.8 million-square-foot size, Apple Park's high-end materials, abundant glass, and intricate design make it a standout in Silicon Valley. The building is so big it even has its own weather.
Unfortunately, the share prices of companies that spend billions on flashy new designer headquarters do not have a great history. Ride around Manhattan in an Uber cab and you'll quickly understand that time has not been kind to the extravagant: the Chrysler Building, the Pan Am Building, and the AT&T building to name just a few.
Citicorp's HQ, with its horizon-defining slant-edged roof, is still in business, but the stock is still down 75% from its pre-crash high. Is Apple headed in the same direction?
Looking at the share price performance of the past year, which has been zero, you might be forgiven for thinking so. Other tech stocks have risen by 50% or more during the same period.
Apple Park is among the world's dozen most expensive buildings despite its relatively modest four-storey height.
America's tallest spire, the 1,776-foot One World Trade Center in New York, cost $3.9 billion to build according to the Port Authority of New York and New Jersey which owns the building and has 3.5 million square feet. Singapore's Marina Bay Sands resort reportedly topped $5 billion in costs, while Finland's Olkiluoto 3 nuclear reactor exceeded $6 billion.
Saudi Arabia's holy city of Mecca is home to two of the most valuable buildings in the world: the $15 billion Abraj Al Bait Towers and the $100 billion Great Mosque of Mecca.
Apple Park was assessed at more than twice the amount of Salesforce Tower, San Francisco's tallest building, which was valued at $1.7 billion by San Francisco. Salesforce Tower has about half as much office space as Apple Park despite being 57 stories taller.
With property taxes in Santa Clara County running around 1.25%, Apple would owe around $50 million annually.
The building is a manageable expense for Apple's profit machine. In its most recent quarter, Apple reported a mind-numbing $58 billion in revenue and $11.5 billion in net income.
Apple was Santa Clara County's largest property taxpayer for the 2017-18 fiscal year, with $56 million in taxes paid.
Investors have been frustrated with Apple's recent performance, although it did make back most of the 40% hickey it suffered last fall.
Its business plan seems well on track, shifting from a hardware company to one that focuses on software and services. If anything, the shift has been taking place faster than expected, with the cloud, iTunes, Apple Wallet, Apple Care, the App Store, and other services accounting for a growing share of earnings.
All will become clear when the company announces their Q3 earnings on Tuesday, July 30 after the stock market close.
No, I think the problem with Apple is that it is suffering from the China Disease. Employing a million people who produce 225 million iPhones a year, Apple is the preeminent hostage in the US-China trade dispute. That, undoubtedly, has been a dead weight on the shares.
However, after covering this field for half a century, I can tell that trade wars start, trade wars play out, and trade wars end. Unlike other trade wars, this one has a specific end date. That would be on Wednesday, January 20, 2021, or in 18 months, the date of the next presidential inauguration.
As for me, I am waiting to upgrade my current iPhone X until it includes 5G wireless technology early next year. I bet 225 million others are as well. Dump the trade war and Apple shares could rocket up towards my old long-term target of $250 a share in a heartbeat.
By the way, there is one other headquarter that may be about to join the dustbin of history. That would be 725 Fifth Avenue, NY, NY 10022, which has been appraised at a mere $371 million and carries a hefty $100 million in debt. In is now partly owned by the US Justice Department, which will soon sell its stake.
Locals know it as Trump Tower.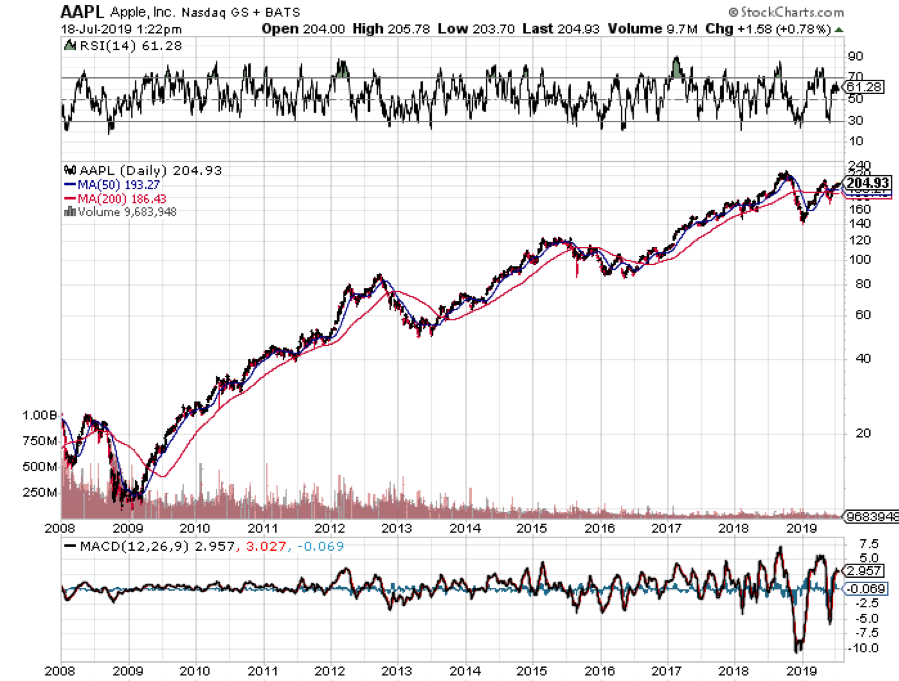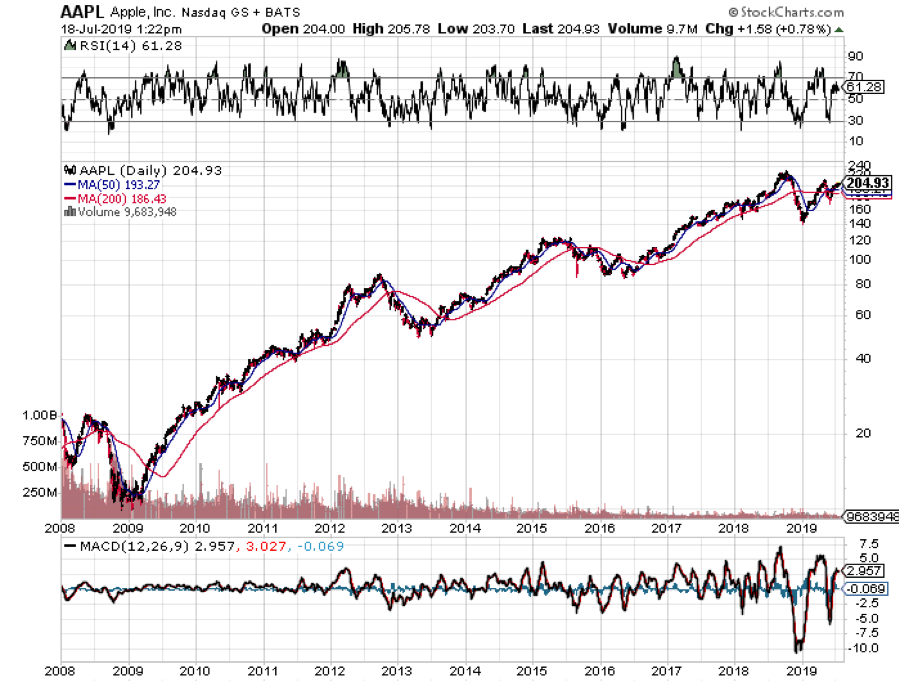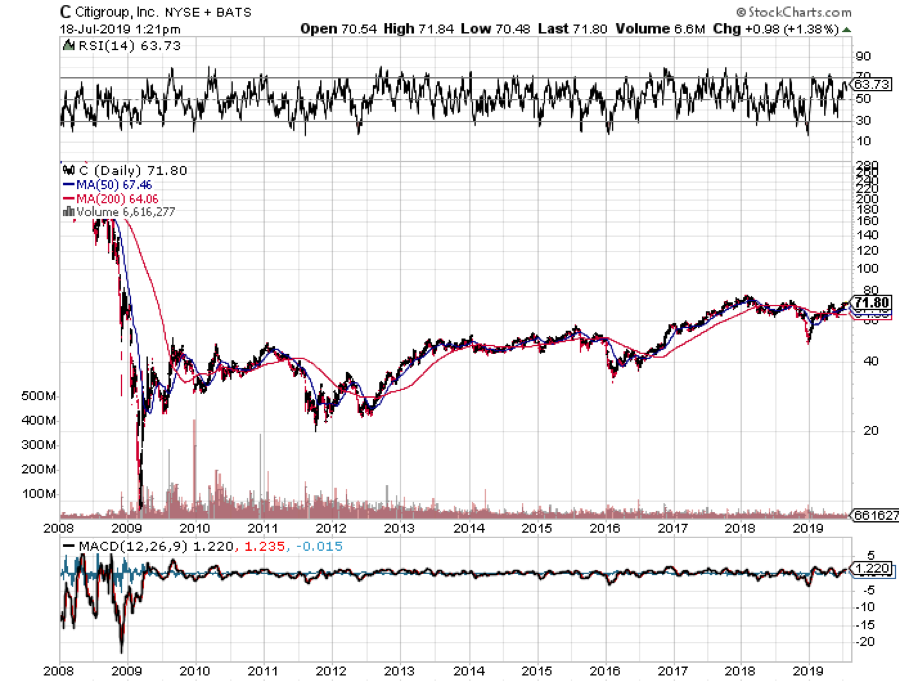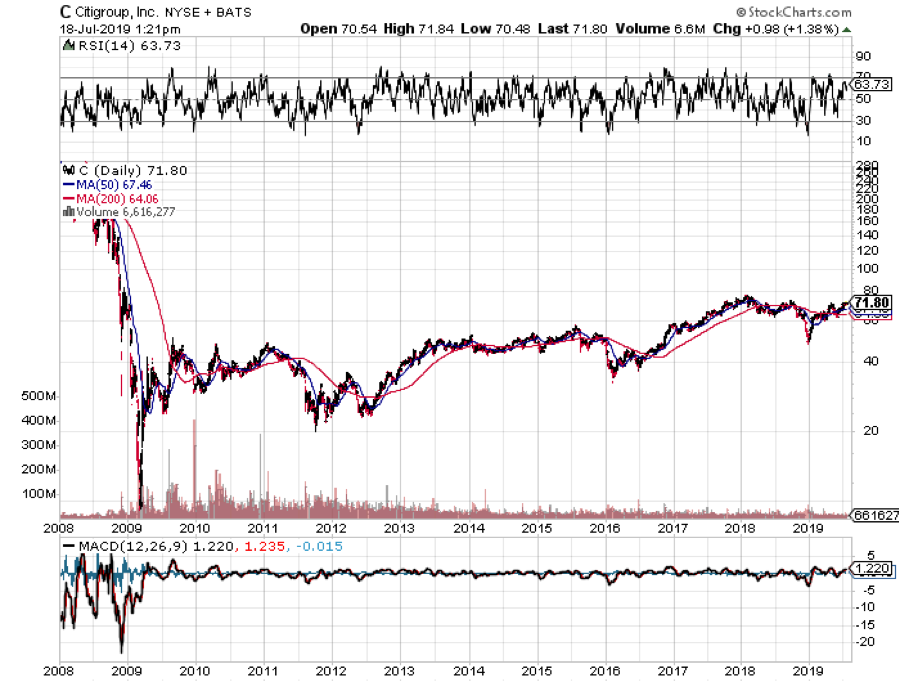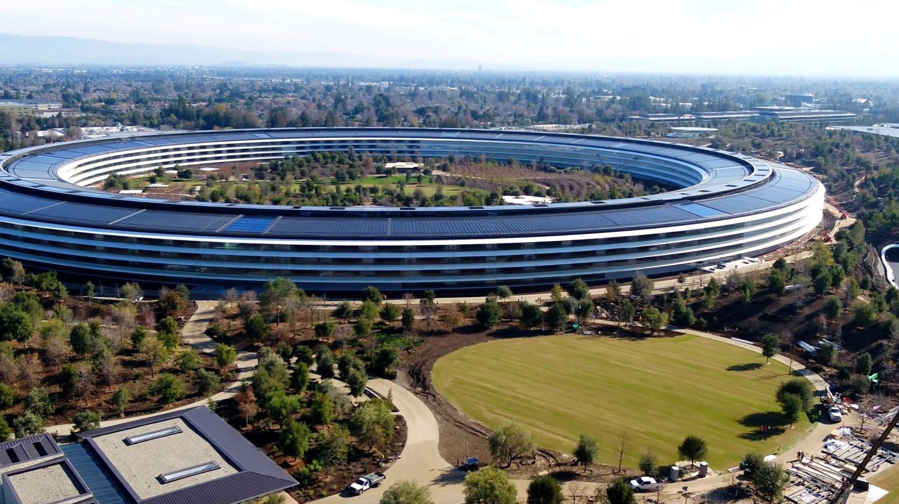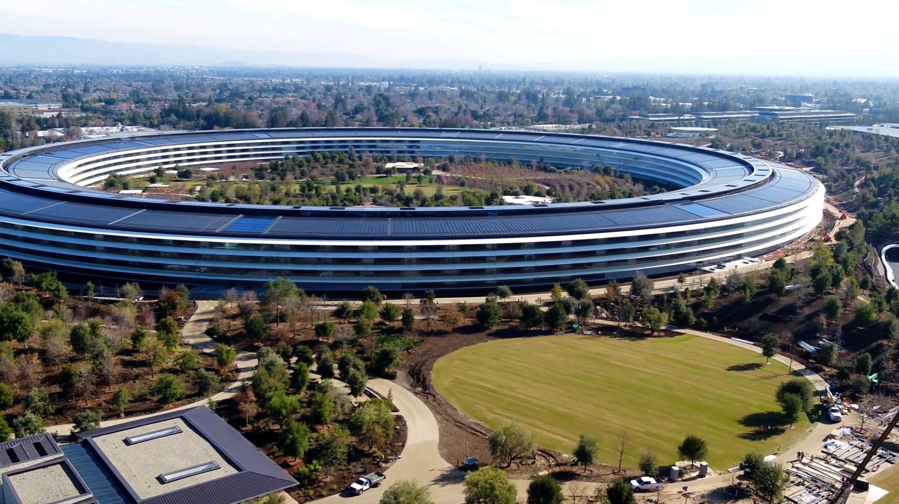 https://www.madhedgefundtrader.com/wp-content/uploads/2019/07/jul19-image.png
504
899
Mad Hedge Fund Trader
https://madhedgefundtrader.com/wp-content/uploads/2019/05/cropped-mad-hedge-logo-transparent-192x192_f9578834168ba24df3eb53916a12c882.png
Mad Hedge Fund Trader
2019-07-19 12:34:15
2019-08-19 16:04:29
What's Happened to Apple?