Tech margins could be under pressure the second half of the year as headwinds from a multitude of sides could crimp profitability.
It has truly been a year to remember for the tech sector with companies enjoying all-time high probability and revenue.
The tech industries' best of breed are surpassing and approaching the trillion-dollar valuation mark highlighting the potency of these unstoppable businesses.
Sadly, it can't go on forever and periods of rest are needed to consolidate before shares relaunch to higher highs.
This could shift the narrative from the global trade war, which is perceived as the biggest risk to the current tech market to a domestic growth issue.
Healthy revenue beats and margin growth have been essential pillars in an era of easy money, non-existent tech regulation, and insatiable demand for everything tech.
Tech has enjoyed this nine-year bull market dominating other industries and taking over the S&P on a relative basis.
The lion's share of growth in the overall market, by and large, has been derived from the tech sector, namely the most powerful names in Silicon Valley.
Late-stage bull markets are fraught with canaries in the coal mine offering clues for the short-term future.
Therefore, it is a good time to reassess the market risks going forward as we stampede into the tail end of the financial year.
The shortage of Silicon Valley workers is not a new phenomenon, but the dearth of talent is going from bad to worse.
Proof can be found in the controversial H-1B visa program used to hire foreign tech workers mainly to Silicon Valley.
A few examples are Alphabet (GOOGL), which was granted 1,213 H-1B approvals in 2017, a 31% YOY rise.
Alphabet's competitor Facebook (FB) based in Menlo Park, Calif., was granted 720 H-1B approvals in 2017, a 53% YOY jump from 2016.
This lottery-based visa for highly skilled foreign workers underscores the difficulty in finding local American talent suitable for a role at one of these tech stalwarts.
Amazon (AMZN) made one of the biggest jumps in H-1B approvals with 2,515 in 2017, a 78% YOY surge.
The vote of non-confidence in hiring Americans shines an ugly light on American youth who are not applying themselves to the domestic higher education system as are foreigners.
For the lucky ones that do make it into the hallways of Silicon Valley, a great salary is waiting for them as they walk through the front door.
Reportedly, the average salary at Facebook is about $250,000 and Alphabet workers take home around $200,000 now.
Pay packages will continue to rise in Silicon Valley as tech companies vie for the same talent pool and have boatloads of capital to wield to hire them.
This is terrible for margins as wages are the costliest input to operate tech companies.
United Technologies Corp. (UTX) chief executive Gregory Hayes chimed in citing a horrid "labor shortage in the U.S. and in Europe."
He followed that up by saying the company will have to grapple with this additional cost pressure.
Certain commodity prices are spiraling out of control and will dampen profits for some tech companies.
Uber and Lyft, ridesharing app companies, are sensitive to the price of oil, and a spike could hurt the attractiveness to recruit potential drivers.
The perpetually volatile oil market has been trending higher since January, from $47 per barrel and another spike could damage Uber's path to its IPO next year.
Will Uber be able to lure drivers into its ecosystem if $100 per barrel becomes the new normal?
Probably not unless every potential driver rolls around in a Toyota Prius.
If oil slides because of a global recession instigated by the current administration aim to rein in trade partners, then Uber will be hard hit abroad because it boasts major operations in many foreign megacities.
A recession means less spending on Uber.
Either result will be negative for Uber and ridesharing companies won't be the only companies to be hit.
Other victims will be tech companies incorporating transport as part of their business model, such as Amazon which will have to pass on more delivery costs to the customer or absorb the blows themselves.
Logistics is a massive expense for them transporting goods to and from fulfillment centers. And they have a freshly integrated Whole Foods business offering two-hour free delivery.
Higher transport costs will bite into the bottom line, which is always a contentious issue for Amazon shareholders.
Another red flag is the deceleration of the global smartphone market evident in the lackluster Samsung earnings reflecting a massive loss of market share to Chinese foes who will tear apart profit margins.
Even though Samsung has a stranglehold on the chip market, mobile shipments have fell off a cliff.
Damaging market share loss to Chinese smartphone makers Xiaomi and Huawei are undercutting Samsung products. Chinese companies offer better value for money and are scoring big in the emerging world where incomes are lower making Chinese phones more viable.
The same trend is happening to Samsung's screen business and there could be no way back competing against cheaper, lower quality but good enough Chinese imitations.
Pouring gasoline on the fire is the Chinese investigation charging Micron (MU), SK Hynix, and Samsung for colluding together to prop up chip prices.
These three companies control more than 90% of the global DRAM chip market and China is its biggest customer.
The golden days are over for smartphone growth as customers are not flooding into stores to buy incremental improvements on new models.
Customers are staying away.
The smartphone market is turning into the American used car market with people holding on to their models longer and only upgrading if it makes practical sense.
Chinese smartphone makers will continue to grab global smartphone market share with their cheaper premium versions that western companies rather avoid.
Battling against Chinese companies almost always means slashing margins to the bone and highlights the importance of companies such as Apple (AAPL), which are great innovators and produce the best of the best justifying lofty pricing.
The stagnating smartphone market will hurt chip and component company revenues that have already been hit by the protectionist measures from the trade war.
They could turn into political bargaining chips and short-term pressures will slam these stocks.
This quarter's earnings season has seen a slew of weak guidance from Facebook, Nvidia (NVDA) mixed in with great numbers from Alphabet and Amazon.
Beating these soaring estimates is not a guarantee anymore as we move into the latter part of the year.
Migrating into the highest quality names such as Amazon and Microsoft (MSFT) with bulletproof revenue drivers would be the sensible strategy if tech's lofty valuations do not scare you off.
Tech has had its own cake and ate it too for years. But on the near horizon, overdelivering on earnings results will be an arduous chore if outside pressures do not relent.
It's been fashionable in the past for market insiders to call the top of the tech market, but precisely calling the top is impossible.
The long-term tech story is still intact but be prepared for short-term turbulence.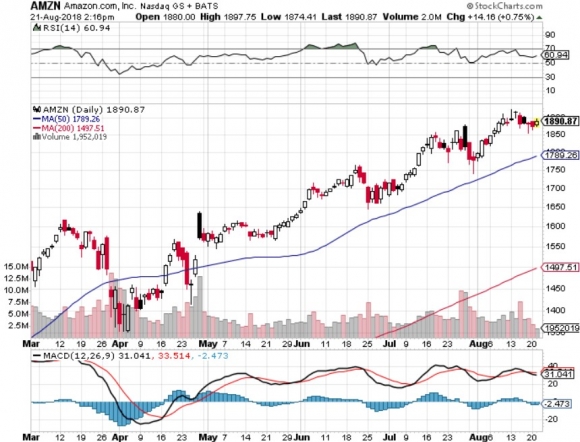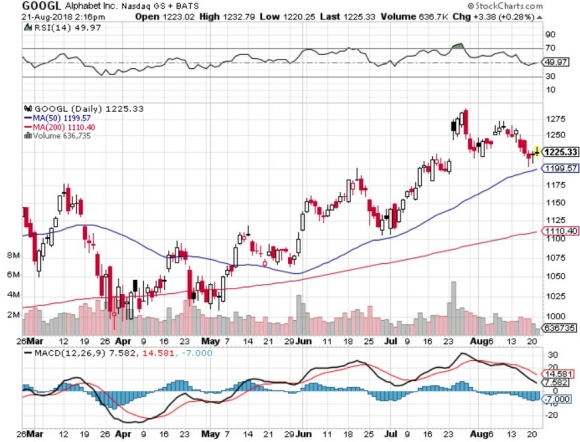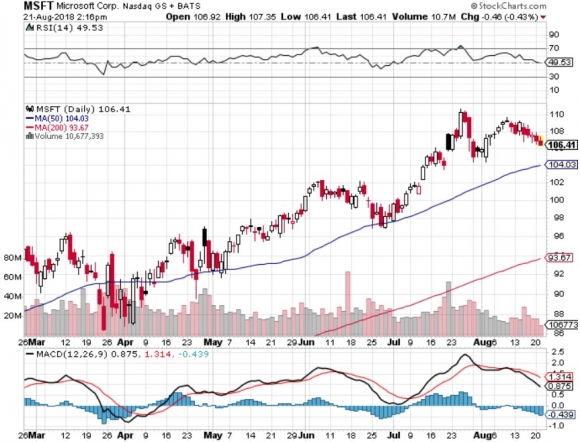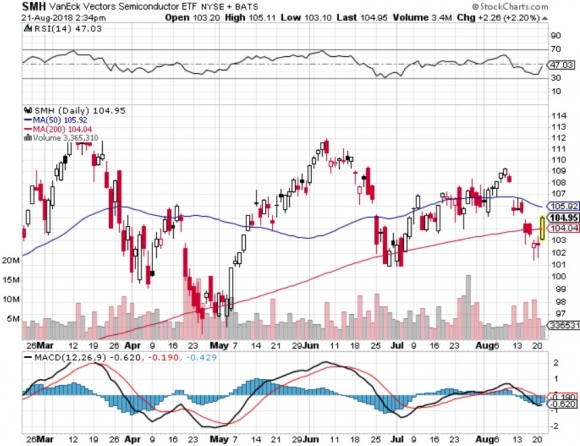 ________________________________________________________________________________________________
Quote of the Day
"By giving people the power to share, we're making the world more transparent," – said cofounder and CEO of Facebook Mark Zuckerberg.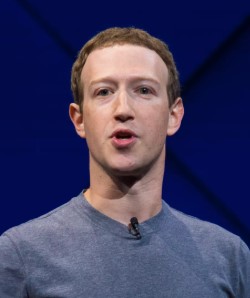 https://madhedgefundtrader.com/wp-content/uploads/2019/05/cropped-mad-hedge-logo-transparent-192x192_f9578834168ba24df3eb53916a12c882.png
0
0
MHFTR
https://madhedgefundtrader.com/wp-content/uploads/2019/05/cropped-mad-hedge-logo-transparent-192x192_f9578834168ba24df3eb53916a12c882.png
MHFTR
2018-08-22 03:05:03
2018-08-22 06:23:58
What's in Store for Tech in the Second Half of 2018?