For years, I have been predicting that a new Golden Age was setting up for America, a repeat of the Roaring Twenties. The response I received was that I was a permabull, a nut job, or a conman simply trying to sell more newsletters.
Now some strategists are finally starting to agree with me. They too are recognizing that a ganging up of three generations of investment preferences will combine to drive markets higher during the 2020s, much higher.
How high are we talking? How about a Dow Average of 120,000 by 2030, up another 465% from here? That is a 20-fold gain from the March 2009 bottom.
It's all about demographics, which are creating an epic structural shortage of stocks. I'm talking about the 80 million Baby Boomers, 65 million from Generation X, and now 85 million Millennials. Add the three generations together and you end up with a staggering 230 million investors chasing stocks, the most in history, perhaps by a factor of two.
Oh, and by the way, the number of shares out there to buy is actually shrinking, thanks to a record $1 trillion in corporate stock buybacks.
I'm not talking pie in the sky stuff here. Such ballistic moves have happened many times in history. And I am not talking about the 17th century tulip bubble. They have happened in my lifetime. From August 1982 until April 2000 the Dow Average rose, you guessed it, exactly 20 times, from 600 to 12,000, when the Dotcom bubble popped.
What have the Millennials been buying? I know many, like my kids, their friends, and the many new Millennials who have recently been subscribing to the Diary of a Mad Hedge Fund Trader. Yes, it seems you can learn new tricks from an old dog. But they are a different kind of investor.
Like all of us, they buy companies they know, work for, and are comfortable with. During my Dad's generation that meant loading your portfolio with U.S. Steel (X), IBM (IBM), and General Motors (GM).
For my generation that meant buying Microsoft (MSFT), Intel (INTC), and Dell Computer (DELL).
For Millennials that means focusing on Netflix (NFLX), Amazon (AMZN), Apple (AAPL), and Alphabet (GOOGL).
That's why these four stocks account for some 40% of this year's 7% gain. Oh yes, and they bought a few Bitcoin along the way too, to their eternal grief.
There is one catch to this hyper-bullish scenario. Somewhere on the way to the next market apex at Dow 120,000 in 2030 we need to squeeze in a recession. That is increasingly becoming a topic of market discussion.
The consensus now is that an impending inverted yield curve will force a recession sometime between August 2019 to August 2020. Throwing fat on the fire will be a one-time only tax break and deficit spending that burns out sometime in 2019. These will be a major factor in U.S. corporate earnings growth dramatically slowing down from 26% today to 5% next year.
Bear markets in stocks historically precede recessions by an average of seven months so that puts the next peak in top prices taking place between February 2019 to February 2020.
When I get a better read on precise dates and market levels, you'll be the first to know.
To read my full research piece on the topic please click here to read "Get Ready for the Coming Golden Age." 

Dow 1982-2000 Up 20 Times in 18 Years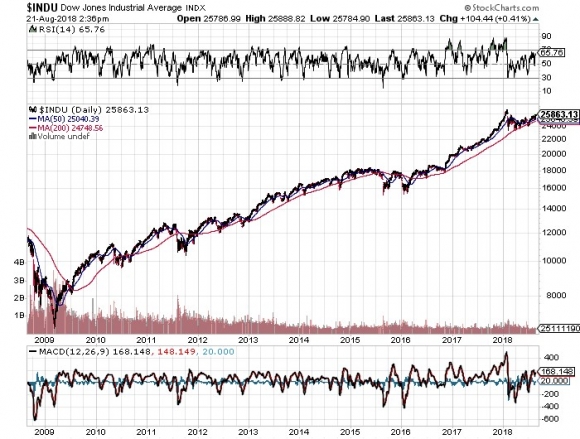 Dow 2009-Today Up 4.3 Times in 9 Years So Far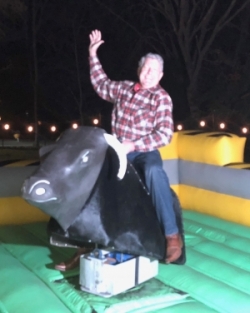 https://www.madhedgefundtrader.com/wp-content/uploads/2018/08/John-on-mechanical-bull-story-1-image-3-e1534972073238.jpg
313
250
MHFTR
https://madhedgefundtrader.com/wp-content/uploads/2019/05/cropped-mad-hedge-logo-transparent-192x192_f9578834168ba24df3eb53916a12c882.png
MHFTR
2018-08-23 01:08:05
2018-08-22 21:23:50
Why the Dow is Going to 120,000