Markets live on fads. Once a certain investment theme takes hold, the imitators start coming out of the woodwork in droves.
In 1989, all of the largest Japanese banks stampeded to issue naked short put options on the Nikkei Average by the billions of dollars when the index was at an all-time high. It then fell by 85%.
I remember signing the paperwork on a $3 billion deal for the Industrial Bank of Japan on behalf of Morgan Stanley. It's been 31 years, but I'm still waiting for those investors to come after me.
Then there was the peak of the Dotcom Bubble in 2000 and no less than five online pet food delivery companies raised billions. (remember those cute sock puppets?) Every one of them went under.
So, what has been one of the biggest fads of 2020?
That would be electric vehicles.
You no longer have to wear Birkenstocks, grow your hair long, and smoke pot to drive an electric car. They are about to become a major part of the American economy. According to Adam Jonas at Morgan Stanley, EVs account for 1.3% of the total car market today and will grow to 10% by 2025 and 25% by 2030.
I have been involved in Tesla since its earliest days back in 2003. Then it was one rich man's hobby, with technology that was a reach at best, and unlikely to ever see the light of day as a public company. There it remained for seven years.
Then they brought out the Model S in 2010, which I snapped up as fast as I could, picking up chassis no. 125 at the Fremont factory. My signature is still on the wall there. If it worked this had the potential to be a real car. If it didn't, I would wind up with $100,000 worth of inert aluminum, steel, silicon, rubber, and copper.
The trials were then only just beginning for Musk. He faced nervous breakdowns, sleeping in factories, and SEC prosecutions. After a decade of abuse, suddenly everything clicked. Total Tesla production soared to over one million units and the shares leaped 150-fold to $500 from their post IPO low of $3.30. That move financed a lot of retirements among my readers.
I remember what Steve Jobs once told me; "Like many overnight successes, this one took decades to pull off."
Suddenly, making electric cars looked easy. Raising money to finance them looked even easier.
Enter the hoards, which I list below, a roll call of the shameless:
Nikola Badger – Roll out is expected in 2021 and has a hydrogen fuel cell power source that hasn't a hope in hell of ever becoming economic. As I never tire of explaining to investors, while electric power is digital and scalable, hydrogen is analog and isn't. Maybe that's why the stock is down 83% since June. Too many unbelievable promises and no actual functioning model. Gravity was their only actual power source.
Fisker – If at first, you don't succeed, why not fail again? This had double the number of parts of a conventional international combustion engine. Its chief claim to fame was that it got a free factory from the government in Joe Biden's home state and the fact that Justin Bieber drives one. More flailing at the wind.
Aspark Owl – A $3.2 niche supercar with appeal to maybe three car collecting Saudi princes.
Bollinger B1 – Is a $125,000 SUV expected from a Michigan startup with only a 200-mile range. Why not pay nearly double the cost of a Tesla Model X and get half the performance?
The Byton M-Byte – Is a $45,000 crossover car from a Chinese start-up. China has actually been building electric cars longer than Tesla, but they have a tendency to break down or catch on fire. Quality and safety problems have until now kept them out of the US, and probably always will.
Genesis Essentia – A Croatian-based startup with a major investment from South Korea's Hyundai. It will most likely never get off the drawing board. The last time Croatia built cars was for the Austria-Hungarian Empire during WWI.
Rivian R1T – A startup with a reasonably priced truck and up to 400 miles of range that will only make it because they have a 100,000-unit order from the largest shareholder, Amazon (AMZ). It's perfect for local deliveries.
By now, virtually every major car manufacturer has or is about to roll out its own entry in the electric car race. I list them below, skipping those that are more than two years out over the horizon. Notice the profusion of the letter "e" in the names.
They include the Porsche Taycan, Audi eTron, Jaguar I-Pace, Austin Mini Electric, Fiat 500e, Kia Niro EV, BMW i3, Chevy Bolt EV, Hyundai Kona Electric, and the Hyundai Ioniq Electric, Ford F-150 Electric, Ford Mustang Mach-E, and Nissan Ariya.
Not one of these comes even close to the price/performance and battery density of the Tesla cars. Tesla is a decade ahead of the competition and is accelerating its lead. At best, they will sell a few electric cars to those who are intensely loyal to their brands and lose money doing it.
In the meantime, Tesla hasn't been sitting on its hands. Elon Musk plans to bring out a $25,000 model in two years that will bar entry to the field any other competitor. It is bringing out its own $250,000 supercar, the Tesla Plaid, which will go zero to 60 MPH in 1.9 seconds and have a 600-mile range. The Tesla Cyber Truck at $40,000 has the specs to take on the enormous US pickup market. Did I mention that the company is on the verge of developing technology that will improve battery performance by a staggering 20-fold?

So Tesla is branching out to suck up every profit in every branch of the entire global auto industry.
And this is what most traders, especially the short-sellers, got wrong about Tesla. The data is worth more than the car. The miles driven provide a springboard from which the company can offer very high value-added and profitable services, like autonomous driving. Not even Alphabet (GOOGL) can replicate this.
When I bought my first Tesla more than a decade ago, I knew I was betting on the company. The big risk was that General Motors (GM) would step in with their own cheap electric car and drive Tesla out of business.
In the end (GM) did that, but too little, too late. Its Chevy Bolt EV didn't hit the market until the end of 2016. Today, it offers a boring design, lacks autonomous driving, possesses only a 259-mile range for $36,620, and is subject to recall, thanks to recurring battery fires (click here for the link).
The quality is, well, Chevy quality.
This year, Chevy will sell under 20,000 Bolts. Tesla is approaching 500,000. It's too late to close the barn door after the horse has "bolted," as GM is earning. Over the past decade, Tesla shares are up 150 times. GM shares are nearly unchanged during the greatest bull market of all times.
It is competing against Teslas that are 20 years from the future, are fully autonomous, goes to street-to-street autonomous driving next year, and upgrades itself once or twice a month.
Make mine Tesla, please, which will soon become the world's first trillion-dollar car company. Don't waste your time or money on the others, either as a driver or investor.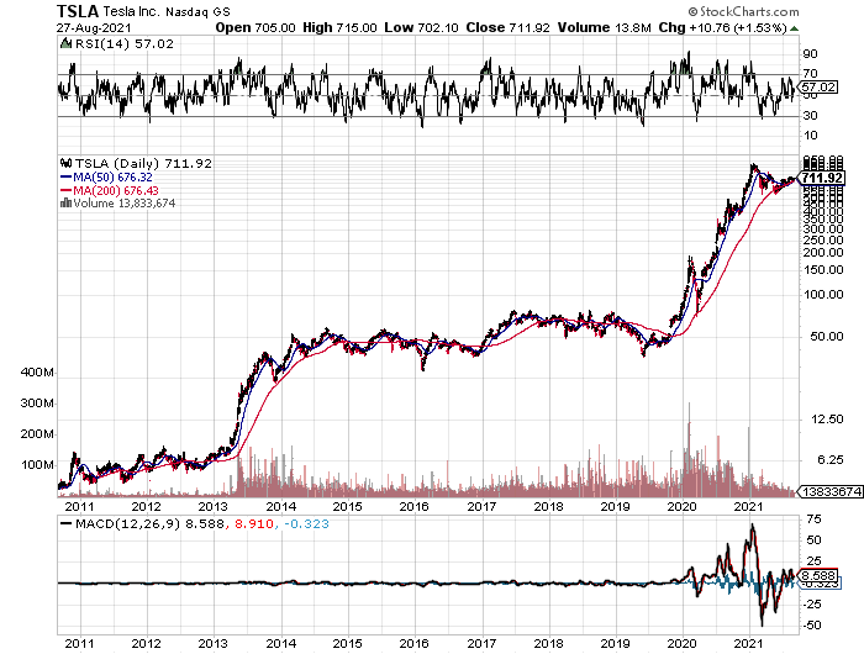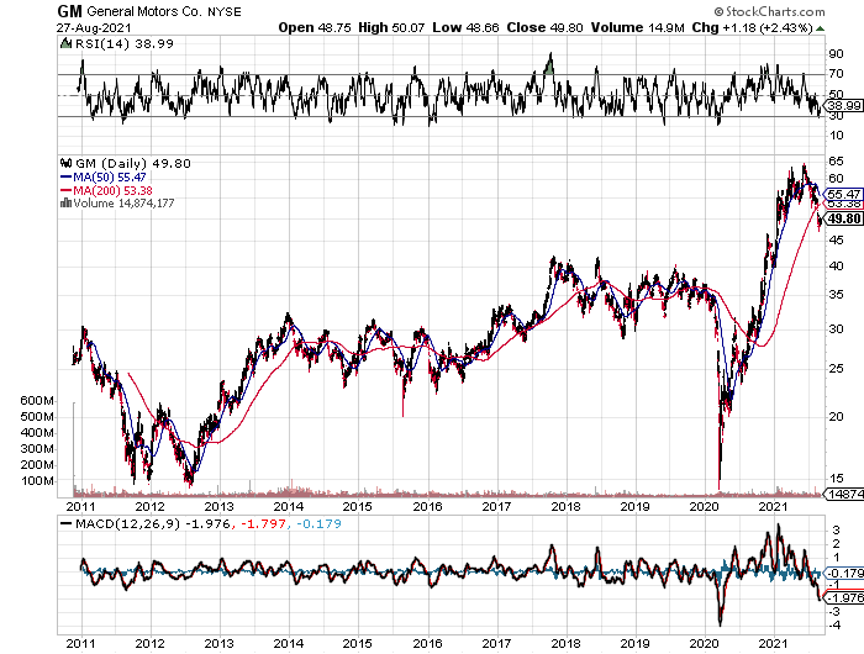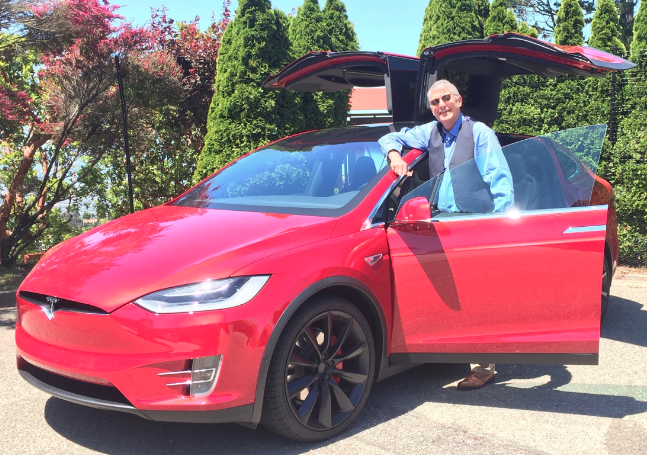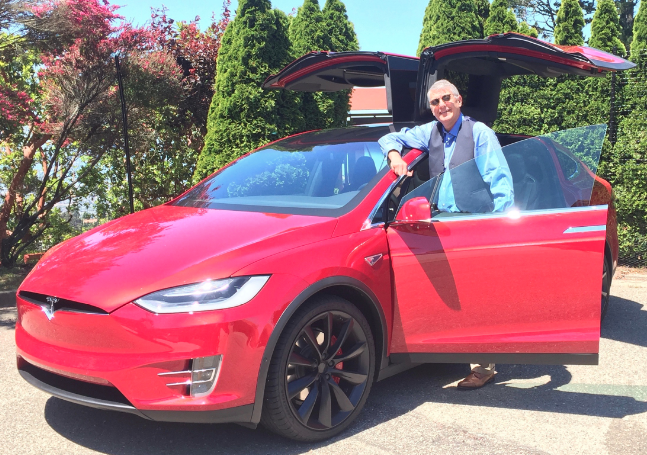 https://www.madhedgefundtrader.com/wp-content/uploads/2018/10/New-Tesla.png
455
647
Mad Hedge Fund Trader
https://madhedgefundtrader.com/wp-content/uploads/2019/05/cropped-mad-hedge-logo-transparent-192x192_f9578834168ba24df3eb53916a12c882.png
Mad Hedge Fund Trader
2021-08-31 10:02:54
2021-08-31 12:12:05
Why You Must Avoid all EV Plays Except Tesla