If I were trapped on a desert island and could pick only one economic data release to float ashore in a bottle, it would doubtless be the weekly jobless claims.
Released by the Department of Labor every Thursday morning at 8:30 EST, this one number is the most accurate leading indicator of future economic activity among the hundreds out there to choose from. If you don't believe me, take a look at the chart below provided by my friends at Goldman Sachs showing the high correlation between this data and the S&P 500.
This morning, the latest release showed a modest gain in claims of 2,000, from 348,000 to 351,000. The four week moving average fell 7,000 to 359,000. What is really important here is that the major downtrend is intact, and is well below the 400,000 thought to indicate an expanding economy. If the current trend continues, jobless claims could reach as low as 275,000 by the end of the year. Because of this, UBS has lowered its year end unemployment rate forecast from the current 8.3% to 7.8%, not far below my own.
As long as jobless claims are maintaining this trend, I am reluctant to pile on aggressive short positions, despite the fact that most technical indicators are showing the most extreme overbought conditions in several years. Instead I have been running balanced 'market neutral" positions where selective longs are balanced out with short positions.
Sure, I am leaving some money on the table with such a cautious approach. But when the fat lady sings, I'll be the one who is laughing. When you spend money on fire insurance, you don't call the company and complain when your house doesn't burn down. I hate these straight lines moves up like this because it makes the idiots look like geniuses and the geniuses look like idiots, and you all know which category I place myself in.
When will the jobless figures start to turn up? The data we are seeing now are in response to a GDP that grew at a 2.9% rate in Q4, 2011. Q1, 2012 could come in as low as 1.5%. When we see managers respond to the next set of data in coming months, our recent torrid job growth could hit a wall.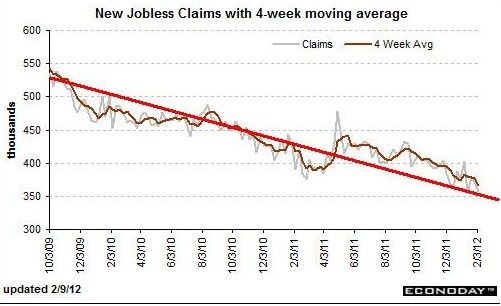 Is This Around the Corner for Jobless Claims?