The bull rally isn't dead – that is the biggest takeaway from Adobe's (ADBE) overperformance and recent earnings beat.
They will keep posting positive earnings results unless there is some type of seismic shift that deteriorates its competitive advantage.
The company continues to show no mercy by expanding revenue 25% year-over-year to $2.74 billion in the quarter just reported.
Adobe's portfolio of solutions is the gold standard for creating and managing the world's digital experiences through its apps and cloud products.
Software stocks are the optimal late cycle stocks and I have been whacking every bush in the outback to spread the message that instead of opting for hardware, software protects investors from many of the treacherous traps out there now.
But the most regenerative trends out there are many companies are bypassing or delaying, exorbitant capital projects like new chip factories or new hardware product lines because of the high-risk nature of the economy peaking, in place of fine-tuning processes that are directly correlated to higher software procurement.
This stock fits that procurement bill with millions of consumers dependent on critical apps like Adobe Photoshop and PDF for personal and professional endeavors.
I know I am!
A ceaseless pipeline of enterprises the world over is relying on Adobe every day to help them transform their businesses and the success is vividly showing up in the numbers.
The branding power and the continuous product innovation and services, the deep investment in technology platforms, and a robust ecosystem of partners are enabling Adobe to serve millions of customers swelling the top line.
The expanding addressable markets in the creativity, document, and customer experience management categories are an opportunity that has never been greater.
Adobe Creative revenue was $1.59 billion demonstrating 22% year-over-year growth.
Mobile is the main catalyst in the Digital Media space and Adobe is experiencing significant increases in mobile traffic and member sign-ups for Adobe's offerings.
This is the gilded age of creativity, and the vision for the Creative Cloud is to be the creativity platform for all.
This has catapulted Adobe's creative portfolio into must-have apps for professional content creators.
And we are just skimming the surface of how deeply creative content will penetrate into users' lives.
Whether you are a burgeoning student, an experienced designer, a commercial YouTuber, or a marketer, storytelling is the focal point to the way you communicate and connect.
The key part of the Creative Cloud growth strategy is appealing to new audience of users and Adobe is executing this tactic on all levels.
Adobe Spark, a product that easily turns ideas into compelling stories, graphics, and webpages, is swiftly gaining traction among creators from the classroom to the boardroom.
Spark traffic on web and mobile has more than doubled year-over-year.
They have enhanced their vision of platforms to include social media outlets like Facebook, Instagram, and YouTube.
Premiere Rush is rapidly becoming the solution of choice for YouTubers and social video creators. Premiere Rush is now available on Android in addition to iOS, Mac, and Windows.
When we boil down the nuts and bolts to find out the growth drivers, I am convinced about the upselling and retention of assets inciting new user growth driven by numerous global initiatives to generate demand, including targeted campaigns and promotions, leveraging the funnel of users coming to Creative Cloud through mobile apps and online engagement.
This helps continue focus on new categories including immersive media and new segments such as social media creators, Creative Cloud Photography plan subscriptions, Adobe Premiere Pro single app subscriptions in the video category, and Creative Cloud enterprise.
Adobe Stock is the fast-growing service for stock images, videos, and millions of additional creative assets grew greater than 25% year-over-year.
With Adobe Document Cloud, they are reimaging how consumers can scan, edit, collaborate, sign, and share documents in the cloud and mobile era.
Document Cloud revenue in Q2 was a record $296 million and they grew Document Cloud ARR to $921 million driven by continued strength in Acrobat subscription adoption.
Mobile is the next frontier for digital documents and our flagship apps.
Adobe Reader for mobile and Adobe Scan continue to metastasize in popularity.
Adobe Scan, which allows you to capture everything from documents to forms, whiteboard sketches or business cards, and turn them into picture-perfect, high-quality PDFs, is now the leading scanning app in iOS and Android.
Adobe Sign, the cloud-based electronic signature solution, is another winner with customers including Merck, Hitachi, and Iowa State University.
They are using Adobe Sign to provide optimal customer experience, close out deals, and win business.
The quality of the company's apps is far-reaching with many firms turning away from Amazon and joining Adobe in droves.
The Digital Media ARR growth has been leveling down from 30%-plus range in the last couple of quarters, and investors have begun to be concerned about the long-term trajectory.
Adobe still possesses the potential for unit conversions internationally, but domestic sales will drive the business in the short term.
Even more attractive, the company is insulated from the China ruckus.
The company is one of my favorite software stocks and is part of an exclusive club of 5-7 software stocks that are part of my long-term must-buys.
This is an effective bet on the expansion and continuous development of the digital content industry.
Even if certain formats were to blow up like a Facebook, content will evolve into some other form and Adobe will be on top of the game attempting to deliver a first rate of tools to support these new operations.
Adobe is a core enterprise stock and most businesses from big to small pay for one of their services, for example, the bare minimum is likely to result in a company paying for Adobe's PDF viewer to capture the best method of handling PDFs.
Adobe simply does a great job of providing and supporting creative software applications to drive productivity.
And I love that this company isn't reliant on any one tool to drive profits, being a one-trick pony in this climate has forced other companies to seriously overreach in risk and addressable market.
Wait for shares to come down for $300, traders will need a better entry point as shares have bolted from the barn door.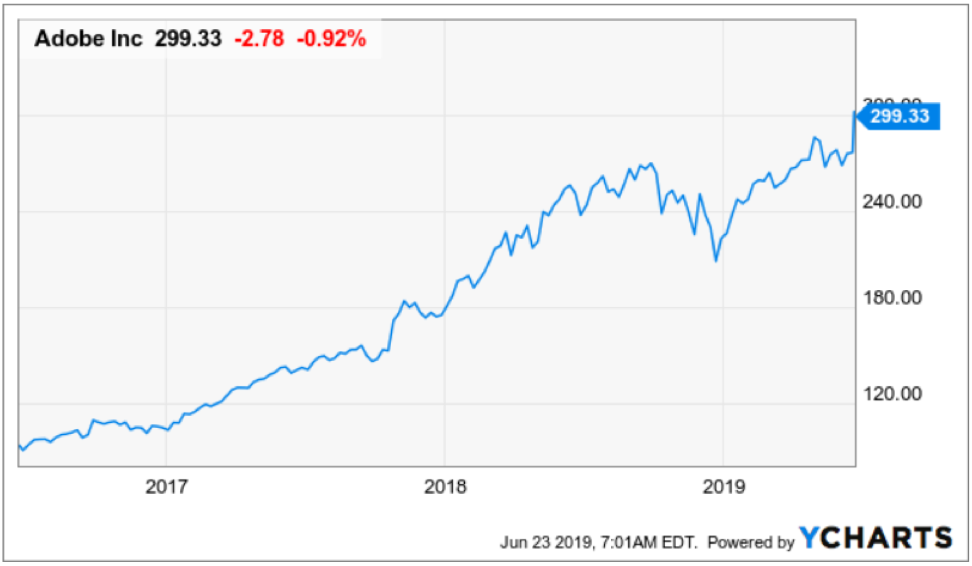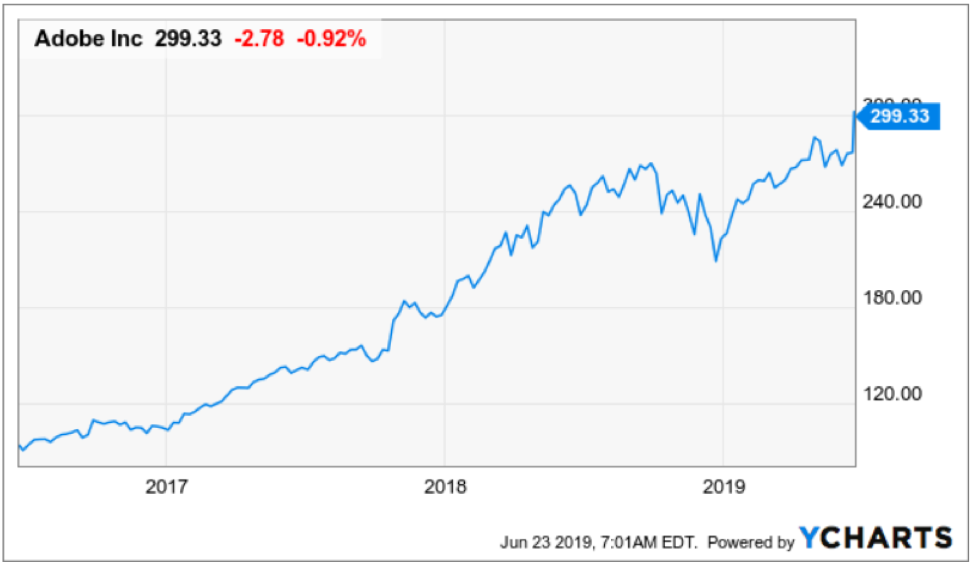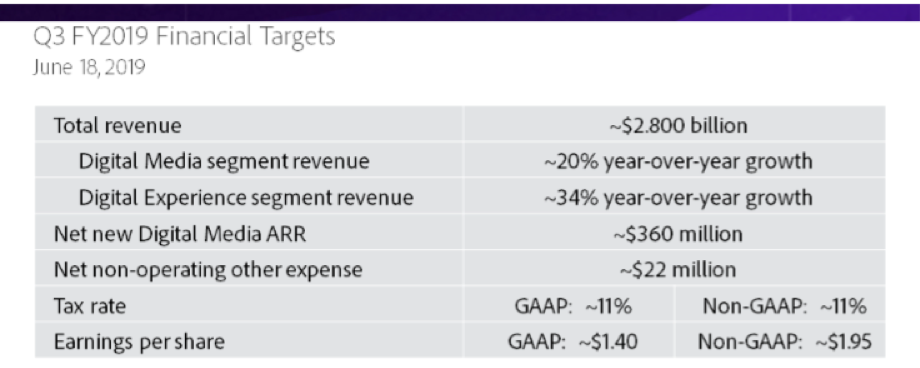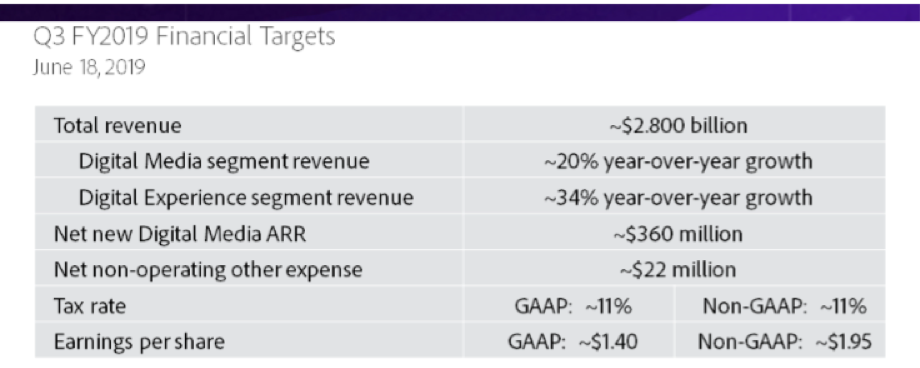 https://www.madhedgefundtrader.com/wp-content/uploads/2019/06/targets.png
368
920
Mad Hedge Fund Trader
https://madhedgefundtrader.com/wp-content/uploads/2019/05/cropped-mad-hedge-logo-transparent-192x192_f9578834168ba24df3eb53916a12c882.png
Mad Hedge Fund Trader
2019-06-24 05:02:51
2019-07-23 09:02:22
You Could Do a Lot Worse Than Adobe