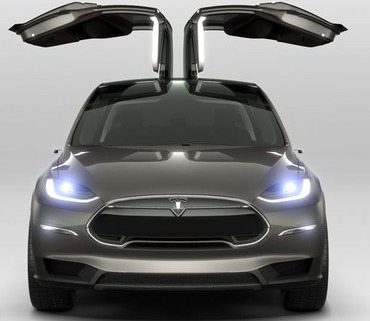 Elon Musk certainly came up with a winner with his unveiling of Tesla?s Model X on February 9. When I first heard the specifications of Tesla?s new Model X, I was floored. The all- electric vehicle offers four wheel drive. It has spacious seating for seven. It accelerates from zero to 60 miles per hour in 4.4 seconds, a faster jackrabbit sprint than you?ll find in a Porsche Carrera. It is in effect an all-weather SUV- minivan-high performance sports car hybrid.
The electric drive achieves a generational leap in capabilities. The 85 kWh lithium ion battery back boasts a 300 mile range, with a cheaper 60 kWh version available with a 230 miles range. The all aluminium body saves enough weight to give you this fantastic reach.
The only competitor this close will be BYD Motors (BYDDF) model E-6 with a 186 mile range due in the US by the end of the year. This compares to my existing electric Nissan Leaf (NSANY) which takes seven hours to charge and can make it only 80 miles before pooping out.
Don?t bother looking for the motor because you?ll never find it. There is one mounted under each axel. Lift the hood and you?ll just find more storage space.
If you buy both the high powered wall connector and the twin charger for a combined $2,700, you can charge up from empty in only 4.5 hours. Of course, you?ll have to rewire your home to take an extra 100 amp circuit.
Tesla is departing from the all-electric convention by not using the standard J-1772 plug. Instead, it will go for the NEMA 14-30 plug. But this can be attached to J-1172 power sources with an adapter.
A great selling point of electric cars, which the companies don?t mention, is that there is no maintenance. Just bring your car in for a tire rotation every 7,500 miles. Instead of tune ups, you get software upgrades. Even the brake pads last 100,000 miles, as the regenerative braking system does most of the heavy lifting on stopping. You also have to deal with people cheering from the roadside or giving you a thumbs up wherever you go because you are driving a true zero emissions car. No Kidding.
Design was a big factor, and the sleek bullet shape will certainly turn heads. In a tribute to the Mercedes Benz gull wing doors of the 1950?s, the Model X includes its own ?falcon wing? doors.
Don?t hold your breath expecting a delivery anytime soon. Production doesn?t begin at the Fremont, California plant until the end of 2013, and won?t go on sale to the general public until 2014. The great thing about this timing is that it gives you a chance to see if Tesla?s Model S four door all-electric sedan lives up to its sky high expectations, which will see a roll out this summer. The Model S is expected to reach maximum production of 20,000 units a year in 2013.
When I spoke to engineers at the company, my big question was whether the car could make it the 200 miles from San Francisco to my beloved Lake Tahoe. It is within the stated range, but involves a 7,200 foot climb over the notorious Donner Pass.
I know from my Leaf driving experience that steep hills really eat into your range. They said that they would not be sure until test runs began next year, but not to worry. Tesla was planning to build a network of 440 volt, high amperage ?supercharging? stations along the way that can give you a full charge in 45 minutes.
To watch the video of the unveiling, please click here. There, you can also put down a fully refundable $5,000 deposit to get a place on the waiting list. The price may come in at a $70,000-$80,000 range, in line with other top of the line SUV?s with all the extras. I signed up on day one and manage to score delivery number 60. Last time I checked, they were up to 645.
I have to think that there will be a stock play here sometime this year. Tesla shares rose 55% after the December low, massively outperforming the market. If we get any kind of a selloff in the near future, as I expect, you might want to pick some up. When they roll out the S-1 this summer, you can count on the mother of all marketing pushes to positively feed into the shares.
It will also get some mileage if the price of gasoline continues to soar, as will all other alternative energy plays. There?s nothing like driving past those $5 a gallon signs and giving them the middle fingered salute.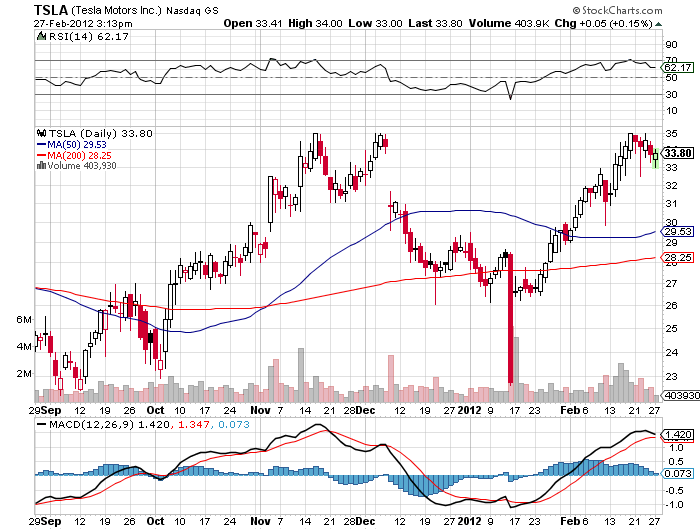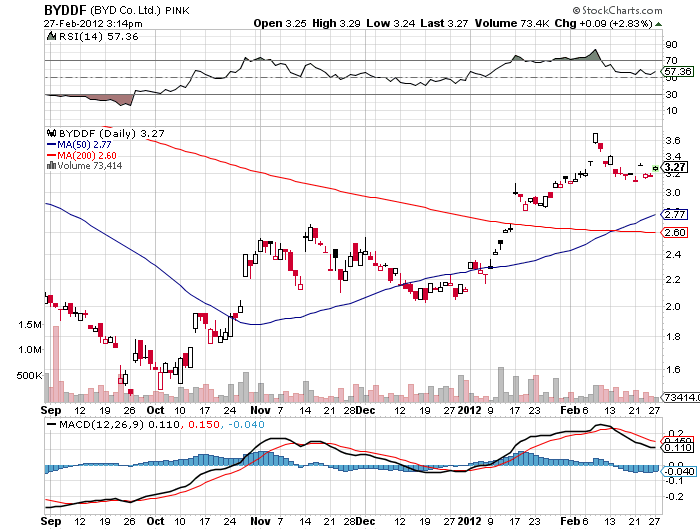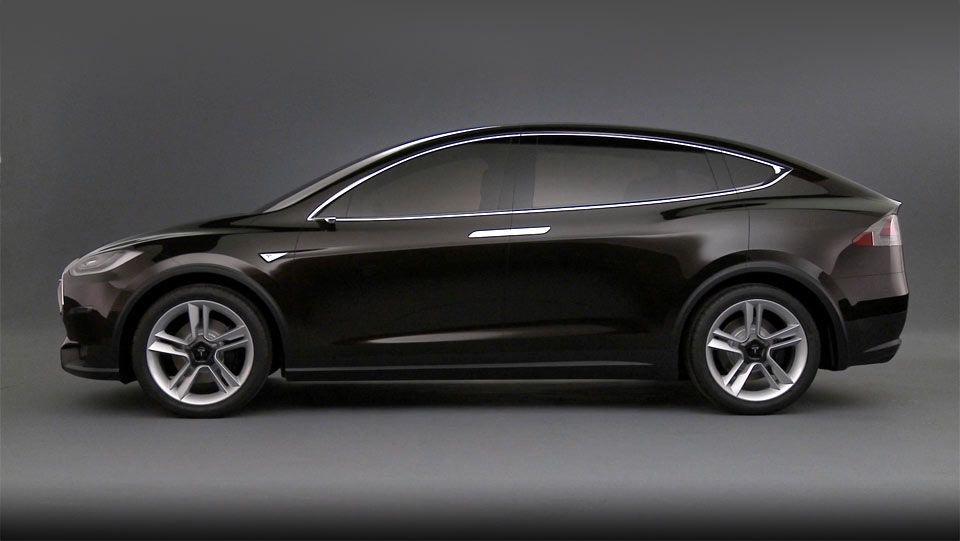 https://www.madhedgefundtrader.com/wp-content/uploads/2012/02/full40.jpg
400
370
DougD
https://madhedgefundtrader.com/wp-content/uploads/2019/05/cropped-mad-hedge-logo-transparent-192x192_f9578834168ba24df3eb53916a12c882.png
DougD
2012-02-27 23:03:29
2012-02-27 23:03:29
Tesla Leaps Into the Future With Its New Model X