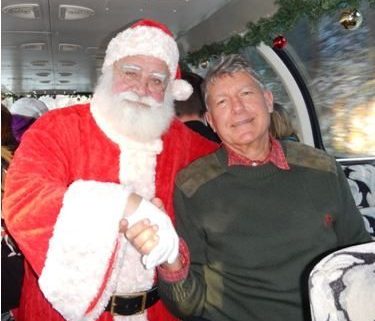 When I was growing up in Los Angeles during the fifties, the most exciting day of the year was when my dad took me to buy a Christmas tree.
With its semi desert climate, Southern California offered pine trees that were scraggly, at best, and we didn?t want to chop down the view that we had.
So the Southern Pacific Railroad made a big deal out of bringing trees down from much more well? endowed Oregon to supply holiday revelers.
You had to go down to the freight yard at Union Station on Alameda Street to pick them up.
I remember a jolly Santa standing in a box car with trees piled to the ceiling, pungent with seasonal evergreen smells, handing them out to crowds of eager, smiling buyers for a buck apiece.
Watching great lumbering steam engines as big as houses whistling and belching smoke was enthralling. We took our prize home to be decorated by seven kids hyped on adrenaline, chugging eggnog.
A half-century later, the Southern Pacific is gone, the steam engines are in museums, anyone going near a rail yard would be mugged or arrested for vagrancy, and Dad long ago passed away. Dried out trees at Target for $30 didn?t strike the right chord.
So I bundled the kids into the SUV and drove to the Eastern shore of Lake Tahoe, on the Nevada side, US Forest Service tree cutting permit in hand.
Deep in the forest at 8,000 feet, the kids, hyped on adrenaline, made the decision about which perfect ten footer to take home. I personally chopped it down, and dragged it down the ridge huffing and puffing all the way. I then tied it to the roof of the car and drove us home.
I netted three trees that day, one for each home, and one for my oldest daughter. I figure I saved myself $400 (the permits were $10 each).
With any luck, these memories will last until the next century, long outlasting me.
Now the story really comes full circle. I was in Portland, Oregon a few weeks ago, and had some free time to kill. So I wandered across the river to the Oregon Rail Heritage Center.
What do I see but Southern Pacific engine no. 4449, the exact same locomotive I marveled at in LA 60 years ago, all decked out in its glorious orange and red paint.
It was like discovering a long lost family member. The 435-ton, 72-year-old behemoth was being rebuilt from the ground up by a dedicated team of similarly aged volunteers to serve as the city?s Christmas train.
For the link to the museum, please click here Oregon Rail Heritage Foundation.
Union Pacific still maintains, in running condition, some of the largest steam engines every built for historical and public relations purposes.
One, the ?Old 844? once steamed its way over the High Sierras to San Francisco on a nostalgia tour. The 120-ton behemoth was built during WWII to haul heavy loads of steel, ammunition, and armaments to California ports to fight the war against Japan. The 4-8-4-class engine could pull 26 passenger cars at 100 mph.
When the engine passed, I felt the blast of heat from the boiler singe my face. No wonder people love these things! To watch the video, please click here and hit the ?PLAY? arrow in the lower left hand corner.
Please excuse the shaky picture. I shot this with one hand, while using my other hand to restrain my over excited kids from running on to the tracks to touch the laboring beast.
Merry Christmas!
John Thomas
Long Time No See, Old Friend

Thanks for Filling My Stocking with Great Tips, Santa!

https://www.madhedgefundtrader.com/wp-content/uploads/2013/12/John-Thomas-with-Santa.jpg
374
375
Mad Hedge Fund Trader
https://madhedgefundtrader.com/wp-content/uploads/2019/05/cropped-mad-hedge-logo-transparent-192x192_f9578834168ba24df3eb53916a12c882.png
Mad Hedge Fund Trader
2016-12-26 01:07:12
2016-12-26 01:07:12
A Christmas Story