The jury is out, and heads could roll.
That is what the tech market has been telling us and that is why I am slapping a conviction sell rating on the struggling online food delivery company GrubHub (GRUB).
The gig economy has been found out and the industry is about to have their free lunch taken away.
Many tech companies handling cheap labor by employing key workers as independent contractors are about to lose their shirt.  
Considering that GrubHub cannot make the unit economics work in their favor when times are good, what do you think will happen if they have to start paying overtime, healthcare, and bonuses to full-time drivers?
Unfortunately for GrubHub, you cannot just strip out the driver in the business model, someone needs to get the hot tacos from point A to point B and back.
Along with higher labor costs, delivery fees are on the verge of cratering because of elevated competition.
GrubHub doesn't have a monopoly in this industry and restaurants continue to complain that the likes of Postmates, DoorDash, GrubHub and Uber (UBER) Eats rip them off leaving the restaurants with their necks just above water.
GrubHub is so pitiful that they have had to resort to nefarious tactics condemning a failing business model.
Investors should aggressively short the stock or avoid it at all costs.
What type of tricks has GrubHub been up to?
If you hadn't heard already, Senator Chuck Schumer was in contact with the CEO of GrubHub Matt Maloney over fraudulent fees the food-delivery giant has been charging restaurants nationwide and demands full refunds for cheated customers.
GrubHub was charging restaurants fees for phone calls that didn't result in food orders and the company admitted wrongdoing.
The company responded by offering only 60 days' worth of refunds even though this dark practice had taken place for years.
The exploitation took place because of in-house algorithms that calculate fees, which restaurants say can range between $5 and $9 for a single phone call.
GrubHub recently refunded one New York City restaurant vendor over $10,000 for the fraud, covering fees going back to 2014.
GrubHub agreed to extend the refund to 120 days of ill-gotten fees, but many regulators have said this is still not enough.
Then if you didn't think that was bad, GrubHub had its hand in anti-competitive tactics that sum up the plight of the company.
GrubHub has been creating fake websites, impersonating third party restaurants by undercutting them to take control over their own web sites then taking a larger cut of commissions. 
The company says that the fake websites are "a service" for clients, but when the cybersquatting has been to the detriment to the restaurant, using this point of leverage to swindle restaurants out of more fees and sometimes charging them more than 400% of the actual cost.
This insane move has strained relations and murdered trust between GrubHub and outside vendors while making it extraordinarily difficult to take back control over their website.
As you would expect, GrubHub is monetarily incentivized to control the thoroughfare.
A GrubHub spokesman commented saying there would be "no changing of our algorithm" but from how I see it, the writing is on the wall, the equity in the company is in a vicious spiral downward.
It's hard to make money in restaurants but GrubHub is overreaching big time.
Invest in this company at your peril and avoid all online food delivery platforms, they are simply ghastly investments.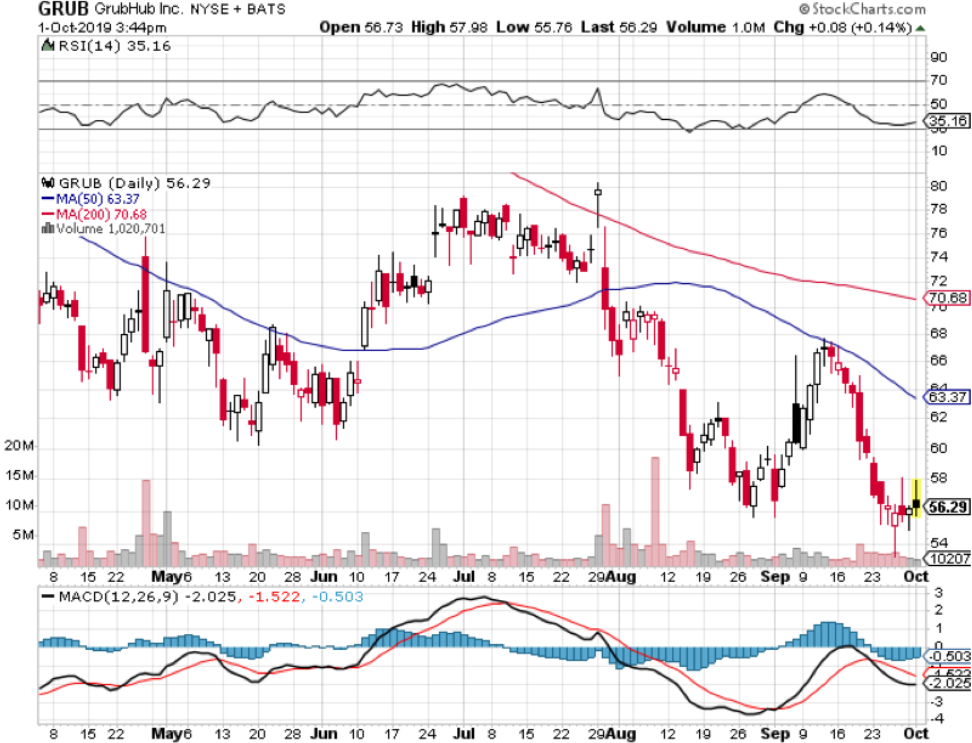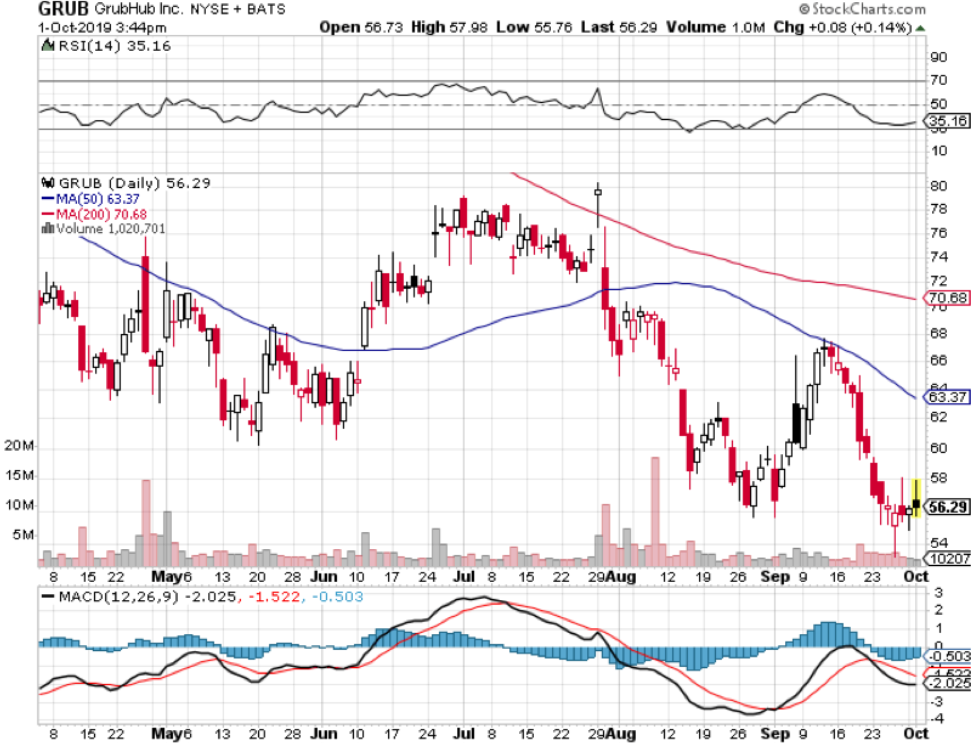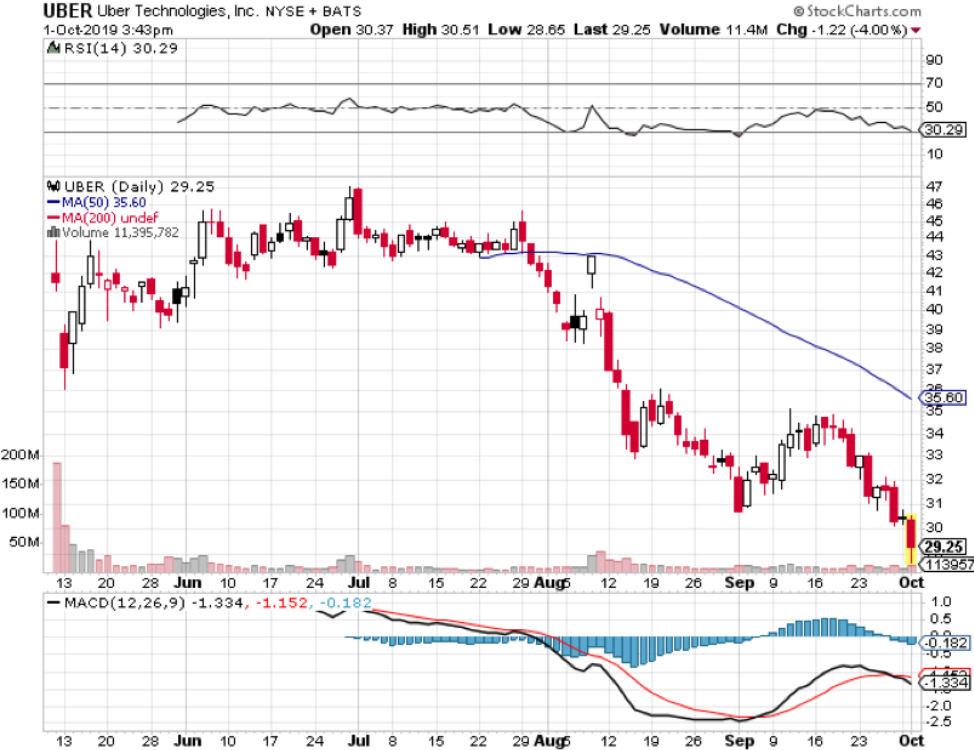 https://madhedgefundtrader.com/wp-content/uploads/2019/05/cropped-mad-hedge-logo-transparent-192x192_f9578834168ba24df3eb53916a12c882.png
0
0
Mad Hedge Fund Trader
https://madhedgefundtrader.com/wp-content/uploads/2019/05/cropped-mad-hedge-logo-transparent-192x192_f9578834168ba24df3eb53916a12c882.png
Mad Hedge Fund Trader
2019-10-02 07:02:24
2020-05-11 13:25:44
It's Time's Up for GrubHub