It?s fall again, when my most loyal readers are to be found taking transcontinental railroad journeys, crossing the Atlantic in an a first class suite on the Queen Mary 2, or getting the early jump on the Caribbean beaches.
What better time to spend your trading profits than after all the kids have gone back to school, and the summer vacation destination crush has subsided.
It?s an empty nester?s paradise.
Trading in the stock market is reflecting as much, with increasingly narrowing its range since the August 24 flash crash, and trading volumes are subsiding.
Is it really September already?
It?s as if through some weird, Rod Serling type time flip, August became September, and September morphed into August. That?s why we got a rip roaring August followed by a sleepy, boring September.
Welcome to the misplaced summer market.
I say all this, because the longer the market moves sideways, the more investors get nervous and start bailing on their best performing stocks.
The perma bears are always out there in force (it sells more newsletters), and with the memories of the 2008 crash still fresh and painful, the fears of a sudden market meltdown are constant and ever present.
In fact, nothing could be further from the truth.
What we are seeing unfold here is not the PRICE correction that people are used to, but a TIME correction, where the averages move sideways for a while, in this case, some five months.
Eventually, the the moving averages catch up, and it is off to the races once again.
The reality is that there is a far greater risk of an impending market melt up than a melt down. But to understand why, we must delve further into history, and then the fundamentals.
For a start, most investors have not believed in this bull market for a nanosecond from the very beginning. They have been pouring their new cash into the bond market instead.
Now that bonds have given up a third of 2015?s gains in just a few weeks, the fear of God is in them, and dreams of reallocation are dancing in their minds.
Some 95% of active managers are underperforming their benchmark indexes this year, the lowest level since 1997, compared to only 76% in a normal year.
Therefore, this stock market has ?CHASE? written all over it.
Too many managers have only three months left to make their years, lest they spend 2016 driving a taxi for Uber and handing out free bottles of water. The rest of 2015 will be one giant ?beta? (outperformance) chase.
You can?t blame these guys for being scared. My late mentor, Morgan Stanley?s Barton Biggs, taught me that bull markets climb a never-ending wall of worry. And what a wall it has been.
Worry has certainly been in abundance this year, what with China collapsing, ISIL on the loose, Syria exploding, Iraq falling to pieces, the contentious presidential elections looming, oil in free fall, , the worst summer drought in decades, flaccid economic growth, and even a rampaging Donald Trump.
We also have to be concerned that my friend, Fed governor Janet Yellen, is going to unsheathe a giant sword and start hacking away at bond prices, as she has already done with quantitative easing (I?ve been watching Game of Thrones too much).
This will raise interest rates sooner, and by more.
Let me give you a little personal insight here into the thinking of Janet Yellen. It?s all about the jobs. Any hints about rate rises have been head fakes, especially when they come from a small, anti QE Fed minority.
When in doubt, Janet is all about easy money, until proven otherwise. Until then, think lower rates for longer, especially on the heels of a disappointing 173,000 August nonfarm payroll.
So I think we have a nice set up here going into Q4. It could be a Q4 2013 lite–a gain of 5%-10% in a cloud of dust.
The sector leaders will be the usual suspects, big technology names, health care, biotech (IBB), and energy (COP), (OXY). Banks (BAC), (JPM), (KBE) will get a steroid shot from rising interest rates, no matter how gradual.
To add some spice to your portfolio (perhaps at the cost of some sleepless nights), you can dally in some big momentum names, like Tesla (TSLA), Netflix (NFLX), Lennar Husing (LEN), and Facebook (FB).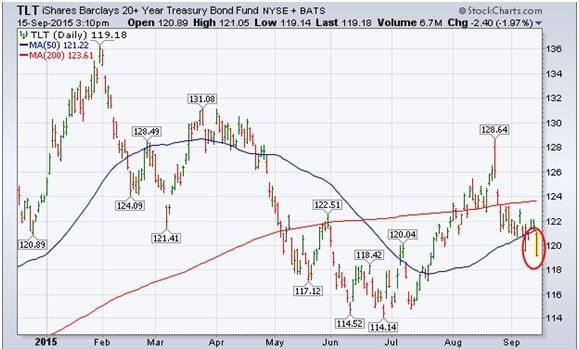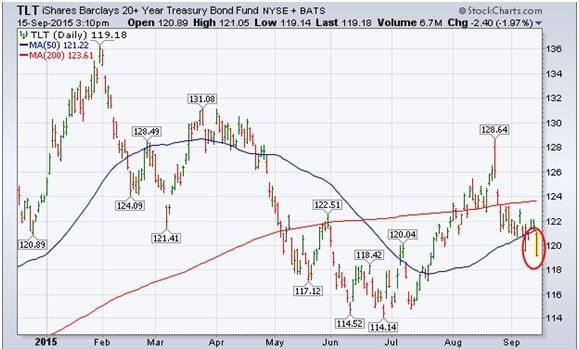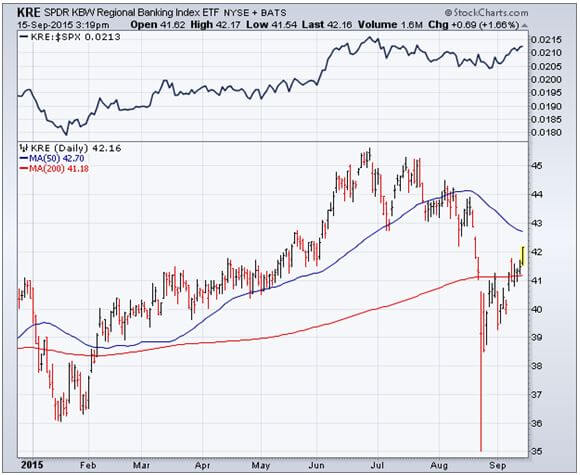 You Mean it?s September Already?
https://www.madhedgefundtrader.com/wp-content/uploads/2014/09/John-Thomas3-e1410875977629.jpg
314
323
Mad Hedge Fund Trader
https://www.madhedgefundtrader.com/wp-content/uploads/2019/05/cropped-mad-hedge-logo-transparent-192x192_f9578834168ba24df3eb53916a12c882.png
Mad Hedge Fund Trader
2015-09-16 01:07:36
2015-09-16 01:07:36
The Bull Market is Alive and Well