Customers like to call me and tell me how cheap Spotify is.
Well, it's cheap for more than one reason.
Even though Spotify (SPOT) dominates the music streaming space just like Netflix (NFLX) dominates the video streaming space, that does not mean investors should go out and buy the stock by the handful.
The numbers are quite impressive when you consider that Spotify boasts 100 million paying music subscribers.
In the iOS world, Apple (APPL) has 60 million music subscribers while Google (GOOGL) has only 15 million music subscribers.
Why do I mention Google?
They aren't in the online streaming business, or are they?
Google has signaled its intent that they won't just allow Spotify and Apple to turn the online streaming industry into a duopoly.
They are the third horse in the race.
Recently, Google announced that its YouTube Music app would now come preinstalled on all new Android devices.
Naturally, absorption rates will increase dramatically, and this app could become quite sticky.
Apple has a moat around its castle because of the iOS system but Spotify has no defenses against such attack.
Spotify is a slave to the Android platform to reach customers which is dominated by Google by not only their software but also their hardware now.
Spotify won a recent deal to preinstall its music app on Samsung (SSNLF) devices, but this won't be the case for most devices.
Google has a two-way money-making strategy for YouTube Music service through both advertising and subscription sales.
Accessibility comes with ads and to remove ads, YouTube Music charges $9.99 per month.
Consumers spent $7.0 billion on music streaming subscriptions in 2018 and diversifying away from Google Search is something that CEO Sundar Pichai is hellbent on.
Google has lept into selling cloud computing services and hardware products, including speakers, in search of non-advertising revenue.
In reaction, Spotify cannot just lay vulnerable like a sitting duck, and have announced tests for a price increase for family plan subscribers in Scandinavia.
The family plan in Sweden currently costs about 149 Swedish krona ($15.45) per month, similar to the pricing in the United States and the rest of Europe and it will be interesting to see if they can stomach a 13% increase.
I bet there will be a revolt as Scandinavians know they can just hook up to YouTube with an ad-less browser to listen to whatever they want for free.
Looking to lucrative markets to squeeze more juice out of a lemon would have a higher chance of succeeding if a level up in service is also offered.
The desperation is palpable as Spotify's Average Revenue Per User (ARPU) falls off a cliff and is the reinforcement I need to feel that this business is impossible to make money in.
Just the unforgivable headwind that licensing music eats up is enough pain with allocating 75 cents on every $1 of revenue.
The company has been in a precarious position right out of the gates.
Even publishers have gripes against Spotify's declining ARPU, since a large part of their contracts include revenue-sharing agreements with the music streamer.
Ultimately, Spotify is a service that cannot differentiate itself through exclusive original series and films which is inherent to survival.
Their attempts to allow individual singers to upload backfired because only their users are interested in hearing the 0.1% of popular music deemed popular from mainstream culture.
Spotify, Apple Music, and Google will possess more or less the same library of music that most people want to listen to.
Then it comes down to what platform is more convenient than the other.
Apple and Google have strong financial backing giving them higher pain thresholds if they lose money.
Until Spotify can find a magical way to make their product unique, they are on the path to a death by thousand cuts even if they do have a great product.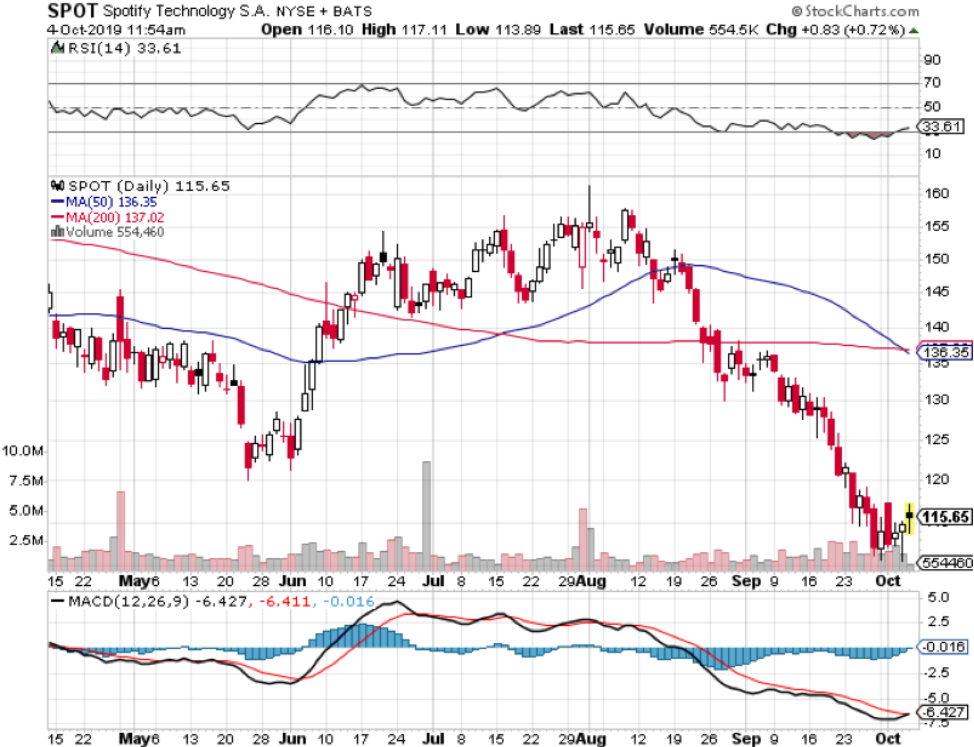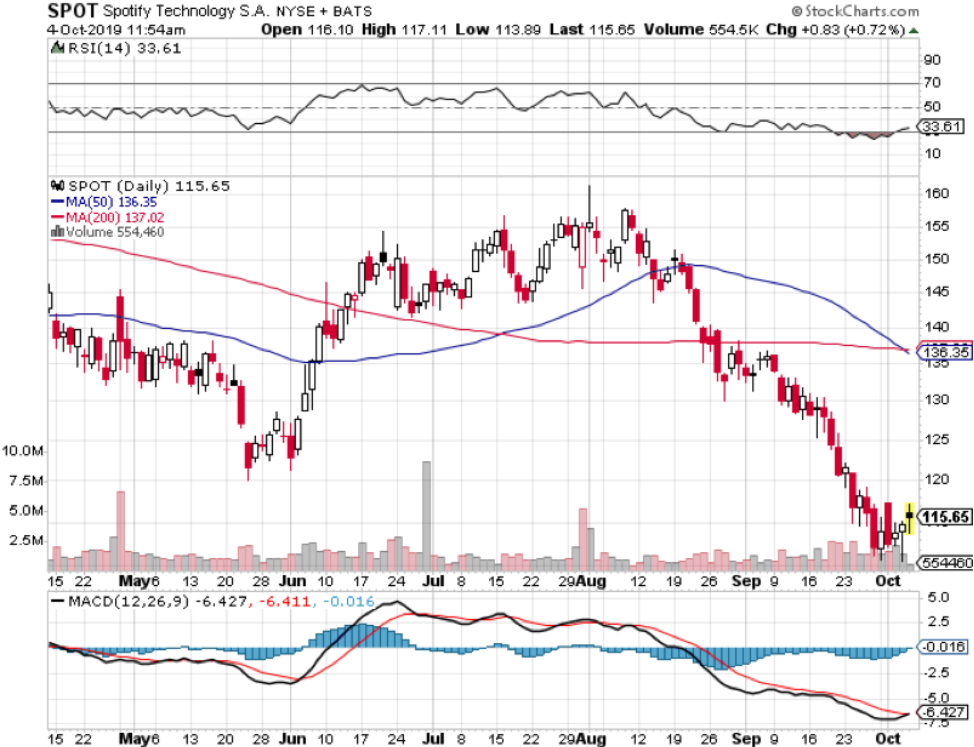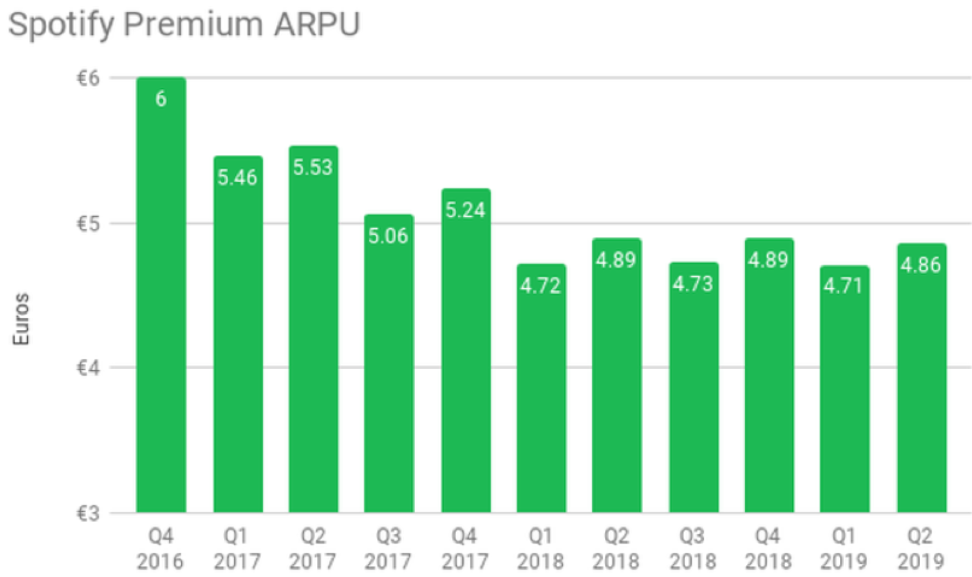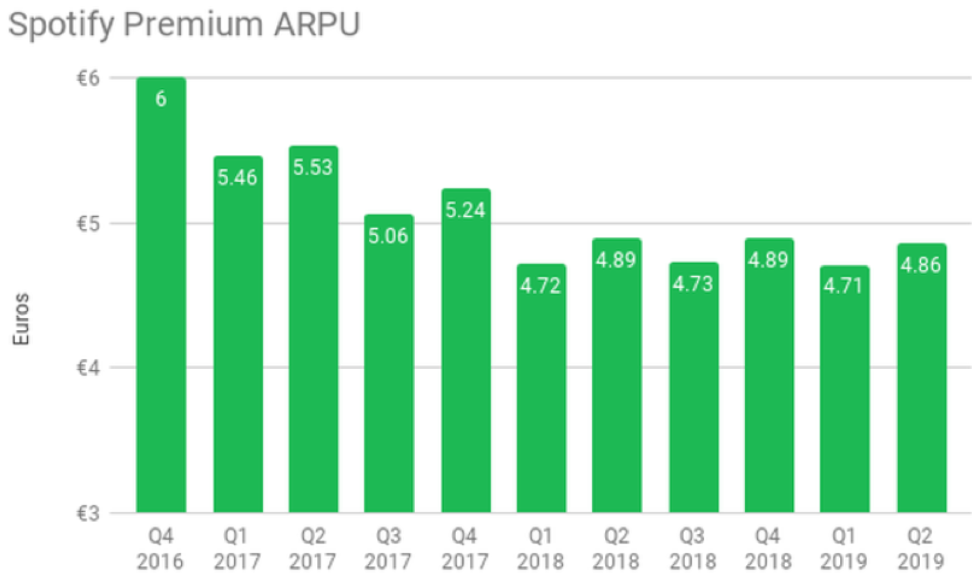 https://www.madhedgefundtrader.com/wp-content/uploads/2019/10/spotify.png
577
972
Mad Hedge Fund Trader
https://madhedgefundtrader.com/wp-content/uploads/2019/05/cropped-mad-hedge-logo-transparent-192x192_f9578834168ba24df3eb53916a12c882.png
Mad Hedge Fund Trader
2019-10-07 03:02:26
2020-05-11 13:25:56
Never Confuse a Great Service with a Great Stock