Don't buy the dead cat bounce – that was the takeaway from a recent trading day that saw chips come alive with vigor.
Semiconductor stocks had their best day since March 2009.
The price action was nothing short of spectacular with names such as chip equipment manufacturer Lam Research (LRCX) gaining 15.7% and Texas Instruments (TXN) turning heads, up 6.91%.
The sector was washed out as the Mad Hedge Technology Letter has determined this part of tech as a no-fly zone since last summer.
When stocks get bombed out at these levels - sometimes even 60% like in Lam Research's case, investors start to triage them into a value play and are susceptible to strong reversal days or weeks in this case.
The semi-conductor space has been that bad and tech growth has had a putrid last six months of trading.
In the short-term, broad-based tech market sentiment has turned positive with the lynchpins being an extremely oversold market because of the December meltdown and the Fed putting the kibosh on the rate-tightening plan.
Fueled by this relatively positive backdrop, tech stocks have rallied hard off their December lows, but that doesn't mean investors should take out a bridge loan to bet the ranch on chip stocks.
Another premium example of the chip turnaround was the fortune of Xilinx (XLNX) who rocketed 18.44% in one day then followed that brilliant performance with another 4.06% jump.
A two-day performance of 22.50% stems from the underlying strength of the communication segment in the third quarter, driven by the wireless market producing growth from production of 5G and pre-5G deployments as well as some LTE upgrades.
Give credit to the company's performance in Advanced Products which grew 51% YOY and universal growth across its end markets.
With respect to the transformation to a platform company, the 28-nanometer and 16-nanometer Zynq SoC products expanded robustly with Zynq sales growing 80% YOY led by the 16-nanometer multiprocessor systems-on-chip (MPSoC) products.
Core drivers were apparent in the application in communications, automotive, particularly Advanced Driver Assistance Systems (ADAS) as well as industrial end markets.
Zynq MPSoC revenues grew over 300% YOY.
These positive signals were just too positive to ignore.
Long term, the trade war complications threaten to corrode a substantial chunk of chip revenues at mainstay players like Intel (INTC) and Nvidia (NVDA).
Not only has the execution risk ratcheted up, but the regulatory risk of operating in China is rising higher than the nosebleed section because of the Huawei extradition case and paying costly tariffs to import back to America is a punch in the gut.
This fragility was highlighted by Intel (INTC) who brought the semiconductor story back down to earth with a mild earnings beat but laid an egg with a horrid annual 2019 forecast.
Intel telegraphed that they are slashing projections for cloud revenue and server sales.
Micron (MU) acquiesced in a similar forecast calling for a cloud hardware slowdown and bloated inventory would need to be further digested creating a lack of demand in new orders.
Then the ultimate stab through the heart - the 2019 guide was $1 billion less than initially forecasted amounting to the same level of revenue in 2018 - $73 billion in revenue and zero growth to the top line.
Making matters worse, the downdraft in guidance factored in that the backend of the year has the likelihood of outperforming to meet that flat projection of the same revenue from last year offering the bear camp fodder to dump Intel shares.
How can firms convincingly promise the back half is going to buttress its year-end performance under the drudgery of a fractious geopolitical set-up?
This screams uncertainty.
Love them or crucify them, the specific makeup of the semiconductor chip cycle entails a vulnerable boom-bust cycle that is the hallmark of the chip industry.
We are trending towards the latter stage of the bust portion of the cycle with management issuing code words such as "inventory adjustment."
Firms will need to quickly work off this excess blubber to stoke the growth cycle again and that is what this strength in chip stocks is partly about.
Investors are front-running the shaving off of the blubber and getting in at rock bottom prices.
Amalgamate the revelation that demand is relatively healthy due to the next leg up in the technology race requiring companies to hem in adequate orders of next-gen chips for 5G, data servers, IoT products, video game consoles, autonomous vehicle technology, just to name a few.
But this demand is expected to come online in the late half of 2019 if management's wishes come true.
To minimize unpredictable volatility in this part of tech and if you want to squeeze out the extra juice in this area, then traders can play it by going long the iShares PHLX Semiconductor ETF (SOXX) or VanEck Vectors Semiconductor ETF (SMH).
In many cases, hedge funds have made their entire annual performance in the first month of January because of this v-shaped move in chip shares.
Then there is the other long-term issue of elevated execution risks to chip companies because of an overly reliant manufacturing process in China.
If this trade war turns into a several decades affair which it is appearing more likely by the day, American chip companies will require relocating to a non-adversarial country preferably a democratic stronghold that can act as the fulcrum of a global supply chain channel moving forward.
The relocation will not occur overnight but will have to take place in tranches, and the same chip companies will be on the hook for the relocation fees and resulting capex that is tied with this commitment.
That is all benign in the short term and chip stocks have a little more to run, but on a risk reward proposition, it doesn't make sense right now to pick up pennies in front of the steamroller.
If the Nasdaq (QQQ) retests December lows because of global growth falls off a cliff, then this mini run in chips will freeze and thawing out won't happen in a blink of an eye either.  
But if you are a long-term investor, I would recommend my favorite chip stock AMD who is actively draining CPU market share from Intel and whose innovation pipeline rivals only Nvidia.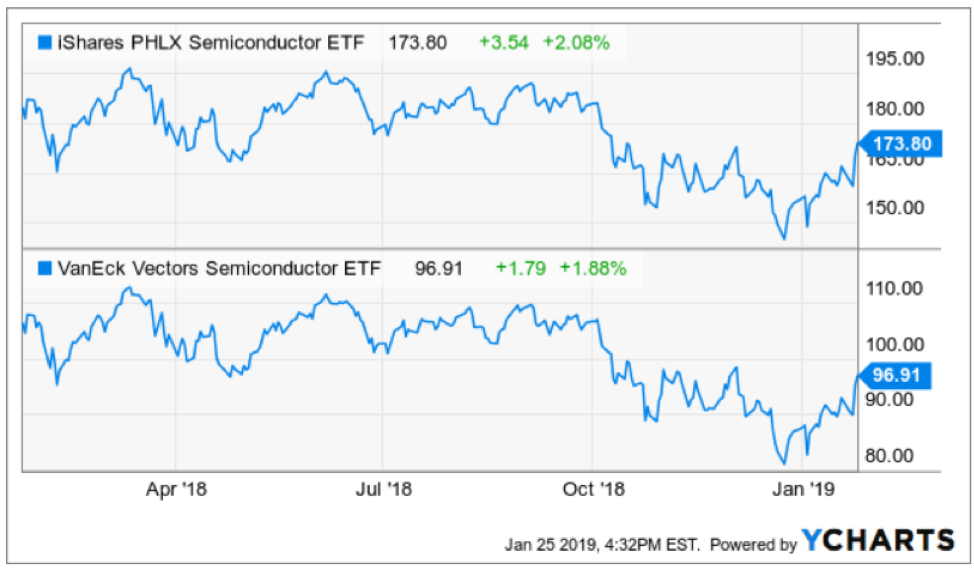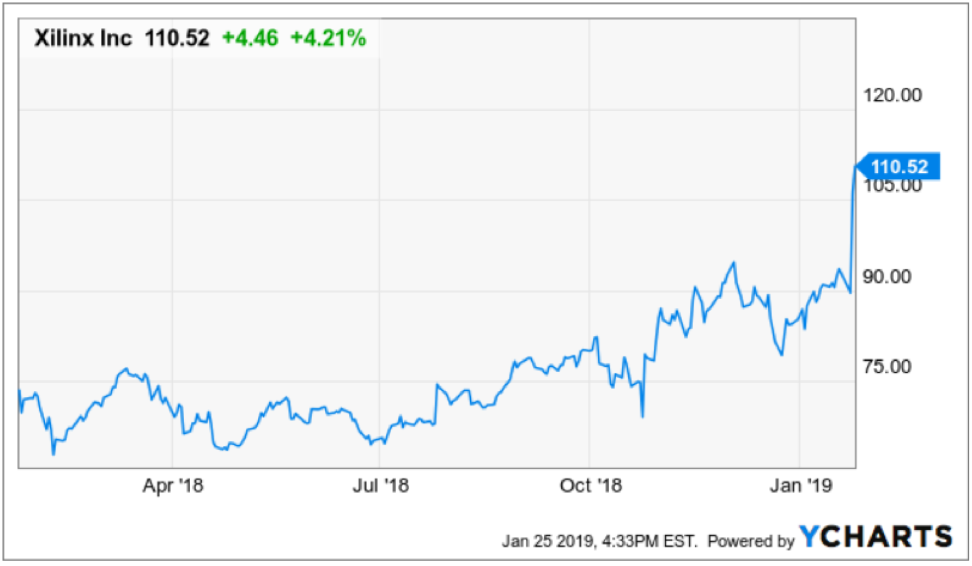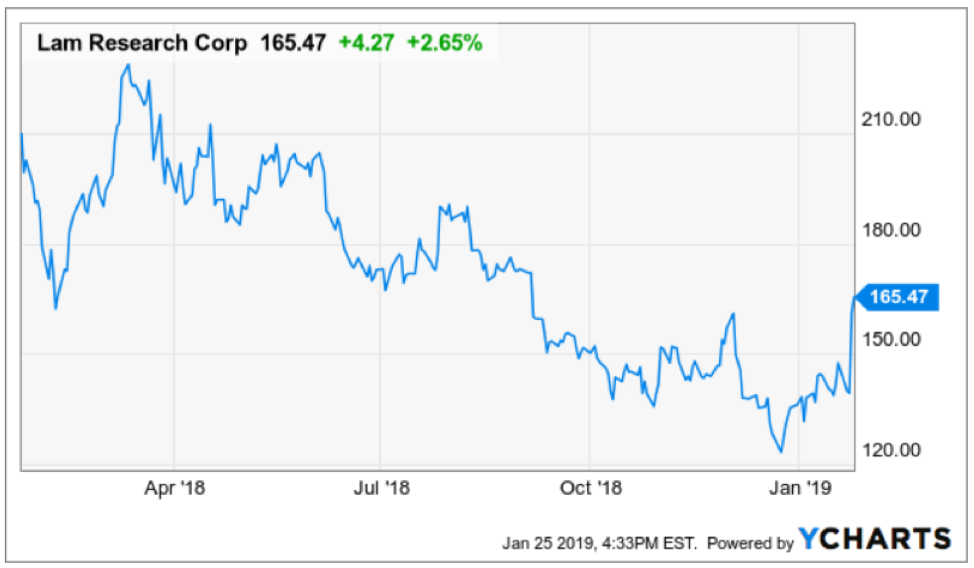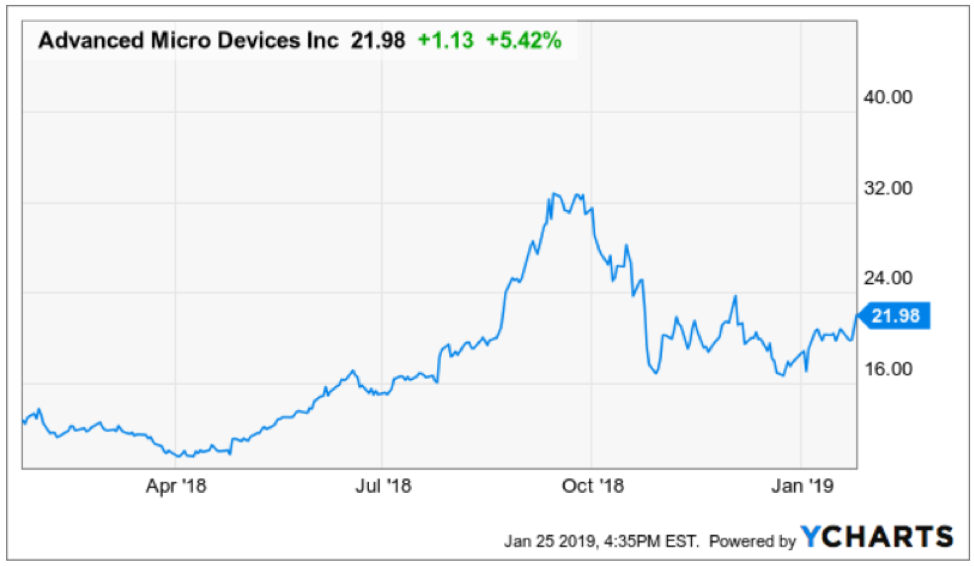 https://madhedgefundtrader.com/wp-content/uploads/2019/05/cropped-mad-hedge-logo-transparent-192x192_f9578834168ba24df3eb53916a12c882.png
0
0
Mad Hedge Fund Trader
https://madhedgefundtrader.com/wp-content/uploads/2019/05/cropped-mad-hedge-logo-transparent-192x192_f9578834168ba24df3eb53916a12c882.png
Mad Hedge Fund Trader
2019-01-28 01:06:35
2019-07-09 04:54:41
Buy Dips in Semis, Not Tops