Sell any and all rallies in FedEx (FDX) – that's my quick takeaway from the Chinese communist party publishing a sharp retort to their de-facto mouthpiece of a publication called the Global Times signaling FedEx's imminent demise in greater China.
The Global Times is often used as thinly veiled statements to a wider global audience and mimics the ideology of the ruling communist party and their main positions on critical issues.
As regards to FedEx's business in China, it said:
"There are rising calls for China's postal service regulator to cut off FedEx from China market, as Huawei has accused the US express courier of diverting and rerouting its packages."
FedEx is crushing the Chinese logistics market currently and is the go-to carrier holding firm at 54.6% market share.
They have been around in China for as long as the economic boom has percolated inside the mainland from 1984, far before any of its local competitors were even up and running by a decade or two.
FedEx's latest acquisition of Dutch-based TNT Express in 2016 solidified its dominance.
Foreign competition is a mainstay of international shipping patterns in China with the top three rounded out by DHL (DPSGY) with a 25.07% market share and United Parcel Service (UPS) with a 16.94% market share.
If these assertive claims do result in FedEx meaningfully losing China revenue, UPS wouldn't stand to pick up the leftovers and could be put out to pasture by the same issue of hailing from a country that has an active adversarial economic policy against China's.
If anyone would benefit, it would by DHL, given that Germany has a far less hawkish stance towards China, and they are unwilling to bite off the hand that feeds them.
The current situation is a concerning sign for the future of Germany as an industrial power and ability to sustain itself against China Inc.
It could be somewhat true that Germany has overextended themselves and only time, Made in China 2025 project, and the mood of the Chinese communist party can delay the inevitability of full tech hegemony over their western European counterpart.
The communist party could choose to just bypass DHL altogether and kick out all foreign invaders gifting courier responsibilities to Alibaba-based (BABA) subsidiaries and the likes of ZTO Express (ZTO) who provide express delivery and other value-added logistics services in China.
DHL will hope that China delays any draconian measures and pray that its active partnership with a local logistic firm has real legs.
DHL's revenue sharing agreement with SF Express does not preclude them from the anger of Chinese regulators, but the risk of Chinese regulators favoring local couriers has risen another 25%.
Playing by the rules goes a long way in China, even if they change every day, and for customers across DHL's target audience of industries including technology, health care, retail, automotive, and e-commerce.
DHL CEO Frank Appel said, "Combined with our global operations standards and network support, the agreement provides a solid foundation to continue exploring further opportunities in China in the coming years."
From an outside perspective, this sounds more like forced cooperation with forced technology transfers with the mainland companies slurping up Germany tech knowhow.
Doing a deal with the devil for access to a 1.3 billion customer market is being put through the ringer.
When I view the snippets through the lens of geopolitics, it's hard to believe that at such a sensitive time, FedEx would actively "reroute" packages and knowingly approved this behavior, they simply can't be that clumsy.
The situation smells like an overt show of nationalism by a group of individuals, and it questions the longevity of FedEx operating in China all the same.
FedEx promptly responded confessing:
"We regret that this isolated number of Huawei packages were inadvertently misrouted."
An unintentional mistake offered a golden opportunity to tie the logistics company to the U.S. government's aggressive nature and going forward FedEx will remain in a shroud of mystery until investors can get further grips on the rates of growth of their Chinese operations.
If FedEx were afraid about this, then they must be tearing their hair out about the domestic behemoth that is Amazon (AMZN) and their desires to install a full-service logistic service to blanket FedEx from e-commerce deliveries.
This has been the initial premise of my short call on FedEx, which has proved correct, and the regulatory nightmare in China will cast another cloud around its business.
Any strength in FedEx shares will be met with a cascade of selling activity, and as the economy slows down because of tariff-induced headwinds, this is a stock to outright short.
Back to China, FedEx slashed its full-year profit forecast for the second time in three months after reporting weaker-than-expected third quarter earnings.
The Chinese economy is absolutely slowing down, and its effects are impacting surrounding Asian nations.
Manufacturing cuts will cause the number of courier packages to slide in China and there is no telling how bad this trade stand-off could get.
It doesn't look good for FedEx, and I reiterate my short stance on the company.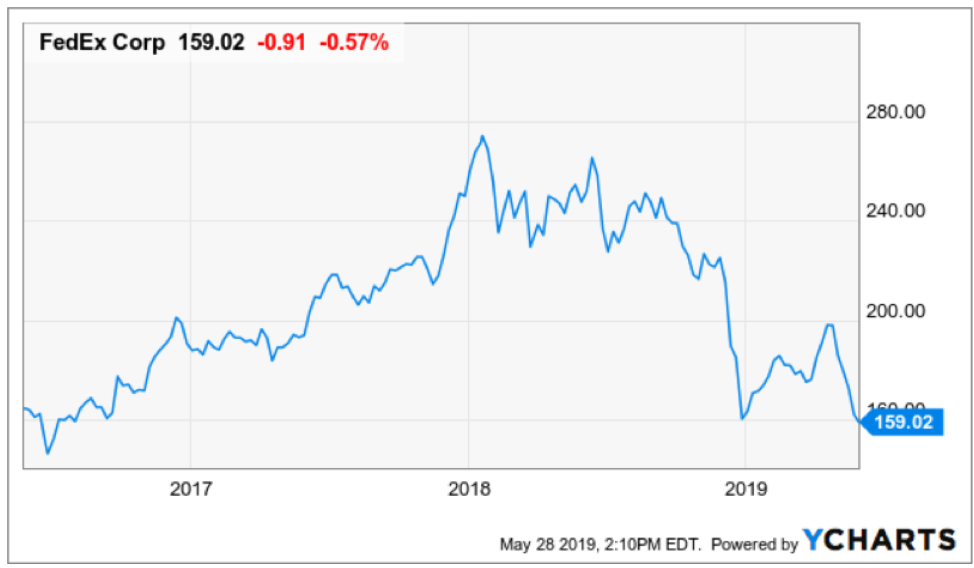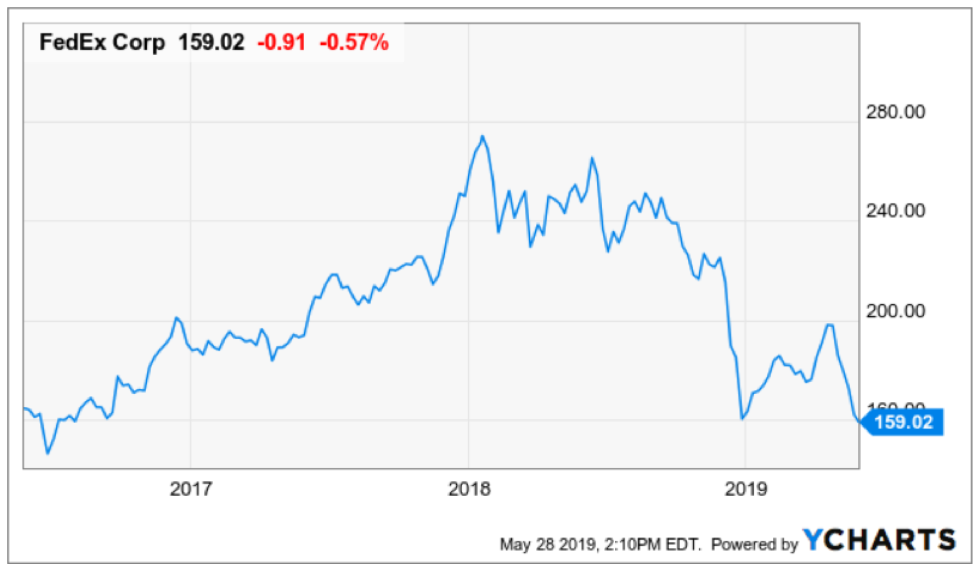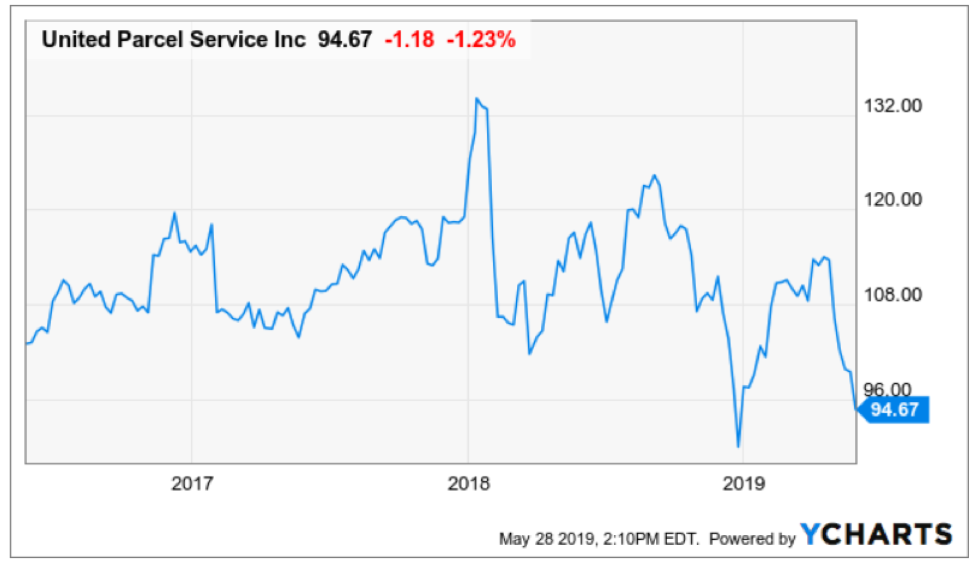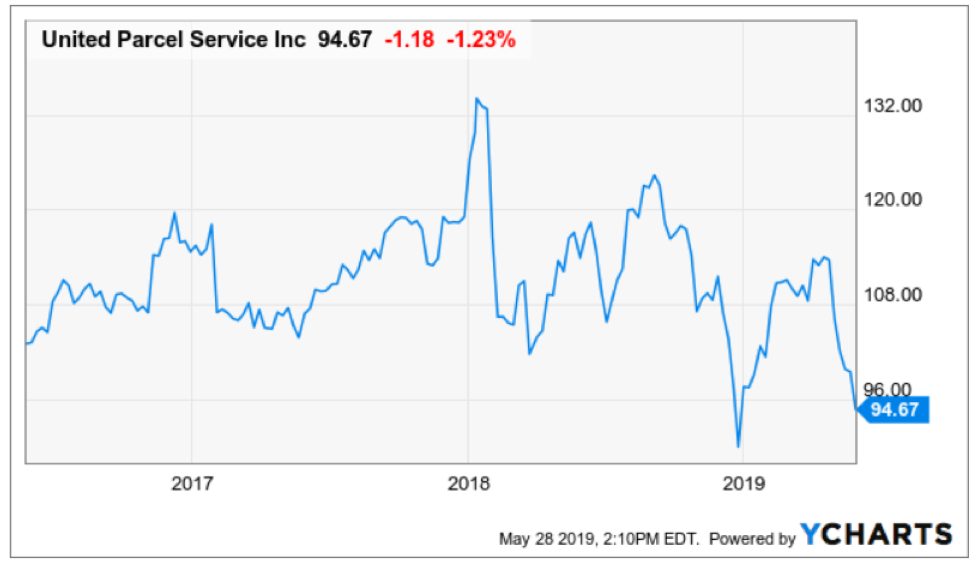 https://madhedgefundtrader.com/wp-content/uploads/2019/05/cropped-mad-hedge-logo-transparent-192x192_f9578834168ba24df3eb53916a12c882.png
0
0
Mad Hedge Fund Trader
https://madhedgefundtrader.com/wp-content/uploads/2019/05/cropped-mad-hedge-logo-transparent-192x192_f9578834168ba24df3eb53916a12c882.png
Mad Hedge Fund Trader
2019-05-29 01:02:46
2019-07-11 13:01:57
China to Ban FedEx