The man with the 300-year vision - Softbank's Masayoshi Son.
He is the sole force exerting stultifying pressure on the venture capitalists of Silicon Valley.
What a ride it has been so far.
His $100 billion SoftBank Vision Fund has put the Sand Hill Road faithful in a tizzy – utterly revolutionizing an industry and showing who the true power resides with.
He has even gone so far as to double down on his exploits by claiming that he will raise additional $100 billion fund every few years and spend $50 billion per year.
This capital logically would flow into what he knows best – technology and the best technology money can buy.
Lately, Son said it best of the performance of the Vision Fund saying, "Results have actually been too good."
So good that after this June, Son changed his schedule to spend 3% of his time on his telecom business down from 97% before June.
His telecommunications business in Japan has turned into a footnote.
It was just recently that Son's tech investments eclipsed his legacy communications company.
Son vies to rinse and repeat this strategy to the horror of other venture capitalists.
The bottomless pit of capital he brings to the table predictably raises the prices for everyone in the tech investment world.
Son's capital warfare strategy revolves around one main trope – Artificial Intelligence. 
He also strictly selects industry leaders which have a high chance of dominating their field of expertise.
Geographically speaking, the fund has pinpointed America and China as the best sources of companies. India takes in the bronze medal.
His eyes have been squarely set on Silicon Valley for quite some time and his record speaks for himself scooping up stakes in power players such as Uber, WeWork, Slack, and GM (GM) Cruise.
Other stakes in Chinese firms he's picked up are China's Uber Didi Chuxing, China's GrubHub (GRUB) Ele.me and the first digital insurer in China named Zhongan International costing him $500 million.
Other notable deals done are its sale of Flipkart to Walmart (WMT) for $4 billion giving SoftBank a $1.5 billion or 60% profit on the $2.5 billion position.
In 2016, the entire venture capitalist industry registered $75.3 billion in capital allocation according to the National Venture Capital Association.
This one company is rivalling that same spending power by itself.
Its smallest deal isn't even small at $100 million, baffling the local players forcing them to scurry back to the drawing board.
The reverberation has been intense and far-reaching in Silicon Valley with former stalwarts such as Kleiner Perkins Caufield & Byers breaking up, outmaneuvered by this fresh newcomer with unlimited capital.
Let me remind you that it was once considered standard to cautiously wade into investment with several millions.
Venture capitalists would take stock of the progress and reassess if they wanted to delve in some more.
There was no bazooka strategy then.
SoftBank has promised boatloads of capital up front even overpaying in some cases in order to set the new market price.
Conveniently, Son stations himself nearby at a nine-acre estate in Woodside, California complete with an Italianate mansion he bought for $117.5 million in 2012.
It was one of the most expensive properties ever purchased in the state of California, even topping Hostess Brands owner Daren Metropoulos, who bought the Playboy Mansion from Hugh Hefner in 2016 for $100 million.
If you think Son is posh – he is not. He only fits himself out in the Japanese budget clothing brand Uniqlo. He just needed a comfortable place to stay and he hates hotels.
SoftBank hopes to cash in on its $4.4 billion investment in WeWork, an American office space-share company, proclaiming that WeWork would be his "next Alibaba."
The company plans to shortly go public.
Son continued to say that WeWork is "something completely new that uses technology to build and network communities."
Other additions to SoftBank's dazzling array of unicorns is Bytedance, a start-up whose algorithms have fueled shot form video content app TikTok.
The deal values the company at $75 billion.
They have been able to insulate themselves from local industry giants Tencent and Alibaba.
Son has revealed that the Vision Fund's annual rate of return has been 44%.
Cherry-picking off the top of the heap from the best artificial intelligence companies in the world is the secret recipe to outperforming your competitors.
At the same time, aggressively throwing money at these companies has effectively frozen out any resemblance of competition. Once the competition is frozen out, the value of these investments explodes, swiftly super-charged by rapidly expanding growth drivers.
How can you compete with a man who is willing to pay $300 million for a dog walking app?
This genius strategy has made the founder of SoftBank the most powerful businessman in the world.
Son owns the future and will have the largest say on how the world and economies evolve going forward.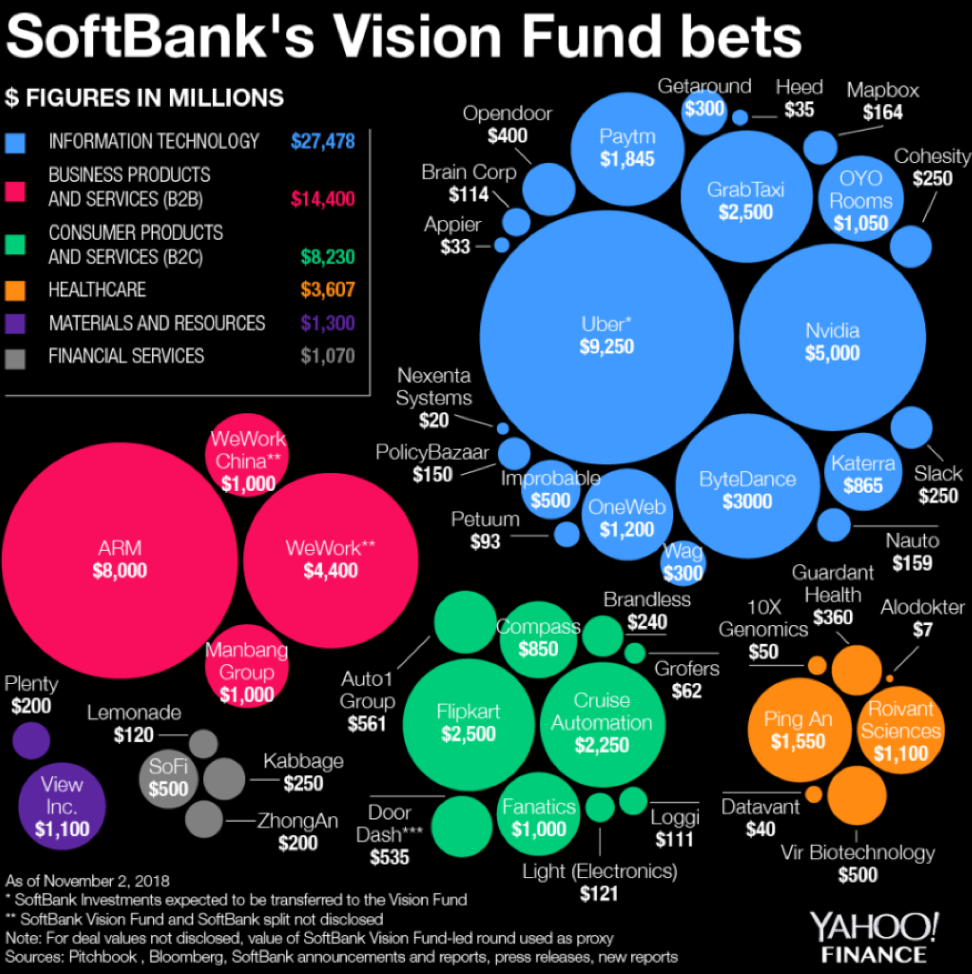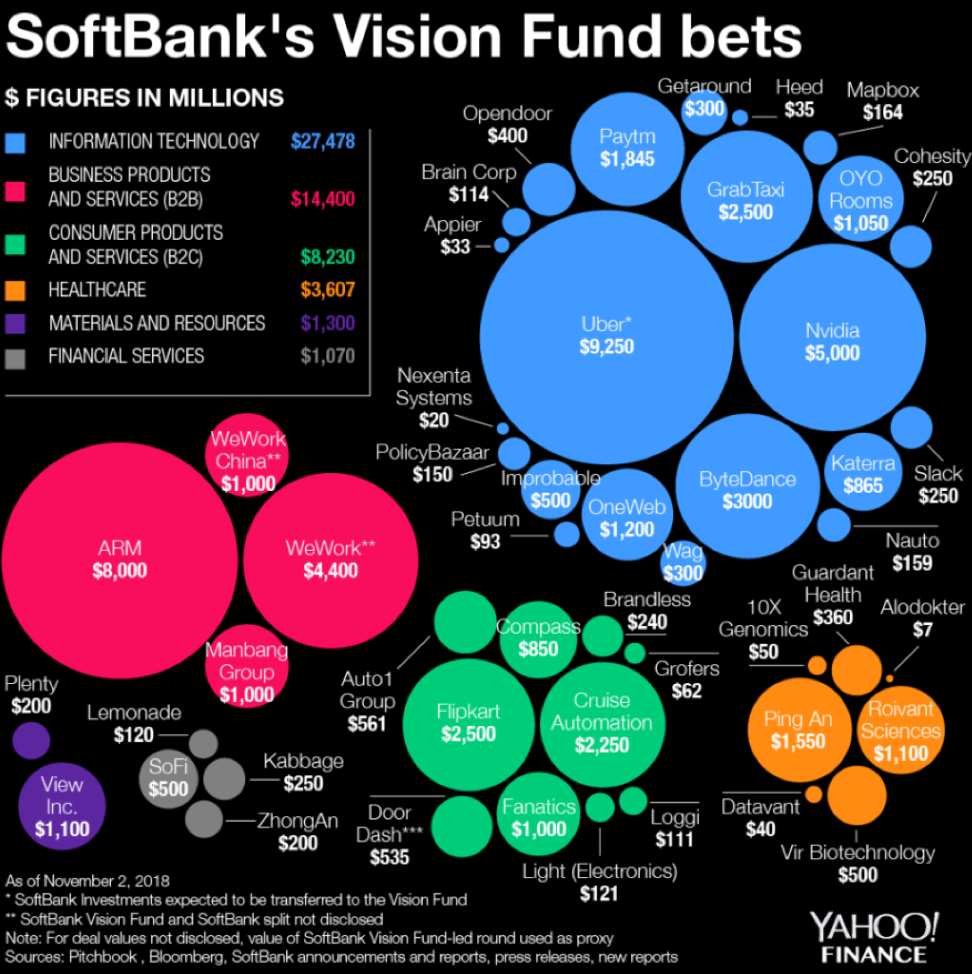 https://www.madhedgefundtrader.com/wp-content/uploads/2018/10/Softbank-CEO-2.png
539
472
Mad Hedge Fund Trader
https://madhedgefundtrader.com/wp-content/uploads/2019/05/cropped-mad-hedge-logo-transparent-192x192_f9578834168ba24df3eb53916a12c882.png
Mad Hedge Fund Trader
2019-07-15 08:02:53
2019-08-19 16:09:35
How SoftBank is Taking Over the US Venture Capital Business