Featured Trades: (WHY THE BANKS ARE TRADING LIKE GRIM DEATH), (BAC), (WFC), (XLF)
2) Why the Banks Are Trading Like Grim Death. You may recall that I went on national television on April 22, proclaiming that Bank of America stock was a screaming short, then trading at $12.50 (click here for the link to the Fox Business News piece ). My logic was that another leg down in the residential real estate market would eat up a further dollop of bank capital, triggering a secondary banking crisis. Making that call spitting distance from the bank's California headquarters generated much local controversy.
What a difference seven weeks makes. Today, (BAC) hit a new two year low, plunging 16% since my April call, and 40% since the beleaguered bank's February peak. The action today is being driven by capitulation selling by hedge funds who drank the Kool-Aid, believing that real estate had bottomed, paving the way for a sustainable American economic recovery.
I believed in that scenario for about a month myself. My buy of (BAC) call options in December and my sale in January was one of my most profitable trades of the year. Since then, fat has been poured on the fire, with continued revelations about foreclosuregate and never ending controversy on mortgage resets, which the bank is loath to facilitate. Falling US interest rates have shrunk the positive carry that banks were using to recapitalize themselves. Now we have a generalized global equity sell off, dragging the stock down more.
Take a look at the chart below to see how the banks have been the worst performing sector of the market this year. Its peaking in February, along with similar negative action in technology, prompted me to turn bearish on all stocks and risk assets in general. It also prompted me to make my watershed call the 'RISK OFF' trade was about to ensure in my April 22 letter.
I sense that once bond prices peak, yields bottom, and the stock indexes firm up, there will be another chance to make a killing in bank stocks from the long side. But I would not be rushing into this one. Better to take a long vacation first, such as in London, Venice, Milan, Zermatt, and Geneva, as I plan to do.
–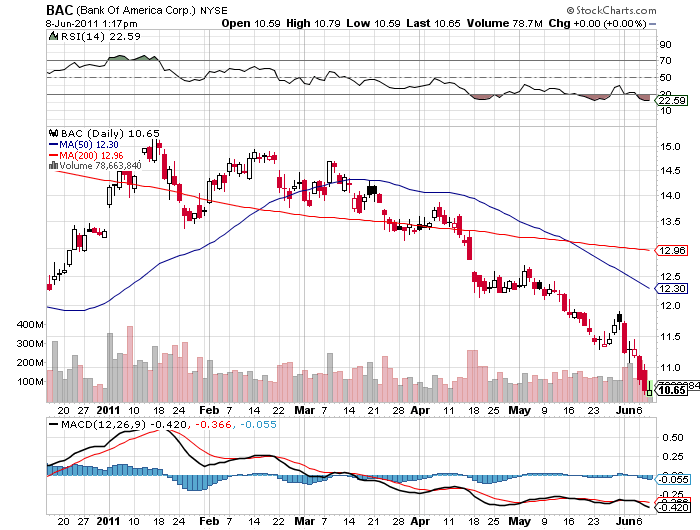 –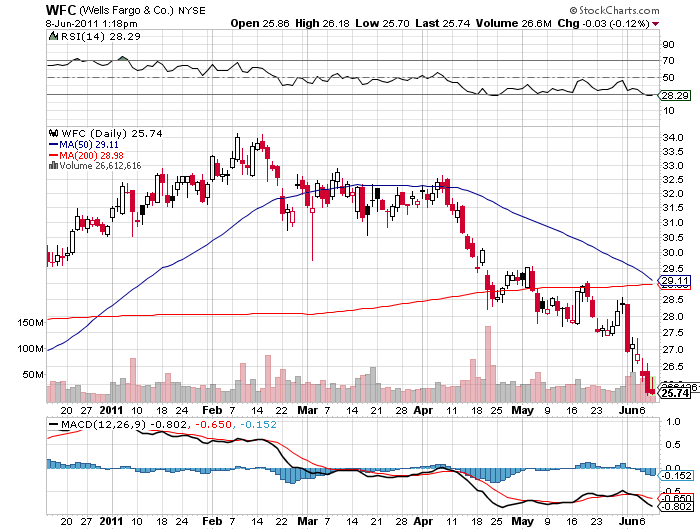 –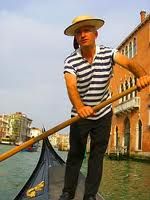 Once More Around the Block Please.
It's Not Time to Buy Bank Stocks Yet
https://madhedgefundtrader.com/wp-content/uploads/2019/05/cropped-mad-hedge-logo-transparent-192x192_f9578834168ba24df3eb53916a12c882.png
0
0
Mad Hedge Fund Trader
https://madhedgefundtrader.com/wp-content/uploads/2019/05/cropped-mad-hedge-logo-transparent-192x192_f9578834168ba24df3eb53916a12c882.png
Mad Hedge Fund Trader
2011-06-09 01:50:08
2011-06-09 01:50:08
June 9, 2011 - Why the Banks Are Trading Like Grim Death