I have been on one heck of a hot streak, and boy do I like it!
What a difference a vacation makes.
Since I returned from my summer headquarters in Zermatt, Switzerland on July 28, every single Trade Alert I have sent you has been profitable.
August was a perfect month, taking in a lip smacking 7.52%. In fact, 91% of my recommendation have proved profitable since June 9, nearly three months ago.
Was it summiting the Matterhorn for the fourth time that did it? Or perhaps it was floating down the Rhine through Basel, kept afloat only by my wicklefische, which I had bought at a discount.
I bet a day spent at the historic, clothing optional Friedrichsbad steam baths in Baden Baden had something to do with it.
Whatever the reason, my subscribers are happy. Those who became members from August onward think I?m some sort of genius.
I began with the assumption that financial markets would remain trapped in narrow ranges for the summer.
The markets are going to new all time highs on the back of a Clinton win in November. But they had to take a break first.
What we are getting is not a ?price correction,? but a ?time correction" whereby prices grind sideways before breaking out to the upside.
Whether that will happen before or after the September 20 Federal Open Market Committee (FOMC) meeting is anyone?s guess.
So I sold short the S&P 500 (SPY), the Japanese yen (FXY), (YCS), the Euro (FXE), (EUO), and Treasury bonds (TLT), (TBT).
For good measure, I also bought the Volatility Index (VIX) while it was trading at a decade low. Every position turned profitable.
This brings my 2016 year to date performance up to 14.01%, compared to 5.85% for the S&P 500. The trailing 12 month return is 21.69%
My six year return now reaches an eye popping 205.69%, delivering an average annualized return of 35.77%.
These are numbers that any financial advisor, hedge fund manager or retiree trading from home would kill for.
Those who have made the effort to wake up early every morning and read my witty and incisive prose have an impressive row of notches on their bedpost to show for their effort.
My groundbreaking trade mentoring service was first launched in 2010. Thousands of subscribers now earn a full time living solely from my Trade Alerts, a development of which I am immensely proud.
Some 50% of my clients are over 50 and managing their own retirement funds, fleeing the shoddy and expensive services provided by Wall Street. The balance is institutional investors, hedge funds, and professional financial advisors.
The Mad Hedge Fund Trader seeks to level the playing field for the average Joe. Looking at the testimonials that come in every day, I?d say I'm accomplishing that goal.
Quite a few followers were able to move fast enough to cash in on my trading recommendations. To read the plaudits yourself, please go to my testimonials page by clicking here .
Our business is booming, so I am plowing profits back in to enhance our added value for you.

And now for the rest of the year.
I can?t wait!

John Thomas
Publisher and CEO
The Mad Hedge Fund Trader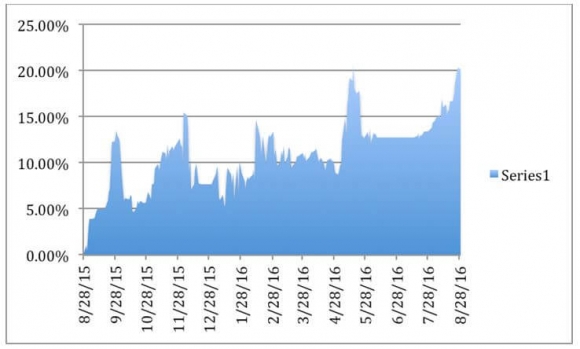 This is How You Do It
21.69% Trailing 12 Month Return

35.77% Average Annualized Return

Let Me Steer You to Trading Profits
https://www.madhedgefundtrader.com/wp-content/uploads/2016/08/John-at-Ship-Steering-Wheel-e1470707345318.jpg
400
389
DougD
https://madhedgefundtrader.com/wp-content/uploads/2019/05/cropped-mad-hedge-logo-transparent-192x192_f9578834168ba24df3eb53916a12c882.png
DougD
2016-09-02 01:07:23
2016-09-02 01:07:23
Mad Hedge Fund Trader Hits New All Time High