On the right was my friend?s 1958 Ferrari Testa Rossa Scaglietta. On my left was a 1929 Dusenberg Murphy convertible sedan with a V-12 engine. I just walked past a 1914 Rolls Royce Silver Ghost Portholme Alpine Tourer.
Yes, it?s August in Pebble Beach, California, and that can only mean one thing. It?s time for another Concourse d? Elegance car show.
This is my annual opportunity to mix with my fellow 1%, hobnob with movie stars, and chitchat with the ultra wealthy, fanatically devoted to restoring ancient cars to pristine condition.
Held on the 18th fairway of the famed Pebble Beach golf course, Concourse d? Elegance has been held every year since 1950.
It was a largely local affair until the 1990?s, when wealth started concentrating at the top with a ferocious pace, minting billionaires by the hundreds.
Then the big-ticket sponsors started pouring in, turning it into a luxury global event.
Everywhere you look, you find promotions from Rolex, Flexjet, Davidoff Cigars, Osprey of London, Dom Perignon, and a dozen California vineyards. Every carmaker of note in the world is there in force.
Prices for anything the 1% bought skyrocketed accordingly, especially those for classic cars. Some of the price increases have been astronomical.
Comedian, Jay Leno, once told me that he was bid $10 million for a vehicle he paid $11,000 for during the early nineties. ?What has done better than that in the stock market,? he asked, ?Apple or Google??
Rich Europeans, Asians, and Australians now actually fly their cars to the event in the hope of snagging a much coveted ?Best in Show? prize.
Winners see the value of their ride double overnight as well as? the prestige that goes along with it. Even getting your car into the contest is a big deal. Of the 700 applications, only 200 cars were allowed to compete.
The 2014 prize went to a silver 1954 Ferrari 375MM Scaglietti Coupe, originally built for Italian neorealism filmmaker Roberto Rossellini, husband to the starlet, Igrid Bergman.
The car was owned by Robert Shirley, the former president of Microsoft, who carried out a loving, no expenses spared, ground up restoration after the car had been in pieces for 25 years.
I have to confess a personal weakness for this pastime, given my love of history, technology, and understanding manufacturing processes.
I was a member of the Rolls Royce Club in England for 20 years, and learned a lot about this very expensive hobby. The monthly newsletter used to run pieces on arcane topics, like ?How to Rebuild Your Phantom II Gearbox,? and ?Prewar Hydraulic Systems for Beginners.?
After a two-decade search, I decided not to buy one. Rolls Royce?s don?t appreciate that much, rising in value more or less with the rate of inflation. In other words, they are a lot like bonds.
Because they are so well made, 70% of those ever built are still running. You would have done much better investing in a prewar racing Bentley, or a postwar Ferrari racecar, if capital gains were your priority.
Besides, you don?t dare drive any of these masterpieces on public roads. Your insurance won?t cover it, and heaven help you if you get hit by someone driving while texting.
The other problem is that I am too big to fit into one. Vintage cars were designed when buyers were physically much smaller than today. Adjustable seats were a postwar invention, and I didn?t want to damage a vehicle?s historical integrity by drilling into the chassis to move the seat back.
Every year, the contest opens up special categories of vehicles to highlight certain marquees.
Last year saw classes for the Tatra, a bizarre, prewar Czechoslovakian company, and the Ruxton, a luxury car that disappeared during the Great Depression. Maserati was featured because of its 100-year anniversary.
Turn of the century steam cars were also a focus, a favorite of Jay Leno. The first car owned by a US president was a steam powered White Model M touring car that parked in front of the White House during the administration of William Howard Taft.
The auction house, Bonham?s, takes advantage of the Pebble Beach confab to hold its vintage car auction of the year, where record prices are often set.
Last year?s big earner was a 1962 Ferrari 250 GTO Berlinetta, which sold for $38 million, the highest prices ever paid for a car.
That beats the $30 million a 1954 Mercedes Benz W196 F1 sold for last year, a Grand Prix winner. Buyers? names are usually kept secret, for security reasons, or to avoid embarrassment (he paid what for that car?).
I spent a pleasant morning strolling around the historic links, bumping into old friends, talking technical details with the owners, and taking in the magnificent scenery of the California coast.
Some contestants really get into it, donning period dress to match the ages of their cars. So you?re constantly bumping into women wearing florid Edwardian hats, Art Deco dresses from the Roaring Twenties, or those killer stiletto heels from the fifties.
As for me, I was wearing a blue blazer and Panama hat favored by the judges, which seems to be timeless.
Reading the biographies of the judges was fascinating, and constitutes today?s automotive royalty.? They could be easily spotted with their telltale clipboards looking under hoods and going over every vehicle with a fine tooth comb.
Points are awarded for originality, authenticity and, of course, perfection. Extra kudos are awarded to those who rescue a historically significant vehicle from a barn, a junkyard, a forgotten garage, or an obscure museum. Some cars even had their original tool kits and jacks.
Owners stood back apprehensively.
The design chiefs of every major auto manufacture were there. So were heads of the major auto museums, like the Harrah?s collection in Reno, Nevada; the Mercedes Museum in Stuttgart; and the Petersen Automotive Museum in Los Angeles, created by the founder of Hot Rod and Motor Trend magazines.
A few racing legends were grading entries, including Sir Moss Sterling and Sir Jackie Stewart.
I had a dinner appointment with one judge, Franz von Holzhausen, who designed my Tesla Model S-1. But his wife had a baby that morning, so I dined with the head of production instead (more on that in a future piece).
If all of this appeals to you, the record sale price for a car is expected to be broken again next year. That?s when the actor Steve McQueen?s 1967 Ferrari 275 GTB/4 comes up for sale. Insiders say it should top $50 million.
I once owned McQueen?s home. Do you think it?s too early for me to get a bid in?
? ?Best of Show?
The Next Decade?s Mercedes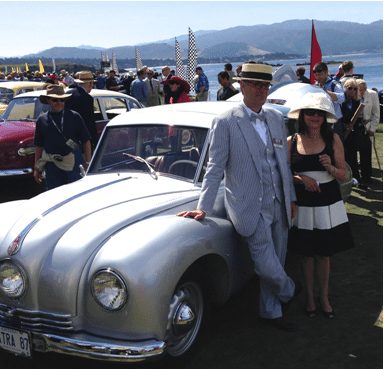 Check out This Cool Tatra
The Scenery is Magnificent
So, Which One is the Trophy?
A $38 Million Ride
This One Cost Only $30 Million
Out Of The Traffic Jam at Last!
https://www.madhedgefundtrader.com/wp-content/uploads/2014/08/Ferrari-375-MM-Scaglietti-Coupe.jpg
259
428
Mad Hedge Fund Trader
https://madhedgefundtrader.com/wp-content/uploads/2019/05/cropped-mad-hedge-logo-transparent-192x192_f9578834168ba24df3eb53916a12c882.png
Mad Hedge Fund Trader
2016-08-22 01:06:32
2016-08-22 01:06:32
Mixing with the 1% at Pebble Beach