Global Market Comments
November 16, 2009
SPECIAL CHINA ISSUE
Featured Trades: (FXI), (DBC), (DYY),
(DBA), (PHO), (BYDDF), (BIDU),
(SOHU), (NTES), (SINA)
1) I have long sat beside the table of Mckinsey & Co., the best management consulting company in Asia, hoping to catch some crumbs of wisdom. So I jumped at the chance to have breakfast with Shanghai based Worldwide Managing Director Dominic Barton when he passed through San Francisco visiting clients. These are usually sedentary affairs, but Dominic spit out fascinating statistics so fast I had to write furiously to keep up, sadly letting my bacon and eggs grow cold and congeal. Asia has accounted for 50% of world GDP for most of human history. It dipped down to only 10% over the last two centuries, but is now on the way back up. That implies that China's GDP will triple relative to our own from current levels. A $500 billion infrastructure oriented stimulus package enabled the Middle Kingdom to recover faster from the Great Recession than the West, and if this doesn't work, they have another $500 billion package sitting on the shelf. But with GDP of only $4.3 trillion today, don't count on China bailing out our $14.4 trillion economy. China is trying to free itself from an overdependence on exports by creating a domestic demand driven economy. The result will be 900 million Asians joining the global middle class who are all going to want cell phones, PC's, and to live in big cities. Asia has a huge edge over the West with a very pro growth demographic pyramid. China needs to spend a further $2 trillion in infrastructure spending, and a new 75 story skyscraper is going up there every three hours! Some 1,000 years ago, the Silk Road was the world's major trade route, and today intra Asian trade exceeds trade with the West. The commodity boom will accelerate as China withdraws supplies from the market for its own consumption, as it has already done with the rare earths. Climate change is going to become a contentious political issue, with per capita carbon emission at 19 tons in the US, compared to only 4.6 tons in China, but with all of the new growth coming from the later. Protectionism, pandemics, huge food and water shortages, and rising income inequality are other threats to growth. To me this all adds up to big core longs in China (FXI), commodities (DBC) and the 2X (DYY), food (DBA), and water (PHO). A quick Egg McMuffin next door filled my other needs.
?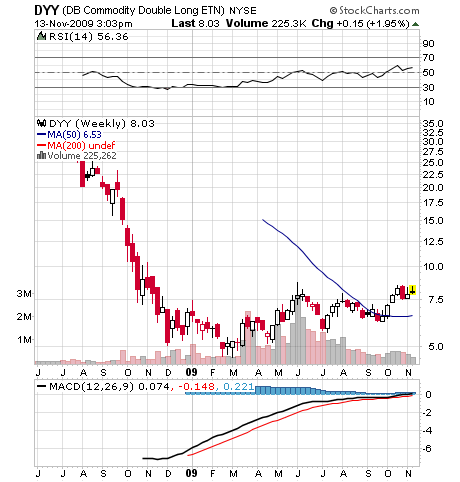 2) When people ask me for a potential ten bagger, I point them to the Chinese electric car company 'Build Your Dreams' (BYDDF) (check out their website by clicking here ) . I started following the company last year, and my early readers have already tripled their money on this pick. CEO Wang Chuan-Fu, who Charlie Munger describes as a combination of General Electric's (GE) legendary manager, Jack Welch, and inventor Thomas Edison, scraped up $300,000 from relatives to start a knock off cell phone battery company in Shenzhen in 1995. He grew the company into a massive, vertically integrated conglomerate, employing 130,000 highly motivated workaholics at 11 factories, including those in Hungary, Romania, and India (interesting choices). BYD bought a defunct car company in 2003 and re-engineered it to launch the $22,000 F3DM sedan last year, an old technology ferrous oxide based plug-in hybrid that gets 62 miles on a charge. General Motors' (GMX) Volt and Toyota's (TM) plug in Prius, which won't come out until next year, will only get 40 miles per charge and cost a lot more. All-electric BYD models are coming out this year. Warren Buffet was so impressed, he made a rare foreign investment last year, asking for 25%, and settling for a 10% stake for $230 million. In characteristic fashion, Buffet has already quadrupled his money. Wang, who has earned himself a place on the Forbes 400 list, intends to build BYD into the world's largest automaker, and quickly. Why do I feel like this war is over before the first shots were even fired?
3) If you need further proof of where the future growth in the global economy is coming from, take a look at the Chinese Internet firm Baidu (BIDU), the Google of China, which I strongly recommended on March 6 (click here for the call ). It soared 450%, then gave back a quarter of the gain in a single day with a change in some accounting practices (see my call to buy the dip by clicking here ) It has since recovered to the old highs. You should keep this ticker glued to your desktop, as it has become the canary in the coal mine for global volatility and hedge fund risk taking. In the meantime, our Google (GOOG) rose by only 130% to $575. These two hedge fund darlings are best of breed companies, but the Chinese one outperformed the American counterpart by a factor of nearly three to one. The cruel truth here is that American companies with the drag of a mature economy will never command the same multiples of Chinese ones. Google certainly thinks so, as it also owns a chunk of BIDU. If you like Chinese takeout for lunch, also look at these other high growth Internet names from the Middle Kingdom, including Netease (NTES), Sina (SINA), and Sohu (SOHU), which have done as well as BIDU, and who are going to eat our lunch.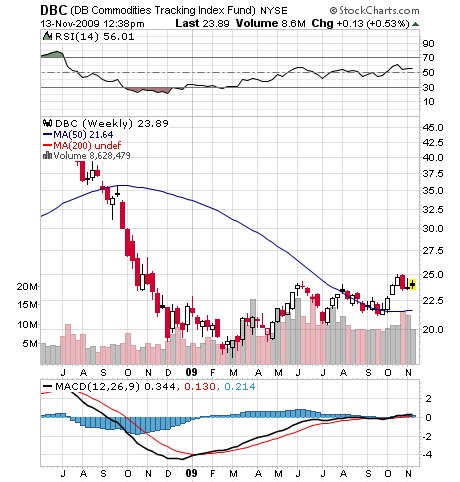 QUOTE OF THE DAY
'People are finally starting to realize that 'extended period' means 'extended period,' said former University of Chicago professor and former Fed governor Randall Kroszner, about future interest rate expectations.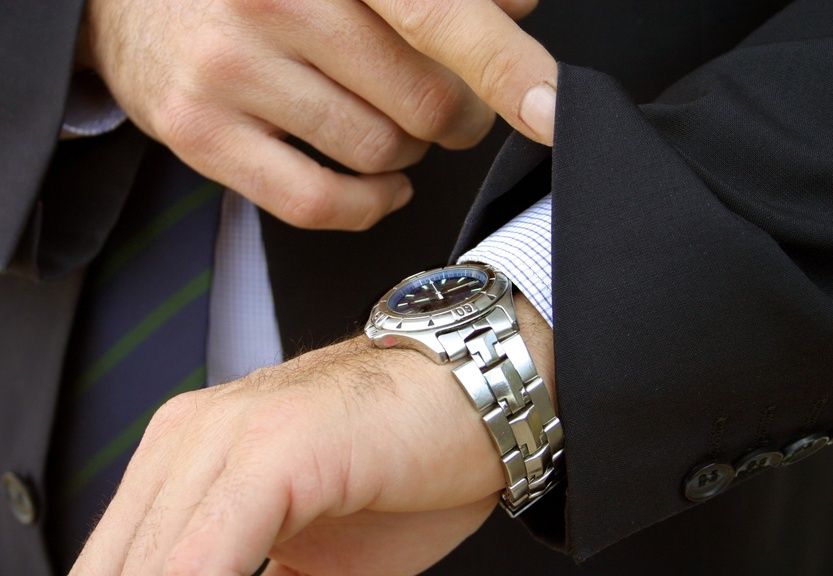 https://madhedgefundtrader.com/wp-content/uploads/2019/05/cropped-mad-hedge-logo-transparent-192x192_f9578834168ba24df3eb53916a12c882.png
0
0
DougD
https://madhedgefundtrader.com/wp-content/uploads/2019/05/cropped-mad-hedge-logo-transparent-192x192_f9578834168ba24df3eb53916a12c882.png
DougD
2009-11-16 17:04:07
2009-11-16 17:04:07
November 16, 2009