Featured Trades: (NISSAN LEAF), (NSANY), (F)
2) Taking a Nissan Leaf Out for a Spin. After five years of waiting, I finally got to drive the dream car of the future, the 2011 all-electric Nissan Leaf at the San Francisco auto show. Pulling a few strings with CEO Carlos Ghosn landed me a VIP test drive. It was one of the most surreal driving experiences that I have ever enjoyed, a lot like going on a new ride at Disneyland on opening day.
In the ultimate bit of cheek, Nissan set up a driving course defined by orange cones inside a 43,000 square foot ball room. Five cars zipped around the track like large remote controlled toys. The point was to show you that yes, this emission free vehicle can operate safely indoors. There is no tail pipe.
This is not a souped up golf cart. After comfortably sliding my 6'4′ frame behind the wheel, I asked the rep to pack the car so I could give it a real test. Three farm boys from Tennessee, real heifers, dutifully piled in. It made no difference; The car took off like a Porsche.
The Leaf has a 100 mile range, can be recharged at home in eight hours, or at a public parking lot in 30 minutes. A GPS system constantly displays your remaining? range on a real time map, as well as the locations of the nearest charging stations. If you run out of juice on the freeway, Nissan offers free roadside service with an immediate recharge. With a 600 pound lithium ion battery lining the bottom of the chassis, it has tremendous stability, and corners like it is on rails. The battery comes with an eight year warranty and a ten year life.
My local utility was there cheering from the sidelines. PG&E is offering a special Plug-in-Vehicle rate of only 3 cent per kilowatt hour rate from 12:00 am to 7:00 am, compared to the standard top tier rate of 40 cents per hour, a 92% discount. That means the leaf's 100 mile drip will cost me 72 cents. This is the same as buying all the gasoline I want at 15 cents per gallon! In other words, the fuel is basically free.
When I asked the chief engineer about maintenance costs, I got a blank stare. Then he answered in a deadpan fashion, 'there is no maintenance'. During the first 100,000, the only expenses will be for brake pads and tires, as the 107 horsepower electric induction engine only has five moving parts.
You can get all of this for $33,000, which after a federal subsidy of $7,500 and a California state subsidy of $5,000, nets out to $20,500. Giveaway price, free fuel, free maintenance. Hmmmmm.
The car will only be sold initially in eight states, and I will be one of the first to get one in California. The entire US production run of 25,000, or 50,000 globally, has been sold out for next year, so you will have to wait until 2012 to get one. Nissan plans to ramp production in Tennessee up to 250,000 by the end of 2012, or 500,000 globally. Carlos Ghosn thinks electric cars will account for 10% of the global car market by 2020, or some 5 million units.
There are broader implications for the stock market with all of this. When Nissan Motors (NSANY), General Motors (GM), and others launch their advertising campaigns next year, I think there will be a media frenzy. Take a look at the share price of Ford Motors, and you know the industry has the wind in its sales, and an electric car boom could build it to hurricane force.
Think about what will happen next. What will these cars cost when the price of oil doubles, which I expect in the next five years? They should go through the roof. The production ramp up will, at the same time, cause economies of scale to kick in and costs to plummet. So Nissan will be working the income statement from both sides. That is what Ghosn is betting the company on.
Bottom line: For your longer term portfolios, buy Nissan shares on dips, and cash in on the hype.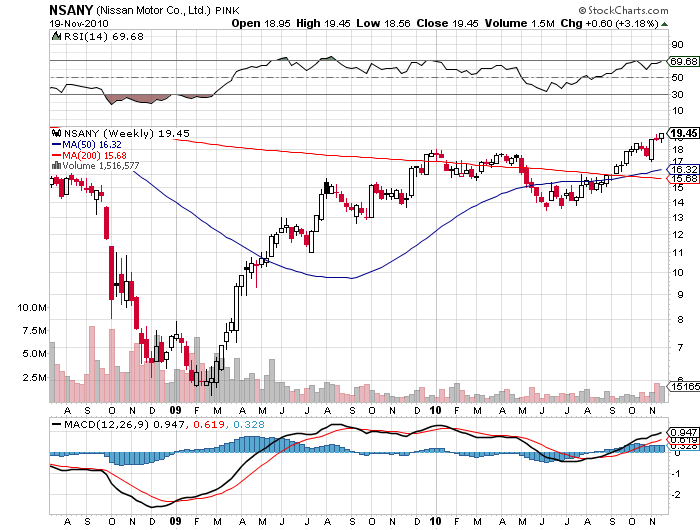 –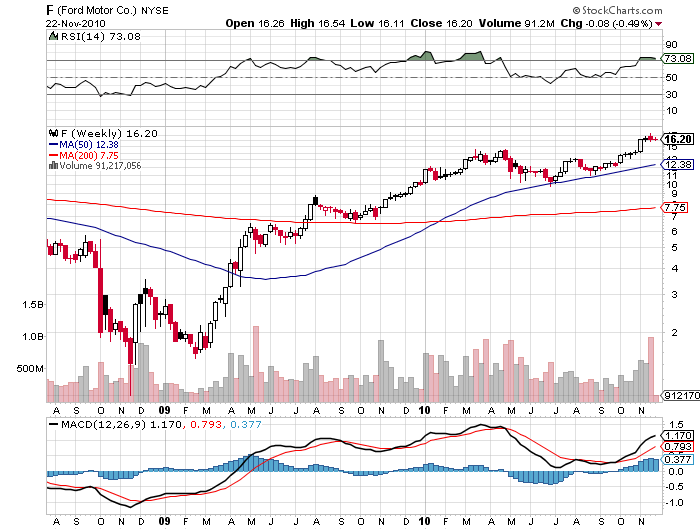 –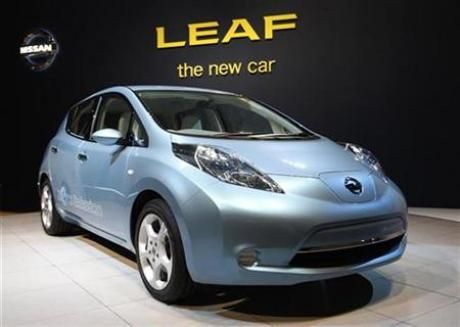 Sign Up For Your Free Transportation
https://madhedgefundtrader.com/wp-content/uploads/2019/05/cropped-mad-hedge-logo-transparent-192x192_f9578834168ba24df3eb53916a12c882.png
0
0
Mad Hedge Fund Trader
https://madhedgefundtrader.com/wp-content/uploads/2019/05/cropped-mad-hedge-logo-transparent-192x192_f9578834168ba24df3eb53916a12c882.png
Mad Hedge Fund Trader
2010-11-24 01:50:43
2010-11-24 01:50:43
November 24, 2010 - Taking a Nissan Leaf Out for a Spin