I spent the day trying to charter a 500,000-tonne oil tanker.
No luck.
If I had found one, I could have bought oil at the close of the market today at negative -$37.78 a barrel and then immediately resold it for June delivery for $21, generating an instant $57.78 a barrel profit. At 7.33 barrels a metric ton that gives me a $211 million profit. All I have to do is keep the oil for a month. Big hedge funds are doing this right now.
When I toured Australia in February, I warned investors that crude would fall from $80 to $10 by 2030, which many called extreme. I warned them to get out of all energy investments immediately, as I have done with you for the past several years. It is an industry that is going the way of the buggy whip maker.
Instead, we saw a move from $80 to negative -$37 in two months. They must think I'm some kind of idiot, clueless about the functioning of this important commodity market, despite having invested and worked in the industry for five years.
Of course, the wild prices are a product of the futures market, where financial derivatives outnumber the underlying physical market by 100 to one. Anyone who buys here today has to take delivery by 2:30 EST on Tuesday. With all the world's storage and shipping already committed that is impossible. You literally can't give oil away right now.
All transportation use of oil has virtually ceased. Most airlines are grounded, no ships are sailing, and nobody is driving anymore. Of the world's potential daily oil supply, we have crashed from 100 million b/d to 65 b/d in two months. It is a move unprecedented in history.
Throwing gasoline on the fire are 16 supertankers which sailed from Saudi Arabia but for which there are no buyers.
This panic is happening in the face of Cushing, Oklahoma's storage capacity which is now at 61 million barrels and could be at its limit of 78 million barrels in a couple of weeks. Then where does the Texas tea go?
Since June futures are still trading at $21, I believe this carnage is due to the future expiration and should pass in a few days. But unless more storage shows up out of the blue, or the industry shuts in production of 35 million b/d, the Armageddon in the futures market will become a monthly affair.
All eyes are now on the United States Oil Fund (USO), which liquidated all its May oil contracts two weeks ago to avoid precisely this kind of debacle. All longs were rolled forward to June contracts, which expire on May 19, and into July.
(USO) now owns one-third of all June oil contracts. Some $1.5 billion poured into the (USO) last week, which then immediately dropped in value by half.
I know this sounds insane, but if you bought the (USO) at the Monday close of $3.75 and it returns to the $5.00 where it was trading last Thursday and oil was trading at $25 you should be able to make a quick 33% on your money in a few days.
I wouldn't let this trade grow hair on it. I'll be selling on the first rally. That's why I'm only going with a 5% position instead of the usual 10%. Now is not the time to get greedy in the oil market.
Eventually, supply and demand will come into balance from a combination of production cuts and demand increases from a recovering global economy. Best guess is that happens in July or August at the earliest. OPEC has already cut production by 10 million barrels a day for two months and 8 million b/d for the rest of the year. After that, oil could trade back as high as $40 a barrel.
If oil stays this low for too long, the geopolitical implications are immense. There will be a second Russian Revolution, which depends on crude sales for 70% of total government revenues.
Saudi Arabia will go up in flames and the royal family will flee to Geneva, Switzerland where their money is, leaving 34 million citizens to perish. What population did the country support before the post-war oil industry took off in 1950? About 4 million. I remember Saudi Arabia in the 1960s and it was not a pleasant place. People walked barefoot on 150-degree sands.
But I diverge.
At some point, another trade of the century on the long side of oil is out there. But the price of being early is high.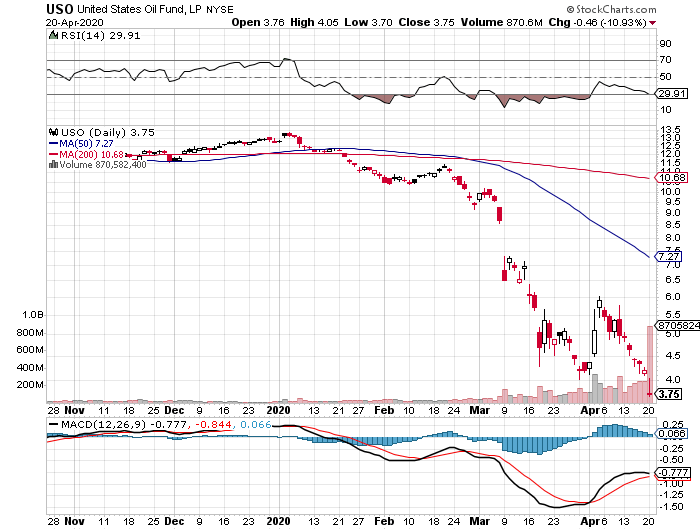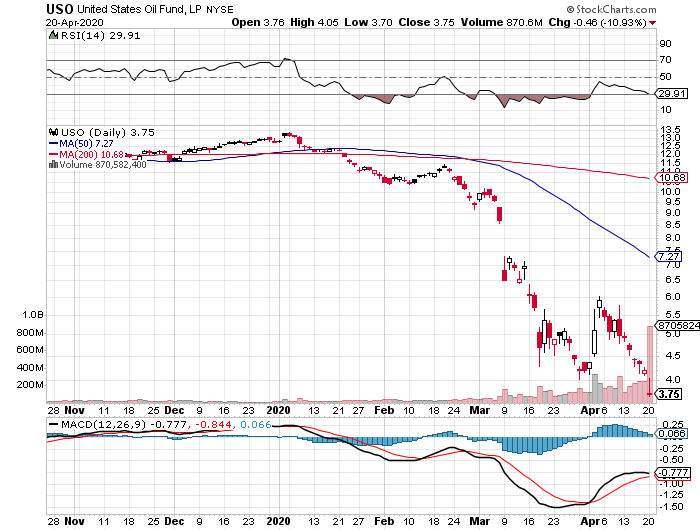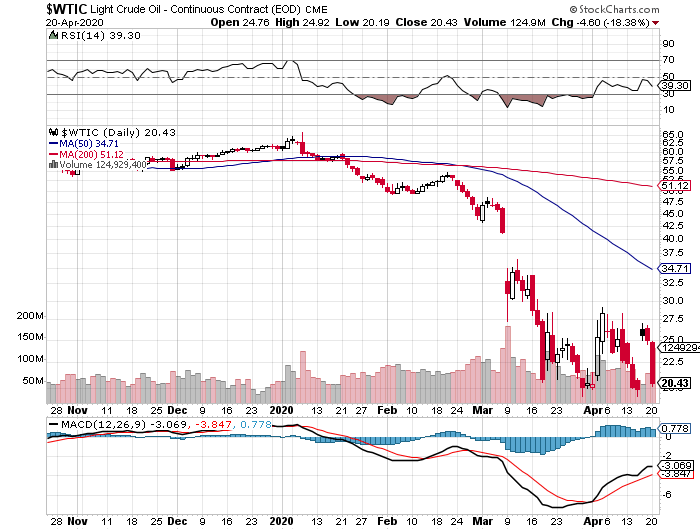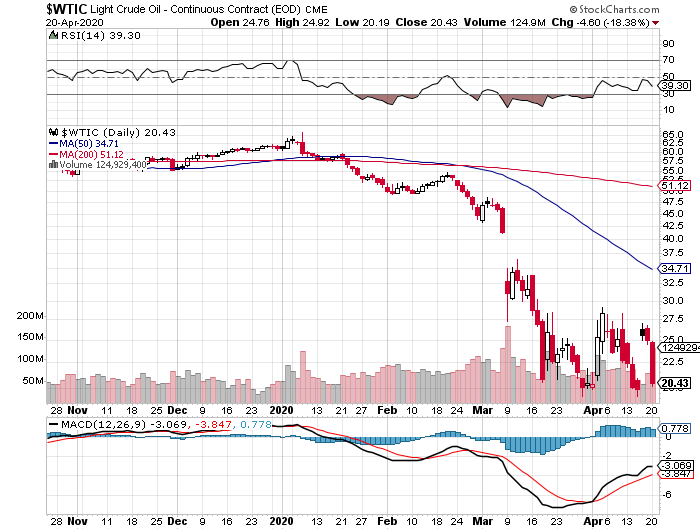 A "BUY" Signal?
https://www.madhedgefundtrader.com/wp-content/uploads/2020/04/oil.png
190
287
Mad Hedge Fund Trader
https://madhedgefundtrader.com/wp-content/uploads/2019/05/cropped-mad-hedge-logo-transparent-192x192_f9578834168ba24df3eb53916a12c882.png
Mad Hedge Fund Trader
2020-04-21 04:02:19
2020-05-19 11:30:52
Oil Cataclysm