As of this week, Oregon will become the first state to complete a chain of charging stations that will enable electric cars to travel from one end of the state to the other. It completed the last of eight 440 volt fast charging stations that allow travel for the full 310 miles on the beaver state?s Interstate 5, from the Washington to the California border.
A fleet of Tesla Roadsters, Nissan Leafs, Fisker Karmas, and Mitsubishi iMiEVs celebrated the event by traveling in convoy from one end of the state to the other. It is all part of the Electric Highway Project, which has the final goal of building an all-electric corridor from Canada to Mexico.
The development understates how rapidly electric cars are going mainstream. Once the domain of the wealthy who bought Tesla?s $100,000 two seat roadster, prices are now falling to the level of high end luxury cars. Tesla?s own Model S1 Sedan, which carries a 300 mile range, will be available for $58,000. Toyota announced that its electric Rav4 SUV will cost $49,800 and will include a Tesla built drive train. My own 100 mile range Nissan Leaf cost me $38,000, and after a year has delivered me 12,000 miles of pleasant driving with zero fuel and maintenance costs. Also on the drawing board is a Tesla driven Mercedes ?A? class Smart car for even less.
Toyota invested $60 million in founder Elon Musk?s fledgling car company to assure timely deliveries. Elon wisely used the cash to buy the abandoned General Motors Prizm plant in Fremont, California for pennies on the dollar with some generous US government subsidies thrown in, where Model S1 production is underway.
Yesterday, Tesla announced it was moving the delivers up a month to June this year, causing a one day 10% pop in the stock, despite announcing a $98 million quarterly loss the day before. No doubt, the 10,000 on the waiting list for the S1are thrilled. Their $5,000 deposits have provided the company with $50 million in free financing for two years.
When I first bought my Leaf, finding a charging station away from home required some advanced planning and guerrilla tactics. I still feel bad about depriving a parking lot attendant of his coffee maker outlet for three hours while I enjoyed the opera, but he didn?t mind the $20 tip. That was back when there were only 25 charging stations in the entire San Francisco Bay area. Today there are nearly 400, with 20 new ones joining the ranks each week. Soon, every Walgreens, Whole Foods, and Best buy will have one, as will every major hotel in the city. Not a bad deal, given that none of these stations has yet to charge a penny for a single electron.
Tesla is moving ahead to build its own network of 440 volt ?supercharging stations? which can get you an 80% top up in 45 minutes. One is being built at Harris Ranch, half way between San Francisco and Los Angles, with a second in Sacramento, midpoint for a trip to Lake Tahoe. I can foresee a life of plugging in my car, going into Starbucks with an Economist, a Wall Street Journal, and a New York Times, and then zooming away 45 minutes later.
Although the Tesla plug won?t be compatible with my Leaf, the stations will carry adapters for all cars. I won?t need an adapter for my Tesla Model X SUV. I am one of 1,000 on the waiting list for that futuristic, 300 mile range vehicle, which should be parked in my garage in 2 years.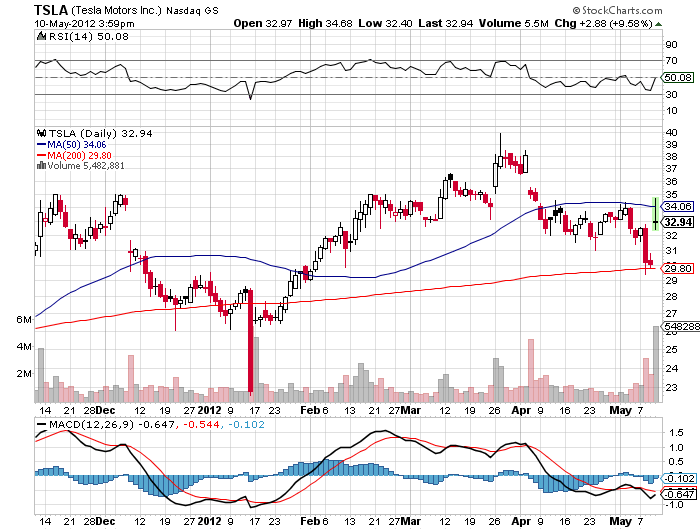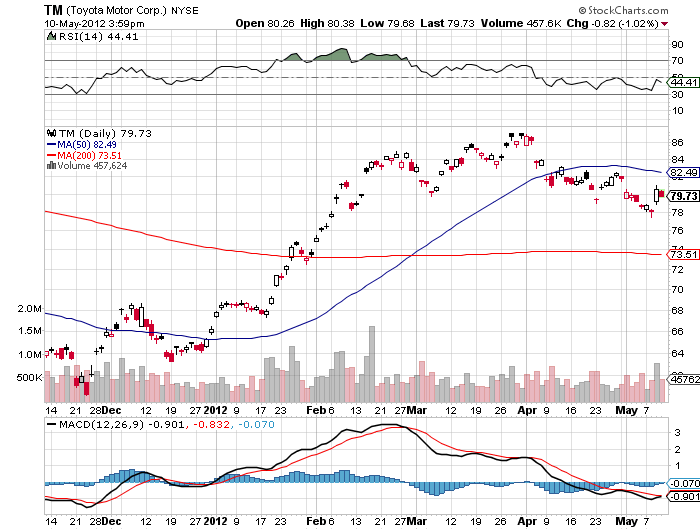 Tesla Model S Sedan
Tesla Model X SUV
My Leaf
https://madhedgefundtrader.com/wp-content/uploads/2019/05/cropped-mad-hedge-logo-transparent-192x192_f9578834168ba24df3eb53916a12c882.png
0
0
DougD
https://madhedgefundtrader.com/wp-content/uploads/2019/05/cropped-mad-hedge-logo-transparent-192x192_f9578834168ba24df3eb53916a12c882.png
DougD
2012-05-10 23:02:16
2012-05-10 23:02:16
Oregon Becomes the First All Electric State