America is full – that is what domestic social media growth is telling us.
The once mesmerizing service that captured the imagination of the American public has soured in the country that created it.
Online advertising consultant emarketer.com issued a report showing that Snapchat (SNAP), the worst of the top social media outlets, will lose users in 2019.
The 77.5 million users forecasted by the end of 2019 represents a 2.8% YOY decrease.
This report differs greatly from the report eMarketer issued just past August showing that Snapchat was preparing for a rise of 6.6% YOY in 2019.
The delta, rate of change, represents a massive downshift in expectations and the sentiment stems from the widespread saturation of social media assets.
Market penetration has run its course and the players have run out of bullets mainly targeting Generation Z.
These platforms have given up on baby boomers and Snap feels that pursuing the millennial demographic would be an exercise in futility.
Even more disheartening is that between 2020-2023, there will be only a minor uptick of user growth by 600,000 users clamping down on the impetus of a comeback of sorts shackling the business model.
The trend is not mutually exclusive to Snap, Twitter or Facebook, social media as a group will only expand the overall user base by 2.4% in 2020 hardly satisfying the appetite for growth that these companies publicly advertise.
Remember that much of Instagram's growth originates from borrowing Snapchat users by way of copying their best features.
Even with this dirty tactic, growth seems to be petering out.
Snap's shares have made a nice double after peaking shortly over $25 after the IPO.
But the double was a case of investors believing that management and execution had hit rock bottom – the proverbial dead cat bounce in full effect.
Now investors will pause to reassess whether there is another reasonable catalyst to drive the stock higher.
First, investors will need to ask themselves, is Snap in for another double?
Absolutely not.
So where does Snap go from here?
I believe they will borrow from the playbook of Mark Zuckerberg and attempt to emphasize supercharging average revenue per user (ARPU).
Whether the company arrives at this conclusion by chance or strategy, they must confront the reality that there are almost no other levers to pull if they want to perpetuate this growth story.
M&A is also off the table because the company is burning through cash.
Facebook's (ARPU) came in at $7.37 last quarter indicating how Snap needs to make substantial headway in this metric with last quarter's paltry (ARPU) at $2.09.
Essentially, management will conclude that each user isn't absorbing enough ads because of declining user engagement.
Snap CEO Evan Spiegel will need to improve the pricing power charging advertisers at higher rates.
Obviously, the lack of an attractive platform resulting from poor execution and engineering problems needs a quick turnaround.
It's not all smooth sailing for Facebook either, they keep chopping and reshaping strategy by the day attempting to minimize costs as the regulation burdens rot at the bottom line.
On the bright side, regulation hasn't been as bad as initially thought – usership hasn't dropped by orders of magnitudes.
In fact, Facebook's users have shown a resurgent indifference to Facebook chopping up their data and repackaging it to 3rd parties, meaning Facebook has come through rather unscathed in the face of a PR storm.
There have even been recent reports of Zuckerberg being persuaded to start paying journalists for original content, a vast pivot for his hyped-up propaganda machine of being in the distribution business.
Juicing up (ARPU) is the lowest hanging fruit on offer for Snapchat and Facebook right now, overperforming in this sphere will improve financials and keep the mosquitoes away while affording them time to ponder how to reaccelerate user growth.
One outsized negative trend is that 90% of user growth appears to originate from undeveloped nations with a lack of discretionary spending power showing that this strategy has its limits.
Searching for another tool in its toolkit will redefine Snapchat, Twitter, and Facebook as we know it.
I would even classify it as an existential crisis.
Instagram have bought Facebook the most time to readjust its future direction highlighting that stealing Snapchat's audience is still effective, expecting user growth to climb to 106.7 million US users, up 6.2% from 2018.
Instagram will continue its expansion by adding nearly 19 million new US users by 2023, but as much as it adds to its new social media asset, Facebook will be struggling for new net adds.
Snapchat is in dire straits and the stock market bubble could support the share price for up to another 8-12 months, but when the guillotine drops on Snapchat, the blood will smatter everywhere.
The company also plans to introduce a gaming service to take advantage of the popularity with its core users, Generation Z.
This should be the trick that breathes life into operating margins and (ARPU) which is why I believe the stock will hold up for the next period of time.
But with the gaming initiatives also comes rampant competition with the likes of Alphabet (GOOGL) and don't forget Fortnite is still the 800-pound gorilla.
These trends also bode negatively for Pinterest (PINS) who might be going public as the last shot of tequila is downed at the after party.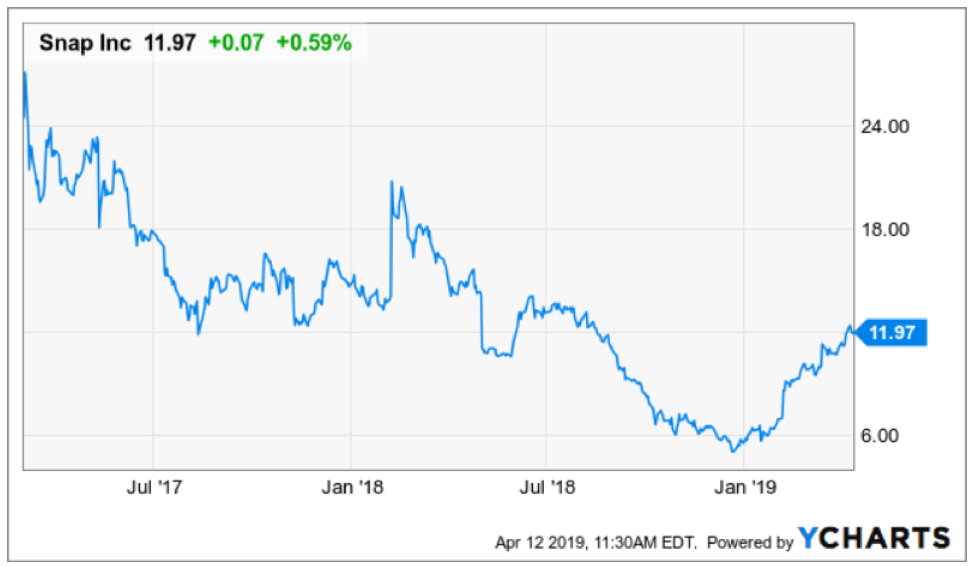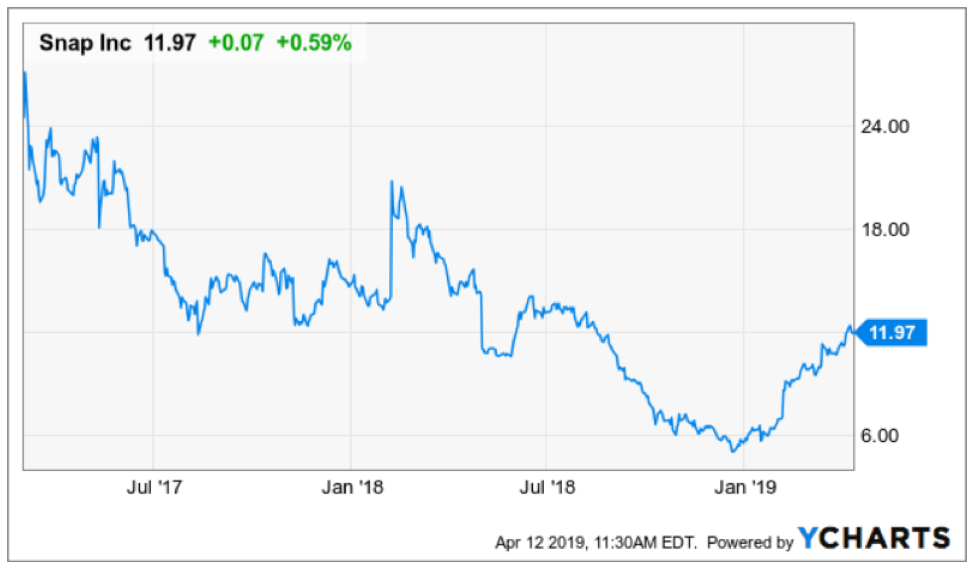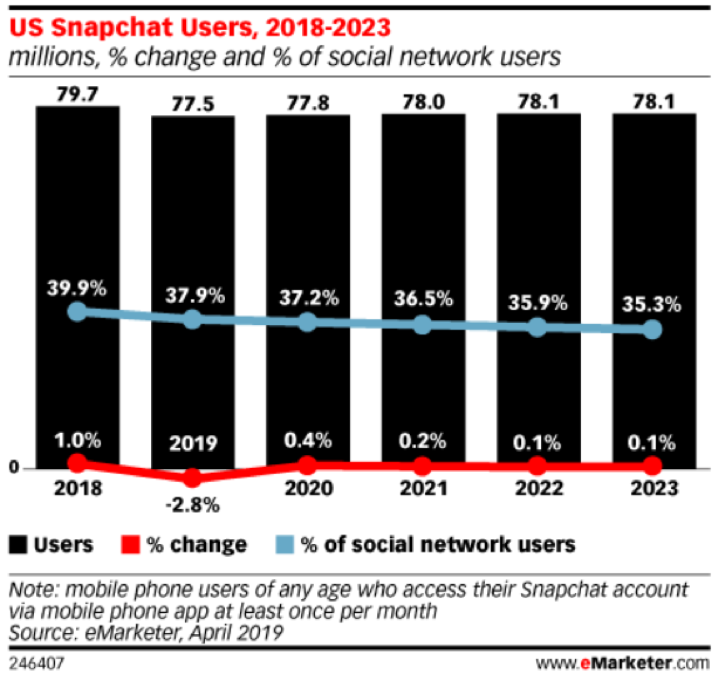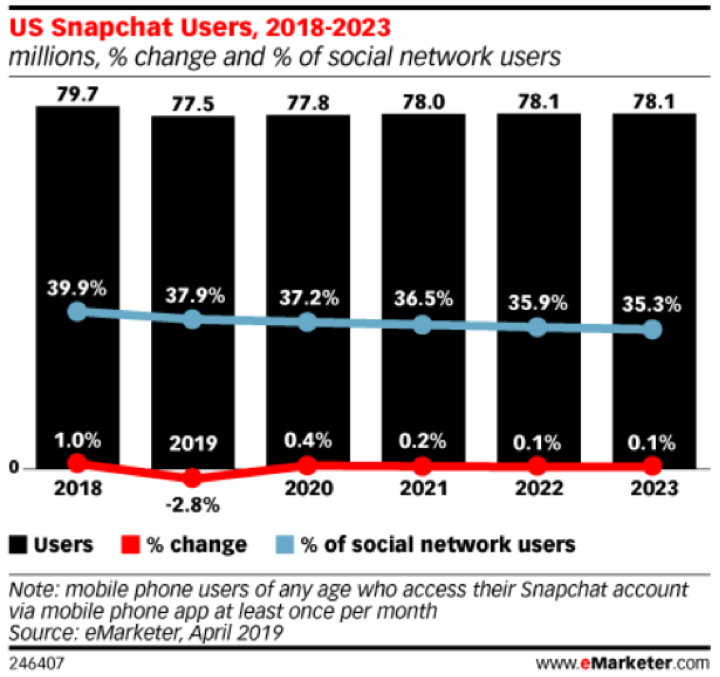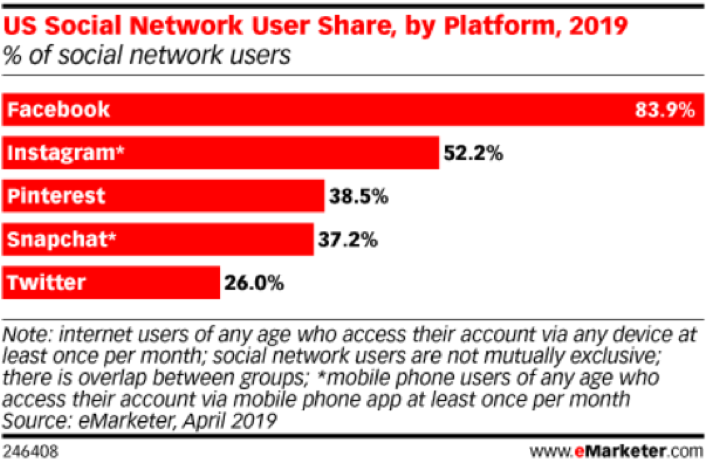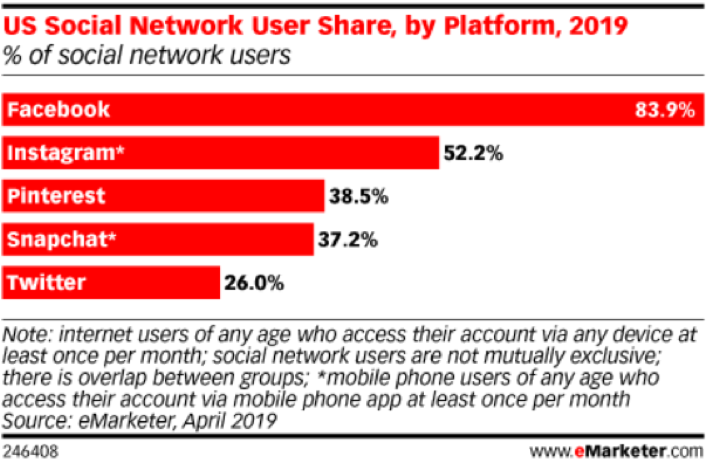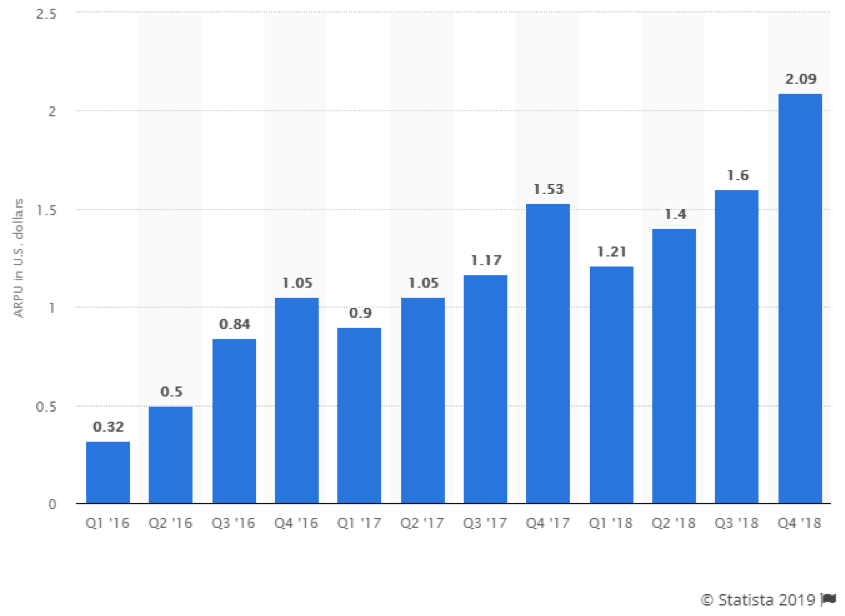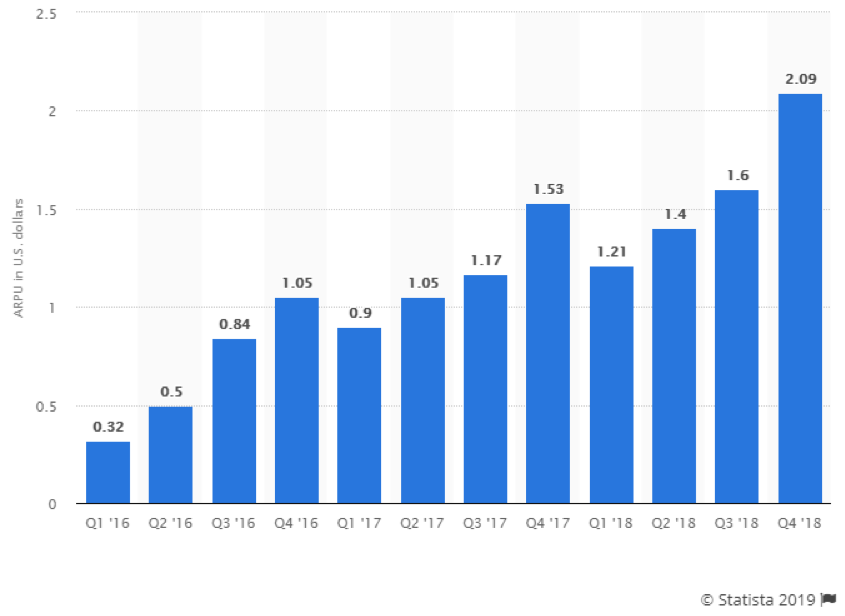 SNAPCHAT ARPU
https://www.madhedgefundtrader.com/wp-content/uploads/2019/04/snap-users.png
677
720
Mad Hedge Fund Trader
https://madhedgefundtrader.com/wp-content/uploads/2019/05/cropped-mad-hedge-logo-transparent-192x192_f9578834168ba24df3eb53916a12c882.png
Mad Hedge Fund Trader
2019-04-15 08:06:51
2019-07-10 21:50:42
Reaching Peak Social Media