5G is overhyped but that doesn't mean everyone will be a loser.
The shift to fifth-generation wireless technology, or 5G, will offer investors numerous compelling investment opportunities.
It has been predicted that 5G phone shipments will rise from 17 million this year to 130 million in 2020 and 327 million in 2021.
However, on the flip side of it, 5G, especially for the technically astute consumer and at current prices, is oversold.
At least for 2020.
Some percentage of teens and students will want to watch movies and play high-bandwidth games on their phones but when they discover the data costs, they will retreat from such purchases.
Also, many who hype 5G aren't aware of the technical limitations especially for those outside of certain metro areas.
It could turn out to be a vanity buy for some or most.
It will benefit businesses, of course, but not the majority of the cell phone market. Certainly not in the US.
Even for me, everything I use on my smartphone wouldn't need 5G.
If there is no noticeable effect, then do consumers really need this technology?
I would say not until something more comes out that requires us to need 5G and I do not see that on the horizon.
Back in the world of the stock market, many analysts understand that RF (radio frequency chip) supply chain companies are compelling in their new growth opportunities for 5G phones.
Even if many consumers do not need 5G, many device makers will splurge on their supply chain to get there, meaning chip companies who sell 5G components will gain.
The marketing of 5G entails the standard hyping-up of the shift to 5G.
And industry participants would say it is substantially important to the semiconductor and telecom industries, but it will take time to absorb on the consumer side.
Analysts expect 5G to deliver speeds 10 to 40 times faster than current 4G LTE networks. Its lower latency promises to enable new applications from augmented reality and automated factories to self-driving and cloud gaming.
But as I referenced above, there are only a handful of consumers that need cloud gaming and augmented reality.
Automated factories work with the current speed of technology and in a global slowdown, corporates will want to wait for a healthier environment to initiate a new CAPEX cycle.
Here are some chip stocks that supply chain could benefit from.
Taiwan Semiconductor Manufacturing (TSM) is a stock with thematic drivers that can potentially benefit from the upcoming 5G renaissance and global supply chain shifts.
TSM has a large foundry and advanced chip-making technology leadership.
Broadcom (AVGO) will also become a vital winner of 5G smartphone adoption while supplying specialized processors for 5G front and back haul.
Broadcom will supply chips to both Apple and Samsung for their 5G smartphones.
The rapid run of chip shares could have more to go for the end of the year as investors have front-run chip stocks for the past few months.
However, I do believe that the downdraft in smartphone demand and connected devices will hurt the end product sales.
Consumers will hold off on buying 5G-supported Huawei, Samsung, and Apple products, meaning chip stocks could stall out after this nice run.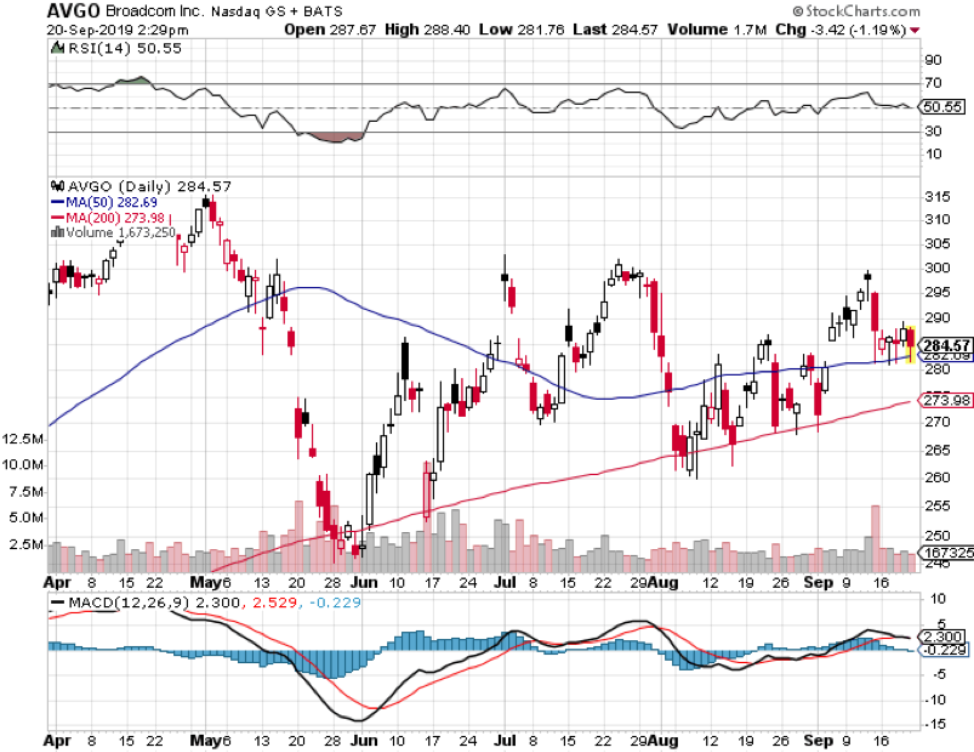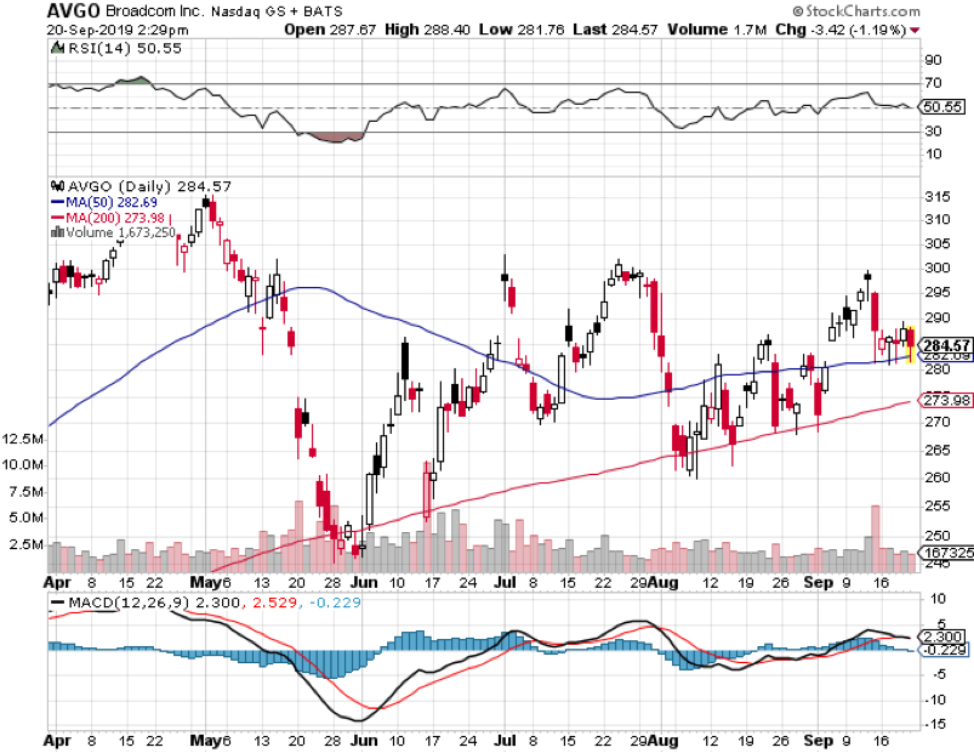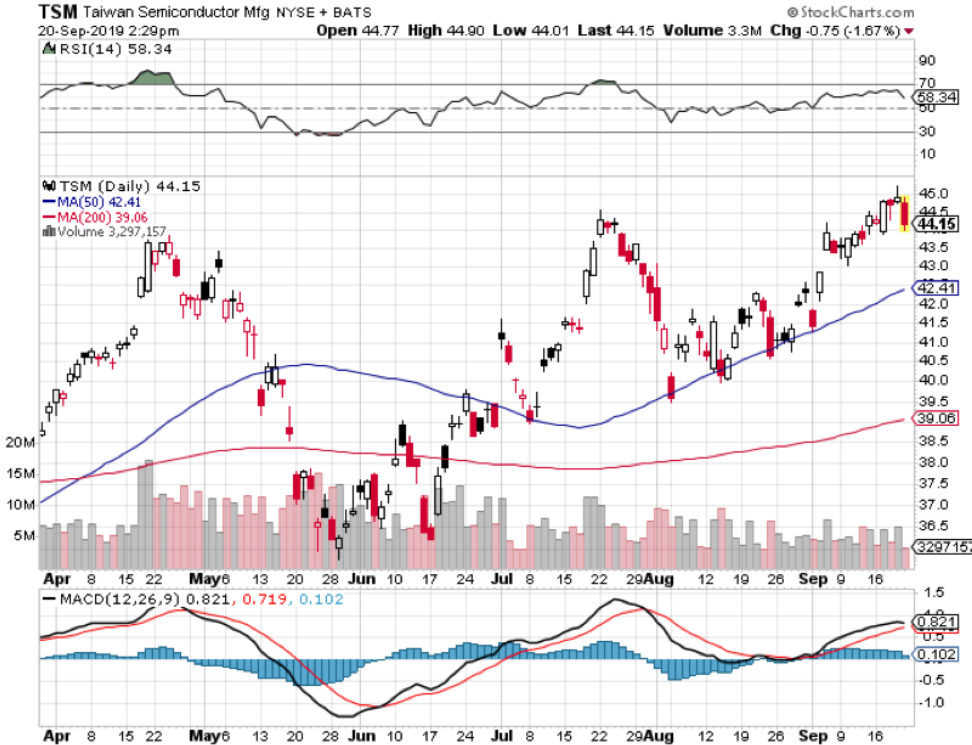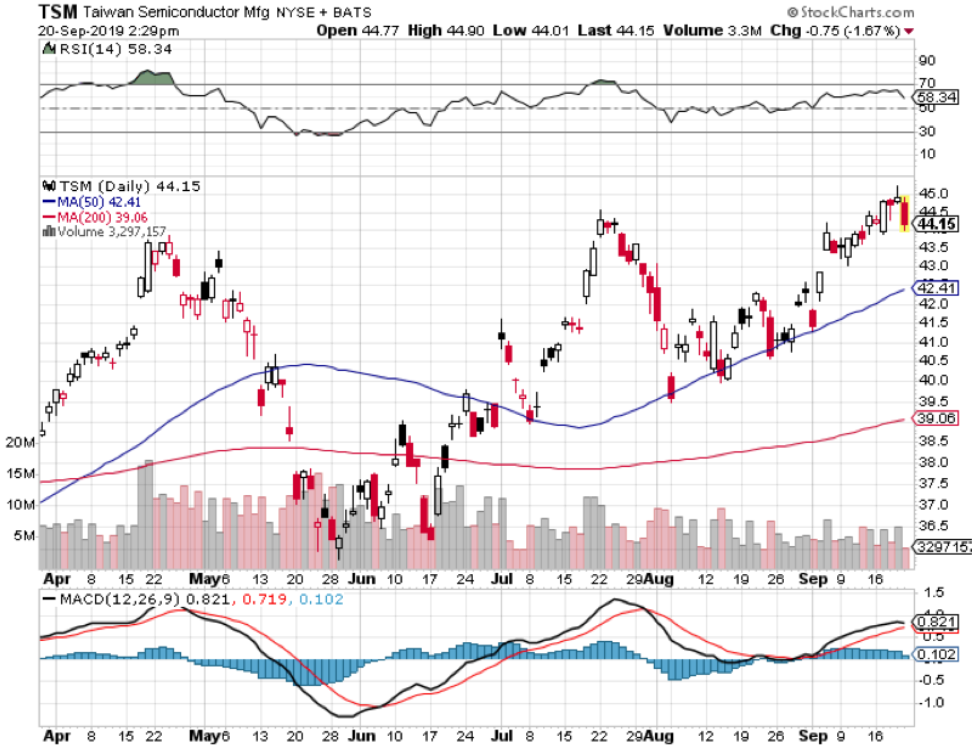 https://madhedgefundtrader.com/wp-content/uploads/2019/05/cropped-mad-hedge-logo-transparent-192x192_f9578834168ba24df3eb53916a12c882.png
0
0
Mad Hedge Fund Trader
https://madhedgefundtrader.com/wp-content/uploads/2019/05/cropped-mad-hedge-logo-transparent-192x192_f9578834168ba24df3eb53916a12c882.png
Mad Hedge Fund Trader
2019-09-23 01:02:35
2020-05-11 13:31:47
The Coming Revolution in 5G