I am getting a lot of emails about how to come out of the $450-$480 Apple bull call spread, which I advised readers to go into on March 2. Now that we are deep in the money, what is the best way to take a profit?
Well, the first thing for me is to say congratulations. My expectation that Apple stock would continue grinding up has paid off handsomely. The entire position expires next week, on April 20. So the best thing to do here is nothing. You are so far in the money that you are almost certain to expire at the maximum profit point.
So just leave it alone. You don?t have to do anything. The $450 and $480 calls will cancel out each other, and your broker should post a cash credit to your account the following Monday, thus freeing up the margin requirement.
If you try to come out here the execution costs could unnecessarily eat up a chunk of your profit. Since there are two call options involved, that means paying a double trading spread. There is no need for you to pay for a bigger yacht for your broker this early in the year.
The only reason to come out earlier is that you think Apple might fall $150 in the next seven trading days. Given that the Justice Department announced an antitrust action against the company this morning an only knocked the stock down $10, I think this is unlikely.
Your net profit on this position should be $1,855, or? $1.86% for the notional $100,000 portfolio. I include my calculations below. Well done.
Execution
March $450 call cost?????... $97.60
March $480 call premium earned?-$70.25
Net Cost???????.........?. $27.35
Profit Calculation at Expiration
Expiration value???????..$30.00
Purchase cost ?..??????. . $27.35
Net Profit????????.??.$2.65
Total profit = ($2.65 X 100 X 7) = $1,855 = $1.86% for the notional $100,000 portfolio.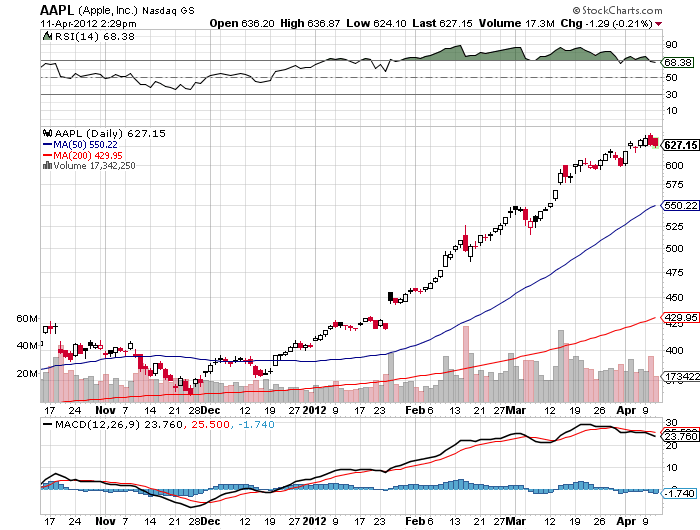 Thanks, Steve
https://madhedgefundtrader.com/wp-content/uploads/2019/05/cropped-mad-hedge-logo-transparent-192x192_f9578834168ba24df3eb53916a12c882.png
0
0
DougD
https://madhedgefundtrader.com/wp-content/uploads/2019/05/cropped-mad-hedge-logo-transparent-192x192_f9578834168ba24df3eb53916a12c882.png
DougD
2012-04-11 23:02:33
2012-04-11 23:02:33
Taking profits on Apple