I remember the last time that the market went up 10% in ten days.
In the fall of 1982, I was in the office of Carl Van Horn, the chief investment officer of JP Morgan Bank. I was interviewing him about the long-term prospects for the stock market with the Dow Average at 600 and gurus like Joe Granville predicting Dow 300 by yearend.
The odd thing about the interview was that he kept ducking out of the room for a minute at a time and then coming back in. I finally asked him what he was doing. He answered, "Oh, I had to go out and buy $100 million worth of stock."
And that was back when $100 million actually bought you something!
Over the last two weeks, the Dow Average has tacked on a historic $4,000 points. For a few fleeting second, it actually touched 30,000. Cassandras everywhere are tearing their hair out.
The monster rally began a few days before the election and has continued unabated. In my view, this is the second leg of a 20-fold move that started in 2009 when the Dow was at 6,000 and will continue all the way up to 120,000 by 2029.
No wonder investors are so bullish! It seems that recently, quite a few have come over to my way of thinking.
And how could they not be so bovine-inclined?
The most contentious election in history over. The pandemic is about to end. In a year we'll, all have our Covid-19 vaccinations, at least those who want them. I'm planning on getting all six.
The greatest burst of economic growth in history is about to be unleased. Consumption wasn't destroyed, just deferred into 2021 and 2022, unless you're in the cruise, airline, or restaurant business. The exponential profit growth unleashed by the pandemic isn't even close to being discounted.
This hasn't been just any old rally. Stocks left for dead years ago, the old-line industrials and cyclicals have sprung back to life. Union Pacific (UNP) has exploded. JP Morgan Chase (JNP) has gone off to the races. Caterpillar (CAT) is in orbit.
The great thing about these moves is that it is very early days. They could run for years. But where will the money come from to pay for these? How about raising the big tech piggy bank, which has been leading markets for years and is now wildly overvalued.
However, $4,000 points is a lot. So, we may get some back and fill and a sideways "time" correction before we attempt higher highs by yearend. The only thing that could upset this scenario is if Covid-19 cases explode, which they are now doing.
Where will the market care? Who knows, but like stock prices, US Corona cases have doubled in ten days to 160,000.

Covid-19 is cured! News that Pfizer (PFE) has discovered a Covid-19 vaccine that is 90% effective has sent stocks soaring to new all-time highs! The Dow futures were up $1,800 at the highs pre-market. The Great Depression is over. Recovery stocks like banks, cruise ships, restaurants, energy, and railroads are exploding to the upside, with stay-at-home stocks such as couriers, precious metals, and streaming companies in free fall. Some 500,000 health care workers have priority in getting the two-shot regime. The US Army will begin national distribution almost immediately, but you may not get it until the summer.

Market volatility crashed, with the Volatility Index (VIX) down from $41 last week to $18. Happy times are here again, at least says the market, this minute. I told you to go short last week!

Walt Disney is the best recovery play in the market. With theme parks, hotels, and cruise ships, it had the most exposure of any blue-chip company to the pandemic. It is also best positioned for any recovery. The stock was up 26% at the highs this morning. Only its rock-solid balance sheet gets this company alive. My 2021 target is $200 a share. Back to waiting in lines for hours, packing shoulder to shoulder on rides, and paying $20 for hamburgers.

The end of the depression may be in sight, but the US still faces a massive loan default wave that could erode confidence in the economy. A full economic recovery in a year will be too late for millions of businesses, especially small ones. The Fed says the risks are "severe," and Disneyland is still laying off workers. Just when you think we are risk-free; we are not.

A big recovery in dividend stocks is coming after sitting in the doghouse for years while big tech hogged the limelight. Phillip Morris (PM) at a 6.7% yield? AbbVie (ABBV) at 5.5%? Williams Co (WMB) at 8.3%? They certainly will draw some buyers in this near-zero interest rate world. High yields REITs are also in for some joy now that a vaccine is on the horizon.

Home Prices are soaring at the fastest rate in seven years. Ultra-low interest rates and a structural shortage create the perfect storm for higher prices. Houses are now seen as "safe" since they didn't crash 40% like the stock market did in the spring. Mortgage brokers are so overloaded it takes three months to get a refi done. This could continue for another decade.

China's "Single's Day" breaks all records, bringing in an eye-popping $116 billion in sales for Alibaba (BABA). US customers were the biggest buyers, eclipsing our "Black Friday" by a huge margin. I told you (BABA) was a "BUY".

Biden could lock down the economy for 4-6 weeks if new cases keep growing at their current rate. That would knock the pandemic on the nose for good, but is it worth the price? That is an idea making the rounds in the incoming Biden administration. Cases could be peaking at 250,000 a day right around the inauguration. I may not go this year.

Stocks may Go up for years. That's is what the Volatility Index (VIX) is telling us down here at $22. If we break below $20 and stay there, then the long-term Bull market becomes a sure thing. Stocks are now discounting the end of the pandemic.

When we come out the other side of pandemic, we will be perfectly poised to launch into my new American Golden Age, or the next Roaring Twenties. With interest rates still at zero, oil cheap, there will be no reason not to. The Dow Average will rise by 400% to 120,000 or more in the coming decade. The American coming out the other side of the pandemic will be far more efficient and profitable than the old. Dow 120,000 here we come!
 
My Global Trading Dispatch exploded to another new all-time high last week. November is up 12.31%, taking my 2020 year-to-date up to a new high of 48.34%. That brings my eleven-year total return to 404.25% or double the S&P 500 over the same period. My 11-year average annualized return now stands at a new high of 37.03%.
It was a week of profit-taking on the fully invested portfolio I piled on just before the election. My one new long was in the silver ETF (SLV) and my one new short was in (TLT), both of which turned immediately profitable. I used the one dip of the week to cover a short in the (SPY) close to cost.
It worked in spades.
The coming week will be a sleeper compared to the previous one. We also need to keep an eye on the number of US Coronavirus cases and deaths, now over 10 million and 240,000, which you can find here.
When the market starts to focus on this, we may have a problem.
On Monday, November 16 at 9:30 AM EST, the Empire State Manufacturing Index is out.
On Tuesday, November 17 at 9:30 AM, US Retail Sales are published.

On Wednesday, November 18 at 9:30 AM, US Housing Starts for October are released.
On Thursday, November 19 at 8:30 AM, the Weekly Jobless Claims are announced. At 11:00 AM, the big Existing Home Sales for October are announced.

On Friday, November 13, at 2:00 PM we learn the Baker-Hughes Rig Count.
As for me, I'll be cleaning off the grime from the last Boy Scout trip of the year up to the giant redwoods of north Mendocino County. I haven't been up there in 13 years and boy has it changed. The vineyards have ground enormous and entire new exurbs have been constructed. There are only a few apple farms left, where I picked up some nice cider, pie, and bags of fresh apples.
There are still a few bits of the old California left.
Stay healthy.
John Thomas
CEO & Publisher
The Diary of a Mad Hedge Fund Trader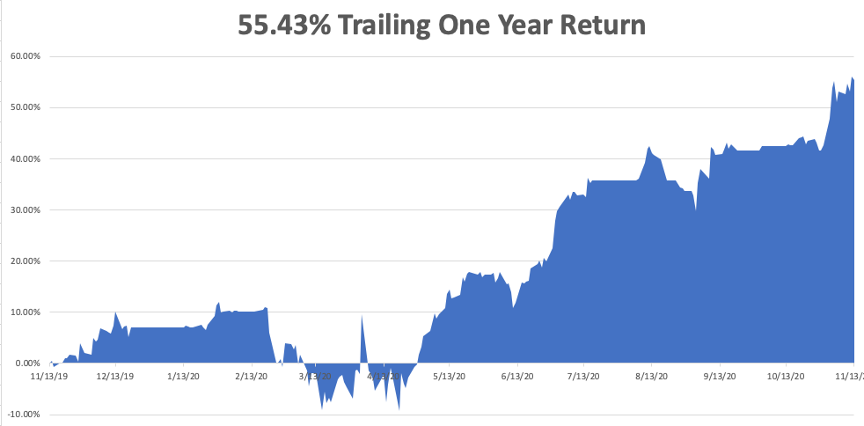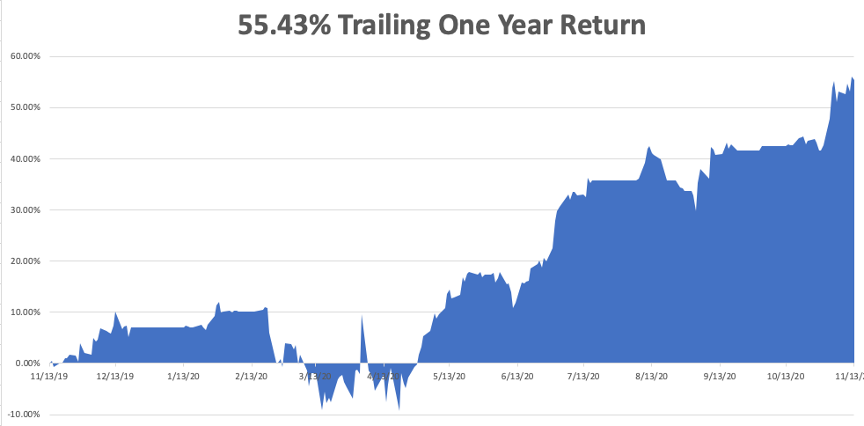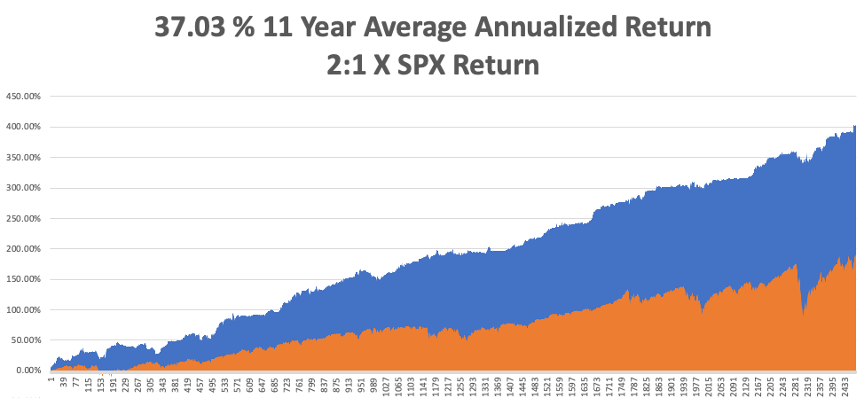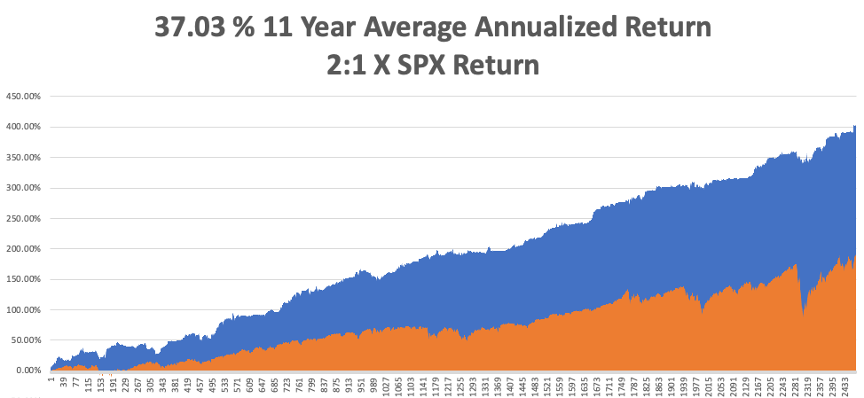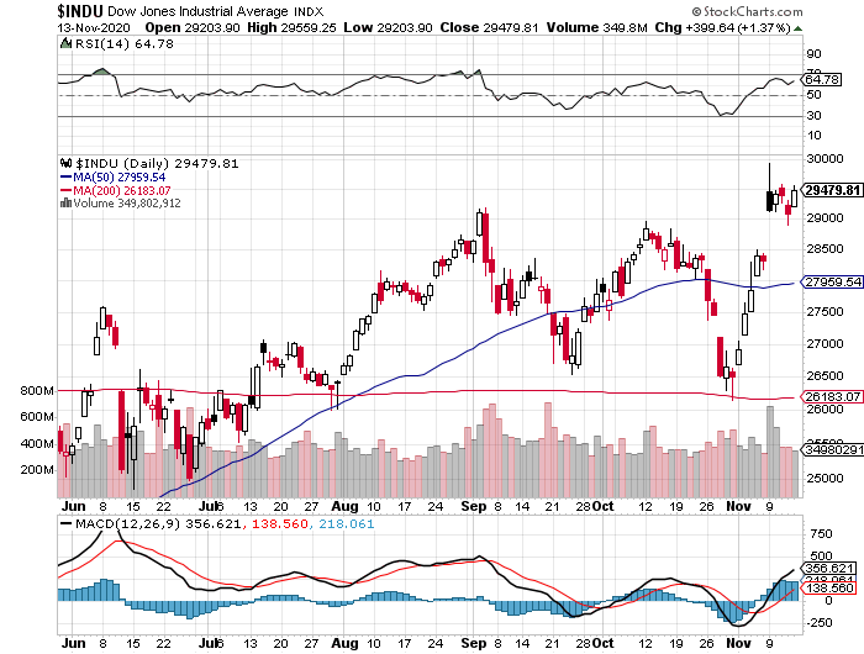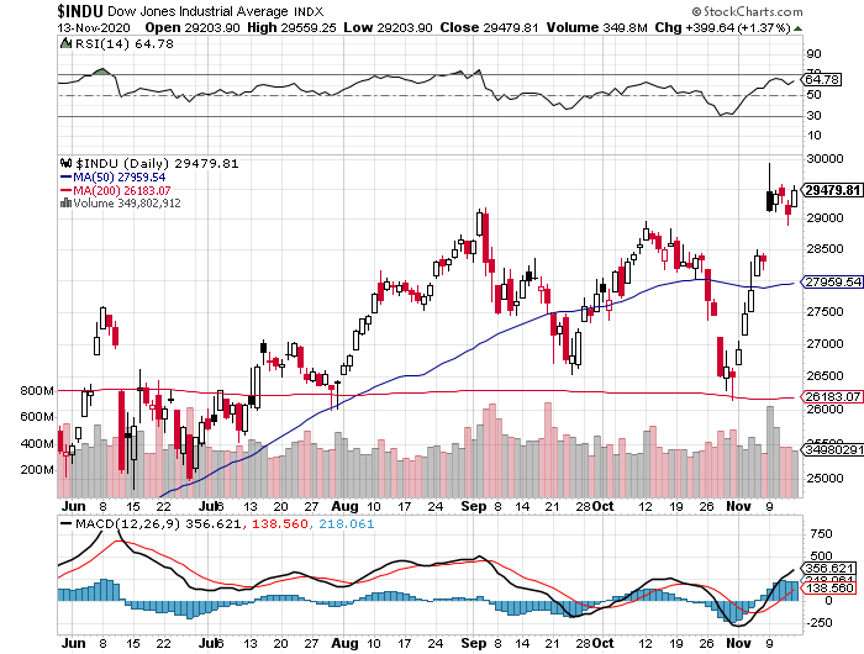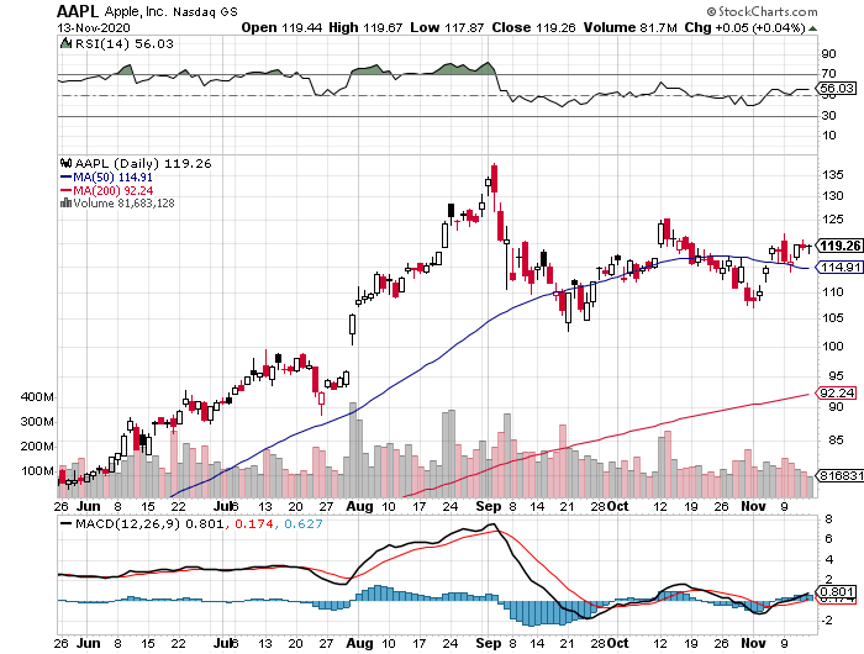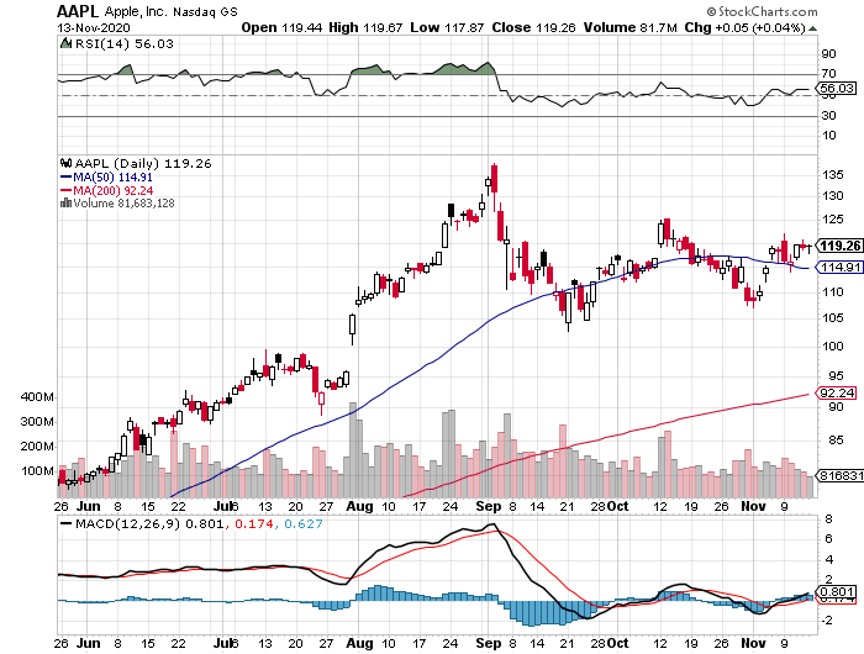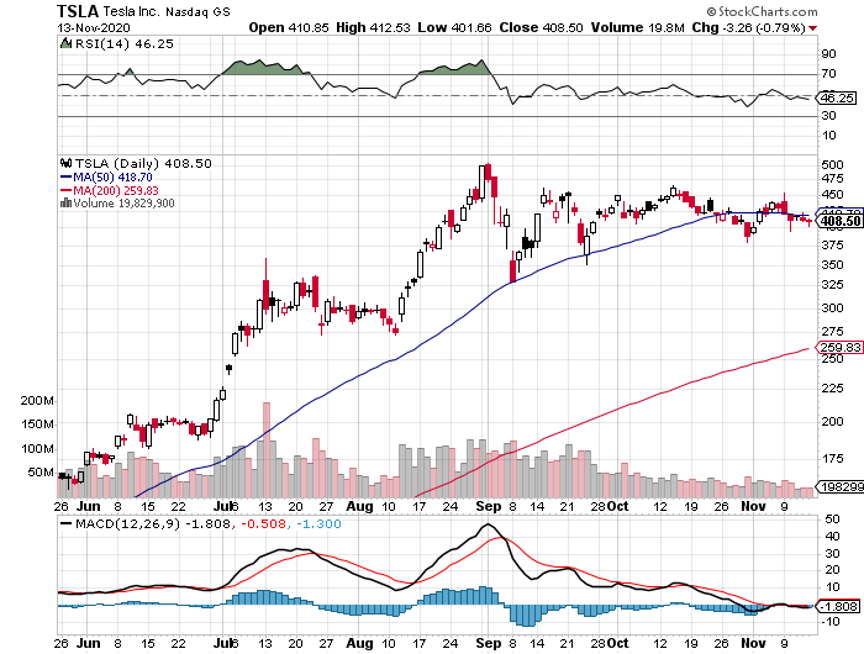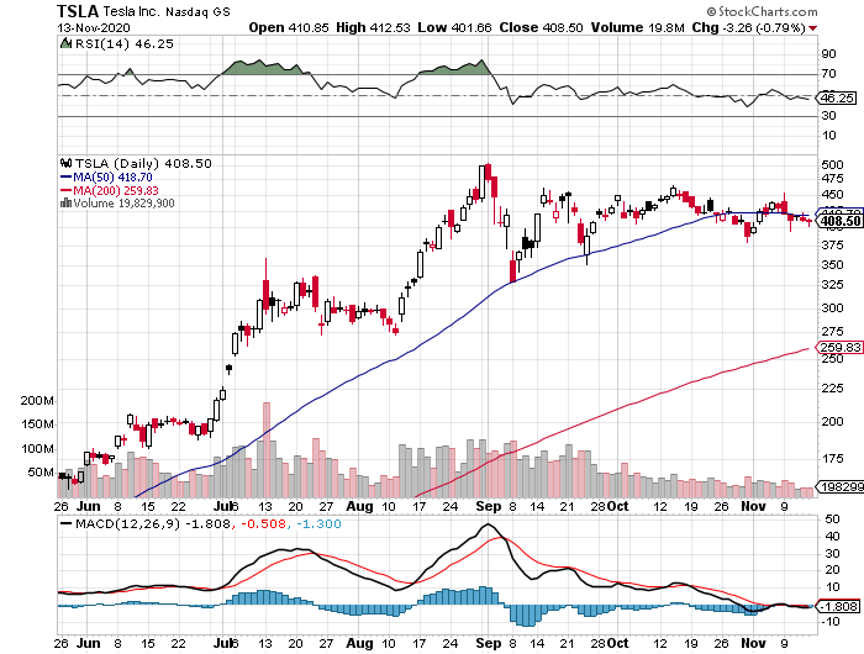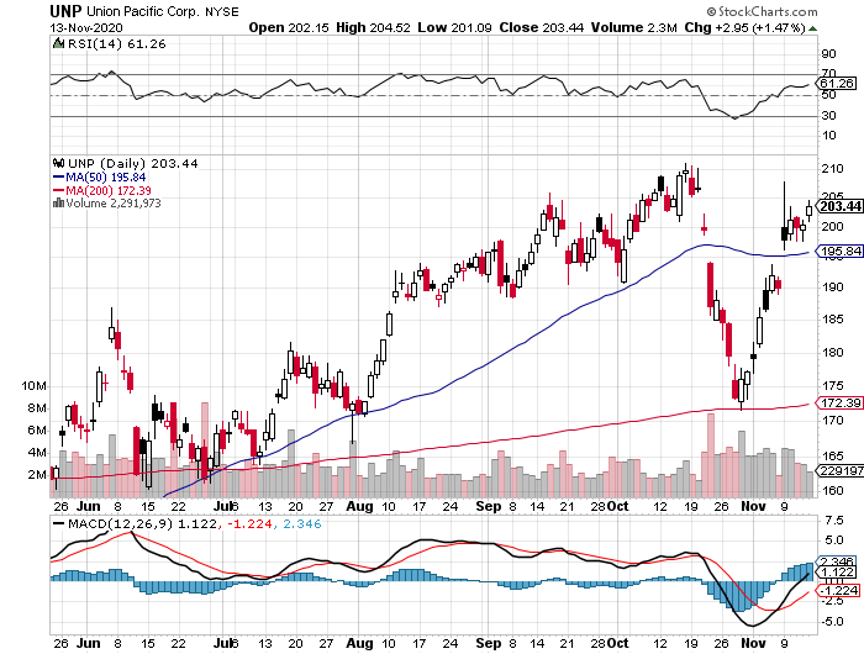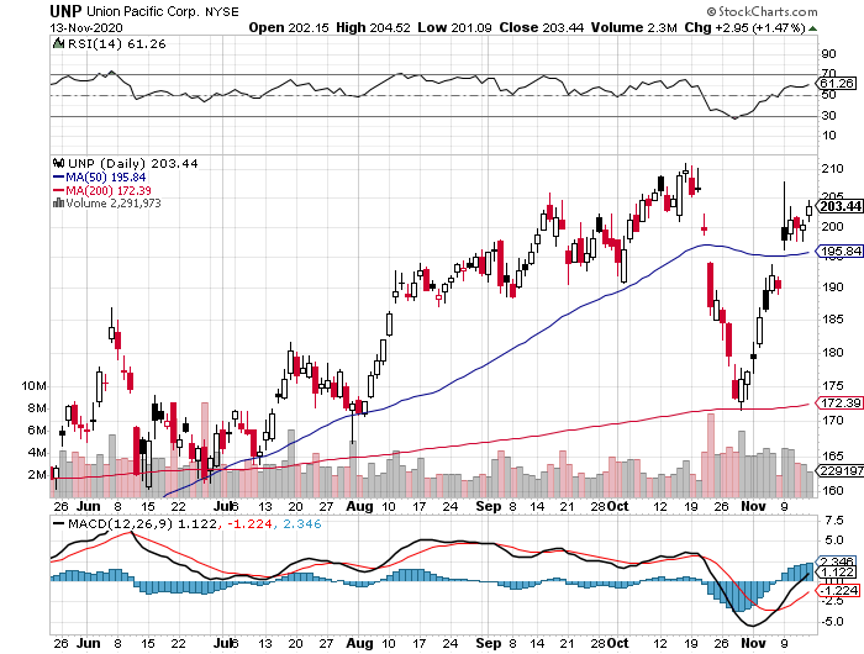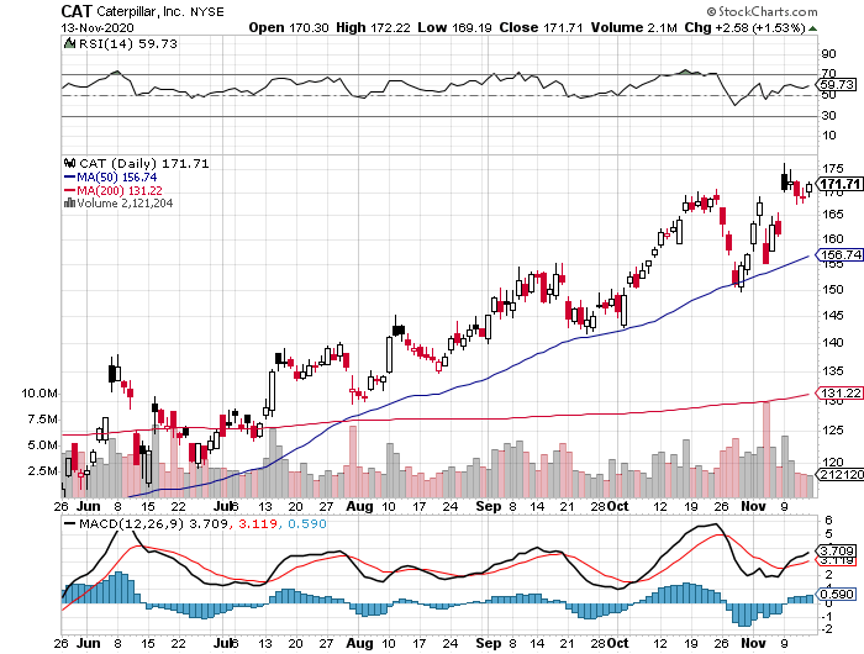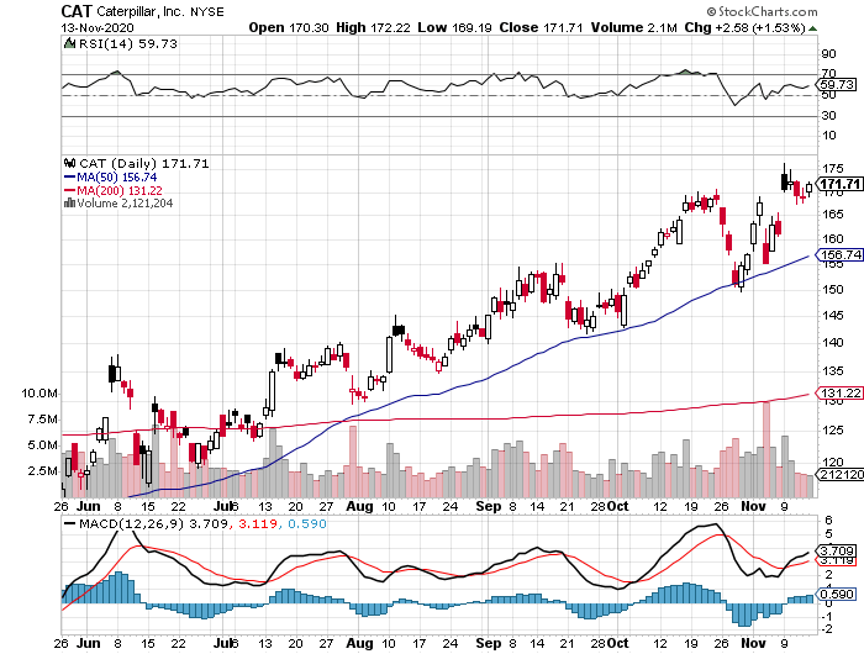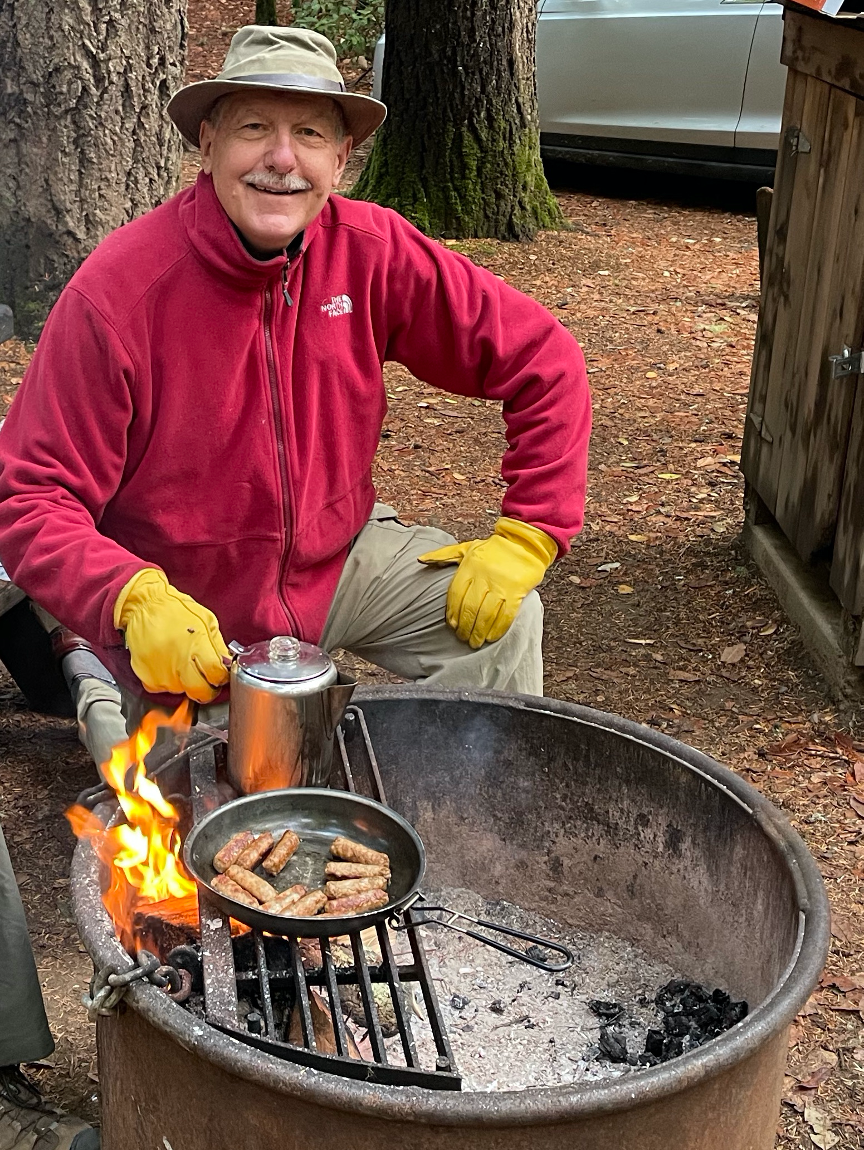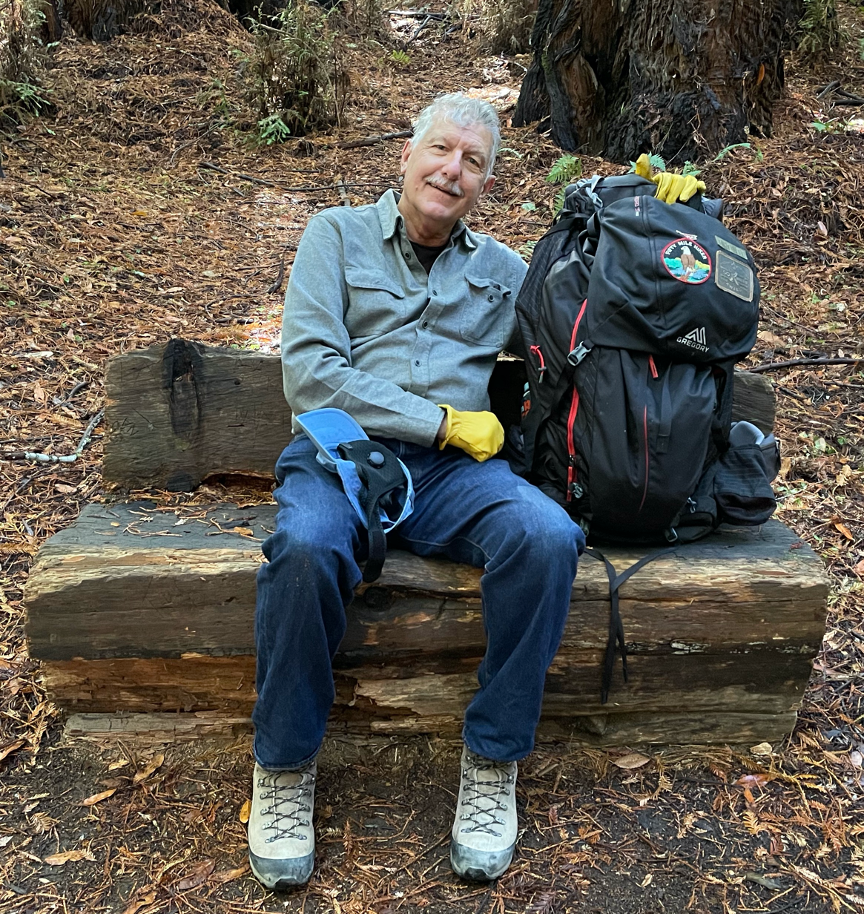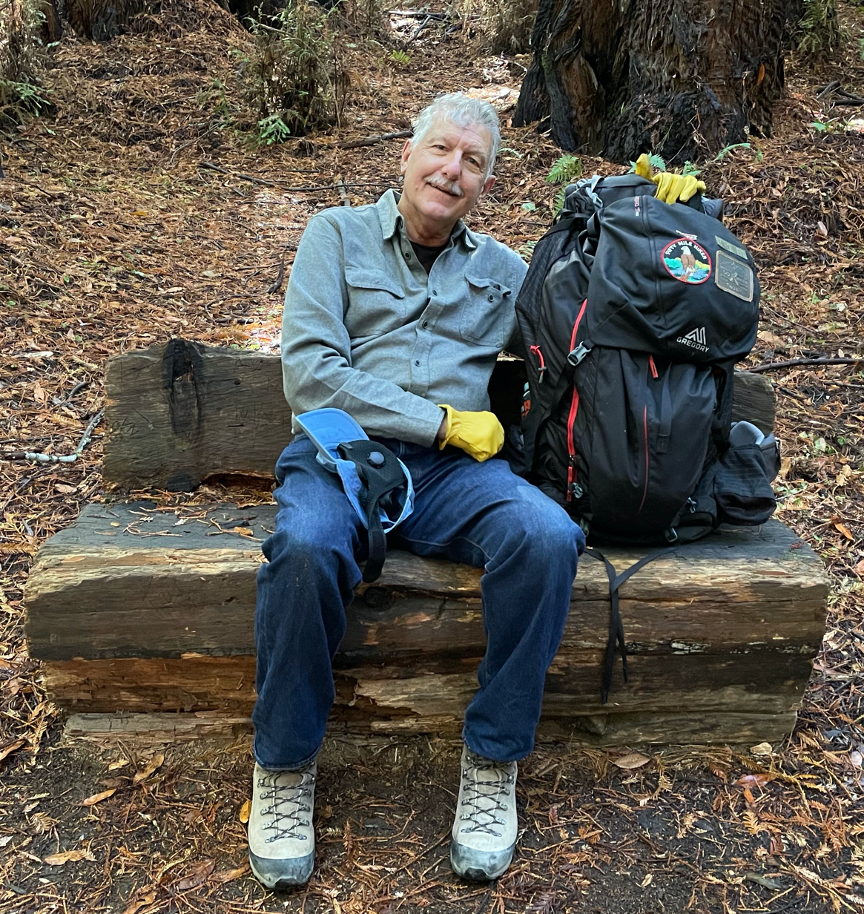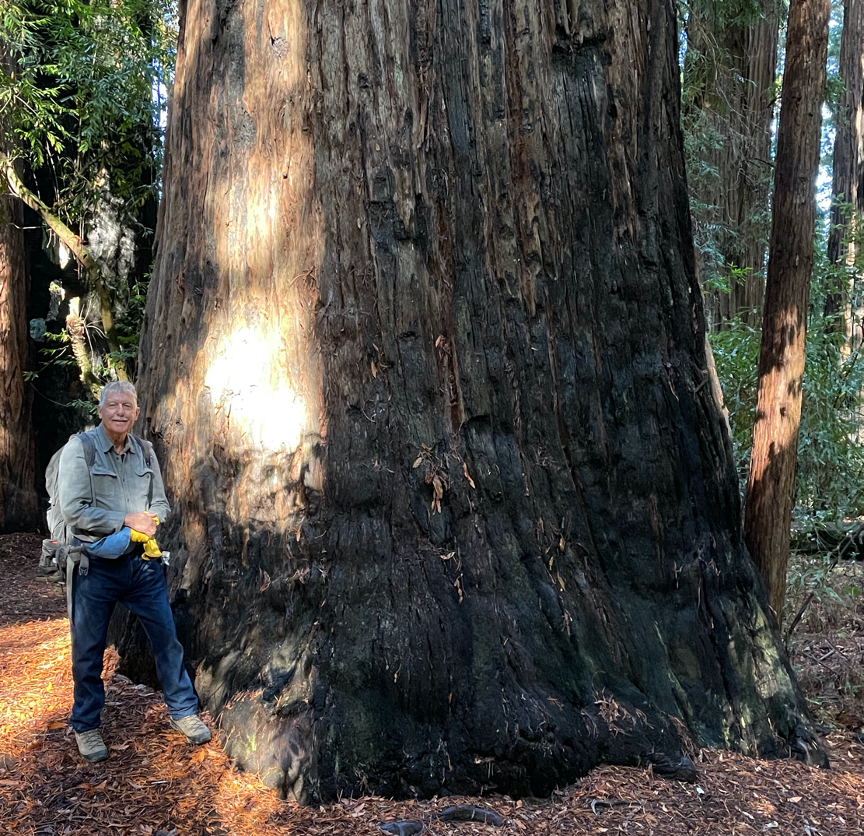 https://www.madhedgefundtrader.com/wp-content/uploads/2020/11/john-thomas-camo-e1605551503183.png
466
350
Mad Hedge Fund Trader
https://madhedgefundtrader.com/wp-content/uploads/2019/05/cropped-mad-hedge-logo-transparent-192x192_f9578834168ba24df3eb53916a12c882.png
Mad Hedge Fund Trader
2020-11-16 09:02:19
2020-11-16 09:43:21
The Market Outlook for the Week Ahead, or Raiding the Piggy Bank