What is a Fed put worth?
That the question that traders and investors alike are pondering.
If the government had taken no action whatsoever in the face of the Corona pandemic the Dow average would easily be at 15,000 today, if not 12,000.
After all, the economic collapse we have seen has been even greater than the Great Depression. More than 22 million unemployed in four weeks? Back then, the Dow Average fell by 90%.
Enter the Feds.
Throw in $6 trillion in expected fiscal spending and $8-$0 trillion in Federal Reserve stabilization of the money markets and quantitative easing, and it makes a heck of a difference. As a result, the national debt will rocket from $23 trillion to at least $32 trillion by next year, a far faster increase than seen after Pearl Harbor.
Stocks love this.
In the past three weeks, the Dow Average has jumped an eye-popping 35% from 18,000 to over 24,000. We are likely trading at 25 X 2020 earnings, but that is just a guess at best. Nobody knows, with essentially all companies withdrawing guidance. On a valuation basis, stocks are now more expensive than at any time since 1929.
You can be excused for being confused, befuddled, and gob-sacked.
All of this adds up to a value of the Fed put of 9,000 in Dow Average terms, 17,000 in a worst-case scenario, and 27,000 if you want to go back to 1933 share valuations.
Stocks here are now priced for perfection. To buy shares here, you are making the following rosy assumptions:
1) The Corona epidemic is peaking and it is clear sailing from here.
2) Shelters-in-place ends in two weeks.
3) Critical shortages of medical supplies end.
4) US Deaths top out at 60,000 from the current 40,000, the most optimistic White House forecast.
4) Business will immediately bounce back to pre-epidemic levels
5) Domestic and international travel resume immediately
 
If all of the above take place, then at a stretch, shares are justified at maintaining current levels and will churn sideways from here.
Here is what is more likely:
1) We are nowhere close to a peak, especially in states that never sheltered-in-place, and there could be a secondary peak in the fall. At 2,000 a day, US deaths will easily top 100,000 in a month.
2) Shelters-in-place will extend to June in the most populous states.
3) Medical supply shortages will continue for the indefinite future, with 50 states bidding against each other to buy fake masks from China.
4) Dozens of large companies and perhaps a quarter of the country's 30 million small businesses will go bankrupt before the recovery begins.
5) There is no sign that domestic and international travels are getting off the runway anytime soon.
If that is the case, then stocks here that are wildly overpriced are due for a retest of the Dow 18,000 and (SPX) 2,400 lows.
No matter what happens, traders should be cognizant of an enormous bifurcation of the market that has taken place.
Stay at Home stocks, like Zoom (ZM), Teladoc (TDOC), and Netflix (NFLX), have spectacularly outperformed the market. Many of these had already been recommended by the Mad Hedge Technology letter and the Mad Hedge Biotech & Healthcare letter because they were leaders in their own technologies (click here).
The problem with these companies is that they are all expensive, in some cases trading at hundreds of times their earnings.
Then there are the Reopening Stocks that will deliver outsized returns once we make it to the downslope of the epidemic. These include United Airlines (UAL), Wynn Hotels (WYNN), and Carnival Cruise Lines (CCL), which we heavily sold short near the market top, and led the recovery of the last three weeks.
The problem with these companies is that they may have to go bankrupt first, or at least accept a heavy government ownership and dilution of existing shareholders before they return to normal.
It's a quandary that would vex Solomon.
I always tell people, if you want to make an easy, reliable, and safe living, get a job at the Post Office. Avoid the stock market.
OPEC cut oil production by 10 million barrels/day, for two months, and then 8 million barrels a day for the rest of the year. Oil prices plunged anyway to a 20-year low at $18.50 a barrel, as it only puts a small dent in the 34 million barrel a day oversupply. It only postpones the day when many energy companies go bankrupt.

The Economy could be turning on and off for 18 months, believes Fed governor Neil Kashkari. He may be partly right. I am expecting two Coronavirus waves to lead to two shutdowns in the spring and fall, and the stock market may reflect the same. If so, stocks are wildly overpriced here, and the bear market could last another year. Sell shorts, or at least add hedges, and buy the (SDS).
US Budget Deficit to top $3.8 trillion this year, the most since WWII. We were already headed for a monster $1.5 trillion in red ink before the virus hit. Now we are pouring gasoline on the fire. It'sis my worst-case scenario, I had the national debt rising from $23 trillion today to $30 trillion in a decade. It looks like that will happen by next year.
Only 90,000 cleared US airport security in one day, down from a typical 2.2 million, or down 95%. It appears that 90,000 people a day don't care if they get Covid-19 or have already had it. Some 80% of all flights globally are grounded, with many countries now stranded. With massive debt loads, it is only a question of how soon the big US airlines go bankrupt and how much the government gets to own on the way back up. Don't buy any airlines no matter how cheap they get.
US Retails Sales collapsed by 8.7% as the paycheck-free economics takes hold. The March Empire State Manufacturing Index crashed to a record low of 78% and March Industrial Production is off 5.4%, the lowest since 1946. The parade of the worst economic data in history has begun. And we go into this with stocks at record high valuations, more expensive than they were in January.
Goldman Sachs says this depression will be four times worse than the Great Recession of 2008-2009, likely falling 35% annualized in Q2. Unemployment will hit 15% or higher, but stocks will not retest the March lows.  The bounce back in H2 will be bigger than any seen. It more or less corresponds to my view. They must have some smart people at (GS).
March Homebuilder Confidence brings the biggest crash in history, down 42 points to a reading of only 30. It's the greatest decline since the 35-year history of the index. The last time we were this low was in June 2012. Some 21% of builders are reporting virus disruption.
Housing Starts collapsed a stunning 22.3% in March, the worst one-month figure ever recorded. Social distancing makes open houses impossible. But this will be one sector that leads us out of the depression. There is still a chronic generational housing shortage.
Weekly Jobless Claims topped 5.1 million, taking the grim four-week tally to a staggering 21 million. Out of the frying pan, into the fire.
Gilead Sciences (GILD) drug sent stocks soaring, up 900 points overnight. Its Remdesivir brought rapid recovery in already infected patients at the University of Chicago in a phase three trial. The market is hypersensitive to any good Corona news. Sell into the rally.
China GDP took a 6.8% hit in Q1 as the Corona pandemic takes its toll. Services are recovering faster than manufacturing, which is why the smog has not come back yet. And international trade has ground down to zero. Public transit has been abandoned for private cars. It could be a preview to our own recovery.
When we come out on the other side of this, we will be perfectly poised to launch into my new American Golden Age, or the next Roaring Twenties. With interest rates at zero, oil at $18 a barrel, and many stocks down by three quarters, there will be no reason not to. The Dow Average will rise by 400% or more in the coming decade.
My Global Trading Dispatch performance recovered nicely this week, thanks to some frenetic trading. I used the Monday 700-point dive in the market to cover most of my bearish positions and add short-dated longs in Apple (AAPL) and Facebook (FB).
Finally, I dove back into selling short the US bond market on the assumption that unprecedented borrowing will destroy prices.
My short volatility positions (VXX) were hammered again, even though volatility declined on the week. There seems to be heavy short selling of deep out-of-the-money puts on the assumption that the Volatility Index (VIX) won't rise above $50 again.
We are now up +0.45% in April, taking my 2020 YTD return down to -7.97%. That compares to a loss for the Dow Average of -15% from the February top. My trailing one-year return returned to 33.88%. My ten-year average annualized profit returned to +33.67%. 
This week, Q1 earnings reports continue, and so far, they are coming in much worse than the most dire forecasts. The only numbers that count for the market are the number of US Coronavirus cases and deaths, which you can find here.
On Monday, April 20 at 7:30 AM, the Chicago Fed National Activity Index comes out.

On Tuesday, April 21 at 9:00 AM, the March Existing Homes Sales are released.
On Wednesday, April 22, at 9:30 AM, the Cushing Crude Oil Stocks are announced.
On Thursday, April 23 at 8:30 AM, Weekly Jobless Claims will announce another blockbuster number.
On Friday, April 24 at 7:30 AM, US Durable Goods for March are printed. The Baker Hughes Rig Count follows at 2:00 PM. Expect these figures to crash as well.
As for me, I am sitting here eating a pineapple upside-down cake that my daughter just whipped up. It's my favorite cake made by my mother, which I always got on my birthday.
Of course, I have to wash the dishes. If anyone wants to supplement their trading income, housekeeper and domestic and wants to live in mansions at Lake Tahoe and San Francisco, please contact customer support immediately.
Stay healthy.
John Thomas
CEO & Publisher
The Diary of a Mad Hedge Fund Trader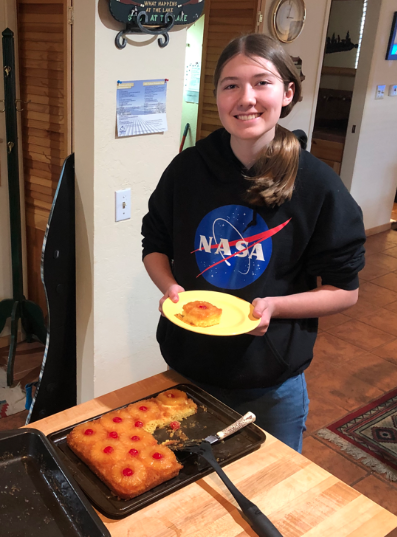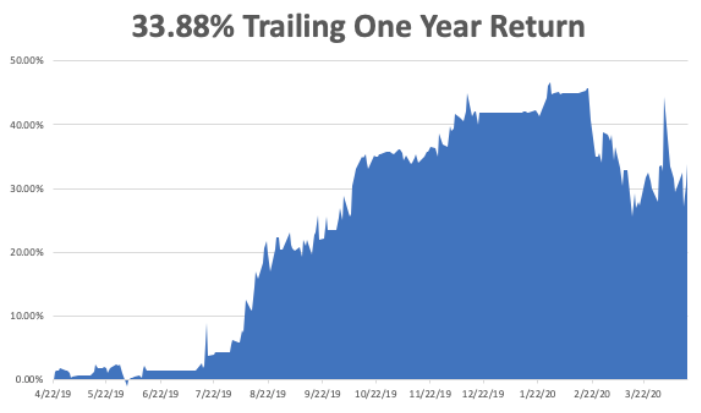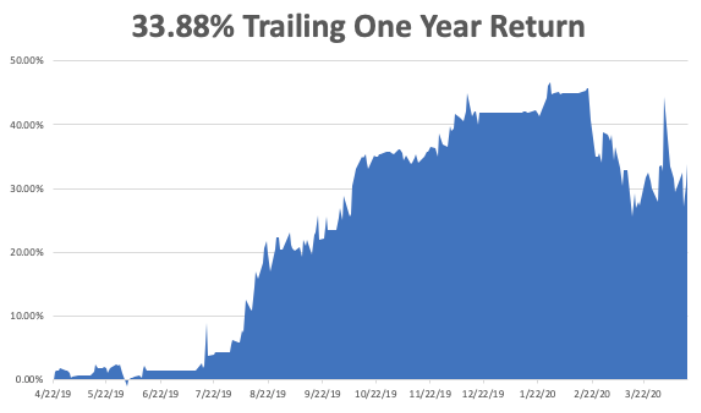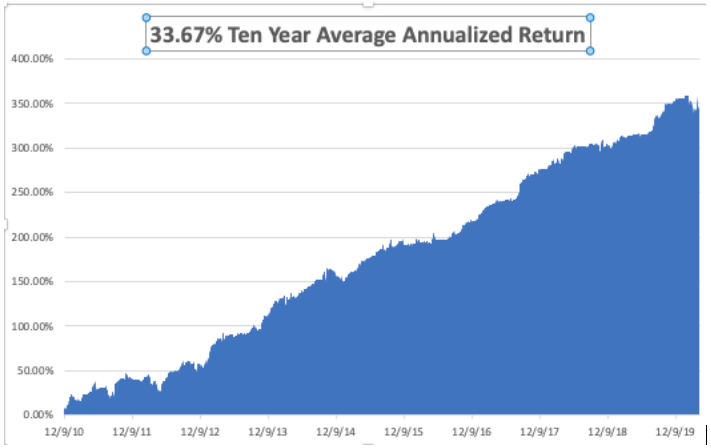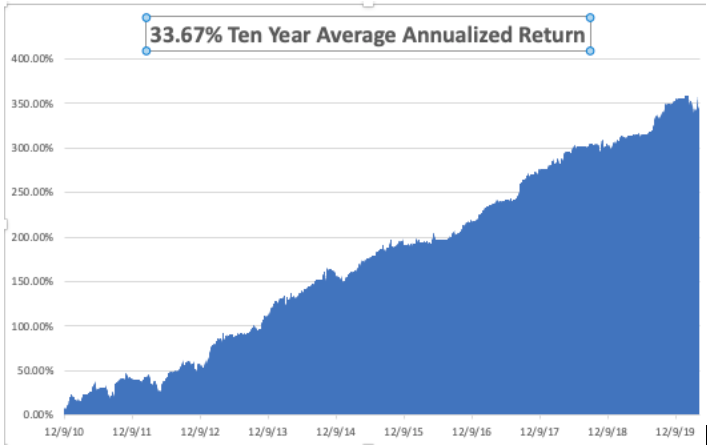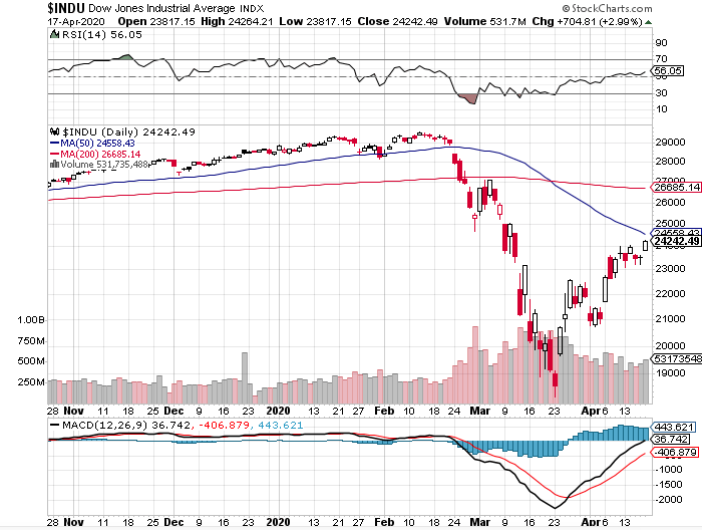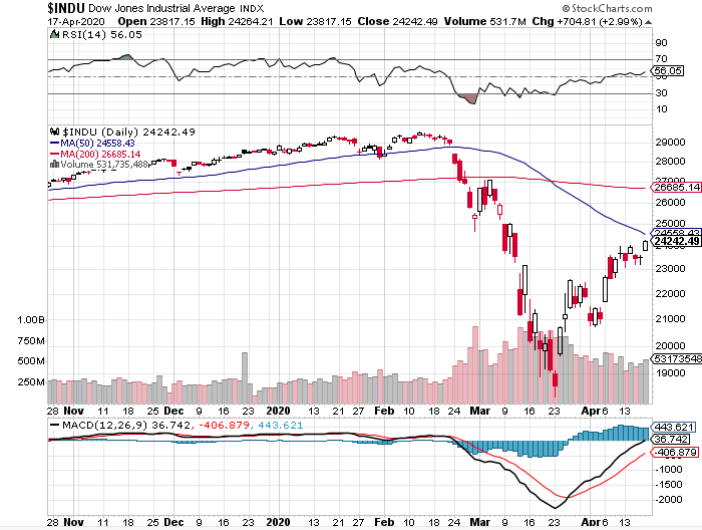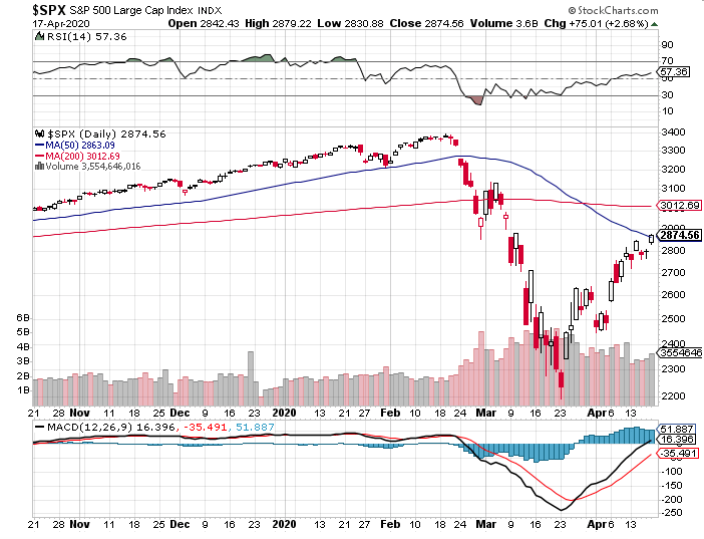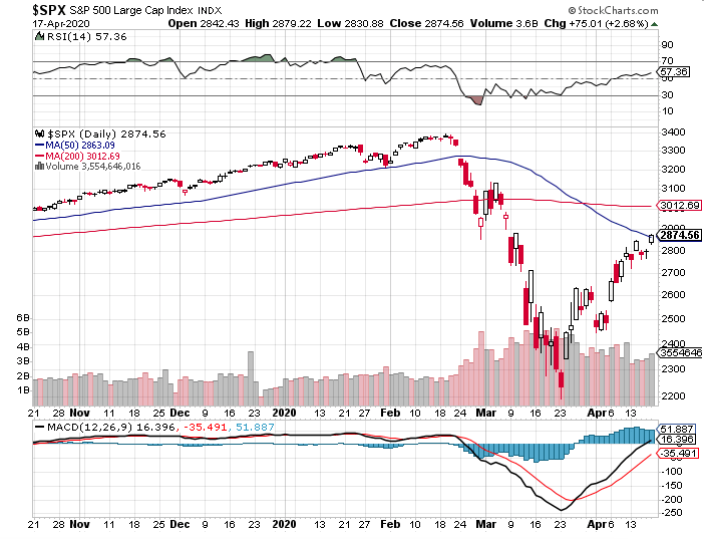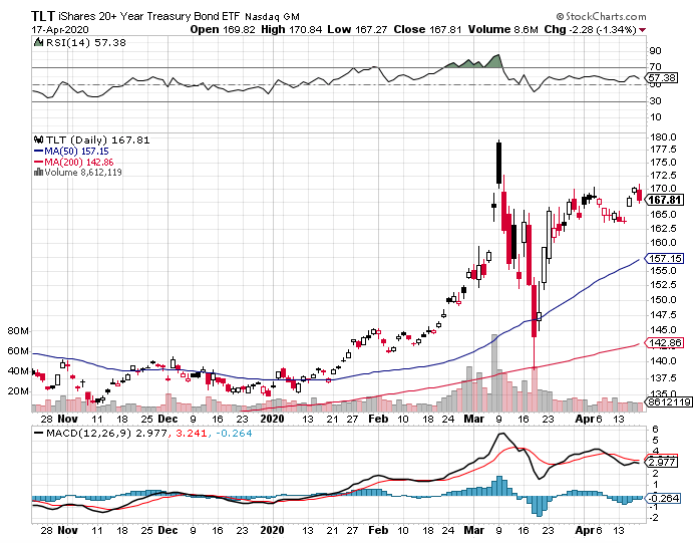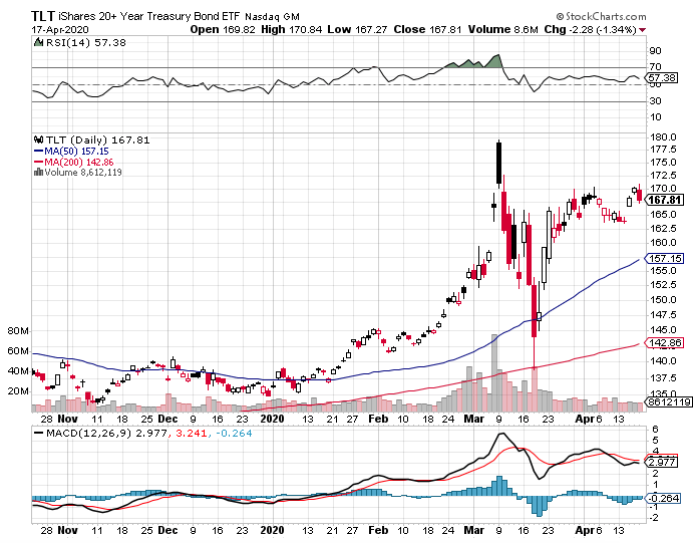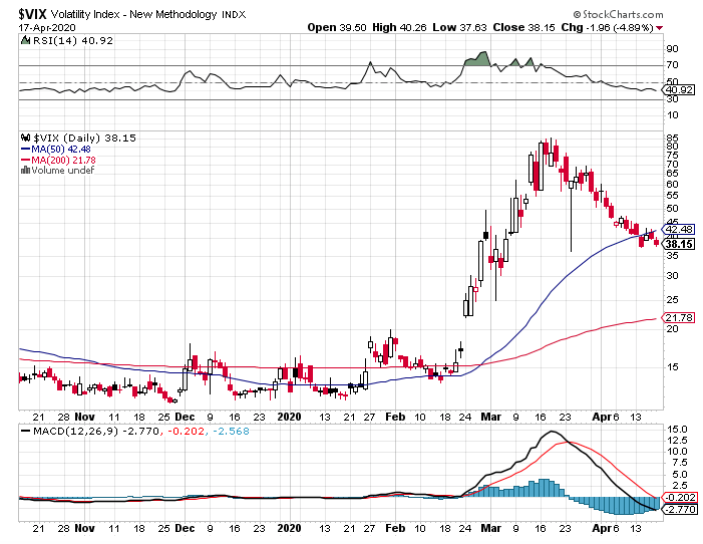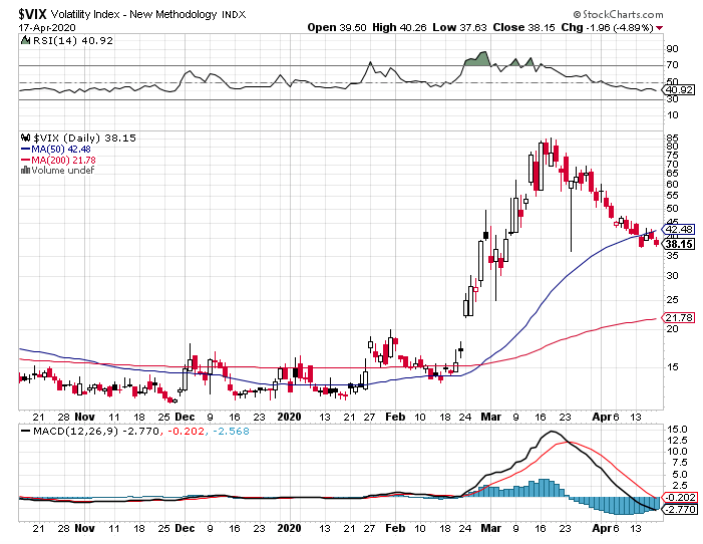 https://www.madhedgefundtrader.com/wp-content/uploads/2020/04/nasa.png
537
397
Mad Hedge Fund Trader
https://madhedgefundtrader.com/wp-content/uploads/2019/05/cropped-mad-hedge-logo-transparent-192x192_f9578834168ba24df3eb53916a12c882.png
Mad Hedge Fund Trader
2020-04-20 11:02:38
2020-05-19 11:30:45
The Market Outlook for the Week Ahead, or What's a Fed Put Worth?