Last week marked the one year anniversary of my Trade Alert Service, and subscribers could not be happier with the results. The first year return came in at 42.2%, putting us in the top one tenth of one percent of all hedge fund managers. By comparison, the S&P 500 Index came in wheezing with a moribund 1.3% gain during the same time period, which is hardly worth getting out of bed for.
It was off to the races on day one of my innovative online trade mentoring program. The strategies employed generated positive returns for my model portfolio all year, producing a continuous, stair stepping performance illustrated on the chart below that so many managers would kill for. I was able to generate this track record during one of the most volatile and difficult markets in history, when the indexes ratcheted up, down, and sideways in the most unpredictable and hair tearing manner possible. At the high for the year in early November, I was up over 47%.
My home run trade for the year was a short position in the Swiss franc (FXF) in September, initiated just before the central bank devalued their currency and pegged it to a collapsing Euro, which brought in a welcome 9.07%. A call spread in Bank of America (BAC) that I strapped on right after the launch of QE2 and last year?s tax compromise made me 8.93%. A short position in the Euro (FXE) during the spring, right when the sovereign debt crisis exploded, seized a profit of 5.14%. I caught the Euro once again on the short side in the autumn melt down for another 5.35% profit.
It hasn?t all been fun and games. The bane of my existence in 2011 has been the (TBT), an ill-considered bet that long dated Treasury bonds will fall. While I made good money betting on rising bonds in the first half of the year, my failure to observe my own stop loss rules cost me 6.93% in the (TBT) in the second half. The Federal Reserve?s ?twist? policy certainly didn?t help, which my contacts there failed to warn me of in advance, probably because they opposed it. I also lost 4.96% with a long position in the S&P 500 right when the market was topping in July. Wasn?t it Shakespeare that said ?To err is human.?
For those who wish to participate in my Trade Alert Service, my highly innovative and successful online mentoring program, email John Thomas directly at madhedgefundtrader@yahoo.com . Please put ?Trade Alert Service? in the subject line, as we are getting buried in emails. Hurry up, because our software limits the number of subscribers, and we are running out of places.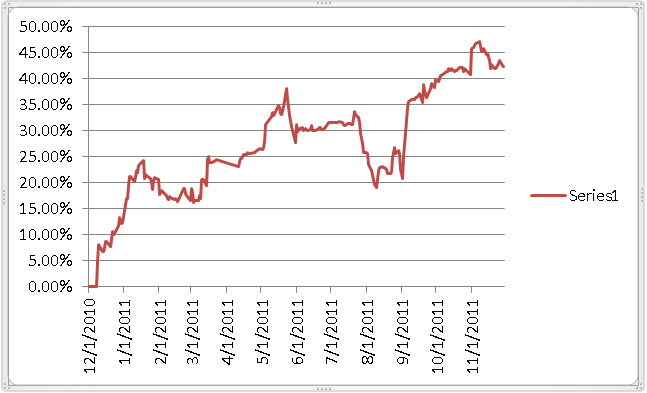 What a Year It?s Been!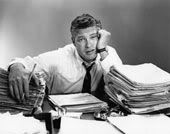 https://www.madhedgefundtrader.com/wp-content/uploads/2011/10/Overworked2-8.jpg
134
170
DougD
https://madhedgefundtrader.com/wp-content/uploads/2019/05/cropped-mad-hedge-logo-transparent-192x192_f9578834168ba24df3eb53916a12c882.png
DougD
2011-12-04 21:04:24
2011-12-04 21:04:24
Trade Alert Service Posts a Blistering One Year 42% Return