According to the government agency, China Internet Network Information Center, the Chinese Internet community has surpassed 802 million, which only represents a 57.7% penetration rate, miles behind the 89% penetration rate in America.
The gargantuan scale of the Chinese Internet world means China has three times as many Internet users than America, and this is a big deal.
The additional 30 million added to the Chinese Internet ecosphere in the first half of 2018 shows the scale in which local Chinese tech companies are playing with and use to their clear-cut advantage.
Ostensibly, most business strategies in China revolve around scaled tactics as the backbone to operations.
There is even more room to expand in the Middle Kingdom and one clear victor sits atop the parapet looking at the riffraff below and that is Chinese Internet conglomerate Alibaba (BABA).
Alibaba, led by Chinese Internet pioneer Jack Ma, posted its highest-performing growth quarter in the past four years.
Total quarterly revenue ballooned an incredible 61% YOY to $11.8 billion, highlighting the dominant position Alibaba possesses in the Chinese e-commerce landscape.
If you want to know what Amazon (AMZN) is going to do next watch Alibaba.
Profit margins were somewhat sacrificed in the process because of M&A activity that saw Alibaba move into the physical supermarket business snapping up 35 Hema supermarket locations then reinvesting into the business. Echoes of Whole Foods?
Alibaba did not stop there, funneling another $3 billion into food delivery app ele.me, which plans to merge its operations with Yelp (YELP) lookalike app Koubei.
If you thought Silicon Valley moves at a rapid pace, the Chinese Internet space moves faster than lighting.
Alibaba last year dipped into the retail segment as well pocketing a department store chain with 29 stores along with 17 shopping malls.
Alibaba is the closest replica the world has to Amazon and thus is an ideal barometer of the health of the overall Chinese consumer and a peek under the complicated hood that is the Chinese economy.
Alibaba also provides onlookers at how China and its Internet behemoths are coping with the global trading war that has invaded the news headlines from its outset.
The short answer to all this is that China is coping quite well and by no means is ready to back down.
Indeed, there will be peripheral pressures exerted from the fringes, but the core engines remain intact and Chairman Xi can fall asleep in his Beijing abode more than peacefully.
A reason for the stalemate between the two governments is that both are quietly confident they have the levers in place to absorb whatever Molotov cocktails the other has to throw at them.
Investors would be mad to dismiss China's capabilities after experiencing a mesmerizing economic rise enriching hundreds of millions of Chinese nationals that can be found comfortably living in western megacities in luxury real estate often with a real estate portfolio dotted around the world.
Alibaba's management made it known on the earnings report that it is not worried much about the trade war because it is largely focused on the domestic Chinese consumer, which has been one of the best economic stories of the past decade.
The overseas expansion unfolding under Alibaba's tutelage is away from the western world and predominantly focused on Southeast Asia and Eastern Europe where cheap, value-for-money hardware and software allows citizens at these income levels to participate in the e-commerce game.
These individuals can't afford iPhones on a salary of peanuts. And Alibaba has targeted the undeveloped world as a potential lever of substantial growth.
The regulatory harshness of the west has shut out Huawei and ZTE from its shores. Australia followed suit as well, banning the two telecom companies even though it enjoys a better relationship with Beijing than Europe or North America.
China has already planned a workaround because the engines driving the Chinese tech miracle are semiconductor companies such as Micron (MU), which sells boatloads of DRAM memory chips to Chinese tech companies that flood the world with smartphones and other gadgets.
Beijing has already formulated a plan to circumvent American chips by tapping Korean, European, and Japanese chips to replace the current American supply that could vanish at any time.
Shenzhen-based chip company HiSilicon fully owned by Huawei is responsible for supplying Huawei with chips and is the biggest local designer of integrated circuits in China.
This is what the future of China looks like when China can finally build up the adequate supply necessary to achieve its plans to dominate global technology, America, and the world.
But the plan is still in the process of playing out. The awkwardness was highly visible when the administration's ban of selling U.S. manufactured components to telecommunications company ZTE resulted in the company almost shutting down until a last-second change of heart by the administration.
The near-death experience will invigorate ZTE to muster its own local supply of chips to avoid the unreliable foreign supply and a deja vu feeling.
American chip companies won't be able to enjoy the Chinese market for long as all these negative experiences for Chinese companies has forced Chinese tech companies to search and secure a guaranteed chip supply.
At the same time, Chinese local smartphone players have gone from 0 to 60 in no time with companies that barely existed a few years ago, such as Oppo, Vivo coming into the fore along with Huawei picking up 43% of the global smartphone market.
This is bad news for Apple as local competitors are learning fast and furious how to build premium smartphones via re-engineering the current technology or through forced technology transfers.
These companies subsequently offer these phones at the lowest possible price point. And at some point in the near future Apple could be expendable if Chinese smartphones start to display the type of quality the best phones show.
Chinese domestic consumption and investment comprise 90% of the GDP growth in China and are propped up by three robust trends including real wage growth boosting the middle-class population, high savings rate that of which Americans would be jealous, and easy access to credit vehicles.
When I was recently in the Middle Kingdom, it was highly evident that as the generations became younger, their quality of life was higher than their parents.
The opposite is happening in America with millennials earning demonstrably less than their parents' generation while the American middle class is shrinking at an accelerated pace.
Beijing knows this and hopes to wait things out as it feels time is a positive variable for China and not America.
It is true that if this trade war took place in 20 years in the future, China would be in a stronger strategic position to extract whatever concessions it desires because even though Chinese growth is slowing, it is still growing at 6.5%.
And if you don't believe what I just said then just look at Alibaba's cloud division, which grew 93% YOY opening artificial intelligence-based data centers around Europe to battle Amazon (AMZN) and Microsoft (MSFT).
Europe was once Elysian Fields for American tech companies, but with European regulators going after American tech and China encroaching on European turf, the future looks a lot less certain for the FANGs there than ever before.
Alibaba's operating margins dipped 10% YOY but the slide will be returned to shareholders in the future in the form of high-quality revenue and is worth the investment into the most innovative ideas of tomorrow.
I did not even mention the large stake Alibaba has in Ant Financial, which operates the ubiquitous digital payment app Alipay.
It would be analogous to Amazon if it owned Visa.
Alibaba is one of the best tech companies in the world headed by a former Chinese English language teacher in Hangzhou.
If America becomes too difficult or expensive with which to do business, Alibaba and Chinese tech will just recalibrate their strategy to deeper infiltrate the confines of Southeast Asia and the rest of the undeveloped world.
Any price war on undeveloped soil favors the Chinese as they have mastered scale better than anyone on the planet.
The stellar Alibaba numbers also mean the trade war has no end in sight as each player thinks they have the upper hand. But it also means the tech giants from both countries will come out unscathed and will lead their country's respective equity markets higher for the foreseeable future.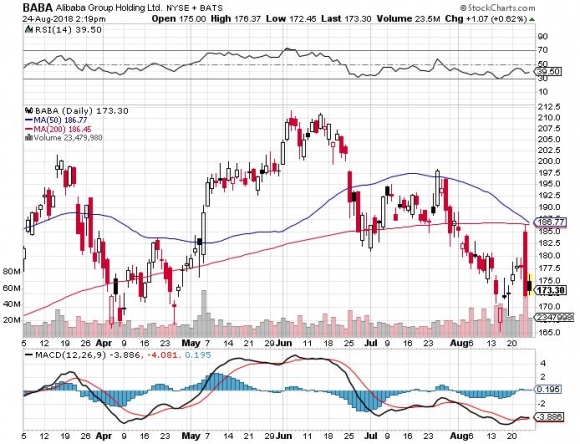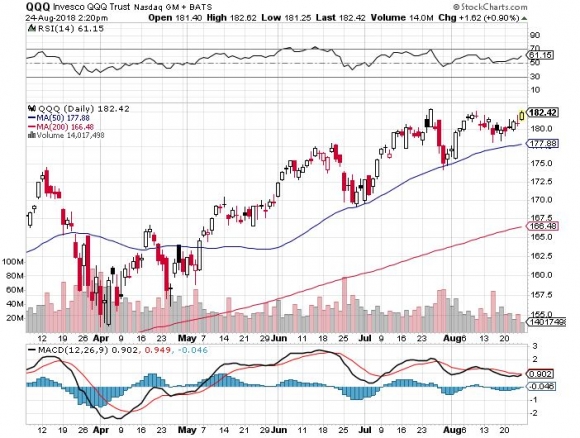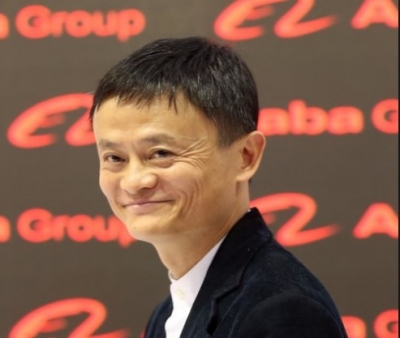 The Jeff Bezos of China – Alibaba's Jack Ma
________________________________________________________________________________________________
Quote of the Day
"Technology is nothing. What's important is that you have a faith in people, that they're basically good and smart, and if you give them tools, they'll do wonderful things with them," – said Apple cofounder and former CEO Steve Jobs.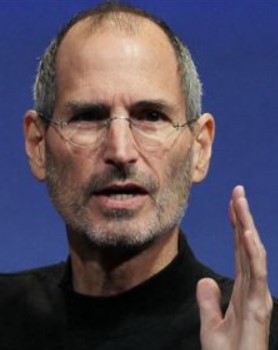 https://madhedgefundtrader.com/wp-content/uploads/2019/05/cropped-mad-hedge-logo-transparent-192x192_f9578834168ba24df3eb53916a12c882.png
0
0
MHFTR
https://madhedgefundtrader.com/wp-content/uploads/2019/05/cropped-mad-hedge-logo-transparent-192x192_f9578834168ba24df3eb53916a12c882.png
MHFTR
2018-08-27 01:05:48
2018-08-24 20:37:39
Why Alibaba is the First Stock to Buy with the Outbreak of Trade Peace