When will CEO of Apple Tim Cook get fired?
I feel like a broken record.
Another product show comes and goes with him STILL selling a bunch of iPhones.
He is the most uncreative CEO that exists in a company where the utmost creativity is demanded.
He is starting to make a mockery and drag Apple's reputation through the mud.
I believe that Apple is on a suicide mission ruining its brand that took founder Steve Jobs decades to craft.
What we got was the iPhone 11 Pro with three cameras on the back, is Cook going to be around for iPhone 15 or 16?
The world and the people that can afford an iPhone are already tapped out with iPhones, iPods, iPads, and devices.
These same consumers won't buy 5 iPhones to use at the same time.
The Apple Watch Series 5 with an always-on display has been a nice bump in revenue but that's it, just a nice bump and will never go viral.
Since Cook is having problems selling $1,000 Apple devices, he has chosen to sacrifice margin and go down market.
How Steve Jobs would be turning in his grave if he heard that!
The new Apple+ video streaming service will debut in November at a price of just $5 per month–or free for a year with the purchase of any of Apple's phones, computers, tablets, or set-top boxes.
Viewers will have access to just a dozen or so made-for-Apple+ shows that Apple is producing.
Sounds quite pitiful if you compare it with Netflix.
I understand that Cook is spurning revenue in the short run with low prices but to what end?
If Cook brings back the same playbook of selling the next iPhone, at some point, he will be blustered by shareholders who finally come to the same conclusion as me.
The lower margin business will be the catalyst to Cook's firing once Apple's margins go down the toilet.
At some point, he will have to come up with the product that will reinvent the world and my bet is he will utterly fall flat on his face.
We are talking about the CEO of Apple here and not the boss of some local car repair shop.
Apple will sell the new iPhone 11 for $700 instead of $750 and this decision will bring the average selling price (ASP)'s down.
Let's welcome their new business in switching out old iPhones, another damning development in this company that used to be the most exciting business in the world.
Apple will also roll out a trade-in initiative that offers current iPhone owners money in credits for handing over their old phone when they buy a new one.
A two-year old iPhone X is worth up to $400 and an iPhone 7 fetches $150.
The trade-in program is a desperate reaction to falling iPhone sales.
If the company hired a visionary like Twitter's Jack Dorsey or Tesla's Elon Musk, Apple shares would trade twice as high than the $225 today and wouldn't have gone flat for the past year.
In Cook's defense, the sequel to Steve Job's main act was going to be a rough one to match in success and potency and it is clear that Cook is in over his head.
It's odd that I am the only one that sees it.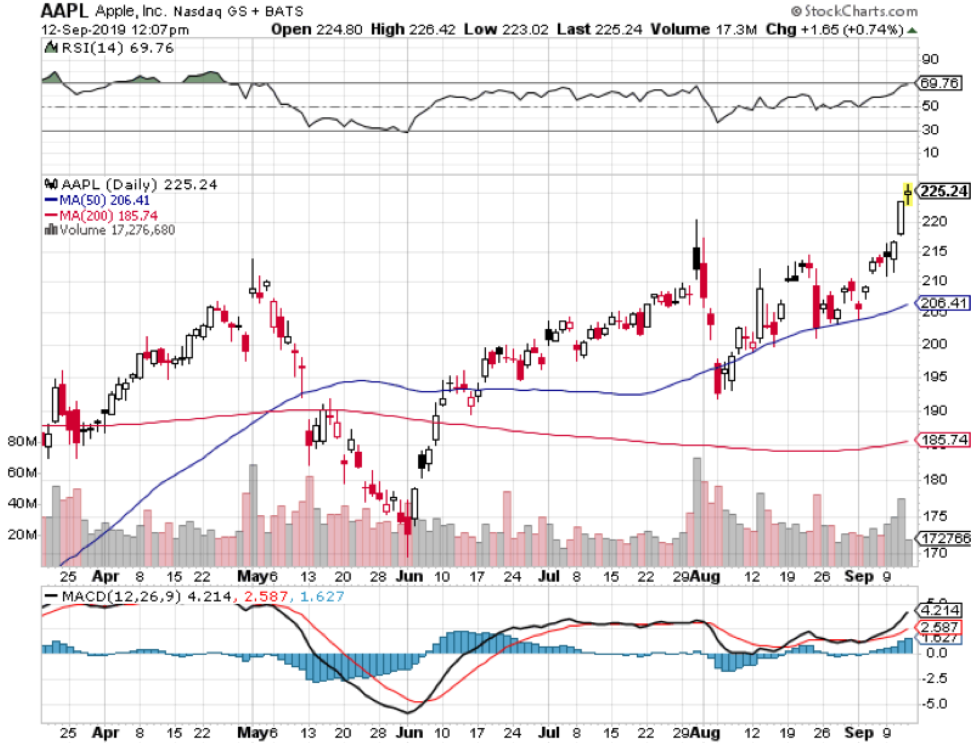 https://www.madhedgefundtrader.com/wp-content/uploads/2019/05/cropped-mad-hedge-logo-transparent-192x192_f9578834168ba24df3eb53916a12c882.png
0
0
Mad Hedge Fund Trader
https://www.madhedgefundtrader.com/wp-content/uploads/2019/05/cropped-mad-hedge-logo-transparent-192x192_f9578834168ba24df3eb53916a12c882.png
Mad Hedge Fund Trader
2019-09-13 05:02:27
2019-10-14 10:39:12
Why Steve Jobs is Turning Over in His Grave