No other industry has ever been watched as closely in 2020 as the healthcare and biotechnology sector, with drug developers placed under pressure to deliver COVID-19 treatments and vaccines within an unprecedented timeframe.
Despite all the attention and fanfare, the overall performance of the sector's stocks remained underwhelming. However, 2021 promises to bring in better returns and bring back the industry to pre-pandemic performance.
For perspective, the S&P 500 Health Care Sector Index rose by 8% through mid-December compared to the 13% increase of the S&P 500.
The financial and health crises affected the performance of the subgroups in different ways. For example, the diagnostics subgroup jumped by 31% while the demand for clinical labs was up 18%.
Meanwhile, biotechnology stocks rose by 13%. In comparison, traditional pharmaceutical stocks and even hospitals only managed to record a measly 3% increase.
As for retail pharmacies, this subgroup sank by 18%.
Despite the underperformance of the industry, there are still companies that stood out this year and are poised to soar come 2021.
One of them is Vertex Pharmaceuticals (VRTX).
Vertex is possibly one of the most undervalued large-cap biotechnology stocks in the market today.
This company, which has $61.7 billion in market capitalization, has been continuously growing and transforming into the most dominant player in the cystic fibrosis (CF) space.
Truth be told, Vertex holds the monopoly on the approved drugs used to treat CF, namely, Trikafta, Kalydeco, Orkambi, and Symdeko.
With the recent approvals the company received, this momentum is expected to grow.
Vertex just won additional EU approval for its CF drug Kaftrio. This indicates another cash cow for the company as the drug, also known as Trikafta, already transformed itself into a megablockbuster in the US market.
Apart from its efforts to continuously dominate the CF sector, Vertex also has several moonshots that can eventually turn into major catalysts.
Among those is its partnership with CRISPR Therapeutics (CRSP).
The two biotechnology companies are developing a gene therapy, called CTX001, which can cure rare genetic blood diseases. Specifically, CTX001 is designed to cure beta-thalassemia and sickle cell disease.
Apart from its partnership with CRISPR Therapeutics, Vertex also acquired Semma Therapeutics in 2019 with the goal of coming up with a cure for Type 1 diabetes.
If things go as planned, a gene therapy for this genetic disease will advance to clinical testing by early 2021.
Another under the radar biotechnology stock set to soar in 2020 is Illumina (ILMN).
Illumina, with a market capitalization of $54.10 billion, is the leader in the genomics market.
Since the pandemic broke, the biotechnology sector's leading manufacturer of hardware for genetic sequencing has been supplying testing kits for hospitals across the US.
Apart from Illumina, other companies in the genomics sectors include Vertex's partner, CRISPR Therapeutics, which has a market capitalization of $4.48 billion, and bluebird bio (BLUE) with $4.03 billion.
In a nutshell, genomics refers to the analysis of the genetic information found in human cells. Companies working on this field aim to not only develop more accurate and efficient disease testing processes but also come up with more personalized treatments for a range of diseases including cancer.
Looking at Illumina's profile and even taking into consideration the effects of the recession along with the competitive pressure to be expected soon enough, this biotechnology company is still set to deliver solid returns over the next 3 to 5 years.
Ever since its establishment, Illumina has been hailed as the leader in the gene-sequencing segment.
To date, the company holds almost 90% of the market.
Apart from that, the company has been an active participant in the move to lower the costs of gene-sequencing processes. In effect, Illumina managed to expand its customer reach.
Illumina's participation in the 13-year Human Genome Project, which started at $3 billion per genome submitted for sequencing in 2003.
Nowadays, the cost has dropped to $800 for each genome, with Illumina eyeing to drop the price to $100 via its NovaSeq platform.
Based on the company's performance in the past years, Illumina's revenue is expected to climb higher annually in the next 5 years.
By 2021, the company is projected to report a 21.16% year over year growth in annual revenue to reach 4.23 billion.
Meanwhile, its 2022 annual revenue is estimated to hit $4.79 billion, showing off a 13.37% increase.
Despite the attention it has been receiving, Illumina remains a bargain buy.
This is because the company's gene-sequencing projects have been moving along at a decent pace even before the COVID-19 crisis hit.
Given the company's growth and future plans, Illumina is a no-brainer long-term investment. However, investors looking for quick returns might find the company's pace a bit sluggish for their liking.
Among the biotechnology companies out there today, I think Vertex and Illumina stand out the most because both hold a monopoly in their respective fields.
Sure, there would be competition eventually but the combination of all their strengths and the strong potential of their pipeline put them in a league of their own.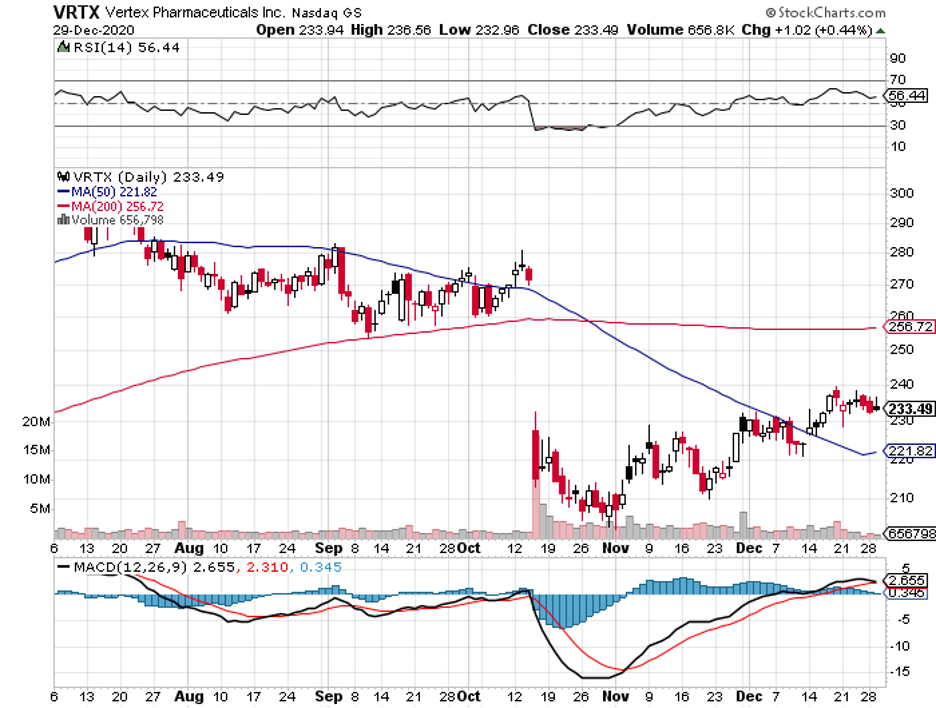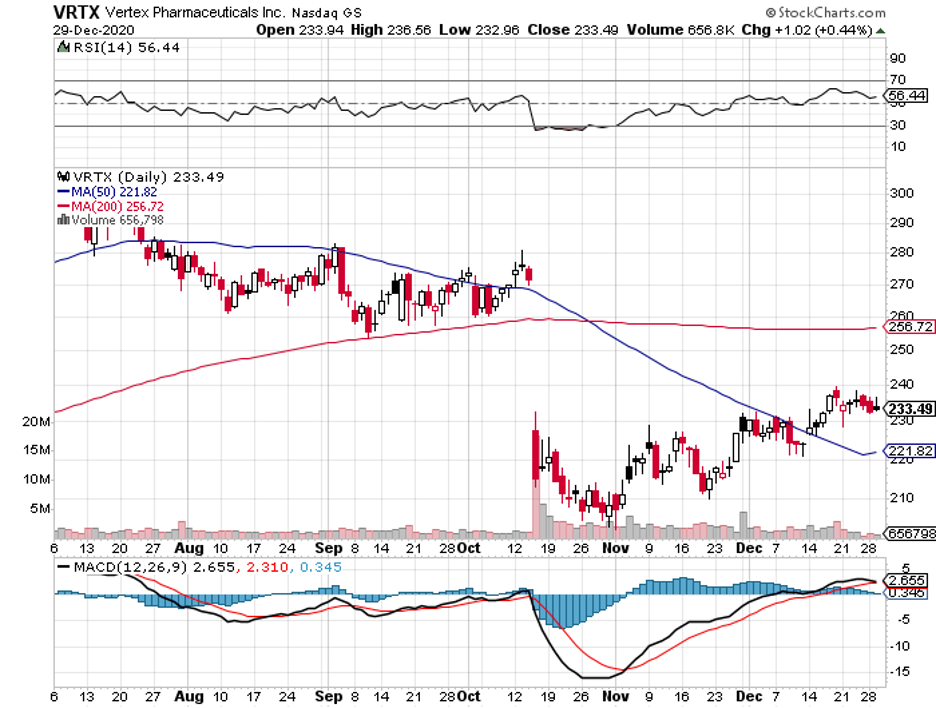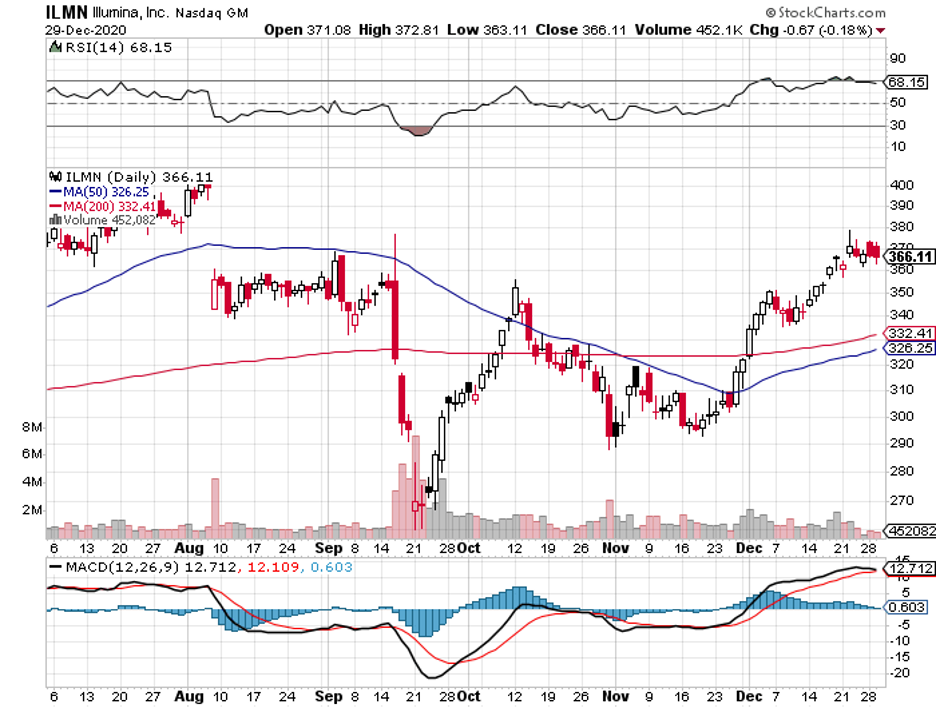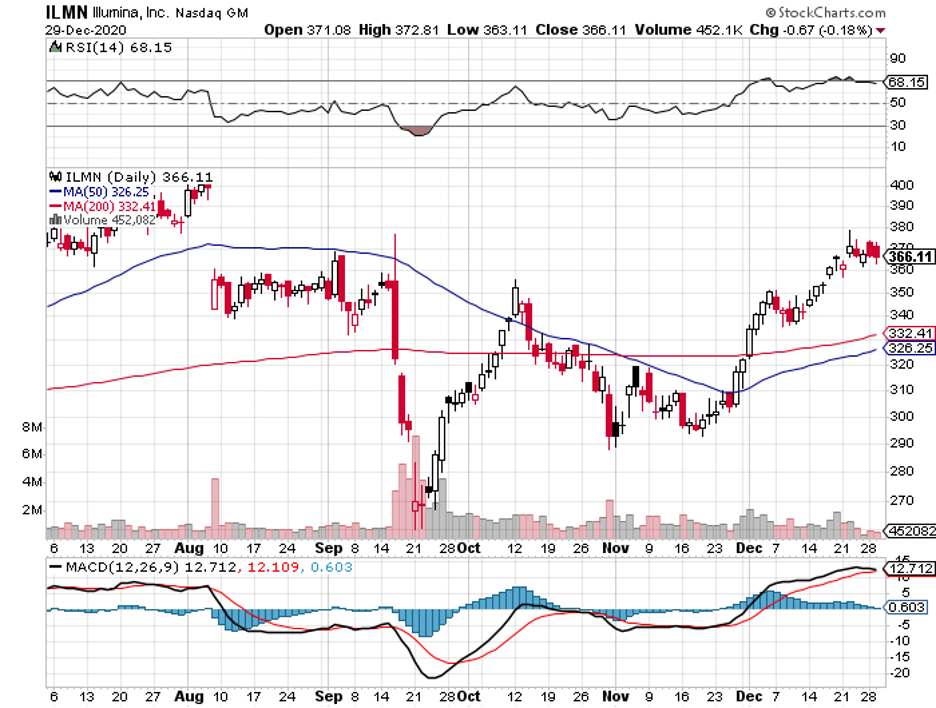 https://madhedgefundtrader.com/wp-content/uploads/2019/05/cropped-mad-hedge-logo-transparent-192x192_f9578834168ba24df3eb53916a12c882.png
0
0
Mad Hedge Fund Trader
https://madhedgefundtrader.com/wp-content/uploads/2019/05/cropped-mad-hedge-logo-transparent-192x192_f9578834168ba24df3eb53916a12c882.png
Mad Hedge Fund Trader
2020-12-31 12:00:54
2021-01-05 00:39:50
Monopoly is the Name of the Game