Sometime in the early 1970?s, a friend of mine said I should take a look at a stock named Berkshire Hathaway (BRKA) run by a young stud named Warren Buffett.
I thought, ?Why the hell should I invest in a company that makes sheets??
After all, the American textile industry was in the middle of a long trek toward extinction that began in the 1920?s, and was only briefly interrupted by the hyper prosperity of WWII. The industry?s travails were simply an outcome of ever rising US standards of living, which pushed wages, and therefore costs, up.
It turns out that Warren Buffett made a lot more than sheets. However, he is not a young stud anymore, just an old one, like me.
Since then, Warren?s annual letter to investors has been an absolute ?must read? for me when it is published every spring.
It has been edited for the past half century by my friend, Carol Loomis, who just retired after a 60-year career with Fortune magazine. (I never wrote for them because their freelance rates were lousy).
Witty, insightful, and downright funny, I view it as a cross between a Harvard Business School seminar and a Berkeley anti establishment demonstration. You will find me lifting from it my ?Quotes of the Day? for the daily newsletter over the next several issues. There are some real zingers.
And what a year it has been!
Berkshire?s gain in net worth was $18.3 billion, which increased the share value by 8.3%, and today, the market capitalization stands at an impressive $343.4 billion. (Sorry Warren, but I clocked 30% last year, eat your heart out).
The shares are not for small timers, as one now costs $214,801, and no, they don?t sell half shares. This compares to a 1965 per share market value of $23.80, and is why the media are always going gaga over Warren Buffett.
If you?re lazy and don?t want to do the math, that works out to a compound annualized return of an eye popping 21.6%. This is why guessing what Warren is going to do next has become a major cottage industry (Progressive Insurance anyone?).
Warren brought in these numbers despite the fact that its largest non-insurance subsidiary, the old Burlington Northern Santa Fe Railroad (BNSF) suffered an awful year.
Extensive upgrades under construction and terrible winter weather disrupted service, causing the railroad to lose market share to rival Union Pacific (UNP).
I was kind of pissed when Warren bought BNSF in 2009 for a blockbuster $44 billion, as it was long my favorite trading vehicles for the sector. Since then, its book value has doubled. Typical Warren.
Buffett plans to fix the railroad?s current problems with $6 billion in new capital investment this year, one of the largest single capital investments in American history. Warren isn?t doing anything small these days.
Buffett also got a hickey from his investment in UK supermarket chain Tesco, which ran up a $444 million loss for Berkshire in 2014. Warren admits he was too slow in getting out of the shares, a rare move for the Oracle of Omaha, who rarely sells anything (which avoids capital gains taxes).
Warren increased his investment in all of his ?Big Four? holdings, American Express (AXP), Coca-Cola (KO), IBM (IBM), and Wells Fargo (WFC).
In addition, Berkshire owns options on Bank of America (BAC) stock, which have a current exercise value of $12.5 billion (purchased the day after the Mad Hedge Fund Trader issued a Trade Alert on said stock for an instant 300% gain on the options).
The secret to understanding Buffett picks over the years is that cash flow is king.
This means that he has never participated in the many technology booms over the decades, or fads of any other description, for that matter.
He says this is because he will never buy a business he doesn?t intrinsically understand, and they didn?t offer computer programming as an elective in high school during the Great Depression.
No doubt this has lowered his potential returns, but with the benefit of much lower volatility.
That makes his position in (IBM) a bit of a mystery, the worst performing Dow stock of the past two years. I would much rather own Apple (AAPL) myself, which also boasts great cash flow, and even a dividend these days (with a 1.50% yield).
Warren will be the first to admit that even he makes mistakes, sometimes, disastrous ones. He cites his worst one ever as a perfect example, his purchase of Dexter Shoes for $433 million in 1993. This was right before China entered the shoe business as a major competitor.
Not only did the company quickly go under, he exponentially compounded the error through buying the firm with an exchange of Berkshire Hathaway stock, which is now worth a staggering $5.7 billion.
Ouch, and ouch again!
Warren has also been mostly missing in action on the international front, believing that the mother load of investment opportunities runs through the US, and that its best days lie ahead. I believe the same.
Still, he has dipped his toe in foreign waters from time to time, and I was sometimes quick to jump on his coattails. A favorite of mine was his purchase of 10% of Chinese electric car factory BYD (BYDDF) in 2009, where I have captured a few doubles over the years.
Buffett expounds at great length the attractions of the insurance industry, which today remains the core of his business. For payment of a premium up front, the buyers of insurance policies receive a mere promise to perform in the future, sometimes as much as a half century off.
In the meantime, Warren can invest the money any way he wants. The model has been a real printing press for Buffett since he took over his first insurer in 1951, GEICO.
Much of the letter promotes the upcoming shareholders annual meeting, known as the ?Woodstock of Capitalism?.
There, the conglomerate?s many products will be for sale, including, Justin Boots (I have a pair), the gecko from GEICO (which insures my Tesla S-1), and See?s Candies (a Christmas addiction, love the peanut brittle!).
There, visitors can try their hand at Ping-Pong against Ariel Hsing, a 2012 American Olympic Team member, after Bill Gates and Buffett wear her down first.
They can try their hand against a national bridge champion (don?t play for money). And then there is the newspaper-throwing contest (Buffett?s first gainful employment).
Some 40,000 descend on remote Omaha for the firm?s annual event. All flights to the city are booked well in advance, with fares up to triple normal rates.
Hotels sell out too, and many now charge three-day minimums (after Warren, what is there to do in Omaha for two more days other than to visit PayPal?s technical support?). Buffett recommends Airbnb as a low budget option (for the single shareholders?).
I was amazed to learn that Berkshire files a wrist breaking 24,100-page Federal tax return (and I thought mine was bad!). Add to this a mind numbing 3,400 separate state tax returns.
Overall, Berkshire holdings account for more than 3% of the total US gross domestic product, but a far lesser share of the government?s total tax revenues, thanks to careful planning.
Buffett ends his letter by advertising for new acquisitions and listing his criteria. They include:
(1) ?Large purchases (at least $75 million of pre-tax earnings unless the business will fit into one of our existing units),
(2) ?Demonstrated consistent earning power (future projections are of no interest to us, nor are ?turnaround? situations),
(3) ?Businesses earning good returns on equity while employing little or no debt,
(4) Managemen
t in place (we can?t supply it),
(5) Simple businesses (if there?s lots of technology, we won?t understand it),
(6) An offering price (we don?t want to waste our time or that of the seller by talking, even preliminarily, about a transaction when price is unknown).
Let me know if you have any offers.
To read the entire history of Warren Buffett?s prescient letters, please click here: http://www.berkshirehathaway.com/letters/letters.htm.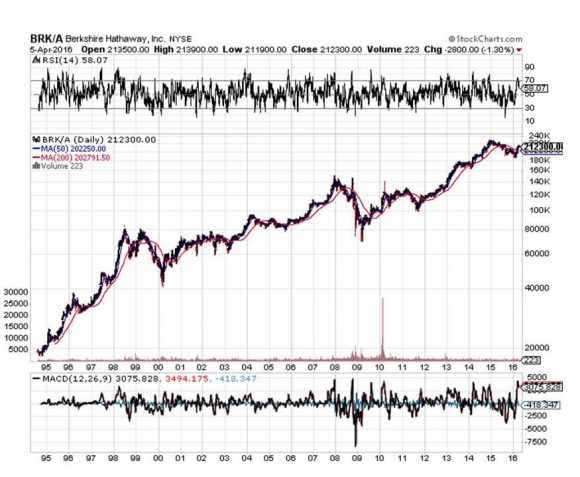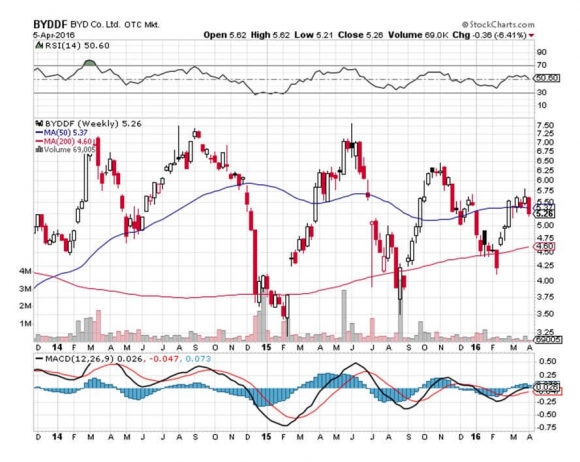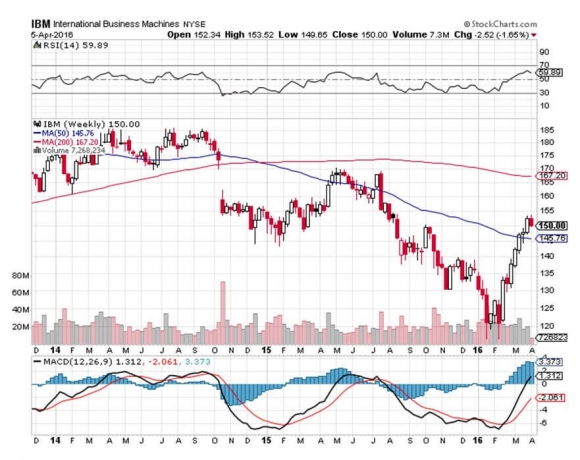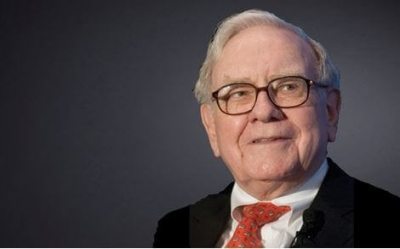 https://www.madhedgefundtrader.com/wp-content/uploads/2015/04/Warren-Buffett-e1429740484967.jpg
249
400
Mad Hedge Fund Trader
https://www.madhedgefundtrader.com/wp-content/uploads/2019/05/cropped-mad-hedge-logo-transparent-192x192_f9578834168ba24df3eb53916a12c882.png
Mad Hedge Fund Trader
2016-04-19 01:06:05
2016-04-19 01:06:05
A Chat With Berkshire Hathaway?s Warren Buffett