Erratic. Unpredictable. Volatile. Take your pick of the descriptions used when it comes to biotechnology stocks. Each of these adjectives can be a fitting descriptor to the industry most of the time.
However, not all biotechnology companies fall under that category. Some are reasonably stable, offering steady and increasing profits.
Vertex Pharmaceuticals (VRTX) is one of those biotechnology stocks that you can simply buy and hold for over a decade without losing any sleep.
One of the key factors in Vertex's success is its monopoly on the cystic fibrosis (CF) market.
CF is a rare and life-threatening genetic disease that affects a patient's digestive system and lungs. To date, there is no cure for this condition that overshadows the lives of 68,000 individuals in the US and the EU. However, there are treatment options for it.
Vertex developed the first-ever FDA-approved drug, Kalydeco, for the condition. As expected, it gained the much-coveted head start that led to its dominance today.
Its closest rivals, Proteostasis Therapeutics (PTI) and Galapagos NV (GLPG), are years away from ever catching up to the Massachusetts-based biotechnology stalwart. Neither has an approved drug as of today.
Since the approval of Kalydeco in 2012, Vertex stock has been enjoying an upward trajectory. With the recent addition of another CF blockbuster, Trikafta, the company is anticipated to keep its momentum.
From the moment Trikafta was released to the market, Vertex's revenue and bottom line showed impressive growth. The drug, which is a triple combination therapy, is projected to capture almost 90% of the CF market worldwide. 
Needless to say, Vertex has made it in the shade for at least the next 5 years, thanks to its CF market dominance.
In its second quarter earnings report, Vertex showed a 62% jump in its revenue year over year to hit $1.52 billion. Its net income of $837 million demonstrated a whopping 213% increase compared to the same period in 2019.
As anticipated, the star of the show was Trikafta.
The drug raked in $918 million in the second quarter alone – an amount higher than the combined sales of all the drugs in Vertex's product line and an impressive growth from the $420 million it contributed last year.
As Vertex's bottom line grew, its margins showed substantial improvement as well. Its operating margin for the second quarter of 2020 is at 57% compared to 44% during the same quarter last year.
With Vertex's key metrics topping expectations, the company changed its 2020 revenue guidance from $5.7 billion to $5.9 billion, showing off a noteworthy increase from the $4 billion in sales it reported in 2019.
Although its CF pipeline has a number of promising candidates, Vertex is also looking outside the market for additional avenues of growth.
One of the most promising and exciting partnerships it forged in the past decade is with gene-editing company CRISPR Therapeutics (CRSP).
Just looking at this collaboration makes it clear that Vertex is once again playing the long game.
What we know so far is that the two companies are working on a treatment, called CTX001, for rare genetic blood disorders sickle cell disease and transfusion-dependent beta-thalassemia.
They are also developing two potential treatments for alpha-1 antitrypsin deficiency (AATD), which is a rare genetic liver and lung disorder that is similar to CF.
Detractors might point out that Vertex is a pricey stock. However, this biotechnology company currently has $71.2 billion in market capitalization.
More notably, it has no debt and holds $5.5 billion in cash. That puts the true value of Vertex at roughly $65.7 billion.
I believe that the biotechnology company's overall outlook more than does justice for its valuation.
Granted that it is trading at 11 times its revenue and 26 times its adjusted EPS, its consistent performance and promising future ensure that its investors will be getting more bang for their buck.
In a word, Vertex remains a first-rate biotechnology stock to buy.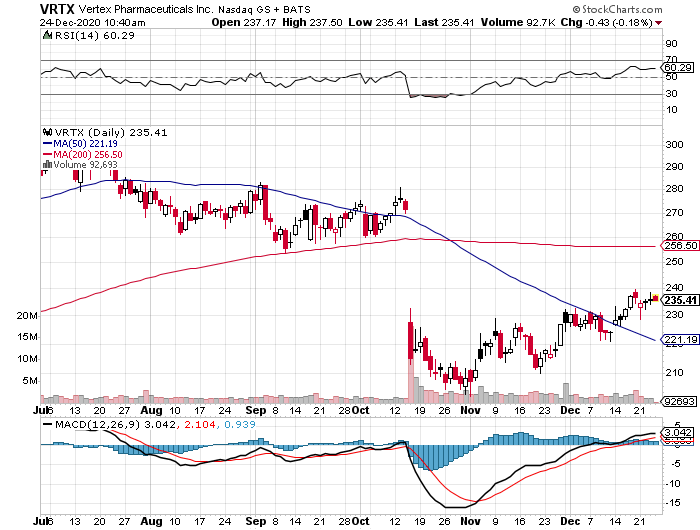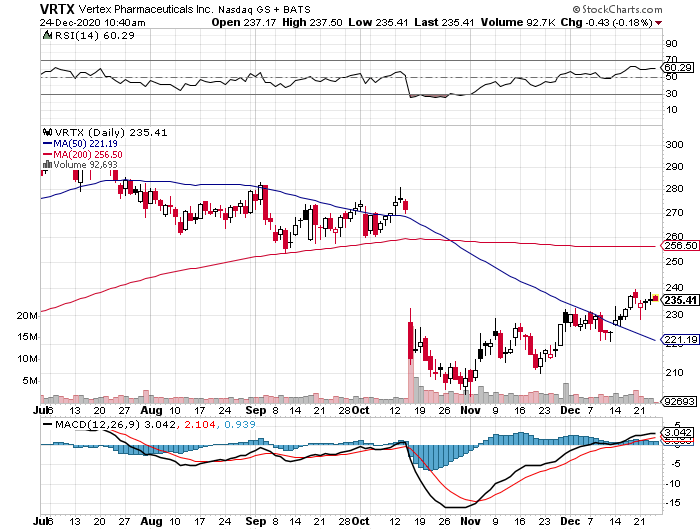 https://madhedgefundtrader.com/wp-content/uploads/2019/05/cropped-mad-hedge-logo-transparent-192x192_f9578834168ba24df3eb53916a12c882.png
0
0
Mad Hedge Fund Trader
https://madhedgefundtrader.com/wp-content/uploads/2019/05/cropped-mad-hedge-logo-transparent-192x192_f9578834168ba24df3eb53916a12c882.png
Mad Hedge Fund Trader
2020-12-24 11:00:59
2020-12-24 10:41:14
How Vertex is Curing the Uncurable