Ratcheting up the trade tensions, China is pulling the trigger on retaliatory tariffs on $60 billion worth of U.S. goods, just days after the American administration said it would levy higher tariffs on $200 billion in Chinese goods.
American President Donald Trump accused China of reneging on a "great deal."
The mushrooming friction between the two superpowers gives even more credence to my premise that hardware stocks should be avoided like the plague.
I have stood out on my perch in 2019 and proclaimed to buy software stocks and if you need one name to hide out in then I would confidently choose Microsoft (MSFT).
Microsoft has little exposure to China and will be rewarded the most on a relative basis.
The last place you want to get caught out is buying hardware stocks exposed to China and Apple is quickly turning into the largest piece of collateral damage along with airplane manufacturer Boeing.
Remember that 20% of Apple's revenue comes from China and Apple bet big to solidify a complex supply chain through Foxconn Technology Group in China.
When history is recorded, CEO of Apple Tim Cook not hedging his bets exposing Apple's revenue machine could go down as one of the worst ever managerial decisions by tech management.
The forced intellectual property transfers in China from western corporations was the worst kept secret in corporate America.
Being an operational guru as he is, and the hordes of data that Apple have access to, this was a no brainer and Cook should have mitigated his risks by investing in a supply chain that was partially outside of China, and not incrementally spreading out the supply chain through other parts of Asia is coming back to bite him.
China's most recent tariffs will come into effect on June 1, adding up to 25% to the cost of U.S. goods that are covered by the new policy from China's State Council Customs Tariff Commission.
The result of these newly minted tariffs is that importers will probably elect to avoid absorbing the costs themselves and pass the price hikes to the consumer sapping demand.
The American consumer still retains its place as the holy grail of the American economic bull case, but this will test the thesis.
For the short term, it would be foolish to hang out to Chinese companies listed in New York through American depository receipts (ADR) such as JD.com (JD), Alibaba (BABA).
Baidu (BIDU) is a company that I am flat out bearish on because of a weakening strategic position versus Alibaba and Tencent in China.
Even with no trade war, I would tell investors to short Baidu, and the chart is nothing short of disgusting.
Wei Jianguo, a former vice-minister at the Chinese Ministry of Commerce who handled foreign trade, said to the South China Morning Post that "China will not only act as a kung fu master in response to U.S. tricks but also as an experienced boxer and can deliver a deadly punch at the end."
It is clear that any goodwill between the two heavyweight powers has evaporated and the hardliners inside the communist party pulled all the levers possible to back out at the last second.
Many of us do not understand, but there is a complicated political game perpetuating inside the Chinese communist party pitting reformists against staunch traditionalists.
This is not only Chairman Xi's decision and appearing weak on the global stage is the last concession the communist government will subscribe to.
Along with the iPhone company, semiconductor stocks will be ones to avoid.
The list starts out with the chip companies leveraged the most to Chinese revenue as a proportion of total sales including Qualcomm (QCOM) with 65% of revenue in China, Micron (MU) who has 57% of sales in China, Qorvo who has half of sales from China, Broadcom who has 48% of sales from China, and Texas Instruments rounding out the list with 43% of total revenue from China.
The first 5 months of the year saw constant chatter that the two sides would kiss and makeup and chip stocks benefitted from that tsunami of positive momentum.
The picture isn't as pretty when you flip the script, and chip stocks could suffer a gut-wrenching summer if the two sides drift further apart.
After Microsoft, other software names I would take comfort in with the added bonus of strong balance sheets are Veeva Systems (VEEV), PayPal (PYPL), and Adobe (ADBE).
The new tariffs will burden American households to up to $2 billion per month going forward, and new purchases for discretionary items like extra electronics will be put on the back burner extending the refresh cycle and saddling chip companies and Apple with a glut of iPhone and chip inventory.
Buy software companies on the dip.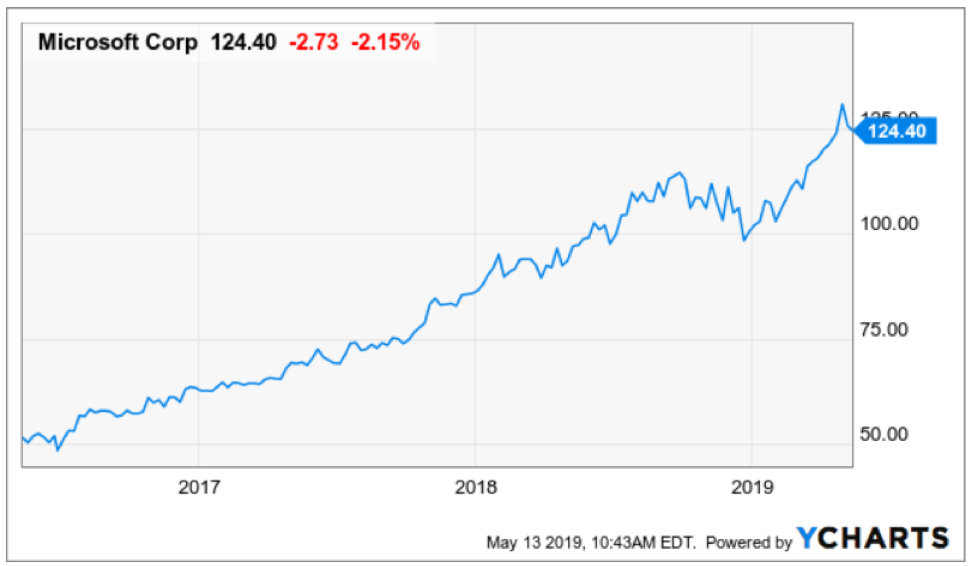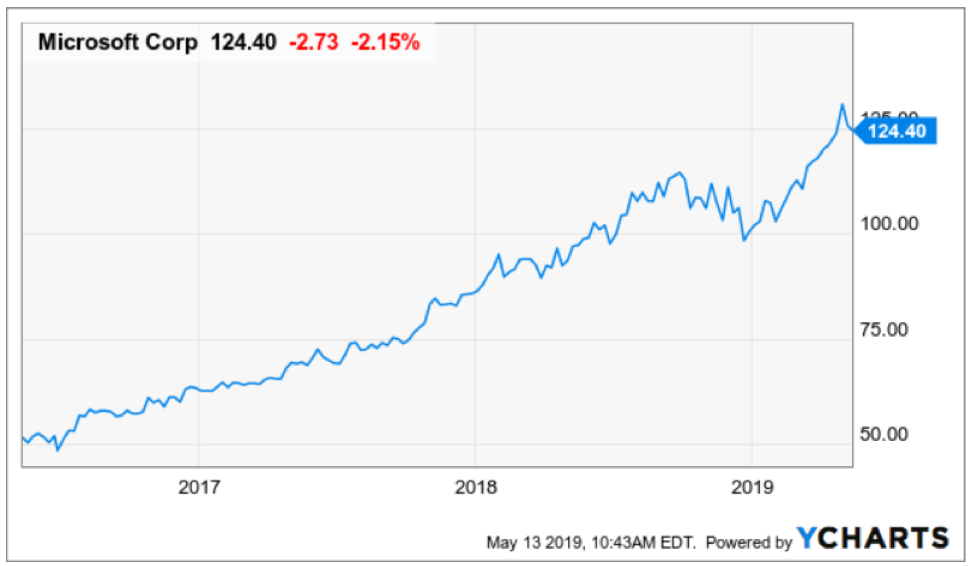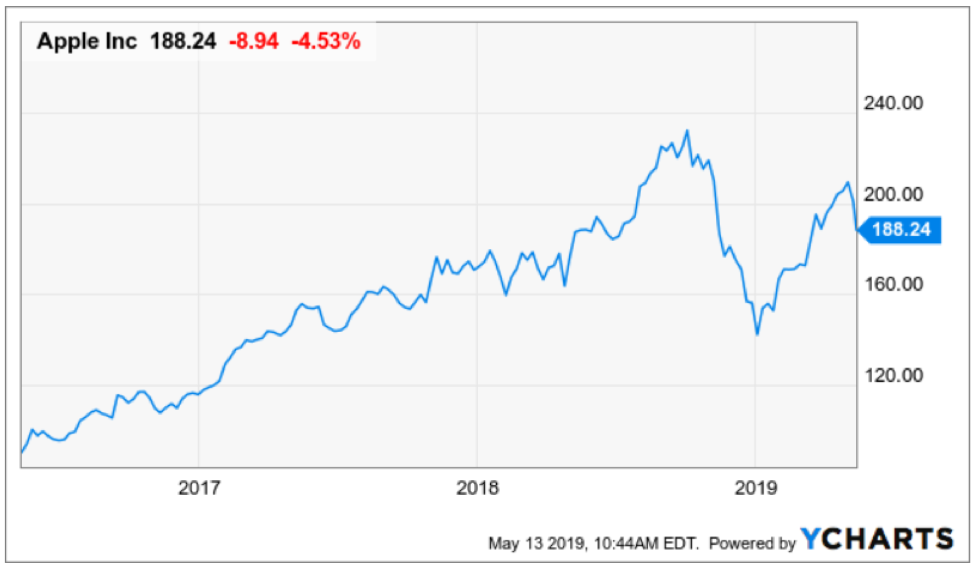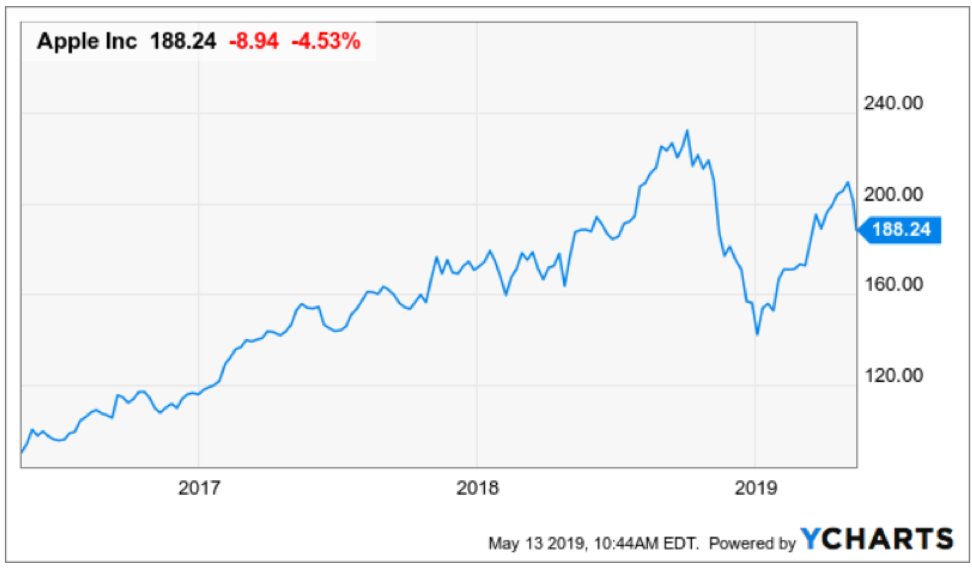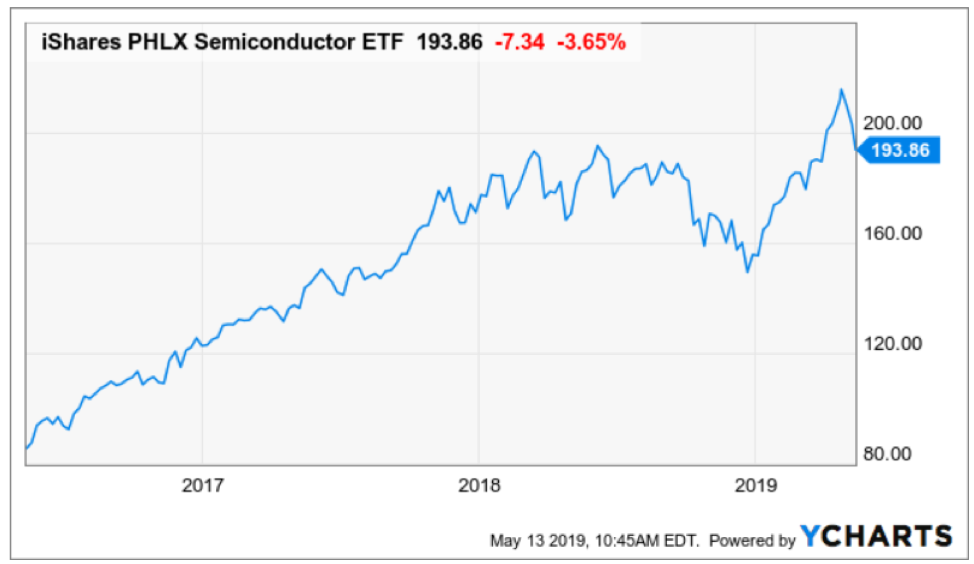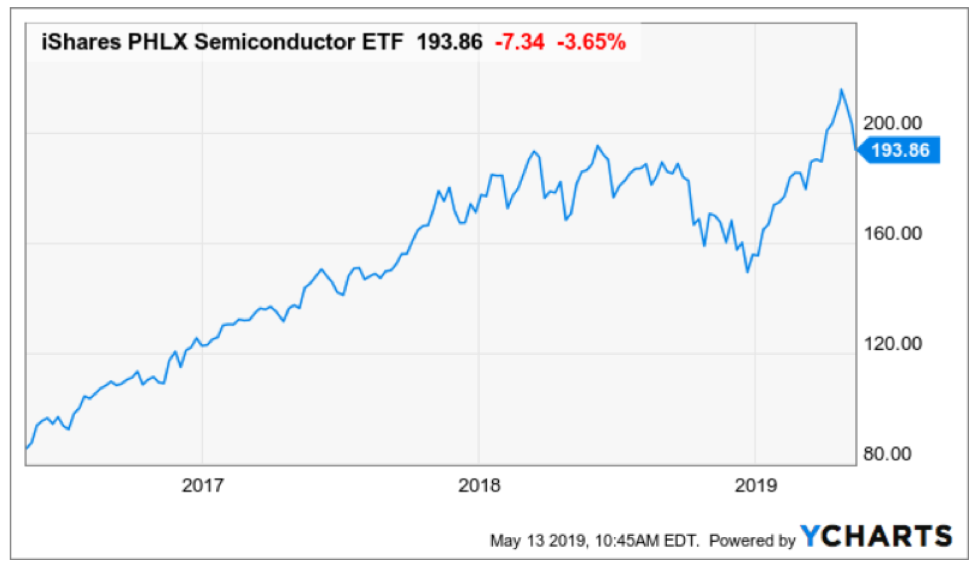 https://madhedgefundtrader.com/wp-content/uploads/2019/05/cropped-mad-hedge-logo-transparent-192x192_f9578834168ba24df3eb53916a12c882.png
0
0
Mad Hedge Fund Trader
https://madhedgefundtrader.com/wp-content/uploads/2019/05/cropped-mad-hedge-logo-transparent-192x192_f9578834168ba24df3eb53916a12c882.png
Mad Hedge Fund Trader
2019-05-14 03:02:31
2019-07-11 13:14:15
China's Counterattack