There is no doubt that old tech is back with a vengeance.
Look at the trifecta of blockbuster earnings reports from Microsoft (MSFT), Amazon (AMZN), and Alphabet (GOOGL) recently, and you can reach no other conclusion.
The Microsoft turnaround in particular has been amazing.
PCs, and the software to run them were so 1990s.
After the Dotcom bust in 2000, Microsoft was dead money for years.
Founder Bill Gates retired in 2008. CEO Steve Ballmer finally got the message in 2013, and retired to pay through the nose, some $2 billion, for the basketball team, the LA Clippers.
Succeeding operating systems offered little that was new, and they fell woefully behind the technology curve.
Even I gave away my own machines years ago to switch to Apple devices. These virus immune machines are perfect for a small business like mine, as they seamlessly integrate and all talk to each other.
When the company brought out the Windows Phone in 2010, three years after Apple, people in Silicon Valley laughed.
Long given up for dead as a trading and investment vehicle, the shares have been on a tear in 2015.
The stock is hitting a new all time high FOR THE FIRST TIME IN 15 YEARS!
Satya Nadella, who took over management of the company in 2014, clearly had other ideas. The challenge for Nadella from day one was to move boldly into new technologies, while preserving its legacy Windows business lines.
So far, so good.
The key to the company?s new found success was it?s dumping of its old ?Wintel? strategy of yore that focused entirely on the growth of the PC market.
The problem was that the PC market stopped growing, as the world moved onto the Cloud and mobile.
The company is now rivaling Apple with $100 billion in cash, almost all held tax-free overseas.
EPS growth will reach 10% next year, beating other big competitors.
Windows and servers, the (MSFT)?s core products, still account for 80% of the firm?s business.
But its cloud presence is being ramped up at a frenetic pace, where the future for the company lies, nearly doubling YOY. Mobile technologies, where it has lagged until now, are also on fire.
Rave reviews from its latest operating system upgrade, Windows 10, also helped.
On top of all of this, Microsoft is paying a generous 3% dividend. It?s earnings multiple at 15X makes it a bargain compared to other big tech companies and the rest of the market.
As I explained in my recent research piece ?Switching From Growth to Value? (click here?), Microsoft makes a perfect investment for a mature bull market.
It is not only at a multiple discount to the rest of the market, now at 18X, it is cheap when compared to the rest of its own sector as well.
This is when investors and traders bail from their high priced stocks to safer, lower multiple companies.
Obviously, I don?t want to pile into Microsoft, or any other of the big tech stocks on top of a furious 10% spike. But it is now safely in the ?buy on the dip? camp, along with the rest of big tech.
The party has only just stated.
To read my interview with Bill Gates? father, click here for ?An Evening With Bill Gates, Sr.?.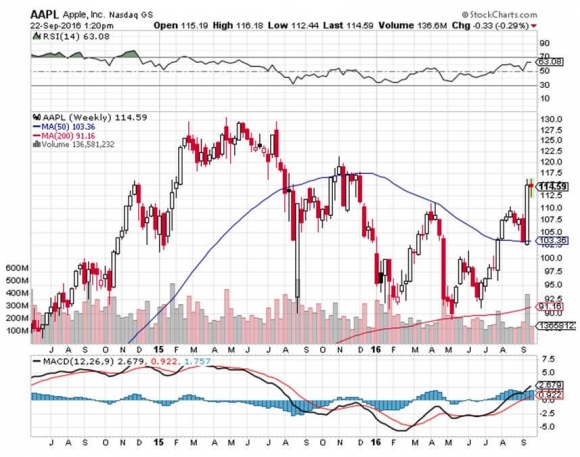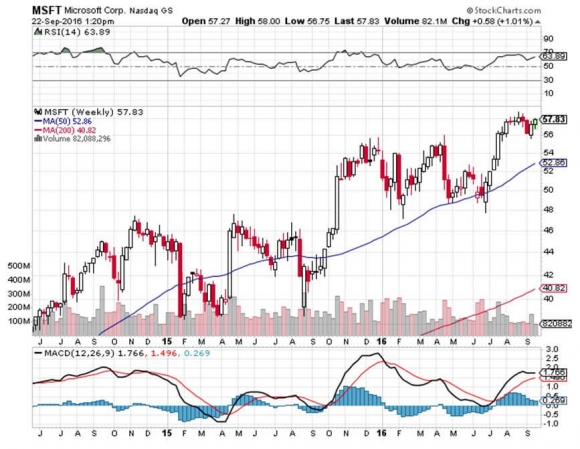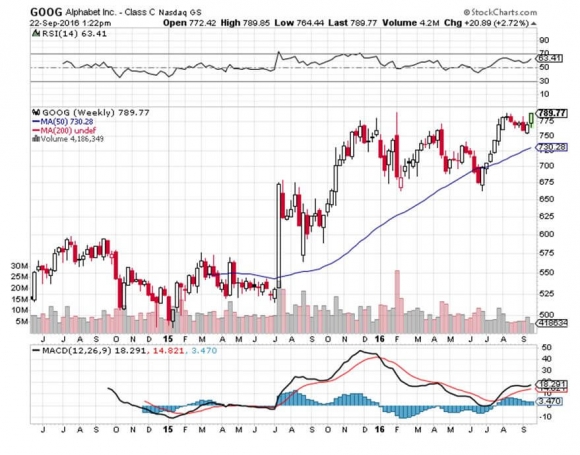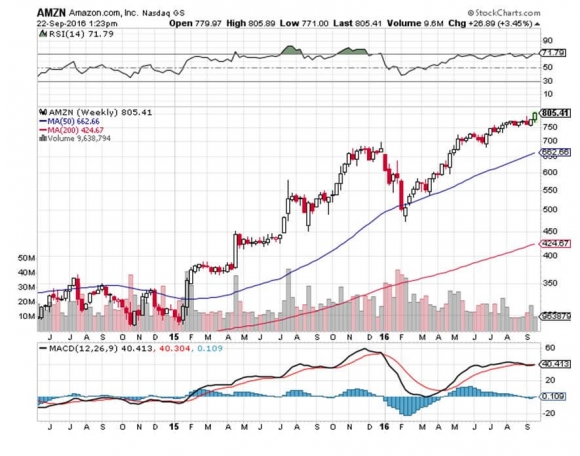 https://www.madhedgefundtrader.com/wp-content/uploads/2015/10/Microsoft-Logo-e1445631099676.jpg
92
400
Mad Hedge Fund Trader
https://madhedgefundtrader.com/wp-content/uploads/2019/05/cropped-mad-hedge-logo-transparent-192x192_f9578834168ba24df3eb53916a12c882.png
Mad Hedge Fund Trader
2016-09-23 01:07:49
2016-09-23 01:07:49
Old Tech is Back!