Ouch. To get snake bit twice in two days hurts. But three times?
I thought that when the General Motors (GM) ignition recall was announced last week, it was a nice entry point on the long side. I was right for at least a whole day.
This morning news hit that there would be a congressional investigation of GM?s handling of the issue. Usually these are no big deal, go nowhere, and have little impact on the stock. But then we learned that prosecutors in New York State were planning a criminal investigation of the company, as are other states. That is a big deal.
This all happened against a backdrop of deteriorating economic news from China and endless, frightful rumors from the Ukraine. I sailed right into a perfect storm with this trade.
If you are active in the markets as I, this kind of out of the blue flock of black swans is inevitable. It is a good rule of thumb that when the wheels fall off, cut your capital loss to 3%. That?s why I issued my stop loss Trade Alert to bail on the position.
That way you live to fight another day, as I plan to do.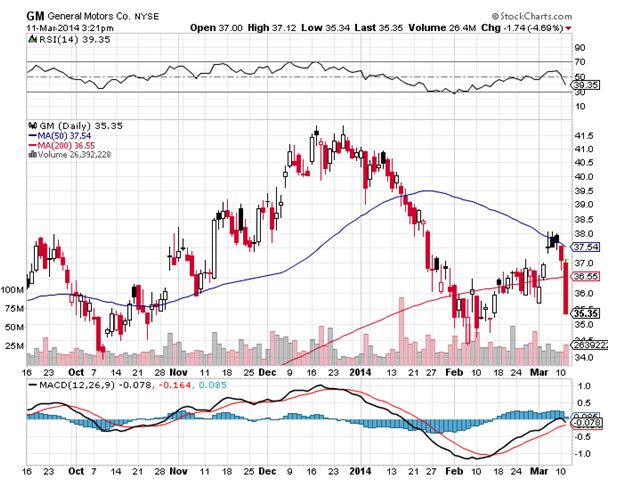 Sometimes They Bite
Mad Hedge Fund Trader
https://madhedgefundtrader.com/wp-content/uploads/2019/05/cropped-mad-hedge-logo-transparent-192x192_f9578834168ba24df3eb53916a12c882.png
Mad Hedge Fund Trader
2014-03-12 01:02:23
2014-03-12 01:02:23
Pulling the Ripcord on GM