I knew I was on the right track when the salesman told me that the customer who just preceded me for a Tesla Model X 90D SUV was the Golden Bay Warriors star basketball player, Steph Currie.
Well, if it's good enough for Steph, then it's good enough for me.
Last week, I received a call from Elon Musk's office to test the company's self-driving technology embedded in their new vehicles for readers of the Diary of a Mad Hedge Fund Trader.

I did, and prepare to have your mind blown!
I was driving at 80 MPH on CA-24, a windy eight-lane freeway that snakes its way through the East San Francisco Bay Area mountains. Suddenly the salesman reached over a flicked a lever on the left side of the driving column.
The car took over!
There it was, winding and turning along every curve, perfectly centered in the lane. As much as I hated to admit it, the car drove better than I ever could. It does especially well at night, a valuable asset for senior citizens whose night vision is fading fast.
All that was required was for me to touch the steering wheel every two minutes to prove that I was not sleeping.
The cars do especially well in rush hour driving, as it is adept at a stop and go traffic. You can just sit there and work on your laptop, read a book, or watch a movie on the built-in 4G WIFI HD TV.
When we returned to the garage, the car really showed off. When we passed a parking space, another button was pushed, and we perfectly backed 90 degrees into a parking space, measuring and calculating all the way.
The range is 290 miles, which I can recharge at home at night from a standard 220-volt socket in my garage in seven hours. The chassis can rise as high as eight inches off the ground so it can function as a true SUV.
The "ludicrous mode," a $10,000 option, take you from 0 to 60 mph in 2.9 seconds. However, even a standard Tesla can accelerate so fast that it will make the average passenger carsick.
Here's the buzz kill.
Tesla absolutely charges through the nose for extras.
The 22-inch wheels, the third row of seats to get you to seven passengers, the premium sound, the leather seats, and the self-driving software can easily run you $30,000-$40,000.
A $750 tow hitch will accommodate a ski rack on the back. There is a $1,000 delivery charge, even if you pick it up at the Fremont factory.
It's easy to see how you can jump from an $84,990 base price to a total cost of $162,500, including taxes, for the ultra-luxury Performance model.
My company will be purchasing the car under Section 179 of the International Revenue Code. The car qualifies because it weighs over 6,000 pounds and is, therefore, a truck under tax law.
This allows me to deduct the entire $162,500 cost of the vehicle upfront, plus the maintenance and insurance costs for the entire life of the car. However, I will have to maintain a mileage log as a hedge against any future IRS audits.
Ironically, Section 179 was enacted as a subsidy for consumer purchases of the eight-mile per gallon Hummer, which was originally built by AM General and owned by General Motors (GM).
After several attempts to sell, the division failed, production was permanently shut down. However, the tax subsidies live on for any like designed vehicle.
It looks like I'll have to buy two Teslas this year.
As for "drop dead' curb appeal, nothing beats the Model X. Buy the stock on every 20% dip.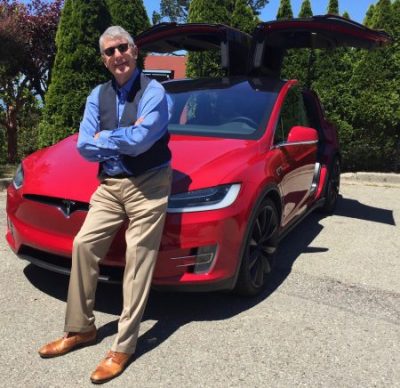 Thanks for Your Subscription!
https://www.madhedgefundtrader.com/wp-content/uploads/2018/05/John-and-Tesla-story-3-image-e1527026778415.jpg
388
400
MHFTR
https://www.madhedgefundtrader.com/wp-content/uploads/2019/05/cropped-mad-hedge-logo-transparent-192x192_f9578834168ba24df3eb53916a12c882.png
MHFTR
2019-07-26 08:02:27
2019-08-27 14:42:12
Testing Tesla's Self-Driving Technology