Even the Old Hands, like myself, are somewhat amazed by the strength of the global equity markets this month. The S&P 500 has risen 11 out of the last 12 trading days, and is up almost every day this month. It has been the best January in 18 years.
The first week saw the biggest inflows to equity mutual funds in 10 years. Yet, the market went up so fast, most of the largest investors were left at the starting gate, with the bulk of their new money yet to go into the market. If you weren?t as fast on the trigger as I was, you were left to read about it in the Wall Street Journal, and on your way to the Tombstone career cemetery. Hint to market strategists: that money is still out there trying to get in.
It appears that the race to the bottom for currencies is the race to the top for equities. The reality is that in such a competition, everyone wins. Since the mid November low, the (SPX) has risen by 12%. But Germany (EWG), which has had to carry the dead weight of an appreciating Euro, is up 29%. Japan, where the yen has plunged 16%, has seen the currency hedged equity ETF (DWJ) soar by 31%. My own Trade Alert Service tacked on 21%. For investors, this is a ?heads I win, tails you lose? market.
Certainly, the data flow has been there in abundance to justify such ebullience. Everywhere I look, I see improving PMI?s, increasing orders, rising real estate prices. Some 70% of American companies have, so far, beat earnings expectations.
In the US, business is running on all 12 cylinders (or all 80 kw of lithium ion battery power in my world), with the housing, energy, and auto industries all kicking in at once. Yesterday, weekly jobless claims hit a five year low at 335,000, and this morning the HKSB private Chinese PMI rose to a healthy 51.9.
The new Japanese stimulus efforts are so Godzilla like in proportions that the country?s GDP growth could flip from -3.5% to +3% in a mere two quarters. Do I hear the words ?global synchronized expansion?, anyone? Yikes. It makes the (SPX) at 1,500, and the (IWM) at $89 look positively cheap. Even the Federal Reserve?s own dividend discount valuation model says that the (SPX) should be worth 1,750 here.
Hedge funds are getting creamed, as usual, because their shorts are rising much faster than their longs. Look no further than Netflix (NFLX), which had a jaw dropping open short interest of 45%, but soared by a staggering 71% in two days after their earnings announcement. The pain trade is on. That?s why I have been going commando, without any shorts at all, save in the Japanese yen. Thank goodness I?m not in that business anymore. It is sooo last year?s game.
It is, in fact, a one stock market. But this time, there is only a single stock going down, Apple (AAPL), while everything else rises. A close friend whose market timing I respect told me on Tuesday, when the stock traded at $514, that it would hit a final bottom at $438 in three months. Three days later, and here we are at $437.
When the company announced an increase in cash on the balance sheet of $23 billion, the market took $100 billion off its market capitalization, depriving it of its vaunted ?largest company in the world? status. Go figure. This is truly a classic falling knife scenario, which is better observed from afar.
If you had asked me in September, when Apple was trading at $700, where would the (SPX) be if it fell to $437, I would have answered 1,000. Yet, here we are at 1,500. Here?s an intriguing thought, what if my friend is at least partly right, and Apple goes up from here? My own target of the (SPX) at 1,600 becomes a chip shot, possibly by March. Hey, if Ben Bernanke wants me to pile into risk assets, who am I to argue? I?ve always been a team player.

I think I?ll buy more stocks (SPY), (IWM), sell more yen (FXY), (YCS), and drive the Tesla around the mountain one more time. Maybe I can get the clock up to 500 miles.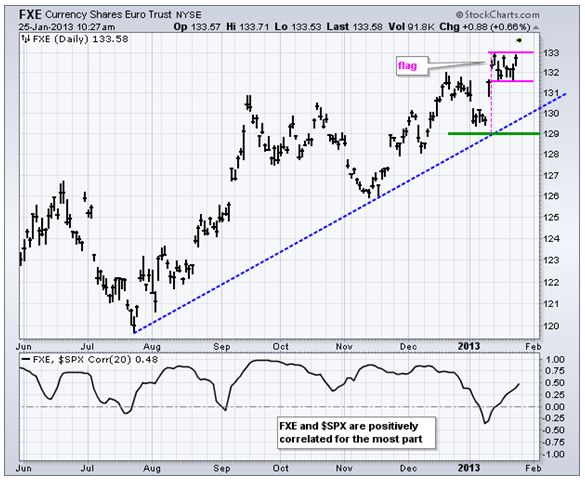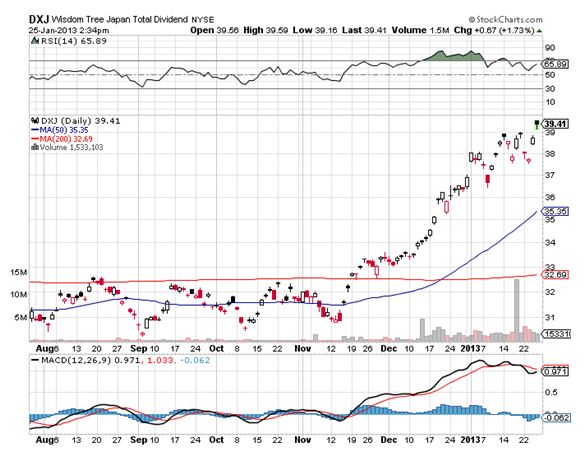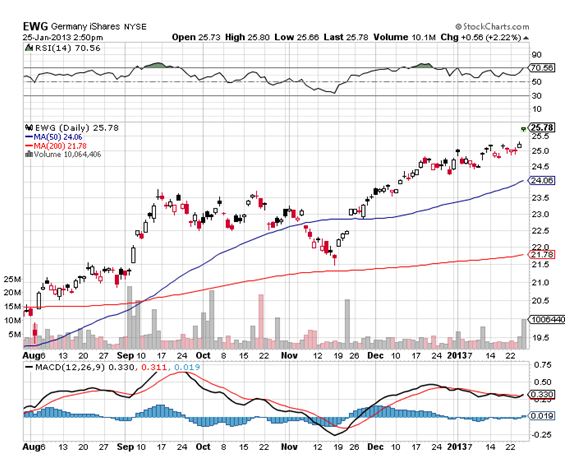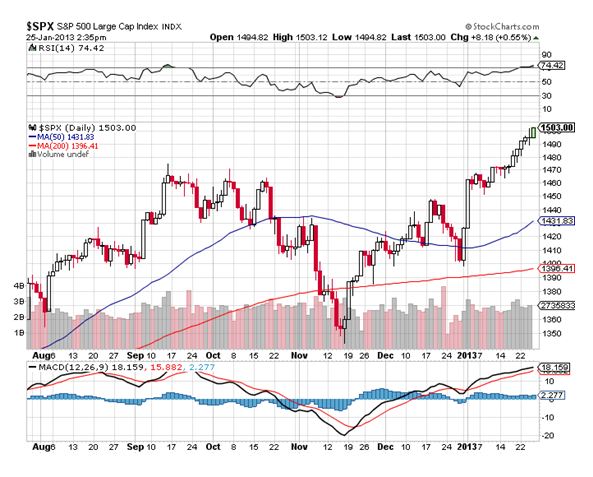 https://www.madhedgefundtrader.com/wp-content/uploads/2013/01/Clint-Eastwood.jpg
215
309
Mad Hedge Fund Trader
https://www.madhedgefundtrader.com/wp-content/uploads/2019/05/cropped-mad-hedge-logo-transparent-192x192_f9578834168ba24df3eb53916a12c882.png
Mad Hedge Fund Trader
2013-01-27 23:02:19
2013-01-27 23:02:19
The Race to the Bottom for Currencies Means a Race to the Top for Stocks