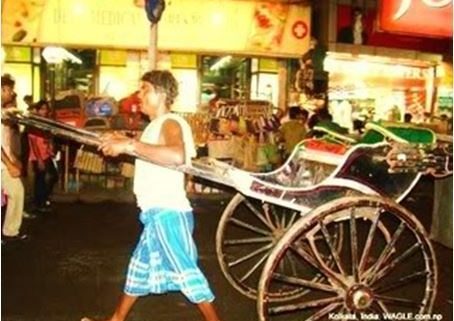 When I first visited Calcutta in 1976, 800,000 people were sleeping on the sidewalks, I was hauled everywhere by a very lean, barefoot rickshaw driver, and drinking the water out of a tap was tantamount to committing suicide. Some 35 years later, and the subcontinent is poised to overtake China?s white hot growth rate.
My friends at the International Monetary Fund issued a report predicting that India will grow by 6.5% this year. While the country?s total GDP is only a quarter of China?s $6 trillion, its growth could exceed that in the Middle Kingdom as early as 2014.
Many hedge funds believe that India will be the top growing major emerging market for the next 25 years, and are positioning themselves accordingly. Investors are now taking a harder look at the country ETF?s, including India (INP) and China (FXI), which have recently suffered gut churning selloffs.
India certainly has a lot of catching up to do. According to the World Bank, its per capita income is $3,275, compared to $6,800 in China and $46,400 in the US. This is with the two populations close, at 1.3 billion for China and 1.2 billion for India.
But India has a number of advantages that China lacks. To paraphrase hockey great, Wayne Gretzky, you want to aim not where the puck is, but where it?s going to be. The massive infrastructure projects that have powered much of Chinese growth for the past three decades, such as the Three Gorges dam, are missing in India. But financing and construction for huge transportation, power generation, water, and pollution control projects are underway.
A large network of private schools is boosting education levels, enabling the country to capitalize on its English language advantage. When planning the expansion of my own business, I was presented with the choice of hiring a website designer here for $60,000 a year, or in India for $5,000. That?s why booking a ticket on United Airlines or calling technical support at Dell Computer gets you someone in Bangalore.
India is also a huge winner on the demographic front, with one of the lowest ratios of social service demanding retirees in the world. China?s 30-year-old ?one child? policy is going to drive it into a wall in ten years, when the number of retirees starts to outnumber their children.
There is one more issue out there that few are talking about. The reform of the Chinese electoral process at the next People?s Congress could lead to posturing and political instability which the markets could find unsettling. India is the world?s largest democracy, and much of its current prosperity can be traced to wide ranging deregulation and modernization that took place 20 years ago.
I have been a big fan of India for a long time, and not just because they constantly help me fix my computers. In the past, I recommended Tata Motors (TTM), which has since doubled, making it one of my best, all-time single stock picks (click here for ?Take Tata Motors Out for a Spin?). On the next decent dip take a look at the Indian ETF?s (INP), (PIN), and (EPI).

Better to Own This Pyramid

Than This Pyramid

Taxi! Taxi!
https://www.madhedgefundtrader.com/wp-content/uploads/2013/08/Rickshaw.jpg
338
454
Mad Hedge Fund Trader
https://madhedgefundtrader.com/wp-content/uploads/2019/05/cropped-mad-hedge-logo-transparent-192x192_f9578834168ba24df3eb53916a12c882.png
Mad Hedge Fund Trader
2013-08-13 01:03:35
2013-08-13 01:03:35
India vs. China