The valedictorian of the IPO class Zoom Video Communications, Inc. (ZM) is finally on sale at a discount.
If readers want to indulge themselves in a high caliber tech growth stock to buy and hold stock, this is the one for you.
This one has no regulatory headwinds as well as an added bonus.
Zoom's share price has dropped 40% since hitting the heights of $102 in July which was coincidentally the high for most post-IPO tech stocks of 2019.
It's been an elevator straight down to no man's land since then, but investors would be foolish to paint all hyper-growth companies with the same brush.
Filtering out the wheat from the chaff is critical and Zoom is the stock that still has the gloss on its outside package buttressed by its best in show video conferencing software.
There are no other proper alternatives in this sub-sector of software.
A few days ago, the stock slid 9% even though the company crushed expectations with its latest quarterly result and outlook.
Zoom generated revenue of $166.6 million representing a growth rate year on year of 85%.
The company then offered a forecast of $175 million next quarter when analysts only estimated $165 million.
Remember that this company grew 96% just 2 quarters ago and it would be illogical to believe that the stock is being penalized from faltering to 85% today.
Any tech company would give a left leg for 85% growth.
Zoom was trading at 33.5 times my calendar 2020 estimates compared to the fast growth software as a service (SaaS) median at 12.9 times.
Then software stocks started indiscriminately selling off on earnings over the past few weeks irrelevant to the quality of news because of worries to the broader bull market in tech stocks.
It's true that tech stocks aren't cheap now, and the skittishness rears its ugly head when bullet-proof earnings' results are met with a cascade of selling.
Salesforce (CRM) was a software company that was penalized for pricey M&A because the company has been unable to organically grow forcing them to buy growth.
Buying growth is not necessarily a bad strategy but buying growth at this point in the economic cycle naturally means that companies will need to overpay for growth because of expensive valuations.
Zoom is perfectly positioned to outperform in the next 2-3 years.
The advancing runway is wide open with no competition in sight and a generous growth trajectory is firmly on their side.
We Company singlehandedly destroyed positive biased market momentum for any tech growth stock this summer, but on the bright side, quality post-IPO growth stocks are more reasonably priced with compelling entry points.
At around $60, Zoom looks appetizing and is a convincing buy and hold. At some point, this software company could become a takeover target for a larger corporate because companies such as Google (GOOGL) and Apple (AAPL) will need to acquire growth moving forward.
I am impressed with Zoom's superior products, growth prospects, and scalable business model, and the stock's near-term risk/reward trade-off is attractive after the 9% haircut this past week.
There is an actionable and manageable clear path to a $2 billion revenue run rate with strong margin expansion potential and with its flagship product growing around 80-90%, its next growth driver in Zoom Phone could translate well into a meaningful revenue stream.
Zoom Phone is the next springboard to further success for this company.
Anyone that has used Zoom as a product can confirm the veracity of its superior performance standards.
This isn't the type of stock to trade short-term, the volatility undermines any potential entry points.
If the broader market holds up in 2020, and Zoom isn't a $100 stock by yearend, then the stars should align by 2021 because the value extraction potential is substantially robust in Zoom's business model.
We finally have a reasonable level to scale into Zoom, and if it drops into the $50 range, it's not just a scale-in type of scenario, investors should buy as much as they can with two hands.
Growth stocks can only be pinned down for so long and the best and brightest have been unfairly penalized with the rest.  And let me remind you, this patch of softness in shares is only ephemeral and now is the time to act.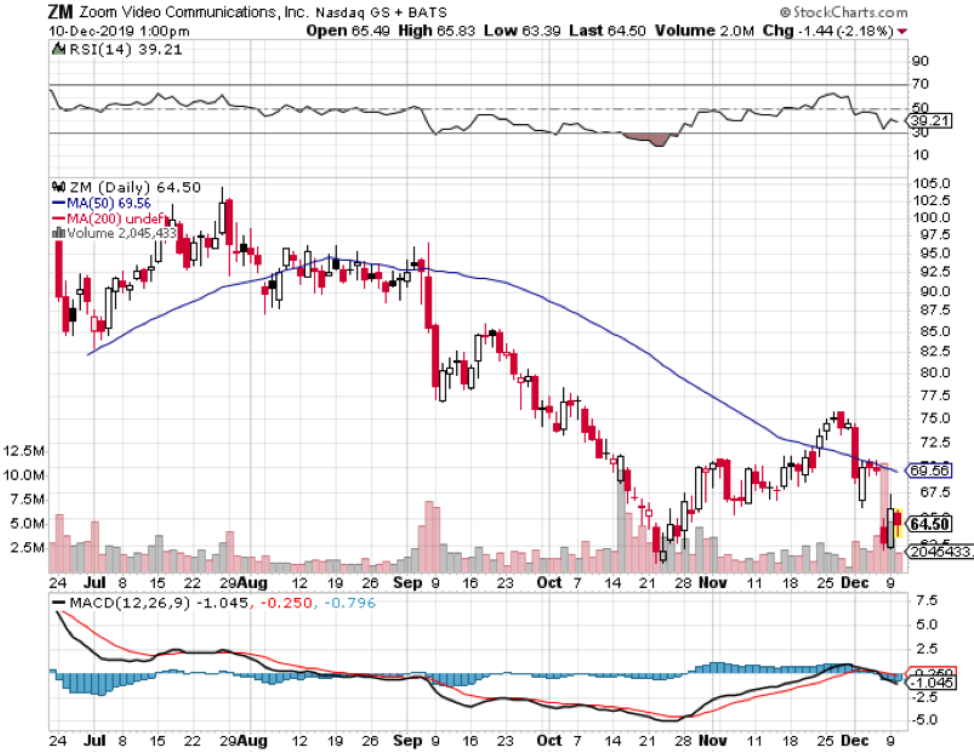 https://www.madhedgefundtrader.com/wp-content/uploads/2019/05/cropped-mad-hedge-logo-transparent-192x192_f9578834168ba24df3eb53916a12c882.png
0
0
Mad Hedge Fund Trader
https://www.madhedgefundtrader.com/wp-content/uploads/2019/05/cropped-mad-hedge-logo-transparent-192x192_f9578834168ba24df3eb53916a12c882.png
Mad Hedge Fund Trader
2019-12-11 04:02:25
2020-05-11 13:01:14
Cherry-Picking in Tech Today