Behavioral trends have a sizable say in which tech companies will outperform the next and a recent report from SimilarWeb offers insight into how much users navigate around the monstrosity known as the internet.
The optimal way to comprehend the trends are from a top-down method by absorbing the divergence between desktop traffic and mobile traffic.
It's no secret that the last decade delivered consumers a massive leap in mobile phone performance in which tech companies were able to neatly package applications that acted as monetization platforms by offering software and services to the end-user.
Thus, it probably won't shock you to find out that desktop traffic is down 3.3% since 2017 as users have migrated towards mobile and the trend has only been exaggerated by the younger generations as some have become entirely mobile-only users.
All told, the 30.6% expansion in mobile traffic has penalized tech firms who have neglected mobile-first strategies and one example would be Facebook (FB), who even though has a failing flagship product in Facebook.com, are compensated by Instagram, who is showing wild growth numbers.  
The fact that mobile screens are smaller than desktop screens means that users are staying on web pages not as long as they used to – precisely 49 seconds to be exact.
This trend means that content generators are heavily incentivized to frontload content and scrunch it up at the top of the page. This also means that sellers who don't populate on Google's first page of search results are practically invisible.
The high stakes of internet commerce are not for the faint of heart and numerous companies have complained about algorithm changes toppling their algorithm-sensitive businesses.
Even using a brute force analysis and investing in companies that are in the top 15 of internet traffic, then the companies that scream undervalued are Twitter (TWTR) and eBay (EBAY).
Twitter is a company I have liked for quite a while and is definitely a buy on the dip candidate.
The asset is the 7th most visited property on the internet behind the likes of Instagram, Google, Baidu, Wikipedia, Amazon, and Facebook.
This position puts them just ahead of Pornhub.com, Netflix, and Yahoo.
And if you take one step back and analyze traffic from the top 100 sites, traffic is up 8% since 2018 and 11.8% since 2017 averaging 223 billion visits per month.
Rounding out the top 15 is eBay who I believe is undervalued along with Twitter - these two are legitimate buy and holds.
Ebay was the recipient of poor management for many years and they are now addressing these sore points.
Certain content is suitable for mobile such as adult sites, gambling sites, food & drink, pets & animals, health, community & society, sports, and lifestyle.
And just over the last year or two, other categories are gaining traction in mobile that once was dominated by desktop such as news and media, vehicle sites, travel, reference, finance, and others.
Many consumers are becoming more comfortable at doing more on mobile and spending more to the point where people are making large purchases on their iPhones.
The biggest loser by far was news - they are losing traffic in droves.
Traffic at the top 100 media publications was down 5.3% year-over-year from 2018 to 2019, a loss of 4 billion visits, and down by 7% since 2017.
Personally, I believe the state of the digital news industry is in shambles, and Twitter has moved into this space becoming the de facto news source while pushing the relevancy of news sites down the rankings.
Facebook and Twitter are essentially undercutting the news by forcing news companies to insert them between the reader and the news company because they have strategized a position so close to the user's fingertips.
The negative sentiment in news is broad based on popular news, entertainment news and local news all showing decreases of more than 25%.
Finance and women's interest news categories are the only ones showing positive traffic growth.
The state of internet traffic growth supports my underlying thesis of the big getting bigger and the subsequent network effect stimulating further synergies that drop straight down to the bottom line.
The top 10 biggest sites racked up a total of 167.5 billion monthly visits in 2019, up 10.7% over 2018 and the remaining 90 largest sites out of the top 100 only increased 2.3%.
This has set the stage for just five gargantuan tech firms to become worth more than $5 trillion or 15.7% of the S&P 500's market value and 19.7% of the total U.S. stock market's value.
Now we have real data backing up my iron-clad thesis and these cornerstone beliefs underpins my trading philosophy.
Many of the biggest wield a two-headed monster like Google who has Google.com and YouTube video streaming and Facebook, who have Facebook.com and Instagram.
It doesn't matter that Facebook has lost 8.6% of traffic over the past year because Instagram compensates for Facebook being a poor product.
And if you are searching for another Facebook growth driver under their umbrella of assets then let's pinpoint chat app WhatsApp who experienced 74% year-over-year traffic.
Beside the news sites, other outsized losers were Yahoo's web traffic shrinking by 33.6% and Tumblr, which banned adult sites in 2018, leading to a 33% loss in traffic.
If I can sum up the data, buy the shares of companies who are in the top 15 of internet traffic and be on the lookout for any dip in eBay or Twitter because they are relatively undervalued.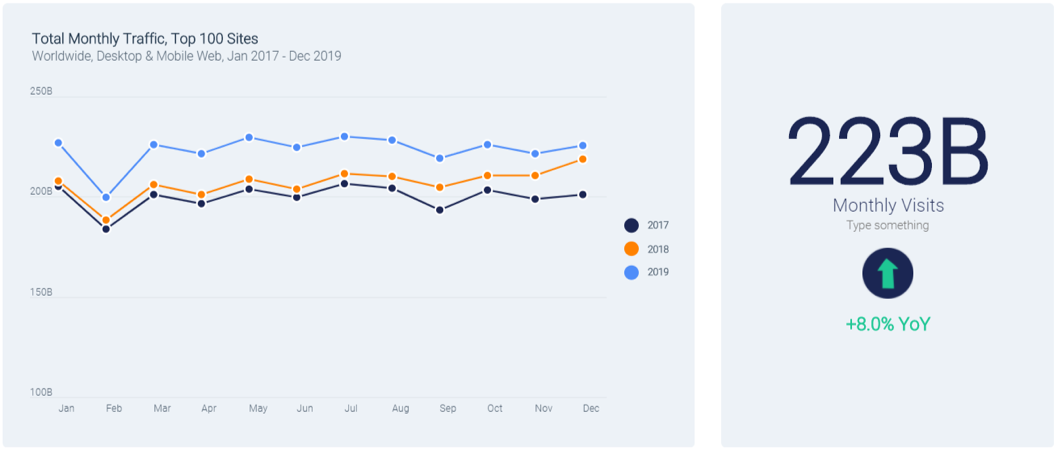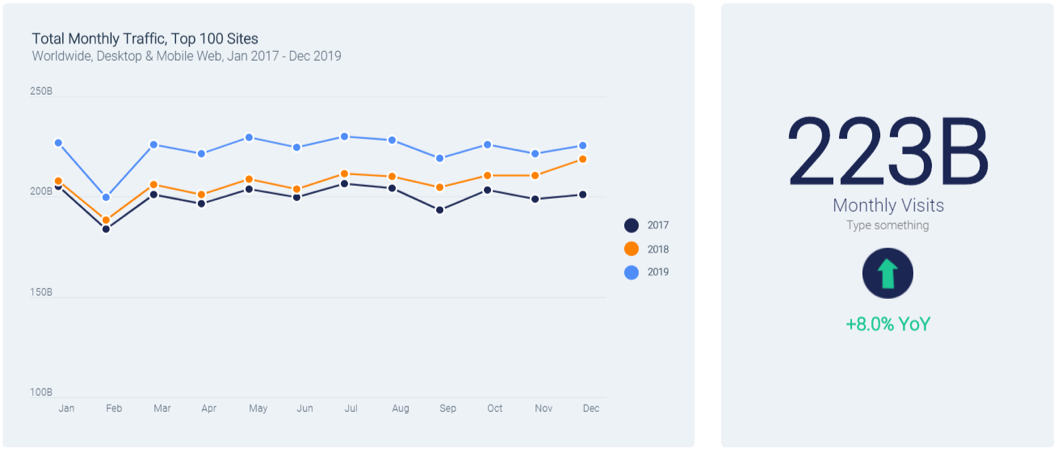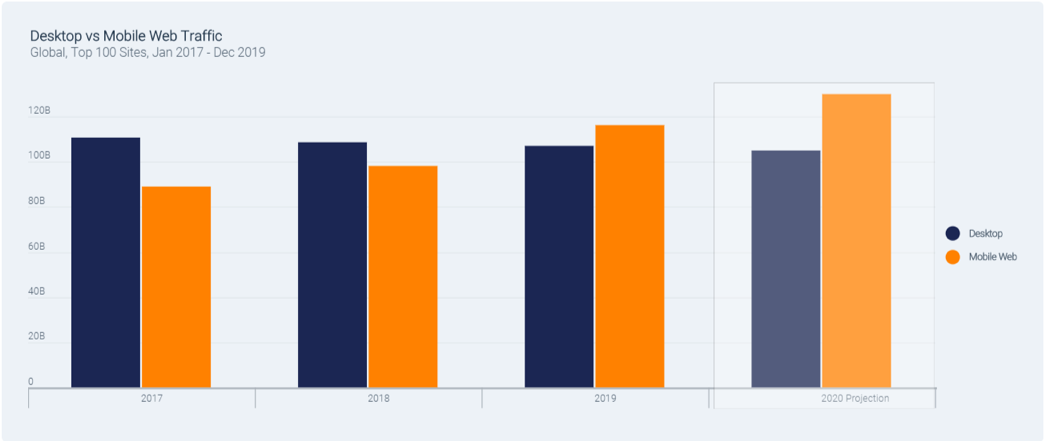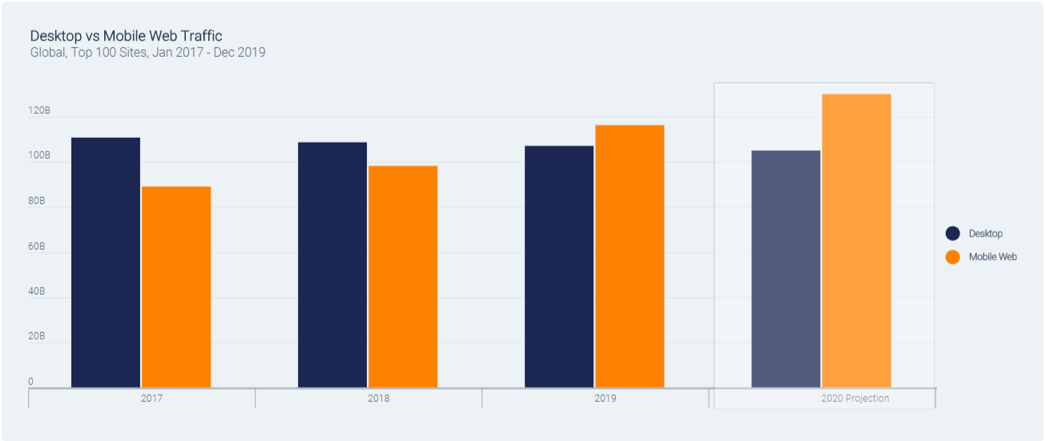 https://www.madhedgefundtrader.com/wp-content/uploads/2020/02/monthly-traffic.png
452
1056
Mad Hedge Fund Trader
https://madhedgefundtrader.com/wp-content/uploads/2019/05/cropped-mad-hedge-logo-transparent-192x192_f9578834168ba24df3eb53916a12c882.png
Mad Hedge Fund Trader
2020-02-14 10:02:53
2020-05-11 13:12:49
Data Tells the Whole Story