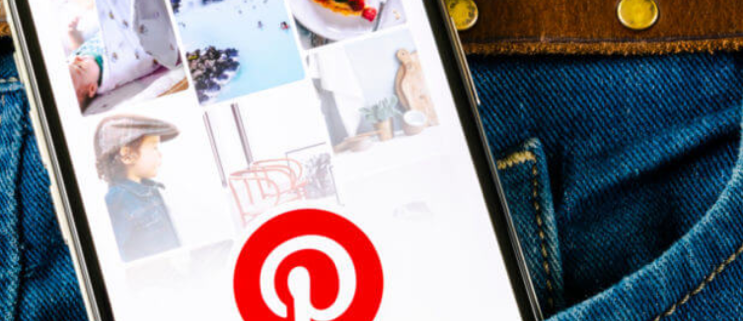 The Facebook (FB) of digital images is on deck and has filed to go public.
I'll give you the skinny on it.
Pinterest (PINS) has slightly different lingo – they call digital images pins, a collection of pins, a pinboard, and the users that post pins are pinners.
Aside from this little creative wrinkle, Pinterest does little to help flow my creative juices.
That's not to say they are a bad company, in fact, it's quite refreshing that on the financial side of the equation, Pinterest is a solid financial enterprise.
They make money and aren't going to burn through their cash reserves anytime soon.
This should give some peace of mind to potential investors looking at snapping up shares of Pinterest.
Even though they are not a bad company, I cannot promote them as a firm revolutionizing technology in the way we know it, they certainly don't, and never will, at least at the current pace of innovation.
Pinterest derives almost 100% of its revenue from digital ads à la Facebook, they do not sell anything and much like Facebook, the user is the product by way of mining private data and selling them over to third-party ad agencies who subsequently sell targeted ads on Pinterest's platform.
As I read through Pinterest's S-1 filing with the SEC, an overwhelming portion of the content is reserved for the litany of regulatory risks that serving digital ads, curating others' content, and the international risks that pose to Pinterest growth story.
As with most tech growth stories, this particular narrative must orbit around the strength of incessantly growing its domestic and international user base.
I surmise that part of the reason they desire to go public is because of the 265 million in global quarterly monthly users have reached the high watermark.
Therefore, this calculated risk of going public is entirely justified as the cash out for the venture capitalist and private owners that invested in this company as a burgeoning toddler.
Or the owners see catastrophic downside from the regulatory landscape which has been increasingly volatile in the past few quarters and wish to get out as soon as they can.
Let's make no mistake about this, Pinterest does not control its own destiny, and their success will be based upon external factors that they cannot control.
Some of these factors have already reared their ugly head, the most relevant example was when Google (GOOGL) changed its image search algorithm which disrupted Pinterest's image function.
This was an example of third-party content originators clamping down on their willingness to allow Pinterest to populate content on their proprietary platform, and the lack of availability of content or the decreasing nature of it will sting the hope of increasing web traffic on Pinterest going forward.
Pinterest has clearly disclosed in its IPO filing that they are reliant on crawling third-party search engine services for third-party photos, this content is curated into their platform and credited to the original user.
I would classify this type of technology as unimpressively low grade and Pinterest will be susceptible to many more possible disruptions in the future.
In layman terms, if the stars do not align, Pinterest will be the first to feel it, and strategically speaking, this is a poor position to strategically operate from.
If Pinterest cannot serve the specific content that incites the tastes of pinners, this could destroy retention and engagement rates leading to a damaging downdraft of ad revenue.
Pinterest's feeble business model will certainly call for new investments in and around more innovative parts of technology.
What we have seen most successful technology companies flirt with are full-fledged recurring revenue models, and bluntly, Pinterest does not have one.
The likes of Microsoft, Amazon, Google, and Apple have pivoted hard towards this subscription model proving they can have their own cake and eat it too.
Funnily enough, Pinterest pays AWS, Amazon's cloud arm, an extraordinary amount of money to store the pins or digital images on AWS Cloud platform to the tune of almost $800 million per year showing how beneficial it is to be on the other side of the equation.
Pinterest does benefit from a robust brand reputation and its footprint in America is quite large.
However, one group of potential customers have clearly been left out in the cold – Males.
The firm has been famous for being the go-to image platform for young mothers and generally speaking, American women born in the 1980s.
According to data analytics, it appears that content that males gravitate towards is not present on the platform and will need to be addressed going forward to grow users.
Another crucial problem that must be addressed is the lack of domestic growth in the user base.
In Q1 2018, Pinterest achieved 80 million monthly active users, however, fast forward to Q4 in 2018 and the number had barely inched up to 82 million monthly active users.
From Q1 to Q2, there was a dramatic deceleration in the number of monthly active users falling by 5 million to 75 million monthly active users.
The company blamed this on Facebook changing their password security causing users who rely on Facebook passwords and username entrance data to be temporarily stonewalled from entering Pinterest.
Millions decided to avoid the hassle and just stop using Pinterest because they were unable to enter the platform, causing major carnage to Pinterest's ad-supported revenue model because of the hemorrhaging usership.
Unfortunately, bigger platforms such as Facebook and Google are not responsible to telegraph these structural changes in policy to Pinterest which means that this type of loss of usership could be a bi-annual or annual exercise in damage control.
Losing 10% of your user base based on someone else's systemic changes is a bitter pill to swallow.
Investors must ask themselves why a premium search engine like Google search want to allow Pinterest to continue to curate its images for ad revenue effectively skimming off of Google's top line?
As you have seen, Google has hijacked many of these types of business initiatives by taking on these opportunities themselves, dismantling the choke points, and going in for the kill.
The main avenue of user expansion is its international audience, and sadly, the average revenue per international user is a paltry $0.09. This number was up sequentially from the prior quarter which was $0.06.
If you compare the revenue per user with America, then it's easy to understand why the company wants to go public now.
Management presided over a sequential increase of American revenue per user from $2.33 to $3.16 in the prior quarter and the same growth will be hard to maintain and replicate spurring the higher-ups to cash out.
International growth is staring down a barrel of a gun with restricted access by governments who do not allow this type of service in their countries such as China, India, Kazakhstan, and Turkey.
The impact of these broad-based bans decodes into Europe being the only possible answer to user growth in revenue terms and total usership.
To state that Pinterest is confronted by widespread global risk is an understatement.
However, the low-hanging fruit would be squeezing more revenue out of the American user and I would guess that the ceiling would be around $7 per user in the near-term.
If management hopes to eclipse the $7 per American user, they will have to migrate into more data generative strategies such as video.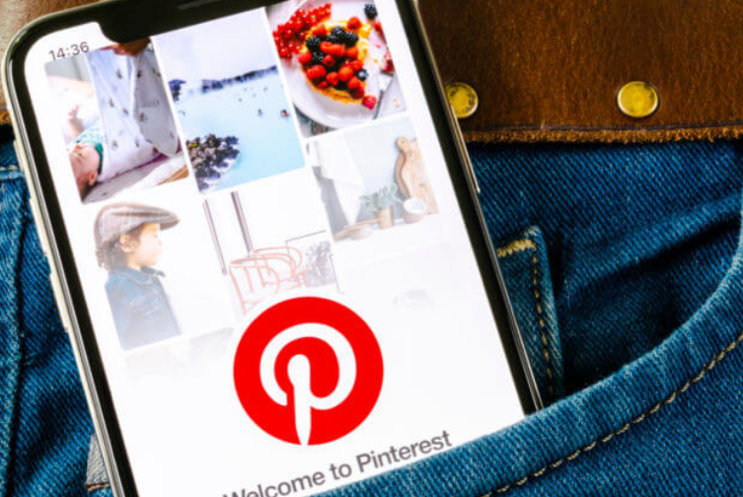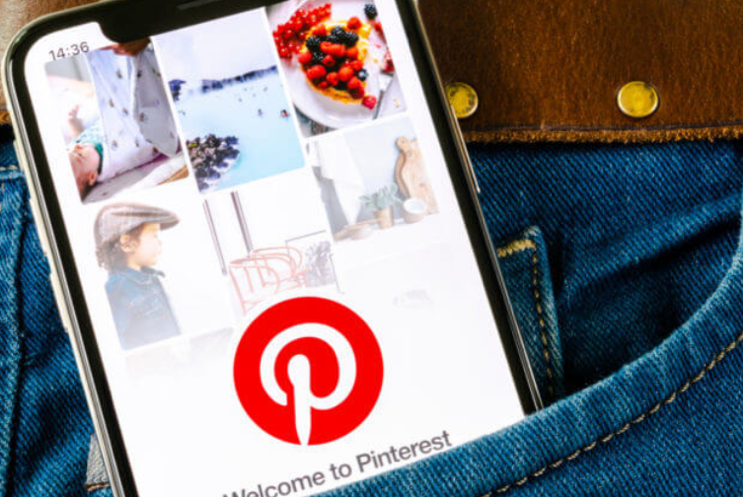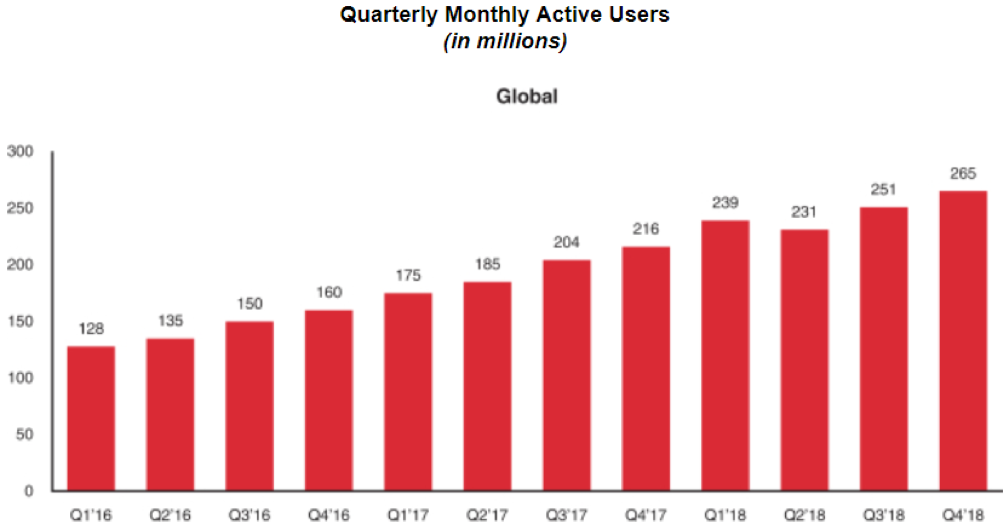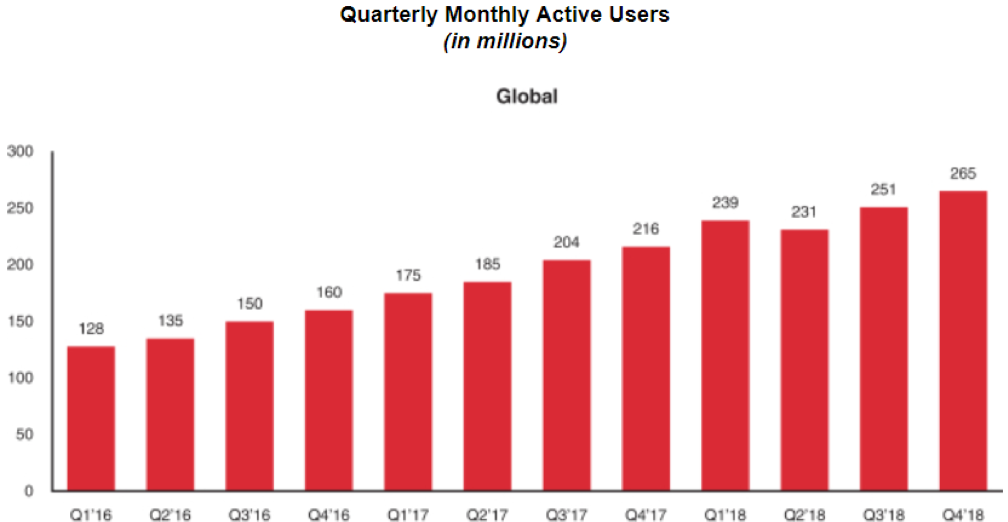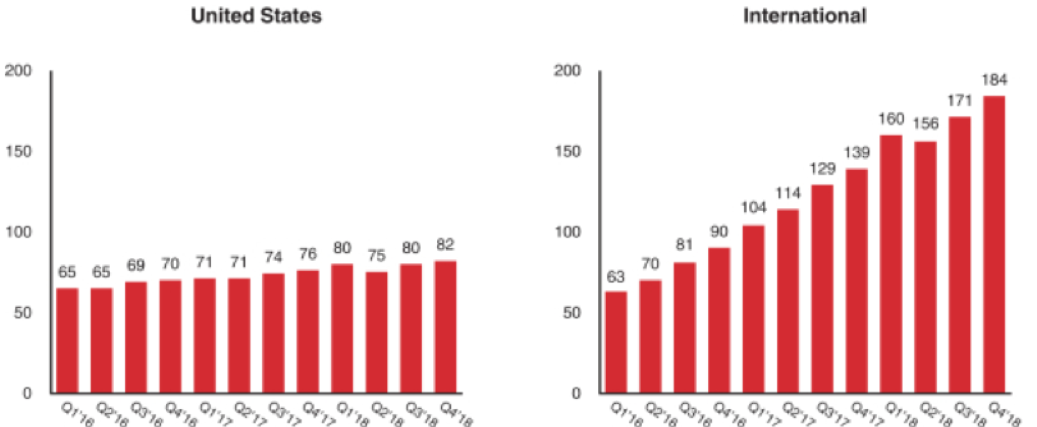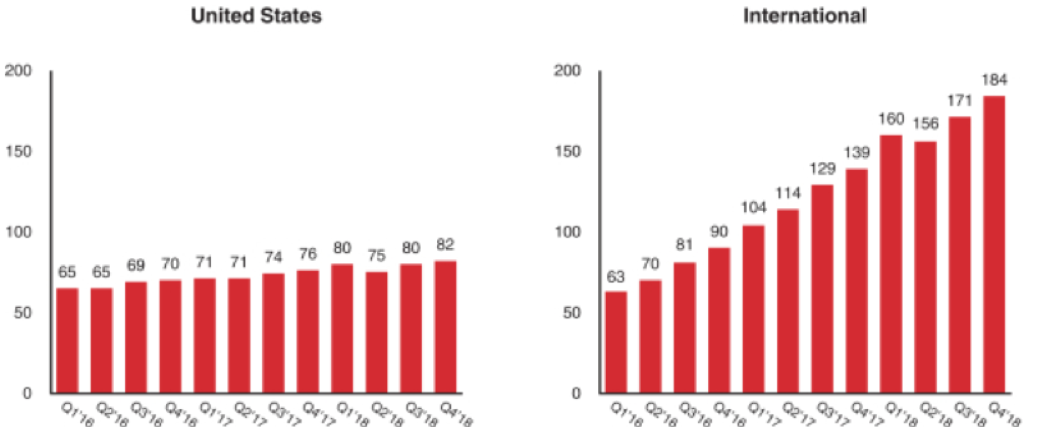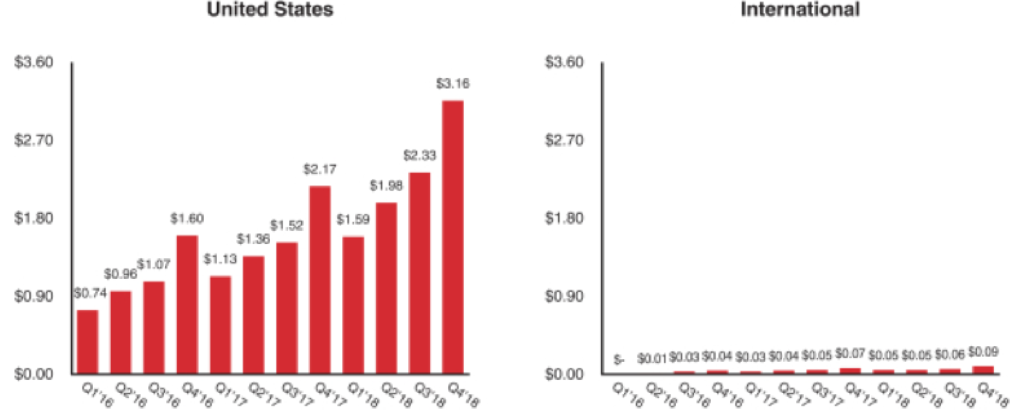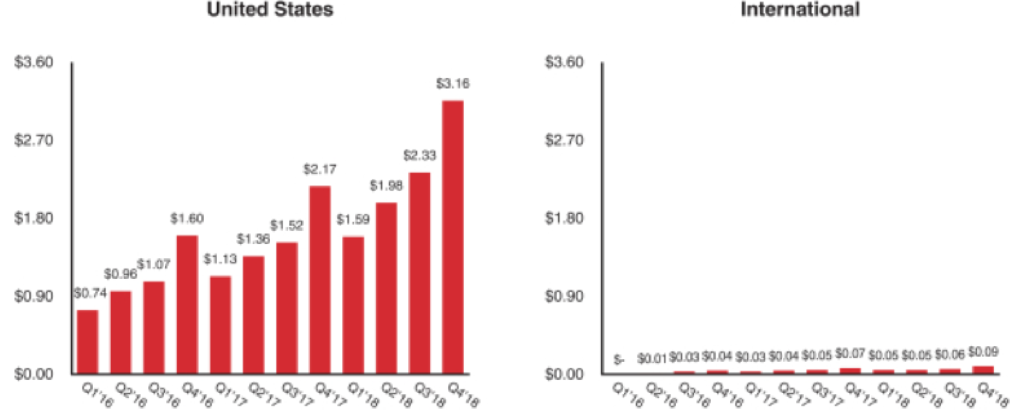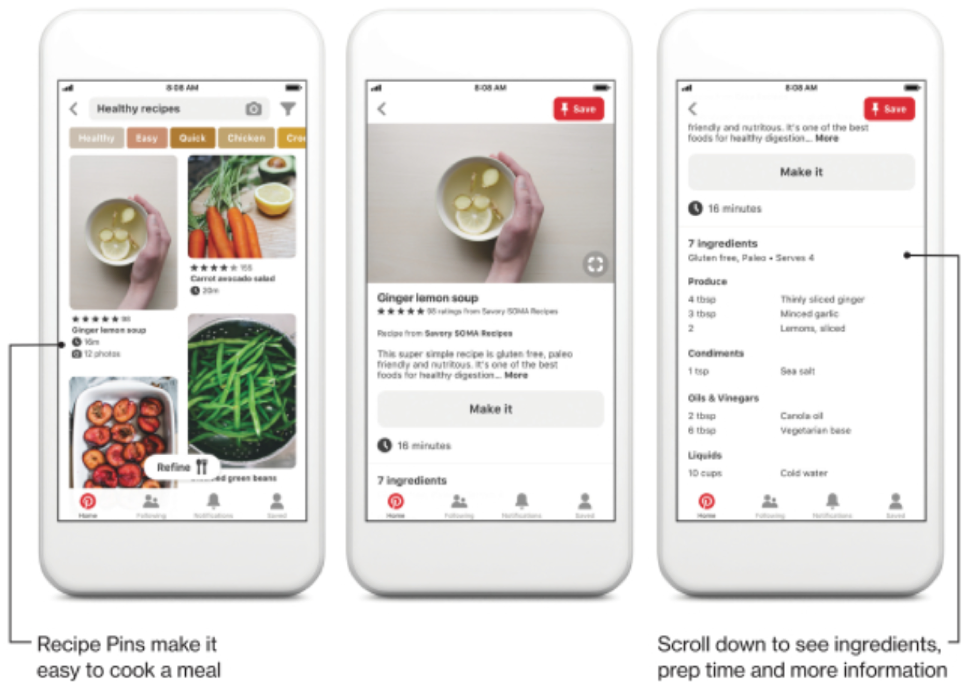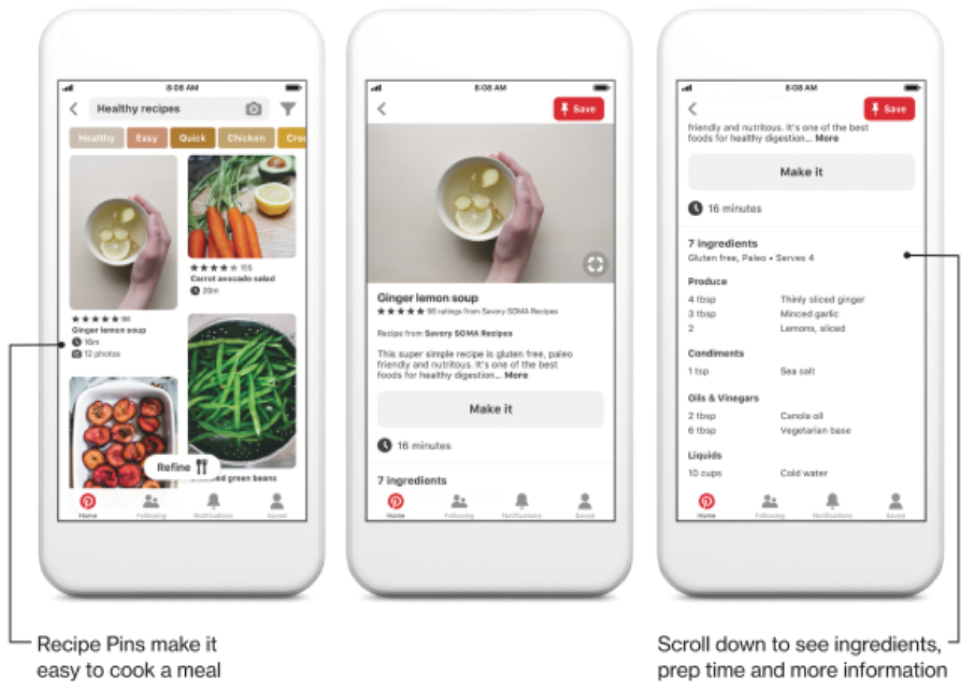 https://www.madhedgefundtrader.com/wp-content/uploads/2019/03/Pinterest.png
497
743
Mad Hedge Fund Trader
https://madhedgefundtrader.com/wp-content/uploads/2019/05/cropped-mad-hedge-logo-transparent-192x192_f9578834168ba24df3eb53916a12c882.png
Mad Hedge Fund Trader
2019-03-26 07:06:21
2019-07-10 21:38:43
Pinterest Comes Out